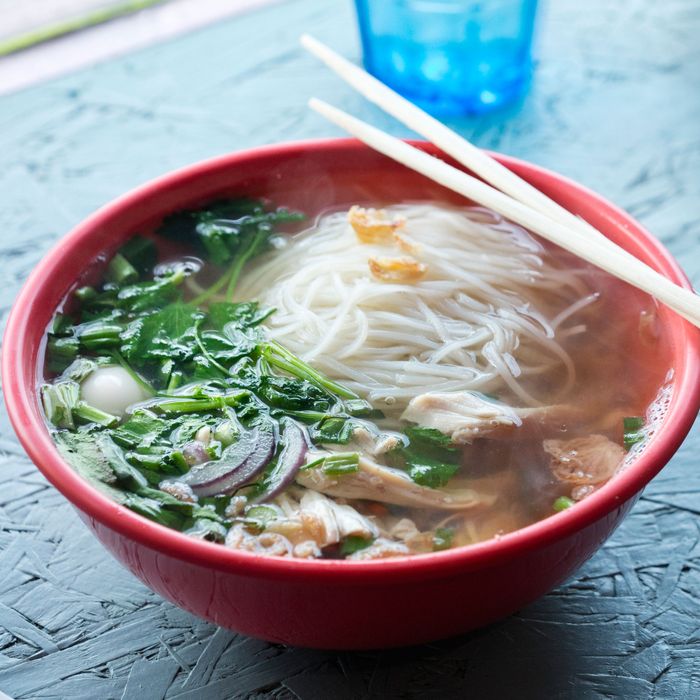 Bep Ga's pho ga.
Photo: Melissa Hom
Boiled down to its soulful essence, the Vietnamese dish pho is rice stick noodles, delicately but intricately seasoned broth, and meat, plus a veritable garden of greenery alongside for garnish. All of these components combine to create a soup that's spiced but not spicy, beefy (in its traditional pho bac guise) but somehow still light, and customizable via herbs, chiles, citrus, and dipping sauces. The dish has evolved from its street-vendor roots to be made with all manner of proteins, including chicken, seafood, and even tofu. No matter the recipe, though, pho can be judged by its freshness and fragrance and deceptive depth of savory flavor. Here, the absolute best pho in New York.
1. Bep Ga
70 Forsyth St., nr. Hester St.; 917-261-4716
Bep Ga offers pho ga, a.k.a. the best possible chicken noodle soup, as one of only four dishes total, but don't be misled by the menu's brevity. Whole birds, butchered parts, and feet — "we go through so much chicken," owner An Nguyen Xuan says — are used to make the broth, which only becomes more concentrated with the thighs and white meat that's poached in it. The pulled chicken is tender, and there's a dainty quail egg off to the side. Cooks calibrate the heat of each bowl with a blast of raw ginger paste and sawtooth herb, which has cilantro-like flavor but with a minty intensity.
2. Hanoi House
119 St. Marks Pl., nr. Ave. A; 212-995-5010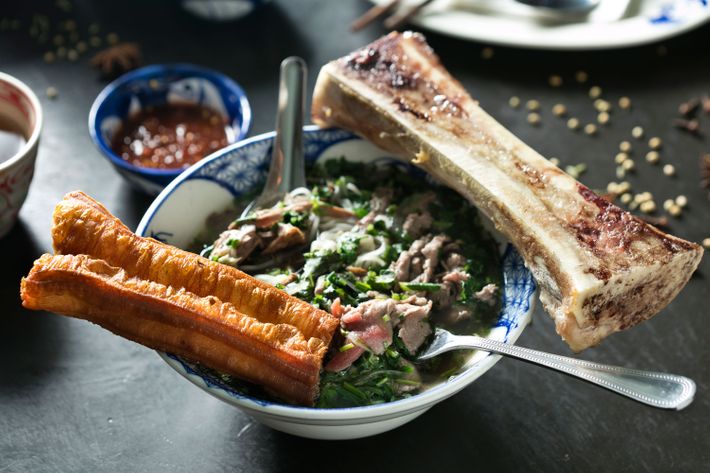 Raw red and chopped green onion swirl around the piping hot broth, but compared with other pho around town, there's not a lot of the leafy DIY garnish served on the side here. No matter. John Nguyen's Hanoi-style soup starts with oxtail, neck, and marrow bones, which make for a hearty but not overly rich stock. Charred onion, shallot, and ginger mellow out for 16 hours with the bones, along with a smidgen of fish sauce, and a traditional rock sugar finish. The through line of light caramel is exceptionally subtle, leaving plenty of room for the firm noodles and faintly rosy fillet slices (plus add-on oxtail, which you should get) to deliver the gamut of flavors. Pho dac biet, a colossally loaded concoction with tongue and bone marrow showing up in the all-beef bowl, is offered as a special, and lobster pho is in the works.
3. Madame Vo
212 E. 10th St., nr. Second Ave.; 917-261-2115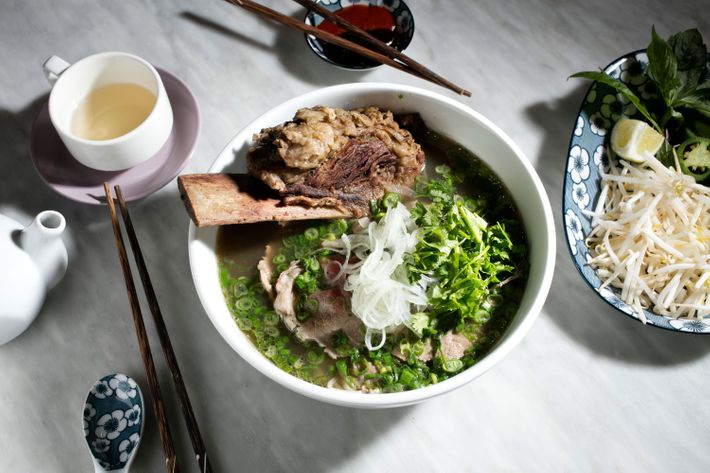 As the son of Vietnamese refugees who went on to open several restaurants in Chinatown, Jimmy Ly spent much of his childhood in professional kitchens, which goes some ways to explain his unfussy but masterful approach to pho, devised with Yen Vo, his wife and partner. Charred ginger, shallots, and collagen-rich, roasted joint ends of beef bones combine to produce an almost buttery stock, and in addition to the appealing red Angus eye round, bowls are equipped with a raft of chopped cilantro and some nicely cartilaginous meatballs. Get the whole, wobbly, add-on short rib that's simmered in the 24-hour broth.
4. Khe-Yo
157 Duane St., nr. W. Broadway; 212-587-1089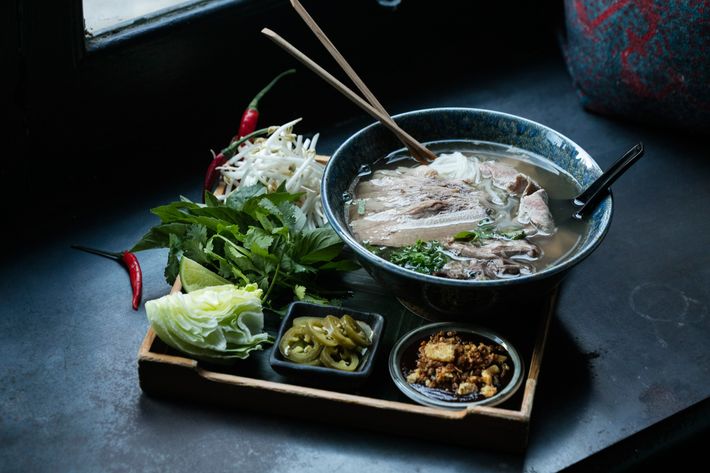 Laos, where chef-owner Phet Schwader was born, has its own rich tradition of noodle soup that runs parallel to Vietnam's, and Nong Khai, Thailand, where Schwader lived briefly in a refugee camp as a kid, represents the third geographical (and deeply personal) influence of his noodle soup acumen. The chef simmers broth for eight hours, with coriander and fennel joining the usual aromatic suspects; charred daikon adds sweetness. Bowls are topped with super-beefy oxtail and brisket, and the spread of garnishes is extra generous. Schwader even styles out hoisin with cracklings. "Laotians love pork rinds," he says.
5. Pho Best
Multiple locations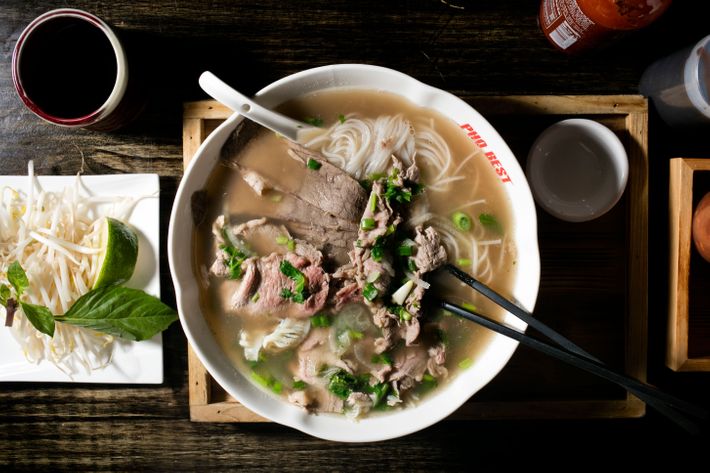 For supplementary charges, extra proteins like lamb chops, chicken wings, and crab patties can be added to any of 19 pho choices. Diners overwhelmingly opt for the split roasted marrow bone, which doesn't even fit in the bowl, or the priciest option, pho with a whole, shell-on lobster that's a bit unwieldy though it's thoughtfully been chopped into pieces. All of this is to say the Pho Best's menu is as busy as its Flushing locations are frenetic. But skip the crustaceans, marrow, and extras in favor of the basic rib-eye pho, with tendon, tripe, and gelatinous bits of brisket in an admirably caramel-tinged broth.
Honorable Mentions
An Choi
85 Orchard St., nr. Grand St.; 212-226-3700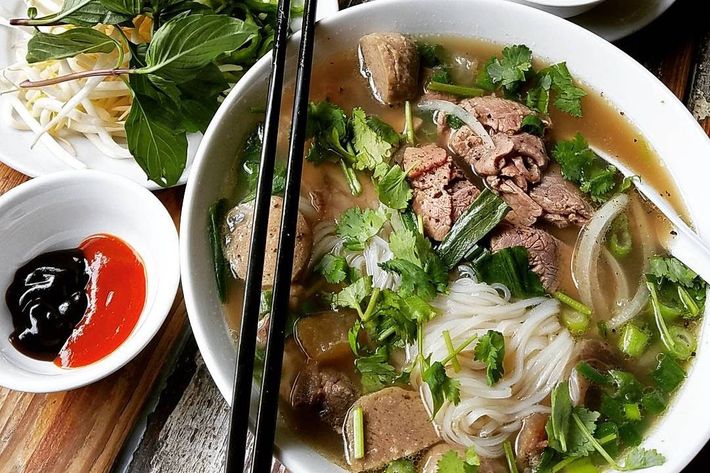 One best bet at the enduringly great Lower East Side restaurant is its pho bo dac biet, which goes all-in on beef with oxtail and nearly raw slivers of flank, plus a bonanza of other cuts in texture-supplying supporting roles. (In pho-adjacent news, it should be mentioned that An Choi's bun bo hue nails a nifty balance of fat and body, thanks to lots of brisket and an array of alternatingly fatty and loaflike pork products.)
Ba Xuyên
4222 Eighth Ave., nr. 42nd St., Sunset Park; 718-633-6601
Sunset Park's bright Viet luncheonette excels at a menu of sandwiches representing extremes of the flavor spectrum, including pickles, sardines, head cheese, and various emulsified pork products. What customers order as pho is really closer to hu tieu, a mild-mannered but bright by contrast noodle soup topped with sprouts and fried shallots, thin-sliced roast pork, and a few meaty tiger shrimp.
Bunker
99 Scott Ave., at Randolph St., East Williamsburg; 718-386-4282
Bunker's scene-y, expansive postindustrial home base near the Maspeth border — neighbors include a small batch meadery and a mycological startup — is quick with giant bowls of nourishing pho. Beef (grass-fed), chicken (pastured), and mushroom (vegan, grown in-house) versions are all appropriately roast-y, and benefit from the bundle of tear-your-own Thai basil served on the side with fat jalapeño slices. They're an excellent balm for a cold day, mild hangover, rotten breakup, Executive branch dysfunction, as well as any nonspecific, multigenerational malaise.
Chow Time
1418 Mermaid Ave., nr. Stillwell Ave., Coney Island; 347-713-1560
The roast pork is distinctly Cantonese, the bottled sriracha is Thai, and wings are straight-up Buffalo at this colorful, all-purpose Mermaid Avenue storefront. Quick-serve format aside, each plastic bowl of beef pho comes with a fan of pinkish top round slices and a vapor trail of comforting aromatics.
5ive Spice
52 Fifth Ave., at Bergen St., Park Slope; 718-857-3483
At first it seems that a rote, pick-your-protein menu format prevails; lemongrass chicken pho sports the same griddled white meat that appears in the bánh xèo "tacos," for example. The spicy house pho, however, stands out and punches way above its weight. Bowls are crowned with big portions of braised short rib, diffusing a fine layer of dried chile-infused fat across the surface of the broth, which provides just enough heat without obliterating the simmered spices beneath it.
Lucy's Vietnamese Kitchen
262 Irving Ave., nr. Menahan St., Bushwick; 718-483-9837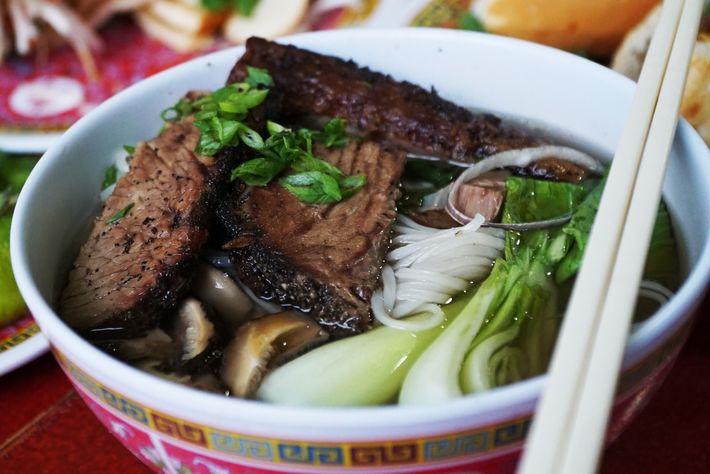 If there ever was a scrappy pint-size operation calling out for a franchise, it's Lucy's. The house broth is mushroom-based, vegan, and delicious. Pho with tofu practically jitters with whatever oils and eucalyptus-like flavor compounds are found inside star anise and green cardamom. Outstanding thick-sliced brisket transforms it into something even punchier.
Nightingale 9
329 Smith St., nr. President St., Carroll Gardens; 347-689-4699
For beef pho, brisket and eye round are hormone- and antibiotic-free, with restrained cinnamon and star anise and a brothy base of charred shallot and ginger. Similarly, pho ga gets an assist from sister restaurant Wilma Jean, which sends its post-butchered Bell & Evans chicken bones to simmer overnight with lots of lemongrass and ginger. Another crucial element to the broths is that each is fashioned along the lines of a sourdough starter or Enrique Olvera's mole madre, with small amounts from the previous batch combined with the new, which goes some ways to explain the superior body.
Pho Bang
157 Mott St., nr. Broome St.; 212-966-3797
Thirty years ago, long before ramen mania or bone broth fever set in, there were no fewer than five Pho Bangs in the city. These days, the last location standing bears a nominal affiliation with the mutable nationwide chain, but the Mott Street shop has the feel of a single-unit institution, drawing a mix of loyal customers and the type of tourists who might otherwise be at a place like Katz's Deli. Tips are the same as always: Upgrade to the extra-big bowl for a dollar; add a handful of buoyant beef meatballs for two more; go heavy on the side plate of chiles and greenery.
Pho Grand
277 Grand St., nr. Forsyth St.; 212-965-5366
Nonstop delivery-person foot traffic through the wood-paneled space is a sign of volume, as is the perpetually brusque service. These are good omens, of course, along with the dozen-plus pho options with mix-and-match meats. Pho bo vien — essentially noodles, broth, and super-light orbs of squeaky, emulsified beef — is a nice pared-down respite from some of the more showboat-y phos downtown.
Pho Vietnam
87 Chrystie St., nr. Hester St.; 212-775-0999
Little slips of organ meat are tucked just beneath the surface of the broth of pho xe lua, an immense bowl laden with navel, flank, tendon, raw eye of round, and generally more red meat than one would find on a Dyker Heights deli sub.
Saigon on 5th
383 5th Ave., nr. 6th St., Park Slope; 718-369-0309
Bowls are jumbo, with suitably crunchy sprouts and onion, and noodles are springy with a good chew, closer to a fresh product than the reanimated and often clumpy rice sticks found elsewhere. Sliced brisket is streaked with fat that's picked up a thing or two from the well-spiced broth it's been simmered in.