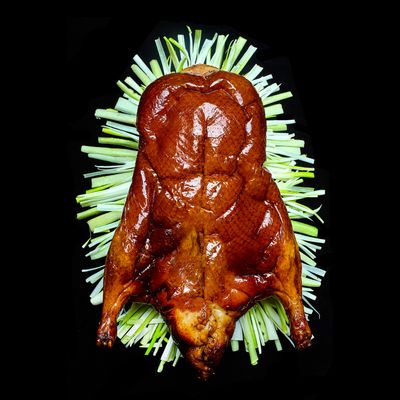 Decoy's Peking duck.
Photo: Bobby Doherty
When it comes to Chinese food, no dish inspires more passionate argument than the different styles and qualities of that imperial Mandarin delicacy, Peking duck. So consider this highly subjective ranking — which includes lavish nightclub establishments, venerable Chinese restaurant chains, and a small West Village basement operation that serves only duck — our contribution to this ancient ongoing debate.
1. Decoy
529 ½ Hudson St., at Charles St.; 212-691-9700
We rated the first two birds on this list a virtual tie in terms of taste and presentation, but Eddie Schoenfeld and his partner in crime, chef Joe Ng, get the blue ribbon thanks to their maniacal focus on all things duck. The 25 birds prepared every evening at this 25-seat West Village Peking duck atelier are fattened up locally, on the duck farms of Long Island. The steamed pancakes are hand-rolled every day, perfectly sized, and nicely steamed. The hoisin sauce is made in house (they give you other newfangled sauces, but disregard them), and the scallions are so fresh you can taste them in the back of your nose. But the key, as always, with this challenging, temperamental dish is the beautifully cooked bird, and in particular, that sacred Communion wafer (or matzoh, if you will) of the holy Peking duck experience: the skin, which, thanks to Ng's special fat-rendering technique, is crackly, melting, and parchment thin.
2. Hakkasan
311 W. 43rd St., nr. Eighth Ave.; 212-776-1818

We're not big fans of this lavish, London-based chain, but if you happen to have $88 in your pocket and need a quick fix of first-class Peking duck, this is the place to get it. The hoisin and delicately sized pancakes are housemade, the garnishes (scallions and cucumber only) are simple and unfussy, and the crisped, un-fatty, nicely plated duck (pre-carved in candy-size slices, on a round white plate) is reliably excellent every time.
3. Mr Chow
324 E. 57th St., nr. Second Ave.; 212-751-9030
We're specifically citing the original restaurant on East 57th Street (not the fraught outlet downtown), and although the admirably tasty duck is a little on the fatty side, we direct your attention to the pancakes, which my well-traveled diplomat father, who is a serious and devoted scholar of the genre, considers to be the best in town.
4. Hwa Yuan
42 E. Broadway, nr. Catherine St.; 212-966-6002
Among grateful big city Chinese-food historians, the late Shorty Tang is famous for popularizing that most addictive of carryout specialties, cold sesame noodles, not Peking duck. But his family's giant multistory operation inside the former Bank of China down on East Broadway has been fitted with a state-of-the-art duck oven from Hong Kong, and the result is one of the finer new birds in the city. You can order your duck as part of a set-course dinner if there are four or more of you, or have it carved tableside, à la carte, and for $35 the half-bird option is one of the better Peking duck deals in town.
5. Philippe by Philippe Chow
33 E. 60th St., nr. Madison Ave.; 212-644-8885
There are many reasons not to visit this clamorous Mr. Chow rival (the dim, narrow, noisy rooms; the uneven quality of the menu; the entitled, yammering clientele), but the excellent house Peking duck isn't one of them. The scallions are a little withered, but the pancakes are just the right size, and the mahogany-colored bird is decadently rich without being too fatty and professionally sliced tableside.