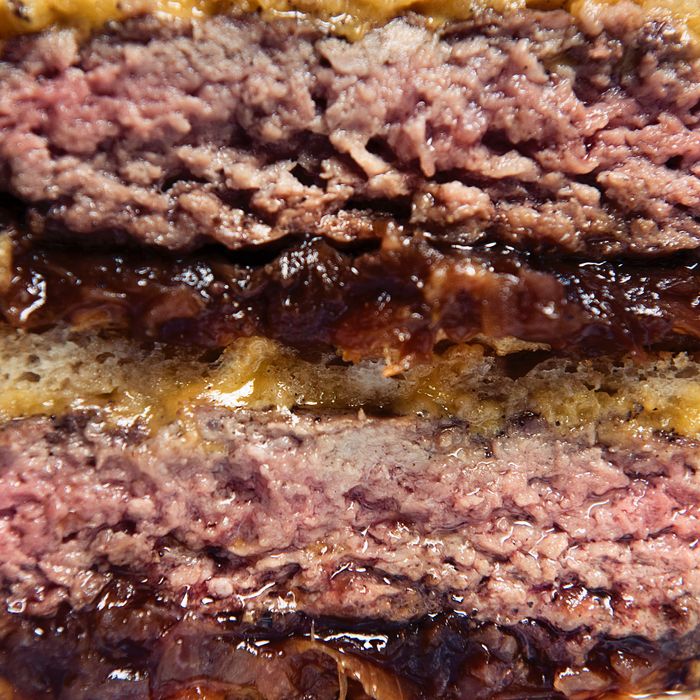 The patty melt at Bell Book & Candle.
Photo: Liz Clayman
In its ideal form, a patty melt is a beef patty, Swiss cheese, and caramelized onions on griddle-toasted rye bread, and that's it. The sandwich, it's said, was invented in California sometime during the 1940s or '50s at one of William "Tiny" Naylor's coffee shops by Tiny himself — who, at six-foot-four and 320 pounds, was anything but. The beauty of the patty melt is that, when done right, no other condiments are necessary, as the defining flavor-enhancing characteristic derives from lavishly buttering the outside of the bread and cooking the sandwich until it becomes one gooey, greasy, meaty, crisp-but-tender synergistic package. Here are the absolute best patty melts in New York.
1. Bell Book & Candle
141 W. 10th St., nr. Waverly Pl.; 212-414-2355
If there's a flaw in the design of the patty melt, it's the bread. Well, not the bread (which is actually key), but the shape of the bread, which is typically Jewish rye and oval. Which does not make for the best fit with a beef patty, beef patties being typically round. That's why no one ever says, "This suit fits like a burger on rye." And also the reason God created the hamburger bun. Enter chef John Mooney, who — in what should be recognized as one of the greatest moments in culinary history, right up there with the harnessing of fire for cooking purposes — devised a square patty melt a few years back. How does he do it? He custom-orders Pullman-style rye loaves baked in perfect rectangles by Tom Cat Bakery in Long Island City, and he molds his patties to match the shape of the bread when sliced. Everything else about this sandwich is as carefully considered: the grass-fed beef ground in-house; the sharp cheddar nicely melted; the onions cooked to an extra-dark, supersweet fare-thee-well. Even the pickles (from cucumbers grown on the roof of the restaurant) make an impression.
2. Steak 'n Shake
1695 Broadway, nr. 53rd St.; 212-247-6584
The Manhattan branch of the midwestern burger chain is a claustrophobe's worst nightmare, seemingly designed by someone who graduated at the bottom of his feng shui class. But it's also home to one of the city's best patty melts — a streamlined model called a Frisco Melt, made with two griddle-smashed patties, American and Swiss cheeses, and a Thousand Island–like dressing. No onions, though.
3. Nix
72 University Pl., nr. 11th St.; 212-498-9393
Are we kidding? No, we're not kidding. The patty in the No. 3 patty melt on this list is made from black beans, brown rice, and oats. The great vegivore chef John Fraser cuts it with Dijon mustard, tomato powder, and a judicious mix of secret spices. Add melted Swiss, caramelized onion, Thousand Island dressing, and rye bread, and what you get is something as good and greasy, and probably terrible for you, as anything that's ever been slapped onto a flattop griddle and butter-toasted to a deep golden brown. Lunch and brunch only.
4. Shopsin's
120 Essex St., nr. Rivington St.; no phone
It's double-cheesed on better-than-usual rye, with a fine beefy flavor and a proper "patty melt whole is greater than the sum of its parts" aesthetic. Is there a classic sandwich or burger style that Kenny Shopsin and crew does not excel at? Probably not.
5. Cannibal Liquor House
11 E. 29th St., nr. Park Ave. S.; 212-685-5585
Francis Derby's Mama's Burger is no ordinary burger, nor is it a tribute to his mother. Instead, it's a patty-melt salute to a bit in Eddie Murphy's late-'80s stand-up film, Raw, which recounts the shame and sorrow endured by a young Murphy when his mom cooked him a giant, hulking, meatballlike "green pepper welfare burger" on Wonder Bread, instead of buying him McDonald's. Derby's interpretation is far from literal, thankfully, involving a big, funky puck of 60-day-dry-aged LaFrieda beef with onions, provolone, and harissa mayo on butter-griddled Pullman. And instead of comedian-traumatizing bell peppers, there's a sliced-shishito garnish on top.
Black Iron Burger
Multiple locations
This undersung burger bar griddles a nice, no-frills patty melt with a choice of Swiss or cheddar. It's well-constructed with good balance, but the five-ounce patty is a little small for the size of the rye.
Burger Heaven
Multiple locations
A relentlessly juicy, half-inch patty and two expertly melted slices of American cheese, positioned on the top and bottom of the meat, render the griddled rye almost as soft as a Martin's potato roll. Which is to say that it's a good one for those with sensitive patty-melt palates. Free sautéed onions by request.
Five Guys
Multiple locations
Ask for the secret off-menu patty melt and they'll look at you like you've escaped from a home. But break out your Five Easy Pieces Jack Nicholson impression and request a grilled cheese (which comes on a squishy hamburger bun) with an add-on beef patty, plus grilled onions, and they'll spring into action. The great grease-bomb result is technically not a patty melt, since it's on a bun not bread, but it is delicious.
Harlem Shake
Multiple locations
High marks for the "two thin patties are better than one beef bomb" construction; the loose and crumbly smash-burger technique; and the classic-coffee-shop proportions. If they bumped up the amount of cheese, and the meat had more fatty flavor, they'd really have something. Also noteworthy: the Fatty Melt — two grilled-cheese sandwiches with two beef patties shoved in between them, creating what is essentially three sandwiches in one. It may sound like a prank or the work of a lunatic burger flipper, but despite the predictably off-kilter bread-to-beef ratio, it's pretty good.
Maison Pickle
2315 Broadway, nr. W. 84th St.; 212-496-9100
Special sauce. Lettuce. Pickled peppers. American cheese. And what's this on the side? A cup of dipping jus? There are things going on here that would have given Tiny Naylor a conniption. And yet, what's not to like? The patty is loose and crumbly, the cheese well-melted, and the bread crisp and greasy. And there are worse crimes against foodstuffs than dunking patty melts into cups of jus — for instance, putting ketchup on steak, or penne on pizza. No, we take that back, penne-topped pizza is delicious.
Quality Eats
19 Greenwich Ave., nr. 10th St.; 212-337-9988
Quality Eats' Patty Melt Club Burger is just that: a patty melt crossed with a triple-decker club sandwich, cut into quarters, and run through with bamboo meat-temperature markers. We're giving it bonus points for innovation and for the spicy coleslaw they dump right on top of the thing. But patty-melt purists will surely tut-tut and pooh-pooh this one.
St. Anselm
355 Metropolitan Ave., nr. Havemeyer St., Williamsburg; 718-384-5054
This grilled-not-griddled artery-clogger is the brawniest patty melt in town, with Swiss Emmenthaler and caramelized onions as sweet and deeply flavored as a crock of French onion soup. Toss on an optional fried egg, if you dare. Weekend lunch; dinner, Monday and Tuesday.
The Spaniard
190 W. 4th St., at Barrow St.; 212-918-1986
Thick slabs of Pullman overwhelm the patty, and the sandwich-defining caramelized onions are replaced by bacon and pickles, but you can smell the funk rising off the cooked-to-temperature dry-aged beef, and the cheddar is suitably melted. Don't mistake the stuff on the side for Heinz: It's a chutneylike tomato jam, recipe courtesy of chef P.J. Calapa's Indian mother-in-law.
Sunday in Brooklyn
348 Wythe Ave., at S. 2nd St., Williamsburg; 347-222-6722
Melted Swiss, a swipe of mustard, plus a double dose of onions — inside the patty and on top of it. This is a Long Island patty melt, or at least, that's what it's called on the menu, and it's pretty good, provided you really like onions. One quibble: The patty itself, while rich and crusty, suffers the fate of many patty-melt patties before it — perceived shrinkage, made all the more apparent by spacious slices of rye.
Whitmans
Multiple locations
By almost every measure, this one's a contender: good proportions; great griddle-blackened, grease-soaked texture; masterful melting of the blend of smoked Gruyère, American, and cheddar. Spot-on sour pickle and waffle chips, too. If only the short-rib patties weren't quite so bland.