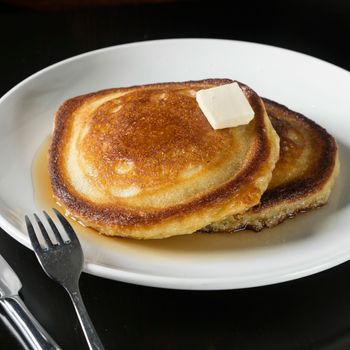 Chez Ma Tante's pancakes.
Photo: Melissa Hom
What's great about pancakes is that they aren't divisive. Not everyone loves them, but no one really hates them. Fanatics can't imagine breakfast or brunch without pancakes, which is where the notion of pancakes for the table, or PFTT, comes from. And while pancake agnostics regard the dish as best suited for small children or lumberjacks, they do not loathe them the way that people loathe, say, black licorice or banjo music. (By the way, PFTT isn't a new thing, as some claim. The practice is as old as pancakes themselves, which the ancient Greeks called teganitai and tucked into at live-lute Sunday brunch. When an ancient Greek could not decide between a healthful bowl of millet porridge or a diet-busting stack of lemon-ricotta teganitai, he ordered both, generously proclaiming that the latter were for the table. "Life is short," he'd say to the waiter. "TFTT!") What's also great about pancakes is that they come in so many impressive varieties, from almond to einkorn, that on occasion, even pancake agnostics have been known to find pancake religion. Here are the absolute best pancakes in New York.
1. Chez Ma Tante's Pancakes
92 Calyer St., at Franklin St., Greenpoint; 718-389-3606
Truth be told, our policy regarding pancakes had always been that we could take 'em or leave 'em. But Chez Ma Tante's pancakes are exceptional: hot and fluffy little Frisbees of salty-sweet flavor and melting richness that could convert the staunchest flapjack skeptic. Extra yolks in the batter add richness, and so do good Normandy butter and pure Vermont maple syrup. But the key is how they're cooked: super-crisp around the edges and practically blackened on one side like a Paul Prudhomme fish fillet. Co-chef Jake Leiber says he was inspired by a Clementine Paddleford recipe and a plate of pancakes he had at a Mexican diner in Oceanside, California, that came out of the kitchen looking almost burnt but tasting like a dream. —Rob Patronite and Robin Raisfeld
2. Kleinberg's Blueberry Pancakes
165 Tompkins Ave., nr. Hart St., Bedford-Stuyvesant; 347-529-1922
As the scion of the family behind comfort-food colossus Clinton Street Baking Company, Alex Kleinberg practically has maple syrup running through his veins. Also, natural wine, a more recent obsession. You can find both at his new Bed-Stuy restaurant and bar, where Kleinberg griddles his dad's pedigree pancakes during weekend brunch. (Go ahead and try them with a pét-nat or a Utah rosé?) Breakfast scholars will indeed recognize the tell-tale signs of the hallowed Clinton Street recipe: the whipped-egg-white fluffiness, the sweet-tart bounty of fresh blueberries and blueberry sauce, the airy hole structure. The plate is so impressive, in fact, that talk among the pancake cognoscenti is that the student has surpassed the master. We agree, and so does young Kleinberg, citing the inevitable consequences re the laws of supply and demand. "It's the same recipe," he confirms, "but they're doing 3,000 zillion orders and we're doing 30." Which means you'll want to get there early before they sell out. —R.R. & R.P.
3. Vinegar Hill House's Sourdough Pancake
72 Hudson Ave., nr. Water St., Vinegar Hill; 718-522-1018
What makes a great pancake? It should be light and fluffy, but also carry some heft and height, maybe a bit of cakey crumb. It should be hot and fully cooked through — which can be a challenge when you're pouring a big pile of raw batter onto a stove top — with a slightly crispy, caramelized surface. It should taste of something beyond just flour, sugar, and salt. The pancake at Vinegar Hill House nails it on every count. It's served as a single unit that fills up an entire plate (though there are two sizes of it, and two correspondingly sized plates). It's made with sourdough (from a decades-old starter) that gives it a subtle and pleasant tang, offset perfectly by a thin layer of sweet, sliced cooked pear. Best of all, it comes topped with a knob of creamy salted butter, pressed into a little dimple in the dough, and it's already maple-syruped, positively soaked in it. It's probably too much, but it tastes just right. —Hannah Goldfield
4. Shopsin's Mac-'n'-Cheese Pancake
88 Essex St., at Delancey St.; no phone
Part of the genius of Shopsin's is how the unlikely combinations manage to stay just on the right side of gimmicky. They can sound outrageous, but they always make total sense, and often push the boundaries of what we think of as foods that "go together." The mac-'n'-cheese pancake, just one variety of dozens on the menu, is a great example: It may sound like a joke, but it's deadly serious and delicious. A simple pancake batter is poured onto a perfectly heated griddle, then sprinkled with boiled macaroni and Cheddar cheese, which gets crispy and caramelized when flipped. It's served with a slightly spicy barbecue sauce as well as maple syrup, and tastes great with either, or both. For another sweet-and-savory pancake masterpiece, try the original "slutty cakes," which replace the macaroni and cheese with a dollop of pumpkin purée, peanut butter, pistachios, and cinnamon. —H.G.
5. abcV's Einkorn Pancake
38 E. 19th St., nr. Broadway; 212-475-5829
Like oatmeal cookies, alternative-grain pancakes appeal to those who harbor seemingly contradictory appetites for the healthful and the indulgent. Jean-Georges Vongerichten's vegetarian restaurant is a haven for these people, who can be found at breakfast and brunch tucking into delicacies like einkorn pancakes, which are not only concocted from the most ancient of ancient grains, mixed with local whole-grain flour, but vegan to boot. The single-pancake serving is brown in complexion and nutty in flavor, and the batter is studded with seasonal fruit. It's garnished with local maple syrup, freeze-dried-raspberry powder, and "butter" that chef Neal Harden emulsifies from coconut and sunflower oils. —R.R. & R.P.
6. Le Barricou's Pancakes
533 Grand St., nr. Union Ave., Williamsburg; 718-782-7372
Order the baked "Pancakes" at this legacy Williamsburg bistro, and anywhere from 25 to 45 minutes later, gaze awestruck upon a pair of titanic flapjacks, soft as angel food in the center and — thanks to an initial ten-minute fry in a ladle of clarified butter — crisp as a county-fair funnel cake around the edges. They're finished with powdered sugar, mixed berries, mint chiffonade, and an ice-cream scoop of house-whipped strawberry butter — half of which should be slipped immediately between the pancakes per insider tip. —Matthew Sedacca
7. Hunky Dory's Little Apple Cider Pancakes
747 Franklin Ave., nr. Sterling Pl., Crown Heights; 516-418-2063
The Little Apple Cider Pancakes at this all-day café and bar are truly little — barely silver-dollar-size, even — and portioned at six per order (or two for a side dish). But the cider-perfumed clouds punch far above their weight. Puffy and ineffably soft thanks to a yogurt-enriched batter, the pancakelets hold up to a smorgasbord of multitextured toppings: crumbled bacon, whipped yogurt, pecans, cut apples, and an apple-cider-vinegar-rosemary-toffee syrup that you might crave in candy-bar form. Monitor your plate closely and share at your own risk. —M.S.
8. Prune's Dutch Baby
54 E. 1st St., nr. First Ave.; 212-677-6221
Gabrielle Hamilton does just about everything exactly right, and her giant popover of a baked pancake is no exception, down to its irresistibly charming name and its accompaniment of bacon, which you were going to order anyway. —H.G.
9. Clinton Street Baking Company's Wild Maine Blueberry Pancakes
4 Clinton St., nr. Houston St.; 646-602-6263
Of the infinite hordes pacing the sidewalk each weekend afternoon outside this Lower East Side establishment, at least half are there for the pancakes. And no wonder: The things are at once delicate and substantial, consistently fluffy and liberally studded, depending on the order, with sweet Maine blueberries or bananas and walnuts. And then there's the warm maple butter, a surpassingly rich, sweet condiment that some have been known to sip straight from the bowl. As delicious as these pancakes are at brunch, they're even better at weekday breakfast or lunch or dinner, when the lines subside and the regulars have the run of the place, not to mention the day's supply of maple butter. —R.R. & R.P.
10. Loring Place's Buttermilk Pancakes with Lemon Curd
21 W. Eighth St., nr. Macdougal St.; 212-388-1831
Pancakes are one of those childhood foods that Mom made best. In Dan Kluger's case, however, it was dear old Dad who ruled the pancake kitchen, and his recipe is lovingly reprised on the Loring Place brunch menu. These babies are super-light and fairly fluffy, served four per stack, and never greasy thanks to a low-and-slow sizzle on the griddle with a minimum amount of fat. Spiking the batter with orange juice adds a hit of sweet acidity. Dan's mom (who is British) gets a shoutout, too, via the accompanying cup of lemon curd based on her own recipe, which may be even better than butter for slathering between hotcakes. —R.R. & R.P.
11. Ferris's Sweet Potato Pancake, Brown Butter, Maple Syrup
44 W. 29th St. nr. Broadway; 212-213-4420
There's only one of them, but it's enough. And when they tote it from the kitchen to your table, you wonder if the waiter is bringing you a Junior's cheesecake or an entire tortilla española and not a pancake. But this substantial specimen is no omelet. The outside surface is thin and crisp; the inside super-moist, almost eggy. The key to the texture is folding steamed white Japanese sweet potatoes into the batter. Members of the light-and-fluffy pancake school may look askance, but those who love, say, the slightly underdone texture of a Levain Bakery chocolate-chip cookie are pretty much in hotcake heaven. —R.R. & R.P.
12. Cheryl's Global Soul's Buttermilk Pancakes
236 Underhill Avenue, nr. Lincoln Pl., Prospect Heights; 347-529-2855
Humble in preparation yet Proustian in consumption, these velvety buttermilk pancakes build on Bisquick nostalgia with wafer-crisp exteriors and silky Chantilly cream with mixed berries, all while facilitating your inner child's affinity for maple syrup. Chef-owner Cheryl Smith swears that anyone can re-create them at home — her batter allegedly is just a mash-up of Martha Stewart and New York Times recipes — but such knowledge is unlikely to dissuade locals from the ritual of lining up outside her Prospect Heights haunt before 9 a.m. on the weekends (or sliding in wait-free on weekdays). —M.S.
13. Maialino's Ricotta Pancakes
2 Lexington Ave., nr. 21st St.; 212-777-2410
Many menus brag that their pancakes contain ricotta; few get results at quite the level of those at Maialino, Danny Meyer's Roman restaurant in the Gramercy Park Hotel, which is — at this point — something of a forgotten gem. The pancakes, which come two to an order, are satisfyingly big, thick, and perfectly round, tantalizingly crisp-edged and custardy, yet not — somehow — overly heavy, with so much flavor from the fresh sheep's-milk cheese (which comes from DiPalo's) that the seasonal fruit (jam in winter) and maple syrup are almost unnecessary. —H.G.
14. Bubby's Blueberry Sourdough Pancake
120 Hudson St., at N. Moore St.; 212-219-0666
Bubby's, where brunch is served every day, may attract droves of tourists, but it's no trap, as perfectly illustrated by its outstanding blueberry sourdough pancake. It's almost crêpe thin, with a stretchily taut, slightly crisp, golden-brown exterior that gives way to an incredibly flavorful, custardy interior that packs a much tangier sourdough punch than Vinegar Hill House's — perhaps because Bubby's sourdough starter is from 1890, if you can believe it. It's not sweet at all, and would taste just as good draped in, say, smoked salmon and crème fraîche as it does in the tart blueberry sauce it comes with, making it the perfect crossover pancake for any savory-breakfast person. For staunch sweet tooths, the James Beard variety, a fluffy, yellow specimen made with sour cream and embedded with caramelized-banana slices, is almost as good, if not quite as interesting. —H.G.
15. Café LULUc's Pancakes
214 Smith St., nr. Butler St., Cobble Hill; 718-625-3815
Don't let the crazy brunch-time lines fool you: This place is essentially just a dressed-up diner — albeit a good one — with a top-notch, classic pancake that's on the cakey end of the spectrum, cooked in butter in a cast-iron pan, flipped onto the plate crispy-side up, and served with fruit. —H.G.
16. Hi-Collar's Hotcakes
214 E. 10th St., nr. Second Ave.; 212-777-7018
The phrase "Japanese pancake" may now be firmly ingrained in the collective food consciousness as wobbly, soufflé-inspired Instabait, but Little Tokyo elder statesman Bon Yagi continues to run circles around the city's newcomers with the same "hotcakes" that his East Village kissaten, or Japanese coffee shop, has been serving for years. Each supremely fluffy pair gets browned in metal rings on the electric griddle and dressed with a heavy spanking of powdered sugar, rendering maple syrup and whipped cream superfluous, while the accompanying orange-rind-studded butter adds a quick kiss of brightness. —M.S.
17. Le Coucou's French Pancake
138 Lafayette St., at Howard St.; 212-271-4252
Comme un clafoutis is how this beauty appears on the menu, and why shouldn't you have a whole clafoutis to yourself for breakfast? If the common pancake is the girl next door, Le Coucou's clafoutis is the screen siren, a Dutch baby but with more sex appeal, because it's French. It's a relatively thin but decadent round of buttery, eggy pastry with a slightly crisp golden exterior from being baked in its own little two-handled dish, airy edges curling up around the sides. Unlike a clafoutis, the seasonal fruit (such as perfectly cut segments of gently cooked apple) gets artfully arranged on top, as opposed to baked in, and the whole creation is finished with a quenelle of crème fraîche, and a scattering of citrus zest. —H.G.
18. Tom's Restaurant's Danish Pancake
782 Washington Ave., at Sterling Pl., Prospect Heights; 718-636-9738
There are few breakfast foods that can be surveyed without mention of Tom's, and their roster of pancakes does not disappoint, particularly the "Danish" variety, which contain not only ricotta but also a bit of sharp Parmesan cheese, lemon zest, and blueberries. —H.G.
19. Bar Beau's Buckwheat Pancakes
61 Withers St., nr. Meeker Ave., Williamsburg; no phone
In stark opposition to the current craze for towering soufflé style, these brunch beauts are ultrathin and topped with a smattering of honey, chopped cashews, and cashew cream alongside a spicy bouquet of lemon zest and thyme. Elegant, aromatic, and just different enough to stand out from the North Brooklyn pancake pack. —M.S.
20. Sunday in Brooklyn's Malted Pancakes
348 Wythe Ave., nr. S. 2nd St., Williamsburg; 347-222-6722
Cutting through the buttermilk pancake malaise dominating the all-day café scene, Sunday in Brooklyn looks to mid-20th-century ingenuity by enhancing their batter with nutty malted-milk powder. The Saturday-morning cartoonlike pancake stacks, which are pan-cooked and come in orders of one, two, or three pancakes, wear a pebbled coating of hazelnut butter and maple syrup that lingers with datelike saccharinity (and admittedly dominates the malt's earthiness a tad) and are capped with a decadent brown-butter pat. Order a two-stack for yourself off the breakfast or brunch menu, and put the office's wellness room to use with a subsequent power nap. —M.S.
21. Café Select's Muesli Pancakes
212 Lafayette St., nr. Spring St.; 212-925-9322
If a muffin and a pancake had a baby, it might look something like this: a sort of muffin-top griddle cake, on the small side, with a crunchy exterior and a slightly dense crumb, flecked with oats. It comes with vanilla butter, syrup, and gently macerated berries. —H.G.
22. Santina's Almond Pancakes
820 Washington St., nr. Gansevoort St.; 212-254-3000
Another alternative flour put to wonderful pancake use, served with a side of almond butter (plus syrup, if you must) to max out the nut's potential.
—H.G.
23. Veselka's Buckwheat Pancakes
144 Second Ave., at 9th St.; 212-228-9682
Veselka's buckwheat batter falls on the ascetic end of the pancake spectrum, which makes it a good choice for the health-and-nutrition conscious, or the savory-breakfast person who wants a pancake that makes a natural bedfellow for eggs, or a strong and hearty foil for maple syrup. —H.G.
24. Foragers Table's Orange-Blossom Ricotta Pancakes
300 W. 22nd St., nr. Eighth Ave.; 212-243-8888
Is there anything so seductive as the words "orange-blossom water"? It's a killer ingredient, and its subtle citrus perfume marries perfectly with ricotta. The finished pancake gets topped in candied orange peel and maple syrup from the Berkshires. —H.G.