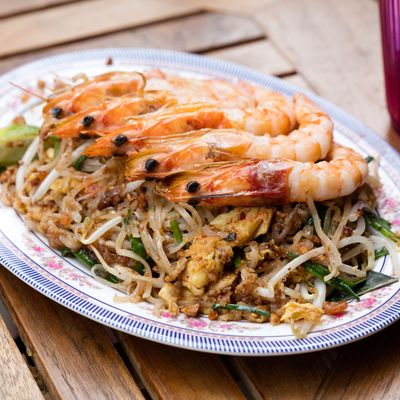 When it comes to precise calibration of flavors and textures, Uncle Boons Sister nails it.
Photo: Melissa Hom
The paradox of pad thai in this city is that, generally speaking, the better the Thai restaurant, the worse the classic dish will be. In our experience, ordering pad thai at a great Thai restaurant is a bit like ordering General Tso's chicken at a great Sichuan place: Kitchens seem to assume that asking for it is shorthand for "I'm an unadventurous eater." Instead of wanting, say, a horizon-expanding jungle curry or quick-fried frog legs with basil, the diner is assumed to be looking for something greasy and salty and sweet; chefs — especially at places with big, interesting menus — tend to amplify those attributes and sling out the dish without much thought. Which means that, although there are many great Thai restaurants in New York, it's hard to find truly great pad thai, at its best a humble but complexly flavored, deeply satisfying stir-fried noodle that's sometimes referred to as the national dish of Thailand. That said, there are some exceptions! Here, we've rounded up the absolute best versions in New York.
1. Uncle Boons Sister
203 Mott St., nr. Spring St.; 646-850-9480
The best way to eat pad thai, if you ask us, is to eat it the way they do in Thailand, where the noodles are served with sugar, ground chile, chopped peanuts, and fish sauce, so you can season the dish to taste. With the shuttering of Andy Ricker's Pok Pok Phat Thai, there is nowhere in the city (as far as we can tell) that serves the dish this way, but Uncle Boons Sister comes closest to achieving the effect. Their pad thai tastes freshly and thoughtfully seasoned, as if someone had just doctored it for you instead of slopping the noodles in a premixed sauce. A perfectly textured tangle of sweet, sour, chile-tamarind-and-peanut-flecked rice noodles comes threaded with crisp bean sprouts, shreds of scrambled egg, thick matchsticks of firm tofu, tiny dried shrimp, sautéed snips of garlic chive, and nubs of preserved radish. On the side is a fat wedge of lime, and on top is a crown of five enormous, glistening, head-on prawns.
2. Pure Thai Cookhouse
766 Ninth Ave., nr. 52nd St; 212-581-0999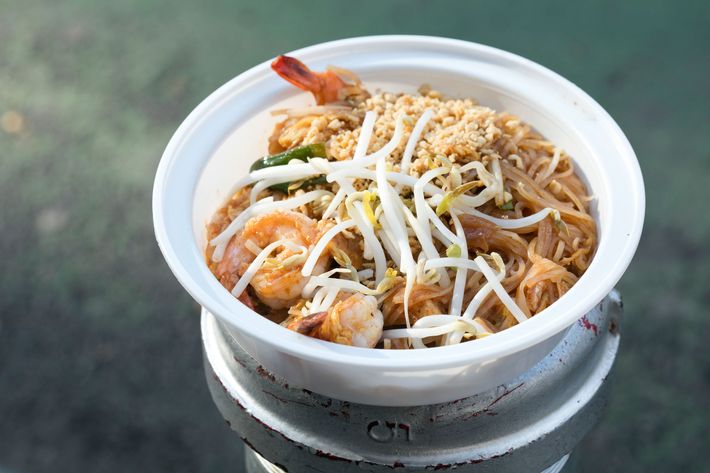 The sweetness in Pure Thai's excellent pad thai is of a distinctly caramel nature, which plays beautifully against the strong saline funk of the tiny dried shrimp (which we wish more pad thai incorporated!) and the heavy dose of fish sauce, as well as against the sour roundness of the tamarind. As at Uncle Boons Sister, we found the balance of flavor at Pure Thai to be spot-on, if quite different from the former — and there's even a caddy with dried chile, chile paste, fish sauce, and pickled jalapeños on each table, for further tweaking as necessary. The noodles arrive piping hot in a deep bowl that helps keep them that way: slick and slippery but well short of greasy, mixed with scrambled egg, scallion tops, and juicy fresh shrimp in addition to the dried ones, then finished with a handful of crunchy bean sprouts, a scoop of chopped peanuts, and a lime wedge on the side.
3. Pata Café
56-14 Van Horn St., Elmhurst;  347-469-7142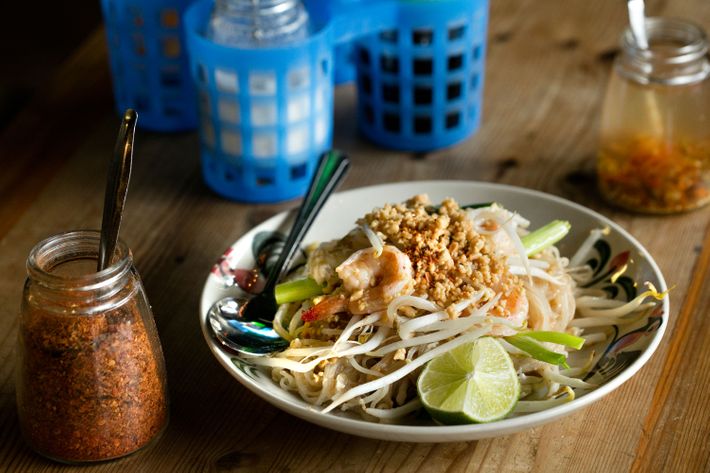 Located in a quiet, residential part of Elmhurst, this very laid-back coffee shop — which specializes in bubble tea, slushes, and something called "pink milky" and does a steady after-school business, thanks to its proximity to a public school — does not look like a place where the food would be particularly good. Yet it offers one of the very best iterations of pad thai in the city: a warm, soft nest of supersweet yet super-sour noodles, with shrimp, sprouts, chives, preserved radish, and lacy shreds of scrambled egg so thin and delicate, they resemble scraps of cooked cabbage — all topped with chopped peanut.
4. Khao Nom
76-20 Woodside Ave., Elmhurst; no phone
That which we call pad thai by any other name would smell as sweet … and so it goes with the "Chan" noodles at this new dessert-centric extension of the popular steam-table spot Khao Kang, which is just around the corner. The noodles are one of a handful of savory items on offer — or savory-sweet, we should say. And though they lack certain ingredients usually found in pad thai, such as the egg, tofu, and peanuts, they otherwise very much embody the dish and satisfy the same cravings. The noodles are thickly coated in a sweet, sour, slightly spicy tamarind-based sauce and strewn with chives and bean sprouts. On top are two spectacular jumbo prawns with both head and shell. The latter are deeply caramelized and flavorful, and somehow manage to both be crunchy and melt in your mouth.
5. Somtum Der
85 Ave. A, nr. 5th St.; 212-260-8570
It's not entirely clear why the pad thai here is tucked away in the "healthy" section of the menu, especially at a restaurant that specializes in the legitimately healthy papaya salad known as som tum — but healthy or not, it's delicious, and remarkably different from its competitors. There's no peanut, egg, or tofu, and the sweetness of the brightly orange-colored dish comes not from palm sugar, but rather from a generous portion of fresh lump crabmeat, which is tossed gently with the noodles but also used to top the pile. The meat and a handful of crunchy bean sprouts play perfect foil to the spice of the sauce, which is flecked with shreds of chile skin.
Honorable Mentions
Kitchen 79
37-70 79th St., at Roosevelt Ave., Jackson Heights; 718-803-6227
Make no mistake: You should NOT go all the way to Kitchen 79 and order only the pad thai. Some of the most interesting, exciting, and insanely spicy Thai food in the city is to be found here, and the southern Thai specialties should not be missed if you can handle the heat. That said, if you need something to balance out the fire, or if you live nearby and are craving a pad thai that goes down easy, this one's quite good, if mild: no dried shrimp, no spice unless you add it, and not too much fish sauce. But it does have plenty of scrambled egg, tofu, chives, preserved radish, a pile of peanuts, and your choice of protein.
Ngam
99 Third Ave., nr. 13th St.; 212-777-8424
Major props to go to this creative East Village spot for not only having a delicious balance of sugar and spice in its proprietary pad thai (which is also pleasingly heavy on the fish sauce, though sadly lacking dried shrimp), but also for figuring out iterations of the dish that make use of vegetable "noodles" instead of the traditional rice ones and are actually good. Shredded green papaya holds up especially well; there's also a zucchini option, as well as an occasional seasonal special, such as butternut squash. All make surprisingly good bedfellows for scrambled egg, preserved radish, bean sprouts, and cubes of tofu, which get deep-fried here.