A stomach selection at Takashi.
Photo: Melissa Hom
Until recently, the consumption of animal guts was a guilty, off-the-menu pleasure, best done hidden from polite company. With the rise of the Nose-to-Tail Generation, however, those of us who enjoy consuming what old-fashioned butchers call variety meats have never had it so good. Here are our absolute favorite places in the city for a bite of veal kidneys, scrambled cow's brains, and more.
1. Takashi
456 Hudson St., nr. Barrow St.; 212-414-2929
The city's offal-loving community was shocked by the death, a couple of weeks back, of the great Takashi Inoue, whose eponymous Japanese-Korean yakiniku restaurant has been a destination for what blood-and-guts-loving chefs like to call "the nasty bits" ever since it opened several years back in the West Village. Inoue's partner has said the restaurant will remain open, and as long as it does, there's no better place in town to enjoy all sorts of odd animal parts sizzled on the grill in front of you (beef hearts, liver, tendon, aorta, cow stomachs, and yes, three kinds of tongue), gourmet creations like Kobe-beef-sausage andouillette and calves brains with blinis and caviar, and strange, enticing fusion inventions like "Testicargot," which the menu describes as "cow balls escargot style, with garlic shiso butter."
2. Savour Sichuan
108 W. 39th St., nr. Sixth Ave.; 212-221-7237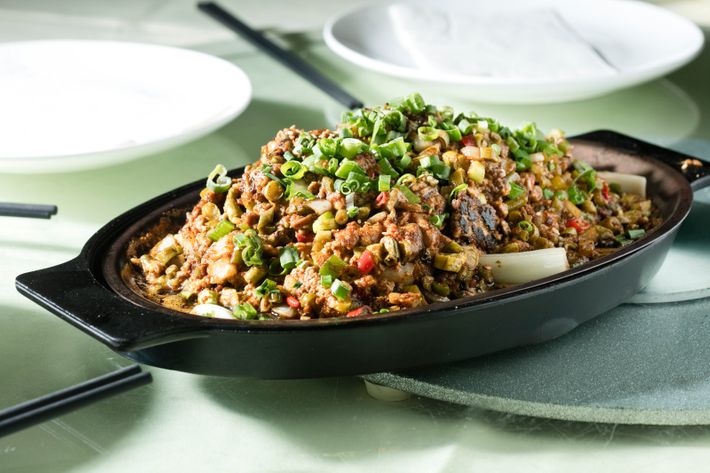 The city is filled with all sorts of distant, suitably grizzly Chinese offal destinations, particularly in the bubbling, viscous realm of Sichuan cooking. But if you're in the mood for a quick midtown fix of kidneys sautéed in chile oil, say, or pig intestines prepared the same way, this tidy little establishment on West 39th Street will do just fine. Unlike elsewhere, these forbidden delicacies are displayed prominently on the menu here (with pictures!). If you're feeling brave, call for the magisterial spicy, softly scrambled pig's brains, which are tossed with plenty of coriander and ma la pepper, and served with proper ceremony, on a sizzling cast-iron plate.
3. Babbo
110 Waverly Pl., nr. Sixth Ave.; 212-777-0303
If there's a New York equivalent to London's great nose-to-tail pioneer, Fergus Henderson, it's Mario Batali, who was arguably the first big-time chef in town to take the innards and viscera dishes beloved by generations of cooks and kitchen slaves, and popularize them, in elevated gourmet form, among the swells in the front of the house. First-class blood-and-guts dishes feature prominently on many of the Batali-Bastianich menus (the lovely tripe alla romana at Lupa, the lamb's tongue "Jim Harrison" at Casa Mono), but this original Greenwich Village flagship is still our favorite place for a taste of the old country favorites like the velvet, faintly spicy tripe alla Parmigiana, pig's foot Milanese, and a whole procession of ravioli stuffed, depending on the kitchen's mood, with innard-centric fillings like goose liver, beef cheeks, and the beautiful lamb's head "testa," which was doused, the last time we dropped in, with plenty of butter and sage.
4. The Cannibal Beer & Butcher
113 E. 29th St., nr. Lexington Ave.; 212-686-5480
At this stripped-down post-millennial butcher-themed bar and restaurant on East 29th Street, the specialties of the house include numerous fine head-cheese- and gizzard-laden pates, generous helpings of roasted bone marrow stippled with beef shank ragout, and an excellent tartare made from chopped lamb's hearts. But the dish our offal-loving friends won't stop nattering about is a crunchy, weirdly delectable General Tso's Pig's Head, which the kitchen broils to a soft, messy crisp in the oven, pours with a spicy, sticky sweet sauce, and serves with all the trimmings, including pancakes and Asian-style greens, and a large pair of tongs for picking.
5. Hakata Tonton
61 Grove St., nr. Seventh Ave. S.; 212-242-3699
This venerable West Village izakaya (the menu's based on specialties from the island of Kyushu) is a beloved institution among old-line offal and pork lovers alike, thanks to forbidden delicacies like veal-liver sashimi (you can have it sliced raw or, for the slightly squeamish, lightly seared, with a spritzing of soy), and the famous "Hakata Motsu" hot pot, which is rich in beef intestines ("motsu"), among other goodies, all of them floating in a bubbling collagen broth.
6. Cheburechnaya
9209 63rd Dr., nr. Austin St., Rego Park; 718-897-9080
This spacious Central Asian grill in a bustling section of Rego Park has been a favored haunt among members of New York's venerable Organ Society for years now, and a quick scan of the menu reveals why. Steamy Uzbek soups containing beef tail and a substance listed as "veal foot" are available beginning at breakfast time, along with all manner of shish kebab snacks, like grilled sweetbreads (try the veal), grilled hearts and liver (veal and lamb), and if you're lucky, lamb testicle kebabs, which have a pale chicken color, for the record, and the mysterious, ineffable, vaguely off-kilter flavor of all good offal.
Honorable Mentions
Buenos Aires
513 E. 6th St., nr. Ave. A; 212-228-2775
The offal-rich "Rueda Buenos Aires" mixed grill at this boisterous, fútbol-centric joint includes plump blood sausages, grilled sweetbreads, and that rarely glimpsed delicacy, chitterlings (a.k.a. pig intestines), all grilled to a palatable crisp and served with an excellent housemade chimichurri sauce.
El Molcajete
1506-1508 Westchester Ave., nr. Wheeler Ave., Soundview; 917-688-1433
Among offalistas we know, the cabeza (cow's head) is considered to be one of the more palatable gateways to the varied universe of organ-stuffed tacos, and the rich, fatty, melting one served at this bustling little restaurant up in the Bronx is a thing of beauty. If you're still hungry, call for the tongue-stuffed torta sandwich, which is dressed with tomatoes, crisp lettuce, mayo, and plenty of fresh avocado.
Le Coq Rico
30 E. 20th St.; nr. Broadway; 212-267-7426
Poultry is the theme of Antoine Westermann's Flatiron restaurant, which for organ enthusiasts means old-fashioned duck foie gras (enjoy it seared, or baked en croûte, in a pastry crust), and the famous house giblets platter, which includes chicken liver on buttered toast spread with horseradish, and a medley of tiny duck and chicken hearts spindled "en brochette" with bits of apple on a bamboo skewer.
Le Veau d'Or
129 E. 60th St., nr. Lexington Ave.; 212-838-8133
This venerable French bistro across from Bloomingdale's makes the list thanks to what might be our favorite iteration of tripe in the entire city. The veal stomach is simmered for long hours in the Norman "à la mode de Caen" style, with onions, leeks, and plenty of Calvados brandy, and best enjoyed with a plate of french fries on the side.
Ugly Kitchen
103 First Ave., nr. 6th St.; 212-777-6677
The great Filipino contribution to the pantheon is that stillborn-duck-egg specialty called balut, and you can obtain one at this fine East Village establishment if you dare. For a slightly less challenging offal experience, call for the exceptional sizzling sisig, which is a tasty, scrapplelike mass of pork leavings (jaw, liver, belly) all scrambled together with onions, soy, and raw egg.
White Gold Butchers
375 Amsterdam Ave., at 78th St.; 212-362-8731
We've been hoping to see sautéed calves' liver show up on the entrée menu of April Bloomfield's great little Upper West Side butcher shop and restaurant, but for now, go for the appetizers (bone marrow sprinkled with herb salt, soft spoonfuls of chicken-liver mousse, grilled chicken hearts flavored with cilantro verde), and bring a jar or two of the house marrow butter home for your morning eggs.