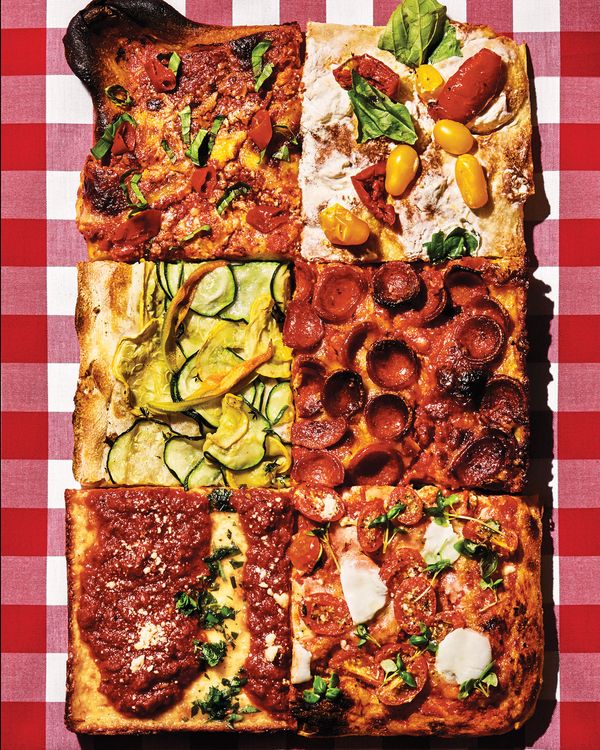 Six superb new squares.
Photo: Bobby Doherty/New York Magazine
Nothing wrong with round, but the current pizzascape is all about rectangles, be they Roman, Sicilian, Detroit, Grandma-style, focaccia, upside-down, or the latest twist — a Roman-Sicilian-Detroit hybrid of sorts. Here are the absolute best new square slices in New York.
1. Piennolo-Tomato-and-Stracciatella slice at PQR
1631 Second Ave., nr. 85th St.; 646-449-0889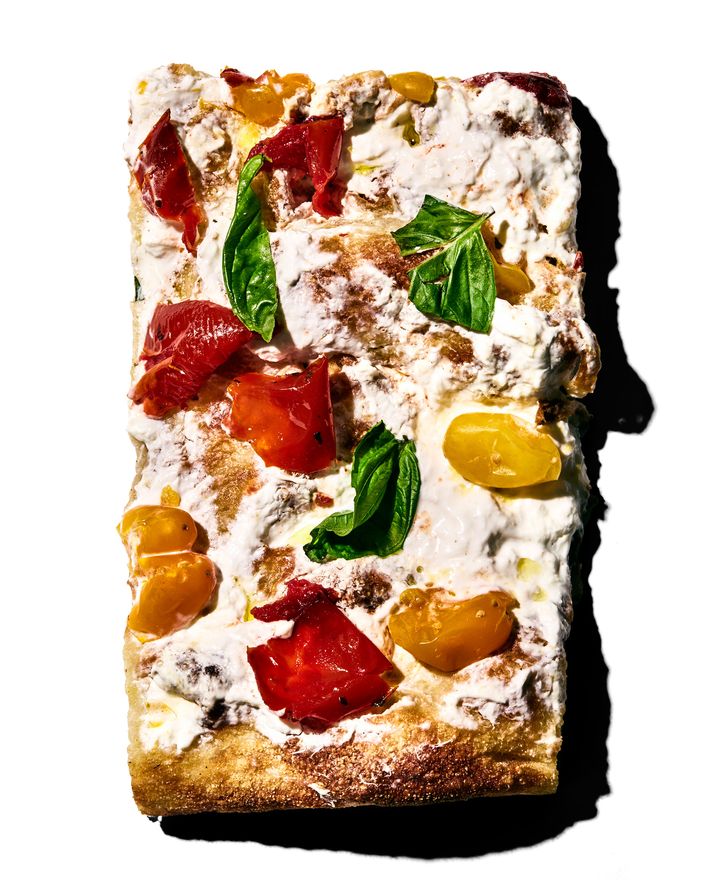 The good news: The dough at this Roman-style pan-pizza purveyor has gotten even better since its March debut. More good news: Co-owner Fabio Casella has broken out his secret stash of pomodorini del piennolo, the ne plus ultra of grape tomatoes. (What Alba truffles are to white button mushrooms, pomodorini del piennolo are to regular grape tomatoes.) Combine these wonder fruits with their equal in the dairy department — stracciatella cheese flown in from Puglia twice a week — and finish the pie with good olive oil and fresh basil, and you have yourself a pretty sublime pizza topping. Factor in a crust that exhibits a range of appealing textures, from delicately crisp and chewy to remarkably light and airy, and you have the best new square slice in town.
2. Pepperoni slice at Mama's Too!
2750 Broadway, nr. 105th St.; 212-510-7256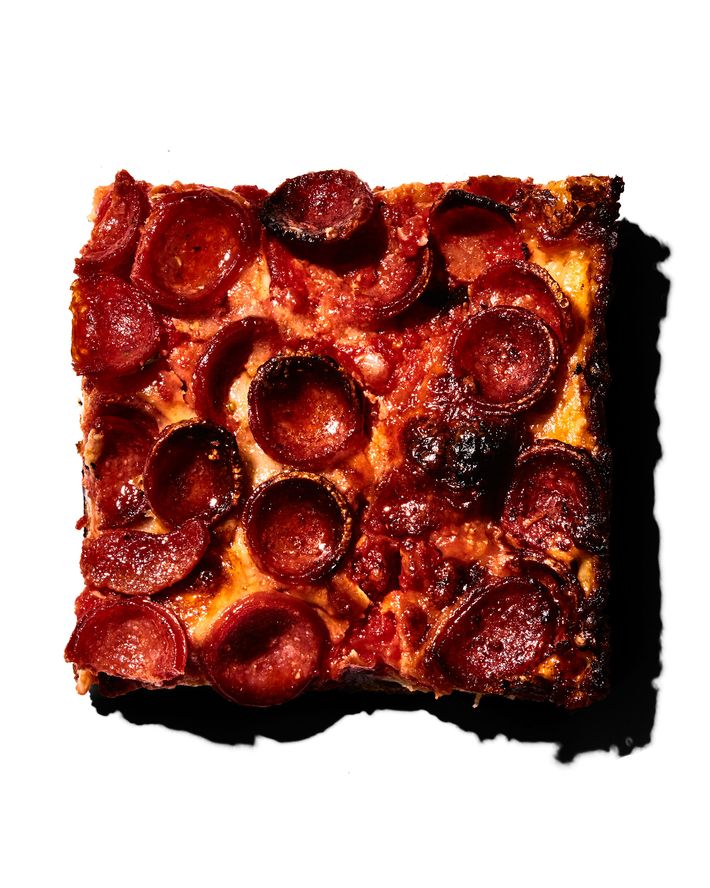 Part Bonci, part Di Fara, part Detroit, part unabashedly burnt: It's hard to categorize this absolute beast of a square. Pieman Frank Tuttolomondo name-checks all of the above as influences, says he wants to bridge the gap between a long-ferment Roman pizza al taglio and a classic New York slice-joint square, and ultimately calls this pizza focaccia. If you had to label it, you might call it New York-Sicilian-Detroit-style pizza al taglio. Whatever it is, it's fantastic. Its cheese-lined upper edges are crisp and bubbly, its crumb springy and tender. And the toppings? Uniformly excellent and generously applied, with a natural-casing pepperoni that will knock your socks off.
3. Fiori di Zucca slice at Alla Pala
200 Fifth Ave., entrance on 23rd St.; no phone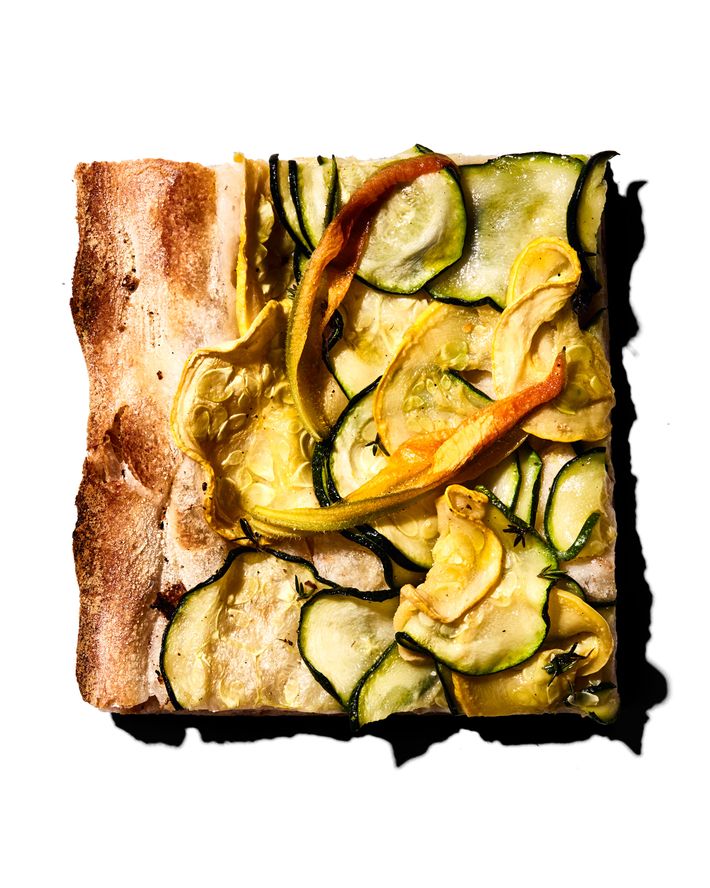 The folks at Eataly have seen the error of their ways and turned the space that was once a Dantesque ring of hell devoted to all things Nutella into this superb pizza al taglio parlor. The cornicione at its corner-slice best is big and puffy, and the bread is full of wheaty flavor. The toppings range from classic to creative. But the best we've tried was the simplest (and vegan to boot): green and yellow squash with zucchini blossoms, thyme, and sea salt. No bells. No whistles. No cheese.
4. Regina Margherita slice at Mani in Pasta
245 E. 14th St., nr. Second Ave.; 646-891-0174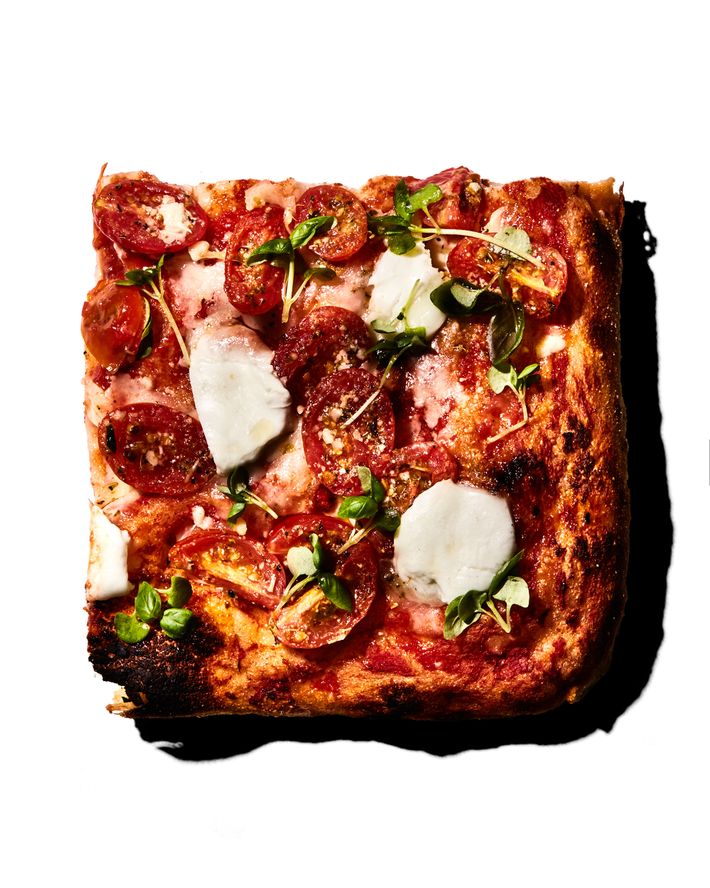 The cherry tomatoes fly off this Roman-style slice when you pick it up to take a bite like drunken lumberjacks at a log roll. But the buffalo mozz is sweet and fresh, and the dough — made from rice, wheat, soy, and semolina flours — gets a flavor boost from a 96-to-110-hour fermentation vacation. If you like pizza that can do a convincing impression of a classic pasta dish, get the carbonara slice.
5. Square slice at Di Fara Pizza at North 3rd Street Market
103 N. 3rd St., nr. Wythe Ave., Williamsburg; no phone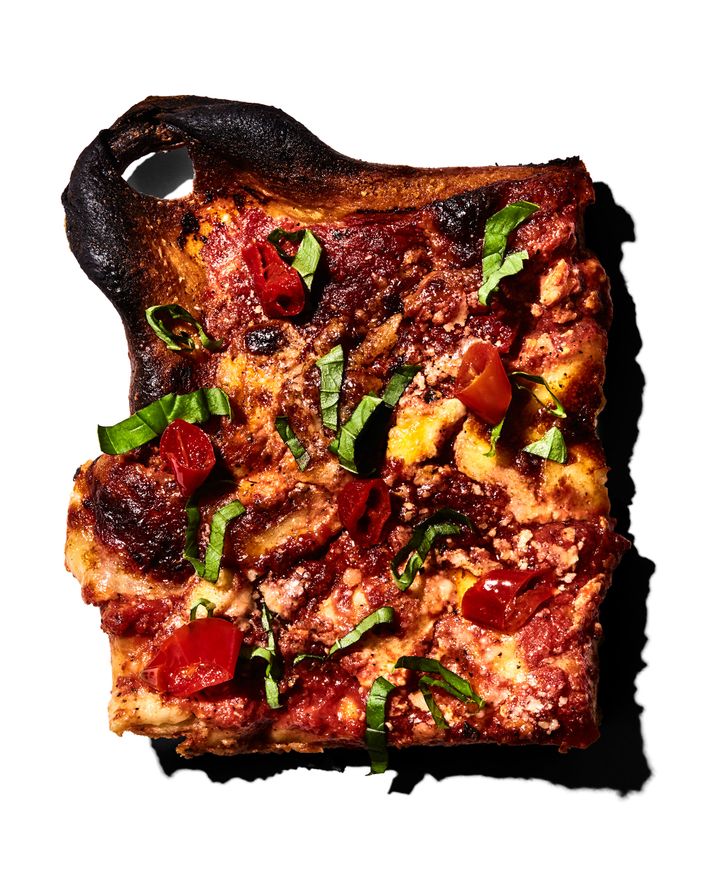 The flavor of the sauce and cheese is big and bold; the basil snipped à la minute; the crust extra-crunchy, albeit a little stiff and bland. All of which is to say that the slices at this new food-hall Di Fara are pretty much the same as the ones you get at the Midwood mecca. All that's missing is the maestro Dom DeMarco himself, who, says daughter Maggie, will swing by on occasion for a guest-pizzaiolo appearance.
6. Classic slice at Lions & Tigers & Squares
268 W. 23rd St., nr. Eighth Ave.; 917-261-6772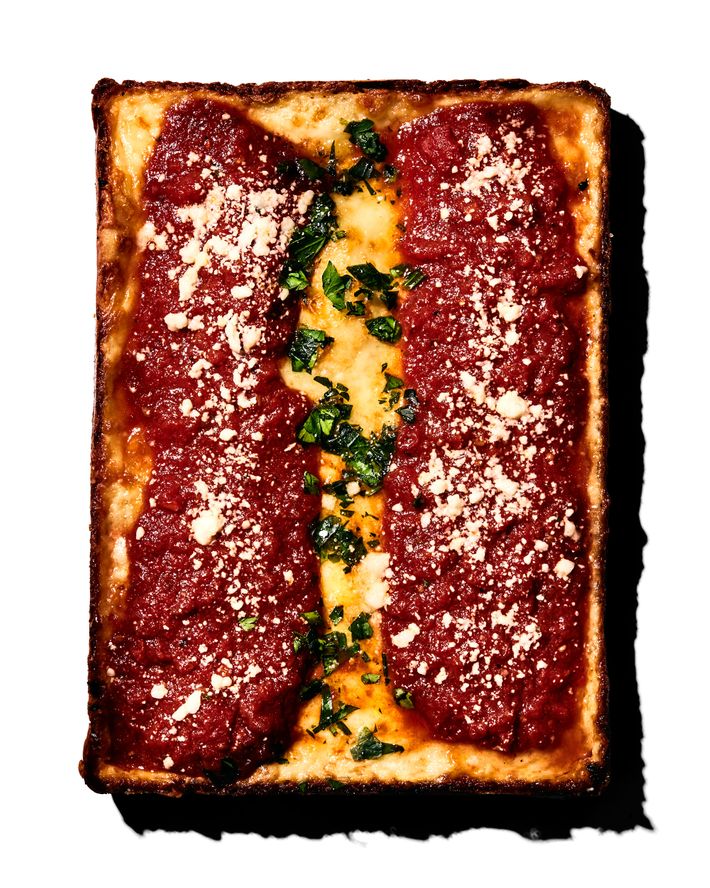 The plain square is soft and squishy. The marinara is as thick as mud. And the chief aspect that defines it as Detroit style — that lacey picket fence of crunchy cheese around the upper edges — is kind of lacking. But what can we say? This slice (correction, it's really a miniature pan pizza cut into four slices) hits the spot. And at $5 for the whole thing, it's a steal.
*A version of this article appears in the July 9, 2018, issue of New York Magazine. Subscribe Now!