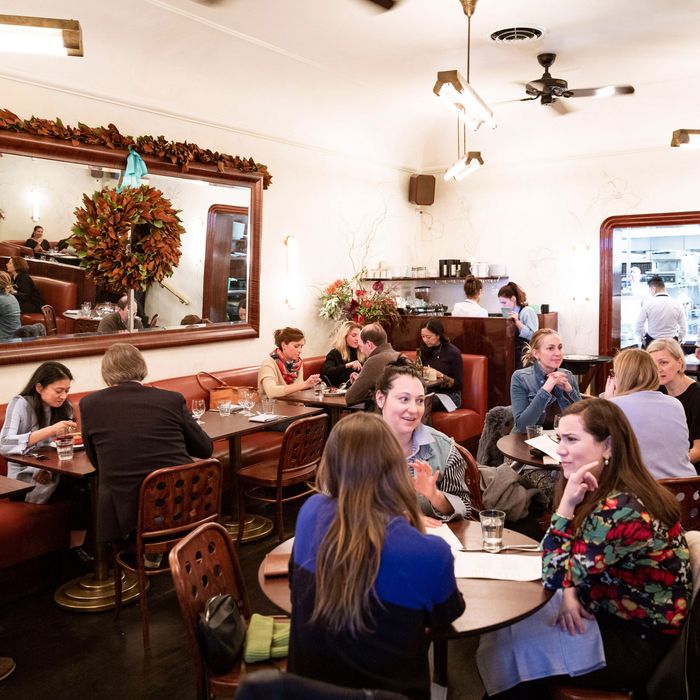 The opening of Frenchette marked the return of two of New York's best-loved chefs.
Photo: Hanna Pavlova
As always in this perpetually bustling, restaurant-mad town, 2018 produced a bumper crop of new and interesting places at which to sample things like spicy mi fen rice noodles from the kitchens of Hunan, say, or tandoori-sizzled lamb chops, or homestyle Persian banquets of roast lamb served with crunchy triangles of tahdig rice and great wheels of fresh-baked bread. Here you'll find the annual, tortured, highly debatable ranking of our very favorite new restaurants, listed in order of general preference. And like we do every year, we offer the caveat that these are all winners, and that we'd be equally happy to return to any one of them at any time — depending on our mood, of course, and the state of our bank accounts.
1. Frenchette
241 W. Broadway, nr. White St.; 212-334-3883
Riad Nasr and Lee Hanson's much-praised Tribeca brasserie isn't the most ambitious new restaurant around town (yes, it's been another banner season for expensive, high-minded tasting rooms), nor the most antically theatrical (thank you, Salt Bae), and their mentor, Keith McNally, would certainly have questions about a few of the aesthetic choices in the clamorous, sparely decorated dining rooms. But the return to the kitchen of these two great masters of the old French canon is certainly one of the most edifying comeback stories of this dining year, and for those of us who are fans of classic, chef-centric specialties like grainy, perfectly turned pork rillettes, or roast country chicken, or calves' brains prepared in the Grenobloise style, so is the cooking, which more than in any new restaurant in the city this year combines the elevated qualities of first-class ingredients and age-old technique with the timeless, comforting pleasures of a good old-fashioned feed.
2. Atomix
104 E. 30th St., nr. Park Ave. S.; no phone; atomixnyc.com
So what separates Junghyun Park's hyperpolished little establishment from the rabble of effete, high-end tasting rooms that continue to pop up relentlessly around the city? Let's start with this talented chef's particular mission, which is to introduce New Yorkers to the sophisticated wonders of high-end Korean cuisine beyond the familiar parade of noodles and barbecue, a seminar which includes informative cards accompanying each course, and a running dissertation with the waitstaff on the intricacies of, say, curing and fermentation. Then there's the carefully articulated, generally delicious food itself, which, depending on when you drop by, might include candied cubes of wagyu sweetened in a variety of fruit juices, or tiny segments of duck breast that Park and his cooks sear, roast, then sear again, before garnishing them with an alluring substance called gochujang mole. Finally, there's the modest, even neighborly bar upstairs, which might just serve the finest à la carte version of spicy Korean-style chicken wings in town.
3. Oxomoco
128 Greenpoint Ave., nr. Manhattan Ave., Greenpoint; 646-688-4180
In what's arguably been the best year for new Brooklyn restaurants since the early pioneer days of Roberta's out in Bushwick, Justin Bazdarich and his band of barbacoa savants have produced a casual Mexican joint that even the taco snobs at Michelin can love. The tequila and mezcal drinks are plentiful; the excellent moles, salsas, and soft, purple-hued masa tacos are all carefully crafted in-house; and during the course of the day at this sunny, L.A.-style establishment in Greenpoint, almost everything on the deep, deceptively sophisticated menu (half-chickens, charred vegetables of every kind, lamb and beefsteaks, the great brunch-time "pambazo" burger) gets thrown on the fire-belching grills at the back of the room. The stars of the show, however, are the tacos, which chef de cuisine and Empellon veteran Matt Conroy stuffs with all kinds of exotic combinations, including chunks of tempura shrimp and Thai basil, and a mouthwatering, slightly heretical version of al pastor tacos made with the usual sacred bits of pineapple mingled with chicken thighs instead of pork.
4. Sushi Noz
181 E. 78th St., nr. Third Ave.; 917-338-1792
It's always been chic, in New York's high-end sushi circles, to be able to trace your lineage back to the old masters in Tokyo, but few restaurants have ever managed this trick in quite such a theatrical way as this polished little atelier on the Upper East Side, where full kimonos are the uniforms worn by women on the waitstaff, and the hushed little rooms are constructed from woods like cedar and cypress fit together without nails in the ancient sukiya style. But what separates this pricey new omakase palace from the rest of the gilded herd is chef Nozomu Abe's expertly presented menu, which in sourcing, execution, and traditional flair (cod milt soup, anyone?) is about as close as you'll come to the real thing in this sushi-saturated town, short of hopping on a flight to Tokyo.
5. Saint Julivert Fisherie
264 Clinton St., at Verandah Pl., Cobble Hill; 347-987-3710
The announcement of a new Alex Raij and Eder Montero restaurant is always a happy occasion, but when the joy of seafood is the specific theme in these seafood-challenged times, it's cause for special celebration. You'll find all sorts of strange little wonders served up in this little railcar-size Cobble Hill dining room, including silvery anchovies plated with little moons of unmelted vanilla butter, bowls of risotto folded with chopped conch and smoked eel, and that ugly-delicious Catalan speciality, goose barnacles, served with proper ceremony in a fold of white linen. Die-hard beef lovers should call for the Prego sandwich, a kind of Portuguese steak-bomb, which you can get dressed with a mess of fat fried oysters for an extra fee.
6. Sofreh
75 St. Marks Ave., nr. Flatbush Ave., Prospect Heights; 646-340-0322
Persian cuisine is not something you tend to hear much about when nattering, food-obsessed New Yorkers get together, but at this convivial, stylish townhouse establishment just off Flatbush Avenue, the chef-owner, Nasim Alikhani, brings this venerable dining culture alive in a variety of inventive, satisfying ways. Pay attention to the rice (served in steamy, saffron-flavored platters, or in crunchy triangles called tahdig), and to the blizzard of small plates (the kofteh meatballs, the vegetable dips and spreads), all of which are designed to be consumed in a communal lather with oval slabs of fresh baked bread. And pay attention to anything involving the delicious, fresh strained yogurt, which is served as a drink (with mint and rose petals), as a garnish (with lamb shanks and kebabs), and, in the warmer months, as a luxurious dessert topped with spoonfuls of sugary marmalade.
7. Shabu Shabu Macoron
61 Delancey St., nr. Allen St.; 212-925-5220
Mako Okano's impressive one-woman dissertation on the joys of the communal Japanese hotpot called shabu-shabu wins this year's competition for the pound-for-pound best new restaurant in town for many self-evident reasons. The prices ($128 for seven courses, along with other tastes and morsels) are slightly higher than at your average shabu-shabu joint, it's true, but you're not going to find marbled slivers of wagyu or pork like this elsewhere on the hotpot circuit (not to mention uni served with homemade yuba on a spoon). And the combination of focus and intimacy makes a visit to the snug eight-seat operation down on Delancey Street feel less like a standard restaurant dinner than a private event cooked up by the chef at her dining counter at home.
8. Adda
31-31 Thomson Ave., nr. Van Dam St., Long Island City; 718-433-3888
Chintan Pandya, the chef at this bustling little Long Island City canteen, has cooked in grand kitchens all over the world, but according to the loquacious gentleman who brought us our tandoori grilled lamb chops one happy afternoon, he considers this casual little place with simmered goat brains on the menu and a metal shanty-style roof over the bar to be "his idea of the perfect restaurant." After polishing off the tender double-cut chops and those brains (served with toasty buttered rolls for mopping up), as well as a variety of other home-style Indian delicacies (spicy, buttered chicken tikka, loose squares of paneer that Pandya and his cooks curdle in-house), and what is possibly the finest mango lassi in town, it's easy to see why.
9. La Mercerie
52 Howard St., at Mercer St.; 212-852-9097
Like all great Parisian cafés, Marie-Aude Rose's stylish little downtown dine-and-shop operation (it's located in the front of a Soho boutique) has a little something for everyone — including, if you wish, bundles of fresh-cut flowers that you can order when you arrive for your lobster salad or bowl of chestnut velouté, and pick up after you've finished eating. Our favorite meal is breakfast, when the kitchen serves bowls of crème anglaise with slices of warm brioche and the sun slants into the room in a particularly Parisian way, but you can get a superior version of boeuf bourguignon starting at lunchtime, along with a fine selection of that durable Breton-style speciality, buckwheat crêpes, which the kitchen folds with creamed chicken, and serves, speckled with sugar and a squeeze of lemon, for dessert.
10. Gem
116 Forsyth St., nr. Delancey St.; 917-473-3223
There are many things to like about Flynn McGarry's official New York restaurant debut, from the intimate tasting-room layout (diners sit at small tables instead of the usual formal bar), to the laid-back L.A.-style décor and vibe (flickering low-lit candles, a woodsy color scheme). But mostly what we like is the cooking itself, which veers from a kind of polished Japanese influence (local raw clams over ice, uni sprinkled with pumpkin seeds, diver scallops wrapped in shiso leaf) to some of the best elevated vegetable creations we tasted all year (truffle-rolled carrots, ash-grilled sunchokes, slow-roasted pumpkin spooned with melted Gruyère), all of which make it difficult to believe that this wunderkind cook just turned 20.
11. Momofuku Ko
8 Extra Pl., nr. 1st St.; 212-203-8095
The Momofuku dining empire is an increasingly sprawling, populist business these days, but if you want a window into that restless sense of high/low innovation that has characterized David Chang's restaurants from the very beginning, this modest à la carte operation, which opened earlier this year off the tasting room down on the Bowery, is a good place to start. You'll find crêpes made of sourdough on the ever-changing handwritten menu, and strange late-night snacks rendered in fancy, almost-gourmet fashion, like the famous fried chicken served cold and by the piece, like leftover morsels straight out of the fridge. There are candied char siu-like strips of steak loin, too, and scoops of ice cream folded with buckwheat, although the dish we still can't get out of our heads is ye olde duck-and-foie-gras pie, which is encased in a shiny, Victorian-era crust, and rich enough for a party of ten.
12. Hunan Slurp
112 First Ave., nr. 7th St.; 646-585-9585
The specialty of this accomplished little East Village venture is the delicate rice noodle called mi fen, favored in the southern parts of China, which chef-owner Chao Wang had presumably been pining for during his time subsisting on containers of carryout food in New York. There are ten varieties on the menu (topped with nourishing combinations like the Three Delicacies' oyster mushroom, Berkshire pork, and an egg roll; carefully arranged fans of tofu and sliced beef; and numerous kinds of barnyard pork), although many of the other, rarely-seen non-noodle Hunan specialties (helpings of fish served in a mingling of milky pork and fish bone broths, the offal lovers' Hunan charcuterie) are worth a special trip.