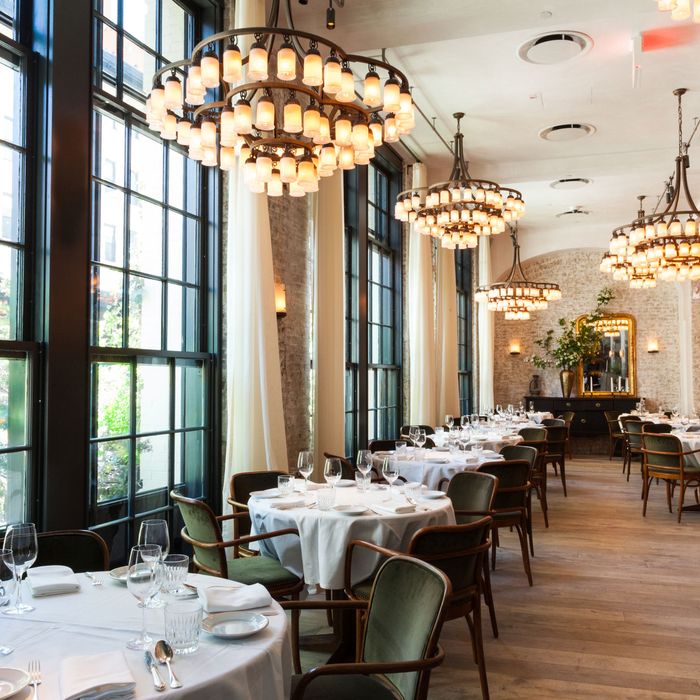 Le Coucou.
Photo: Miachel Breton
Any grizzled professional critic will tell you (usually in his or her best world-weary voice), that like chugging grandma's viscous eggnog, or finding a gift for your picky step-sister-in-law, compiling the annual "best of the year" list is one of the more painful rituals of the holiday season. As usual, in a diverse and vibrant dining city like New York, our annual list has been dutifully culled from a strong crop of contenders. As usual, it represents a veritable rainbow of culinary styles and tastes, from classical French to nouveau Korean to modern Chinese. In accordance with postmodern journalistic custom we have been forced, more or less at gunpoint, to number our favorite restaurants from one to ten, although as every seasoned restaurantgoer knows, that order could easily change depending on all sorts of factors, including the season, the time of day, what we're planning on eating for dinner in four hours, how much change is in our pocket, and what wonderful delicacy we consumed for lunch yesterday.
1. Le Coucou
138 Lafayette St., at Howard St.; 212-271-4252
There may be more innovative new restaurants around town than this elaborate, old-school Stephen Starr and Daniel Rose production, and given the extravagant price of your exceedingly soft spoonful of quenelles de brochet (with lobster sauce, of course) or your perfectly realized country lamb chop, there are other new dining venues which offer more bang for the proverbial buck. But like the vanished transatlantic ocean liners of the olden days, ambitious, Continental-style restaurants like this hardly ever sail into town anymore, and when they do, you have to tip your cap. Go to enjoy the plush banquettes, and to admire the spacious open kitchen, which seems almost baronial by today's pinched standards. But mostly go for Rose's impeccably rendered French cooking, which combines the technical precision of what used to be called "haute cuisine" with the satisfying, increasingly rare comforts of a classic bistro meal in Paris.
2. Olmsted
659 Vanderbilt Ave., nr. Park Pl., Prospect Heights; 718-552-2610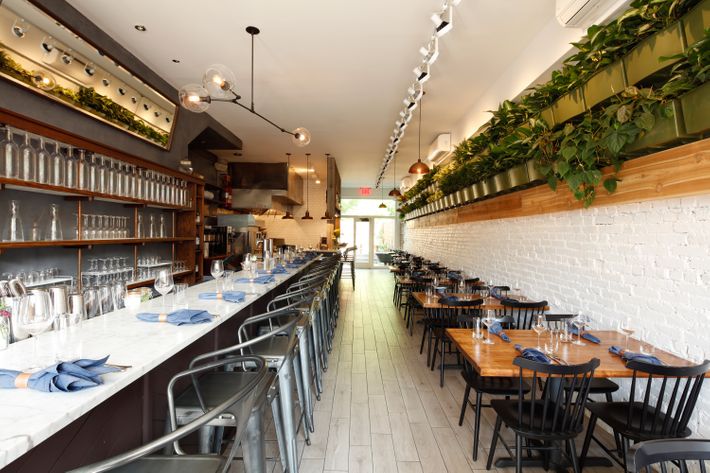 There are plenty of stylized, hyper-twee, townhouse establishments blooming up around the dining landscape these days, but what separates this modestly priced, post-gourmet, DIY restaurant in Prospect Heights from the latest crop of homegrown, seasonally attuned joints in town is the level of skill, detail, and imagination which the proprietors Greg Baxtrom (chef-owner) and Ian Rothman (farmer-owner) and their staff bring to their work. The most expensive item on the polished, neighborly, ever-changing menu costs $24, and many of the more satisfying dishes are a good deal less than that. In a restaurant world increasingly split between a rabble of fast-casual projects and cookie-cutter plutocrat dining desti­nations, Baxtrom and Rothman provide a blueprint for ambitious young rest­aurateurs attempting to navigate the sophisticated, modestly priced, increasingly less-traveled middle road.
3. Aska
47 S. 5th St., nr. Wythe Ave., Williamsburg; 929-337-6792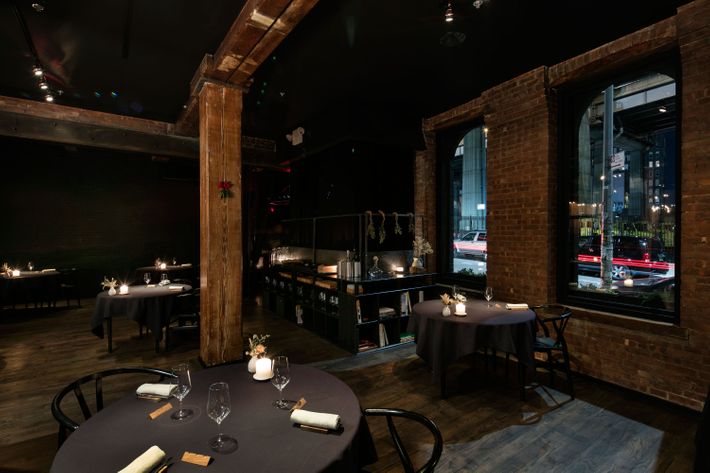 Certain dyspeptic critics have been arguing for a while now that the interminable Scandi-dining craze and all that it stands for (preciously foraged tubers; endless, high-priced tasting menus; volcanic ash on everything) has begun to lose its luster after a long run, but credit the Swedish chef, Fredrik Berselius, for sticking doggedly to his vision and tinkering with his repertoire until he got things right. The location (in an old warehouse space under the Williamsburg Bridge) and slightly lugubrious décor (yes, even the tablecloths are black) could be more ideal, but the range and complexity of the best of the cooking — cocoons of flash-fried lichen decorated with baby mushrooms, lozenges of gently cooked skate spooned with béarnaise sauce, the bread service, the sorbets and ice creams flavored with unexpected ingredients like birch bark and fermented milk — vault this ambitious young chef into the upper echelons of the gastronaut-tasting pantheon.
4. Hao Noodle and Tea by Madam Zhu's Kitchen
401 Sixth Ave., nr. 8th St.; 212-633-8900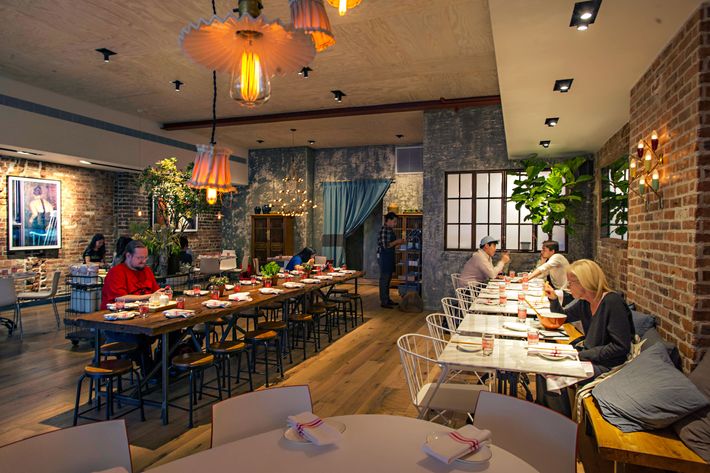 Chinese restaurateur Zhu Rong's unassuming West Village establishment is more than just an elegant, well-priced noodle-and-tea bar. For New Yorkers who've been dutifully ingesting the same leaden, increasingly predictable diet of slapdash carryout dishes for decades now, it's the first real window into the fast-changing culinary landscape of China itself since the glory days when General Tso's favorite dish arrived on our shores from Taiwan. Zhu comes from Chongqing, Sichuan, and operates restaurants in Shanghai, Beijing, and Hangzhou, and she and her chefs create a menu which reflects elements of all of these evolving regional cuisines. The soups and stews — steamy "bone marrow" broths from Suzhou, Zhu's own family tomato-soup recipe — are a little revelation, and so are the simple noodle and dumpling dishes which, unlike at your local carryout joint, are all made from scratch, in house.
5. Flora Bar
945 Madison Ave., at 75th St.; 646-558-5383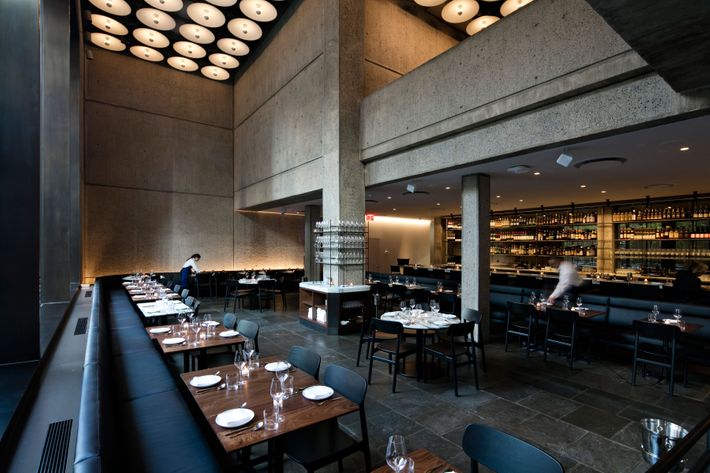 "Estela for older people" was the description someone used at our table to describe this uptown addition to Ignacio Mattos and Thomas Carter's inexorably expanding dining empire. Like all wiseass statements, this contains an element of truth, but it's more than that. The team's breakthrough Nolita bar-restaurant has its endlessly documented charms, but at this larger setup in the new Met Breuer (and old Whitney) on Madison Avenue, Mattos finally has a first-class uptown venue where he can stretch out and show a new audience what he can do. As usual, the elegant small-plate creations — potato croquettes, a steady stream of expertly imagined crudi and tartares, steamed clams with spoonfuls of creamy chowder — are the specialties of the house, and if you don't feel like a full museum-dinner feast, the exceptional breakfast and lunchtime pastries and sandwiches, at Flora Coffee next door, are worth a special trip.
6. High Street on Hudson
637 Hudson St., at Horatio St.; 917-388-3944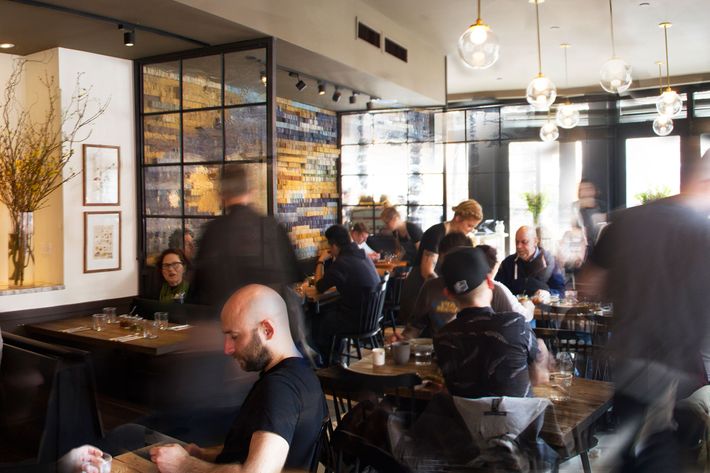 Even the finest restaurants usually have only one or two real strengths, but Eli Kulp's versatile Philly import is a first-class bakery (the Anadama bread is so good that Günter Seeger serves it at his restaurant next door), an inspired lunchtime (and breakfast) sandwich salon (try the pork sandwich and the magisterial Pastrami and Hash), and a cutting-edge farm-to-table dinner destination, all rolled into one.
7. Pasquale Jones
187 Mulberry St., at Kenmare St.; no phone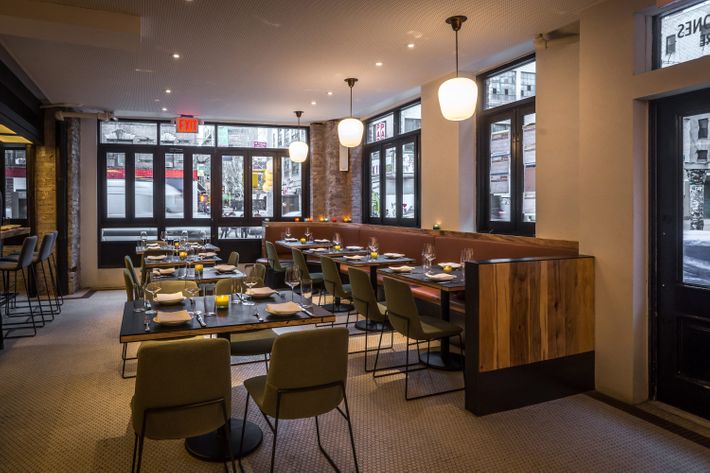 Don't let the shoe-box size and simple, small menu of this sporty Nolita establishment fool you. Add Robert Bohr and Grant Reynolds's first-rate wine selection together with the excellent, carefully edited pizzas (the clam pie and the classic marinara, in particular), the pastas, and the wood-oven cooking skills of chef Ryan Hardy (the roast pork), and you have the winner of the coveted annual Platt's Pound-for-Pound Best New Restaurant in New York prize.
8. Lilia
567 Union Ave., at N. 10th St., Williamsburg; 718-576-3095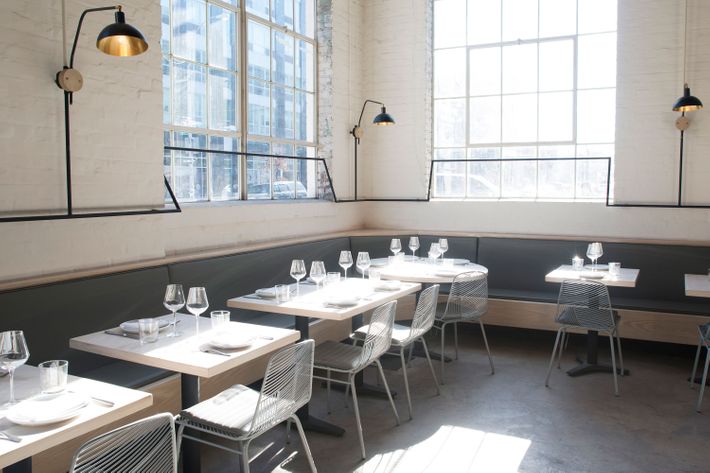 After conquering Chicago (Spiaggia) and midtown New York (A Voce Columbus), the Obamas' favorite pasta chef, Missy Robbins, has set her sights on the post-millennial Williamsburg bar-dining set. The pasta gets all the press at this large, brightly lit, often cacophonous establishment, and if you order the famed agnolotti stuffed with sheep's-milk cheese and honey, you'll know why. But pay attention to the seafood specialties like grilled swordfish, platters of clams flavored with Calabrian chiles, and that famous non-Italian delicacy, grilled blowfish tails.
9. Le Coq Rico
30 E. 20th St., nr. Park Ave. S.; 212-267-7426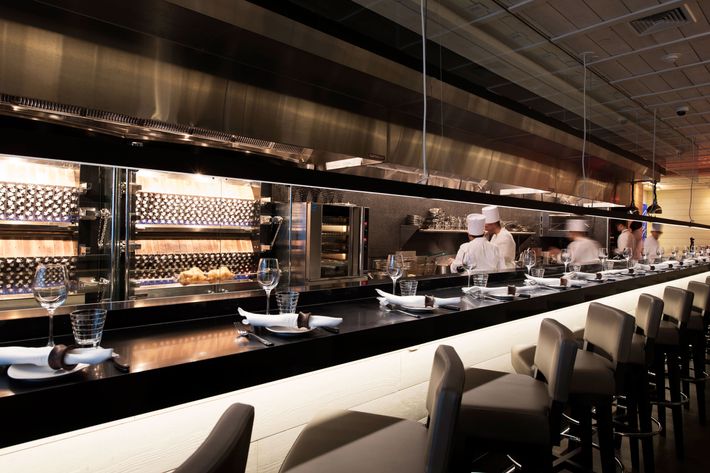 The famous Alsatian poultry chef Antoine Westermann's roster of old-world whole-roast country chickens (and squab and guinea hen) are a revelation provided you have a hefty appetite (the birds tend be huge) and the necessary cash (many of them hover around $100). If you're in an economical mood, go at lunchtime for a taste of the coq au vin, which retails, the last time we checked, for under 20 dollars, and whatever you do, save a little cash for pastry chef Matthieu Simon's classic French desserts.
10. Atoboy
43 E. 28th St., nr. Park Ave. S.; 646-476-7217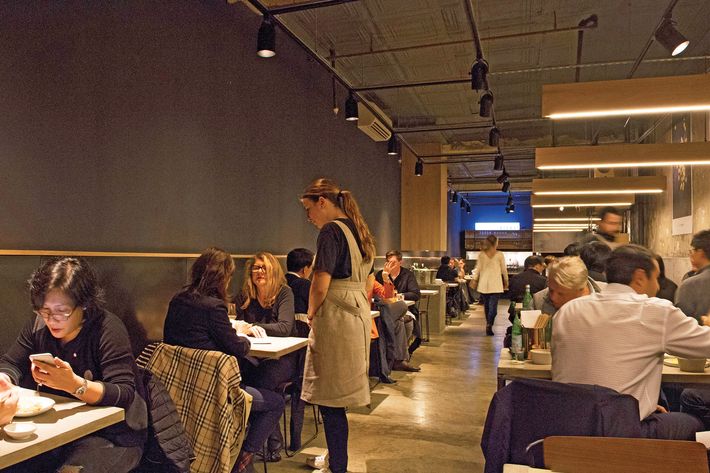 Small-plates banchan cuisine is normally consumed in Korea in a slow, dainty manner, with copious amounts of drink. But at this posh, neatly designed little mom-and-pop establishment in the Flatiron District, Junghyun and Ellia Park turned the tradition on its head with a combination of ingenious, accessible recipes and first-class cooking technique. The result is a reasonably priced tasting experience for the post-gourmet age.