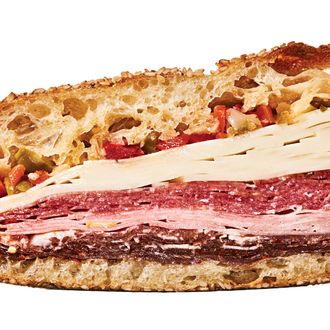 Primo's muffuletta.
Photo: Bobby Doherty/New York Magazine
Is there a better summertime sandwich (cured-meats-and-cheese division) than the muffuletta? Invented in New Orleans in 1906 at the now-famous food shop Central Grocery, the muffuletta has several distinguishing characteristics — chief among them the soft, round, sesame-seeded loaf it's built on before being sliced into pielike slabs and the invigorating olive salad that goes on the bread. Traditionally, the meats include mortadella, Genoa salami, and either ham or capocollo. What really sets it apart from other sandwiches, though, is that it gets better with age. You have to let a muffuletta rest like a sirloin steak; you have to allow it to breathe a little. If you can hold off from devouring a freshly made muffuletta, it only improves as it sits and its flavors meld, making it particularly suited to picnics and road trips. The only problem with muffulettas is that good ones are hard to come by outside of New Orleans. Happily, there's been a minor flurry of activity on the local-muffuletta front of late, and the sandwich can now be found in varying degrees of authenticity and reinterpretation at bars, delis, and cafés around town. Here, the absolute best muffulettas in New York.
1. Primo's
129 Chambers St., at W. Broadway; 917-512-3432
Here is a muffuletta disguised as a finger food, a snack-size slice designed to provide ballast for a second Martini. The cured meats (mortadella, Genoa salami, capocollo piccante) and sharp provolone come from Di Palo, the olive salad from the Central Grocery mother ship, and the custom-made bread from Roger Gural's Arcade Bakery a few blocks away. Yes, it's a mini-muffuletta (which sounds like an oxymoron), but it's big on flavor, beautifully constructed, and about as well-balanced as a yogi master in the wounded-peacock pose. If Harry's Bar did a muffuletta, this is what it would look like.
2. R&D Foods
602 Vanderbilt Ave., nr. St. Marks Ave., Prospect Heights; 347-915-1196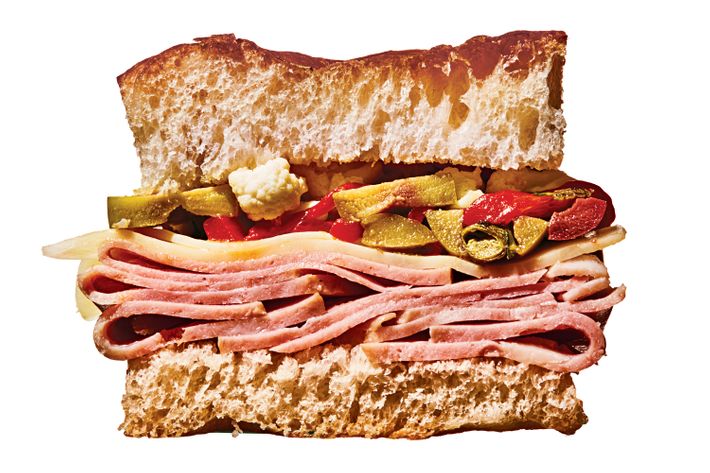 When the cherry trees start to bloom in nearby Prospect Park, the mortadella muffuletta makes its annual return to this gourmet grocery, where the locals regard the sandwich as a seasonal delicacy not unlike heirloom tomatoes and summer corn. Chef-partner Ilene Rosen constructs it with a single meat, Fra' Mani mortadella; a notably chunky, olive-forward olive salad and lots of pickled cauliflower; a too mild provolone; and Settepani Bakery's spongy focaccia to soak up the piquant juices. If the bread gets a little soggy by the time you arrive at your picnic spot, that's the point.
3. Fort Defiance
365 Van Brunt St., at Dikeman St., Red Hook; 347-453-6672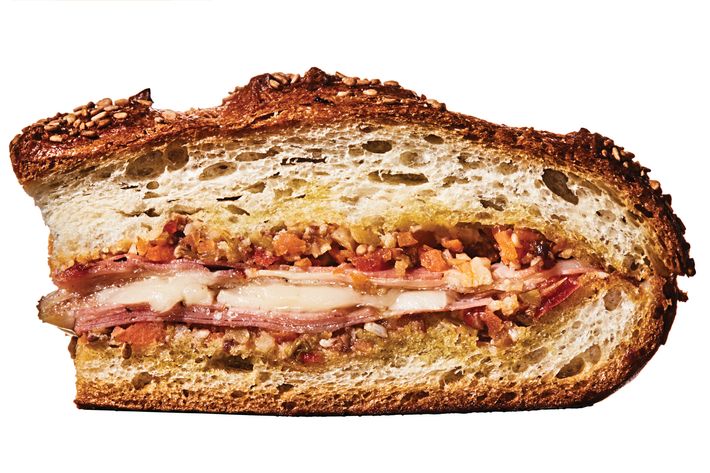 St. John Frizell lived in New Orleans for eight years, which makes him enough of an expert to know a good muffuletta from a bad one. Even so, when he put one on the menu at this excellent Red Hook watering hole, he FedExed some prime specimens from Central Grocery and studied them like a gemologist inspecting the Moussaieff Red Diamond. It immediately became a signature, but the sandwich has evolved over time with a few tweaks, including a meat upgrade, a bread swap to the Carroll Gardens bakery, Caputo's, and a stint in the oven to meld the flavors (controversial in certain muffuletta circles). Happily, the gestalt remains the same. And bonus points for a supersharp provolone, and the fact that you can wash it down with a Ramos Gin Fizz.
4. Petee's Café
505 Myrtle Ave., nr. Ryerson St., Clinton Hill; 646-494-3630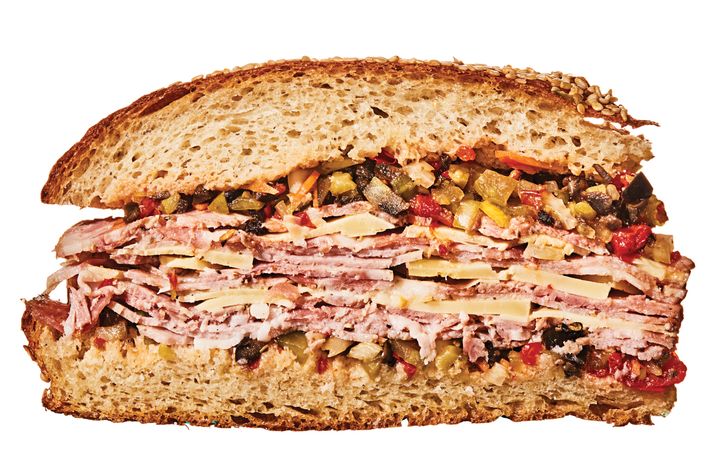 According to our Louisiana muffuletta-loaf advisers, the bread you get at this Brooklyn outpost of the Lower East Side pie shop is about as close to the real deal as you're going to find in New York. It's soft and yielding, but sturdy enough. Petee's Petra Paredez makes it from scratch with organic Finger Lakes flour and keeps the locavore theme going with Meat Hook–made mortadella, salami, and soppressata, and a creamy alpine-style farmstead cheese from the Hudson Valley. This is a meat-lover's muffuletta with a high ratio of pork product to other ingredients. Olive-salad addicts might say this has thrown the balance of the sandwich into disarray, but as the old adage goes, it takes all sorts of muffulettas to make a world.
5. Lowerline
794 Washington Ave., nr. Sterling Pl., Prospect Heights; 347-533-7110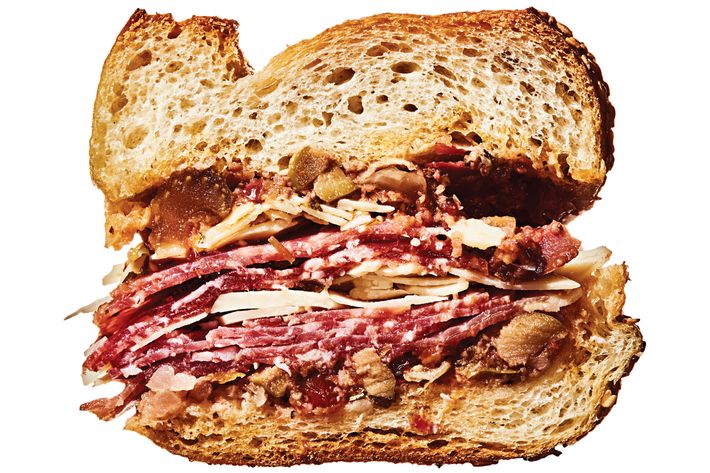 John Verlander has packed all the flavors of his native Louisiana into this narrow sliver of an oyster bar, where he takes inspiration from muffuletta mecca Central Grocery but forges his own path, swapping Parmesan for the standard provolone and including prosciutto in his cured-meats medley. The crusty (a tad too crusty, in this case) sesame-seeded club roll comes from Caputo's, who seems to be attempting to corner the bread market on the New York muffuletta.
6. Defonte's
379 Columbia St., at Luquer St., Red Hook; 718-625-8052
Okay, the meat-and-cheese colossus known as the Nicky Special, terrific as it may be, comes on a hero roll and is not a muffuletta. Or is it? Let's see what it's got: ham, capocollo, salami, provolone, oil and vinegar, and "Nicky's famous hot salad," that relentlessly zingy — though olive-less — giardiniera. Also: fried eggplant and marinated mushrooms. In other words, (almost) everything you get in a muffuletta and then some. If you're a purist, just ask for it without the lettuce, tomato, and fried eggplant, and BYOO (bring your own olives).
7. Cheeky Sandwiches
35 Orchard St., nr. Hester St.; 646-504-8132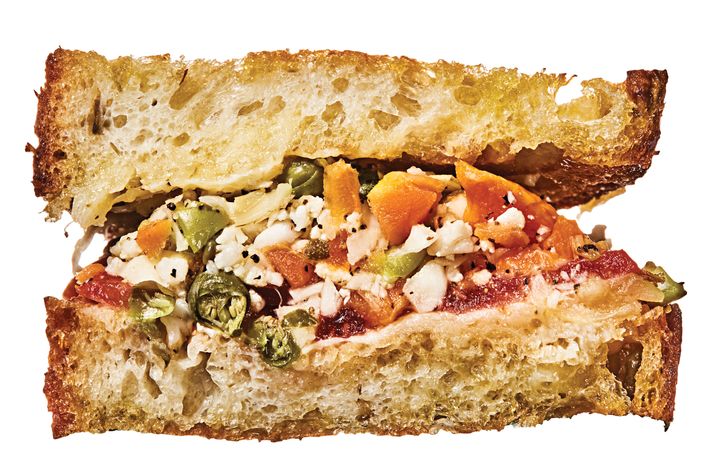 A particularly pickly olive salad gets spread onto slices of olive-embedded Grandaisy bread with Swiss Emmenthaler and tomato, then cooked on the griddle like a grilled cheese sandwich. That's right: no meat, the wrong bread, and a technique that would raise eyebrows in the French Quarter. For the record, owner and New Orleans native Din Yates calls it an "anti-muffuletta," and lists it on the menu as the "Veggie." Whatever: It's delicious, like the meat-free love child of a muffuletta and a Reuben, and if this was a list of "anti-muffulettas," it would surely rank up there at the top.
*A version of this article appears in the June 11, 2018, issue of New York Magazine.