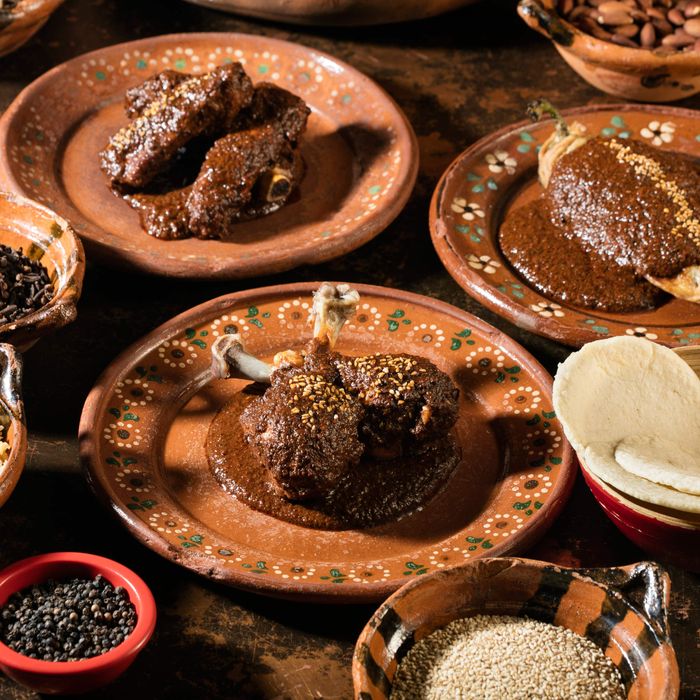 La Morada in the Bronx does mole — poblano and otherwise — like no other.
Photo: Melissa Hom
In Mexico, mole refers to a whole category of sauces, made from a wide range of ingredients — the through line being that said ingredients are usually roasted or even charred, ground into a powder or paste, and simmered, ideally resulting in incredibly complex flavor. But when you see mole on a New York menu, it usually means mole poblano — a deep, dark, rich sauce that some allege has ancient origins and is also often attributed to the Mexican state of Puebla; it's traditionally made with chilies, chocolate, tomato, onion, and tortillas, among many other things, and served over chicken or enchiladas. We've rounded up the very best iterations of mole poblano in the city — and since Mexican food in New York is perhaps more expansive than it's ever been, we've highlighted some other varieties, too.
1. La Morada
308 Willis Ave., nr. 140th St., Mott Haven; 718-292-0235
For pure breadth of mole, this delightful and cozy Oaxacan spot in the Bronx cannot be beat: It offers no fewer than six varieties, from verde (with jalapeños and herbs) to negro (named for the dark-skinned, narrow chile known as pasilla). And its mole poblano was the best we tried — thick and smooth with just a bit of texture; unctuous but not oily, with a lovely balance of subtle spice, sweetness, and smoke and a hint of crunch from a sprinkle of sesame seeds. The choice of protein it's served with is yours, but the kitchen recommends the bone-in dark-meat chicken, which is perfectly cooked. The spicy, sour, and toe-tinglingly salty mole oaxaqueño, made with seven different chilies, is wonderful, too, over pork. And for something totally different, try the chile relleno (cheese-stuffed pepper) blanketed in the rich, creamy, sweet mole blanco, which gives pesto a run for its money as the best thing you can do with pine nuts.
2. Casa Enrique
5-48 49th Ave., nr. Vernon Blvd., Long Island City; 347-448-6040
At Casa Enrique, the mole is not just poblano but further specified as piaxtla, the name of a town in Puebla. Made with a mix of dried chilies, almonds, raisins, Mexican chocolate, and plantains, and sprinkled with sesame seeds, it's smooth, round, and high-gloss, creamily emulsified, acidic but complex, with a deep, fruity sweetness and spice that sneaks up on you, blooming in your mouth. It's available atop chicken-breast enchiladas or a spectacularly silky chicken leg, with a side of pea-flecked yellow rice, and garnished with coins of crunchy radish, black beans, and warm corn tortillas.
3. Fonda
Multiple locations
Though the mole at Fonda — which has outposts in Chelsea, the East Village, and Park Slope — is on the menu as "Negro Oaxaqueño," it's pretty much indistinguishable from a mole poblano, broadly speaking, and made with corn tortillas, chocolate, onion, garlic, almonds, bananas, and three types of chilies. Either way, it's absolutely delicious, super smooth, and symphonically flavored: resoundingly tart, sweet, and smoky, with a subtle drum kick of spice. It's served over excellent enchiladas, packed with salty, juicy shredded chicken, and comes with a side of rice and black beans.
4. Tacos Matamoros
4508 Fifth Ave., at 45th St., Sunset Park; 718-871-7627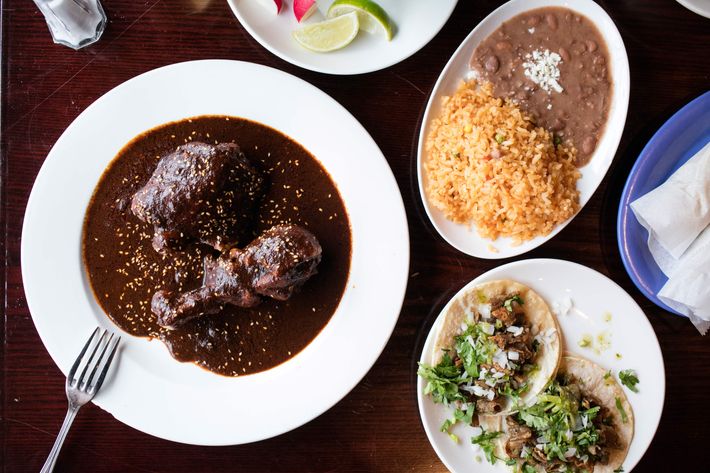 You might not expect to find great mole at a place with tacos in its name, and indeed, the mole here is a bit hard to find, tucked in the back of a many-paged menu. You might not even bother looking for it, given how good the tacos are. But consider this: It's not unreasonable to have tacos and mole in one meal, so you should. Made with chocolate, chilies, plantains, tomatoes, raisins, and cinnamon, the mole poblano here seems extra concentrated, sweet but not too sweet and quite spicy, and is shaded a rich brown with appealingly oily orange edges. It comes blanketing a chicken leg (with rice, tortillas, and lardy black beans), over enchiladas, or in a tamale.
5. Tacos El Bronco
4324 Fourth Ave., at 44th St., Sunset Park; 718-788-2229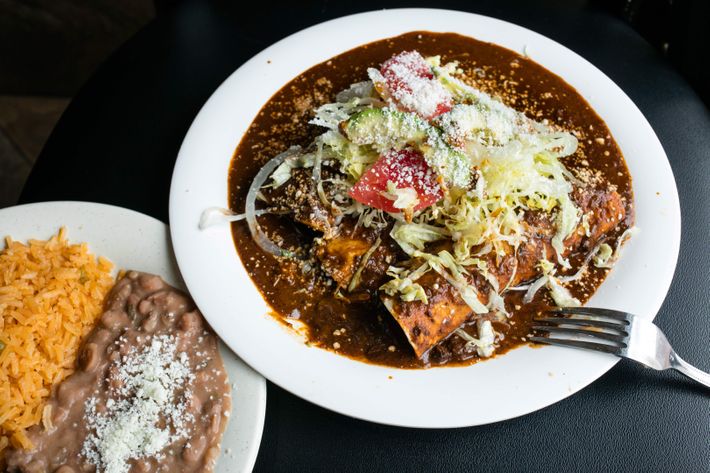 Another Sunset Park taco shop, another exceptional mole, distinguished especially by being the least sweet that we tried. It starts off quite bitter but also fruity, nutty, herbal, and smoky, then builds slowly to a pleasingly spicy burn that sort of steams in your mouth, like a lingering vapor. Get it over enchiladas or a succulent chicken leg, with a side of piping-hot tortillas to sop it up.
Honorable Mentions (in Alphabetical Order)
Barrio Chino
253 Broome St., nr. Orchard St.; 212-228-6710
The mole poblano here, served over chicken enchiladas, starts off quite sweet and builds to be quite spicy, then bitter, with notes of coffee and chocolate and tiny pools of orange oil on its surface.
Claro
284 Third Ave., nr. Carroll St., Gowanus; 347-721-3126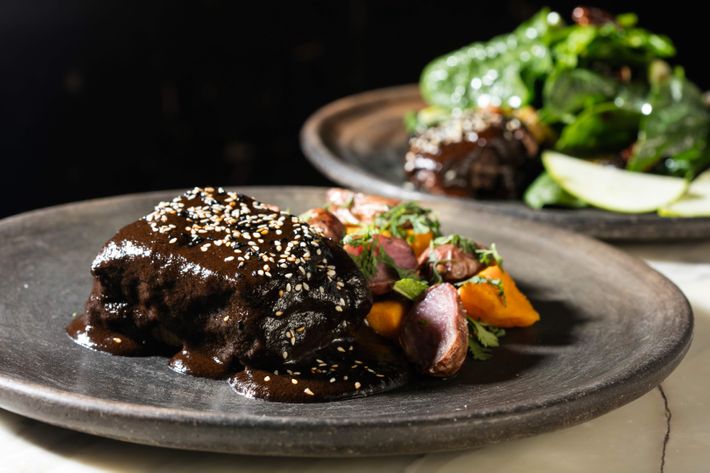 The menu at this upscale Oaxacan spot is subject to change, but moles are a particular strength, and you're apt to find a couple to choose between: At one meal, the super-dark, super-bitter negro — made with almonds and peanuts, among other things — played nicely off of the sweet, tangy, luscious beef short ribs it was served over, and the slightly fruitier, smokier rojo was made with guajillo and ancho chilies and served over pork cheeks and slices of raw apple.
Cosme
35 E. 21st St., nr. Broadway; 212-913-9659
At Pujol, Enrique Olvera's restaurant in Mexico City, the mole is the thing, aged for more than a thousand days and served alone on a plate as its own tasting-menu course. There's an excellent, if not quite as marquee-worthy, version often on his menu at Cosme, too, sometimes served over chicken or lobster, or as part of a dish of duck enmoladas (enchiladas blanketed in mole), or even alone, accompanied by wild greens, nut butter, and fresh tortillas. Dark and thick and creamy, it toys with the limits of bitterness, balanced by just a hint of sweetness, a good dose of smoke, and a subtle spice that fans slowly across the palate.
Downtown Bakery
69 First Ave., nr. 4th St.; 212-254-1757
The poblano here, on the thin side, is the smokiest we found, with just a hint of sweetness, a nice hit of spice, and the intense bitterness you'd expect from a bar of very dark chocolate. You can get it lots of ways: in a tamale, with carnitas; over enchiladas (filled with chicken, beef, pernil, veggies, or cheese); in a chicken taco or burrito; as a plato, over chicken, with yellow rice, refried black beans, and corn tortillas; or even just as a side of straight sauce.
El Atoradero
708 Washington Ave., nr. Prospect Pl., Prospect Heights; 718-399-8226
Atoradero's version is impressively complex in fruity, smoky, nutty flavor, if on the mild side — it could stand to be spicier. That said, it goes down easily enough and is thin enough that you almost want to just eat it with a spoon like soup, especially given that the chicken it blankets is nothing to write home about. (It's available over enchiladas as well.)