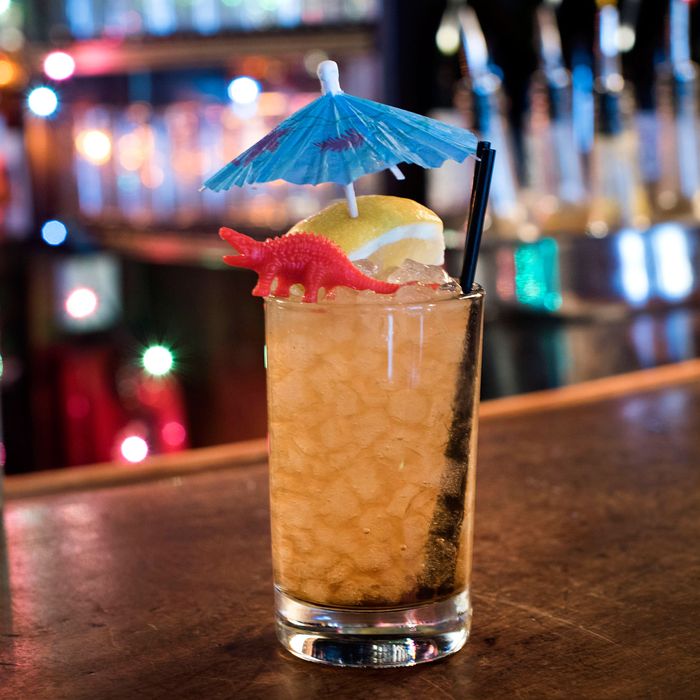 Yes, there is a way to make this oft-maligned drink well.
Photo: Liz Clayman
The Long Island Iced Tea is the Hawaiian shirt of cocktails: It's nearly impossible to take seriously, even in an ironic way. The official drink of drunk cousins everywhere, and a bemoaned scourge of cocktailians, it's generally thought to be the ne plus ultra of carelessly made, why-on-earth-would-you-order-that cocktails. Yet like all time-tested recipes, it's possible to make this with care, and any bartender who's willing to not only mix one up, but to also do so while giving it the same care and attention they give, say, an Old Fashioned or a daiquiri, is truly someone who values hospitality over all else. So, a great Long Island Iced Tea is, in its own unexpected way, a solid indicator of an equally great bar. And these four spots are the places that do this drink proud, no matter how hard that is to believe.
1. Holiday Cocktail Lounge
75 St. Marks Pl., nr. First Ave.; 212-777-9637
Long Island Iced Teas are traditionally a combination of — deep breath — Coke, vodka, rum, tequila, gin, orange liqueur, some citrus (likely sour mix), and lime. It's a dive-bar staple that is something of a natural fit on the menu at this revamped East Village institution once known for its $2 rum-and-Coke specials. For this modern version, which runs $7, cola, which helps tint the drink, is nixed in favor of real tea that's infused into the vodka. Add the requisite spirits, lemon, and the excellent citrus syrup known as oleosaccharum, and you've got a drink that tastes bright and fruity, without straying too far from the original recipe. It still feels like it'd be at home at a Jimmy Buffett concert, but the short glasses and knowingly ridiculous garnish situation make it work in downtown Manhattan, too.
2. Fuku+
15 W. 56th St., nr. Fifth Ave.; no phone
David Chang sings the gospel of shitty beer, so it's not a surprise that his Momofuku restaurant group has made the Long Island Iced Tea something of a signature drink. Beverage director John deBary served variations, like the Short Island, at Má Pêche going back to 2010. At this midtown counter, a previous version, which incorporated Dr. Pepper and was served as a slushie, has been scrubbed from the menu. Order one made in the traditional fashion, which is for the best, since trying to "elevate" this drink often feels like trying to make a gritty, smart version of Jackass: Some things are best left alone.
3. The Ludlow Lobby Bar
180 Ludlow St., nr. E. Houston St.; 212-432-1818
This cocktail bar adjacent to Dirty French knows the best thing to do with a Long Island Iced Tea is to just leave it alone. A former head bartender, Diego Alberto Sanchez-Maitret, once worked at the cocktail kingdom called T.G.I. Friday's and would make the drink to the chain's exact specs. They'll still gladly make you one the old-fashioned way, and surprise: It pretty much tastes exactly like you think a Long Island Iced Tea should taste — dangerously potent, fizzy from the Coke, and not particularly complicated. Still, for something made with a veritable grab bag of booze, it's oddly coherent — something that likely won't be said for anyone who drinks more than two in a single sitting.
4. Empellón al Pastor
132 St. Marks Pl., nr. Ave. A; 646-833-7039

Alex Stupak's version of a dive bar is a shrine to al pastor, where they nixtamalize their own corn for tortillas, and margaritas reign. But it's also a bar where the chef has — accidentally? — nailed the Long Island Iced Tea drinking experience. The Amity Island Iced Tea is a riff on the classic, but it very much honors the kitchen-sink approach of the original, mixing white whiskey, cachaça, mezcal, lemon, and Moxie, the hyperodd soda from New England. It is also faithful to the original Long Island Iced Tea in that it is probably not something you'd want to drink on an empty stomach, so do yourself a favor and order Stupak's version of Mexico City's cheeseburger taco, too.