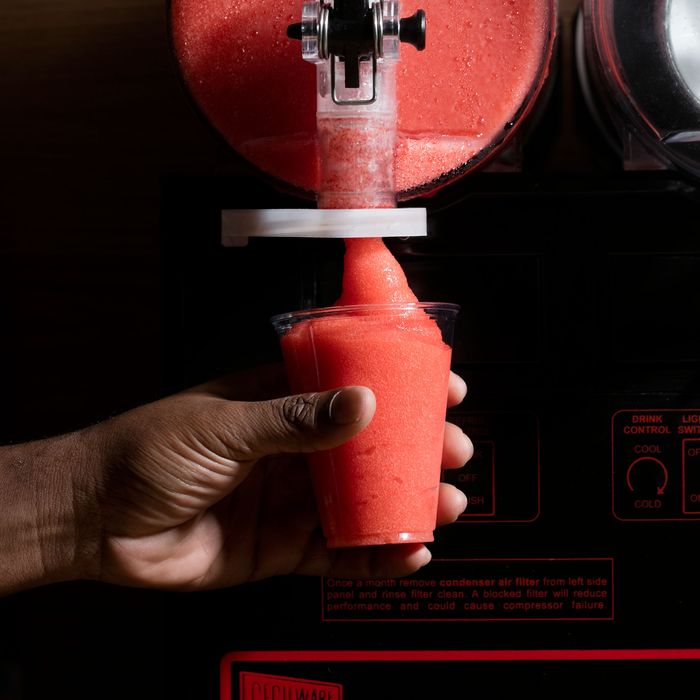 Extra-refreshing because it's frozen.
Photo: Melissa Hom
It's hard to think of a more refreshing beverage — a more perfect respite from a hot summer day — than a glass of lemonade. In its purest form, it's a simple combination: lemon juice, sugar, and water. Of course, this being New York, we've got a host of excellent versions that capitalize on and hone this simplicity, plus plenty of creative twists that use it as a jumping-off point to make it feel new. Herein, the absolute best lemonade in New York.
1. Fuku
Multiple locations
The options are limited at David Chang's Momofuku fried-chicken sandwich spinoff, which helps explain why the options are great, across the board — the mantra here could be, "do a few things well." One of those things is the pleasingly pink strawberry-lemonade slushie. It's small but incredibly dense and of course cold as ice — you can sip it through a straw before it starts to melt, but just barely — and intensely but not overwhelmingly flavorful, with a perfect, addictive balance of bright berry sweetness and cheek-puckering, sharp citrus tartness.
2. Dizengoff
75 Ninth Ave. at 15th St., Chelsea Market; 646-833-7097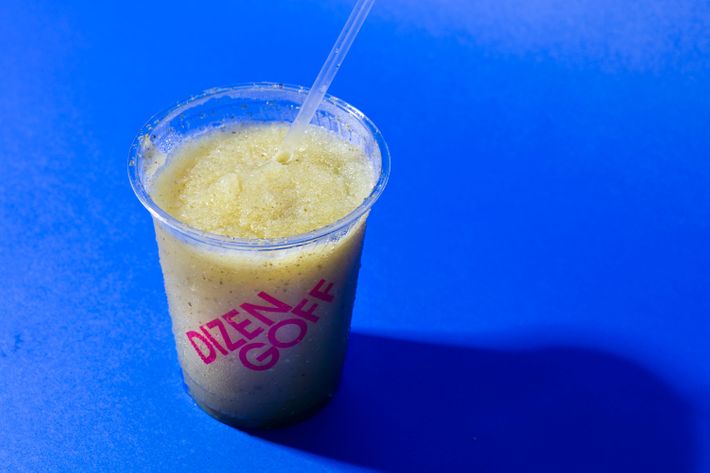 In a close second place is another frozen contender, this one of the Israeli variety, known as a limonana. What sets it apart, beyond its optimal, not-too-sweet lemony tartness and perfect slushy texture, is a generous amount of mint, blended in so that it adds a distinct herbal note and also flecks the concoction green, resulting in a drink that looks as good as it tastes. Last we ordered it, someone stopped us on the street to ask, "Where did you get that?"
3. Dimes
49 Canal St., nr. Orchard St.; 212-925-1300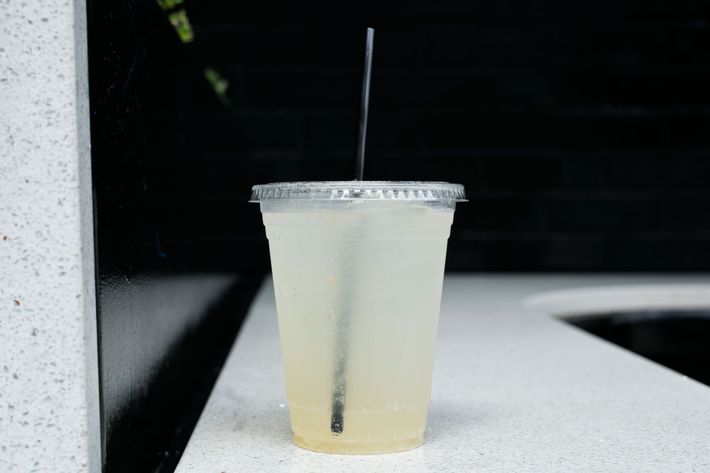 Everyone's favorite haus of health food offers no less than three types of lemonade. The most satisfying might be the fennel ginger, which is a fairly subtle play on the classic, with light vegetal notes from the fennel and just a bit of a kick from the ginger (and a smattering of tiny, candy-like nibs of both). Seekers of a more radical thrill will be delighted by the pepper-rose or cayenne versions. The former, made with coarsely ground pink peppercorns and rose syrup, is sweet, tart, floral and fierce; the latter somehow transforms the lemon flavor into something else entirely, deeper and rounder and melonesque. Both hit just the right level of spice.
4. Cha Cha Matcha
373 Broome St., nr. Mott St.; 646-895-9484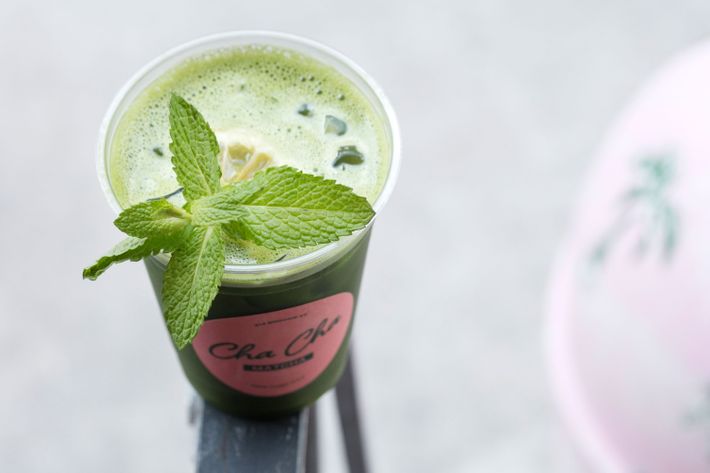 Lemonade might be the last thing you'd think to order at a matcha café —but what if the lemonade (which is made with yuzu and mint) also contains matcha? It's an unlikely marriage, but it's more than just Instagram bait: It is, of course, bright green but it also actually tastes good, creamy and herbal and extra tart.

5. Shake Shack
Multiple locations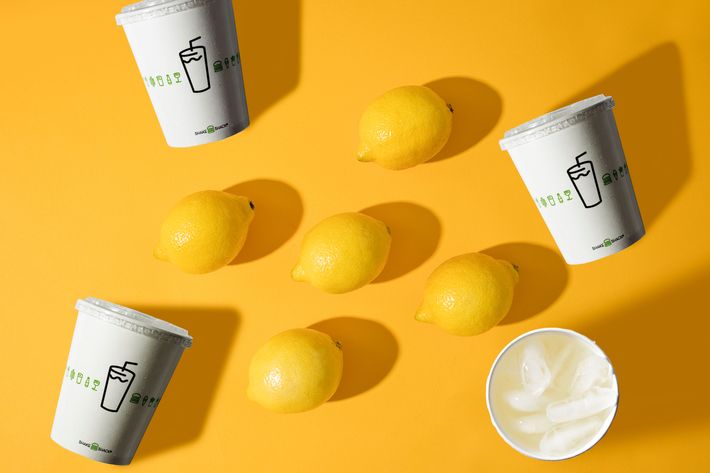 Shake Shack — which, as the company sometimes likes to remind us, started out as just a simple hot-dog-and-lemonade stand — makes fresh the kind of classic, all-American picnic lemonade on which bottled brands like Country Time and Newman's Own are based: bright and full and just on the right side of too sweet. And rumor has it that if you ask nicely they'll add beer to it, for an off-menu shandy.
Honorable Mentions
Balthazar
80 Spring St., at Crosby St.; 212-965-1414
Balthazar's lemonade is really sweet — super, syrupy sweet — which might be your thing. But it's also perhaps the most lemony of all the versions we tried, tasting satisfyingly of that deepest lemon flavor you normally only find in the pith and rind.
Hampton Chutney Co.
143 Grand St., nr. Lafayette St.; 212-226-9996
The lemonade here is relatively light on sugar but gets a generous dose of orange-blossom water, which gives it both a honeyed hue and a honeyed, floral flavor.
Jack's Wife Freda
Multiple locations
This popular mint lemonade sparkles — literally, as it's made with fizzy water. But it's strong enough to taste much more substantial and satisfying than a flavored seltzer and light enough to avoid veering into soda territory, and is generally a delight to drink.
Luke's Lobster
Multiple locations
You might expect this fruity bottled beverage, made with blueberries from Maine, to be extra sweet, but it's in fact surprisingly tart and quite delicious, tasting genuinely of blueberries (which also dye it a nice shade of purple) and extra refreshing in its cold glass vehicle.
The Smile & Smile to Go
Multiple locations
Another satisfyingly straightforward, tart, and not-too-sweet classic iteration, round and lemony and punched up with basil at the original location.
Taïm
Multiple locations
Taïm's lemonade goes heavy on both the ginger and the mint, resulting in a rich-tasting, deeply flavored sweet-and-spicy libation in which the lemon almost takes a back seat — though it still sings.