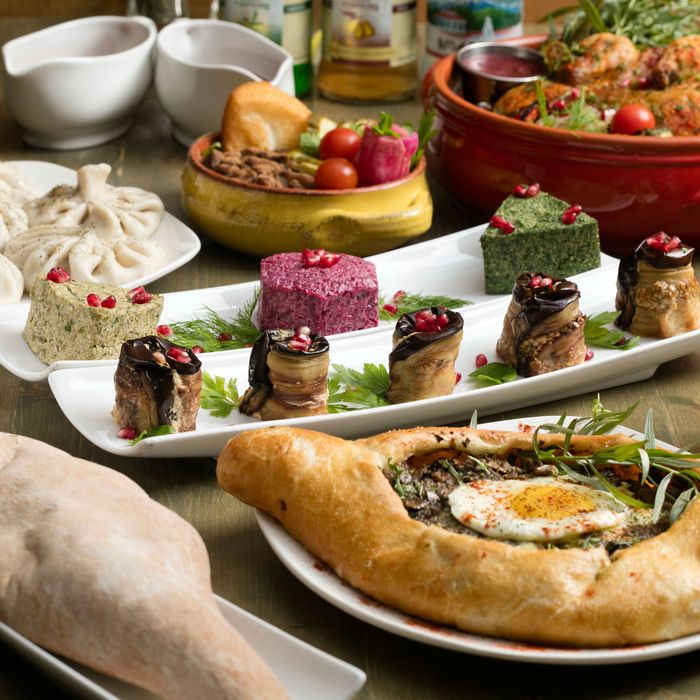 Marani's upstairs-downstairs setup is the best of all kosher worlds.
Photo: Melissa Hom
You might think of the word kosher as nothing but a restriction — and it's true that to be certified a restaurant must abide by quite a few hard-and-fast rules: no shellfish, for example; no pork; no meat and dairy prepared in the same kitchen, which often means not serving one or the other at all. But there are plenty of kosher restaurants in this city that are so good you won't even notice you're missing anything, and plenty of exciting culinary traditions that lend themselves flawlessly to the rules. Here, we've rounded up the absolute best kosher spots in New York, places that should be destinations for not only observant Jews but for any seeker of an excellent meal.
1. Marani
97-26 63rd Rd., Rego Park; 718-569-0600
If you're sleeping on the traditional dishes of Georgia (the country, that is), you're missing out, big time, and Marani's glatt kosher iterations are as good a place as any to start. In a stroke of genius, they get around the no-meat-and-milk rule by operating two separate kitchens: On the casual lower level, you can enjoy the incredibly delicious national speciality known as khachapuri, which is essentially a bread bowl with a molten farmer's cheese center, into which a raw egg is cracked and stirred just before it's served. Upstairs, where the dining room is much better appointed and more formal, you can feast on kebabs, meat pies, and khinkali — doughy soup dumplings fragrant with beef, lamb, and herbs — plus a variety of diplike salads, made with walnuts and various vegetables. And the best part is that you don't have to choose: Tell the server you'd like both meat and dairy and you'll be seamlessly shuttled back and forth between courses. N.B., the place is very popular, and reservations are advisable.
2. Taam Tov
41 W. 47th St., 3rd fl., nr. Fifth Ave.; 212-768-8001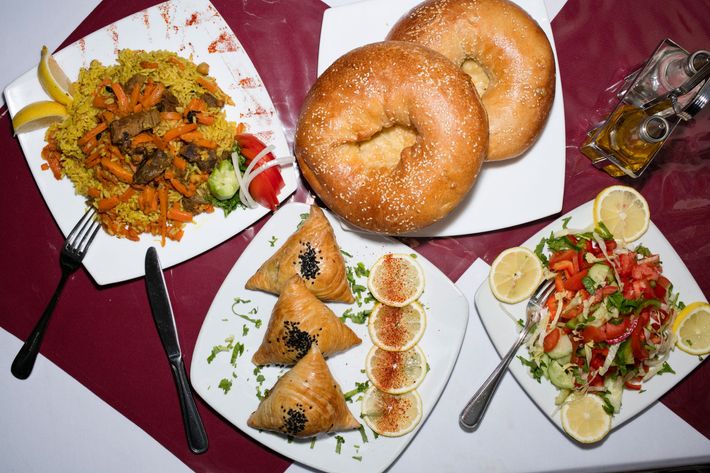 Uzbekistan is another country whose cuisine doesn't get enough attention, and where better to try it than at this Diamond District gem? (To get there, you must walk up a flight of stairs with steps labeled "DIAMONDS," "BROKEN JEWELRY," "WATCHES," "TAAM-TOV RESTAURANT.") It's a lively lunch spot, with faux windows painted with picturesque faux views and music from the old country on the stereo. The food is alluring and excellent, from the wonderful round loaves of chewy, crusty tashkent bread, flecked with sesame seeds and par-sliced for easy ripping-apart, to the top-notch hummus and the Uzbek pilaf, a plate of pleasingly oily rice studded with tender, melty nubs of cartilaginous stewed meat and carrot.
3. 2nd Ave Deli
162 E. 33rd St., nr. Third Ave.; 212-689-9000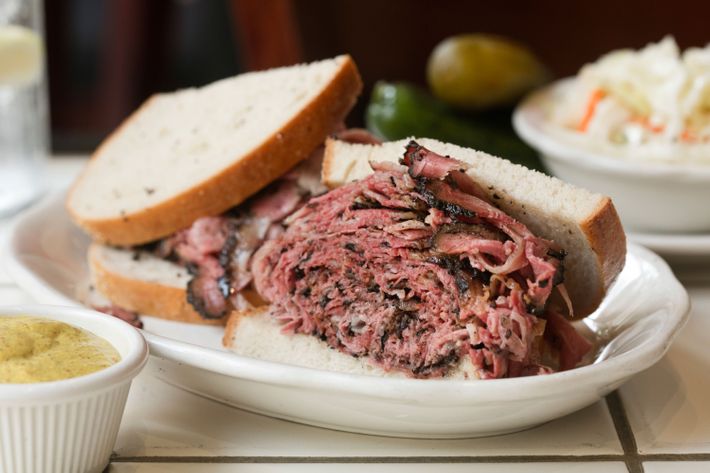 Get your Reubens at Katz's but get your matzo-ball soup at 2nd Ave Deli, where it happens to be kosher in addition to being the city's absolute best, on the menu as "Jewish penicillin." There is plenty else to love here, too (it's also on our list of top delis), from pastrami or corned beef on rye (hold the cheese, 'cause there isn't any) to the umami-bomb mushroom-barley soup (magically creamy despite lack of cream), to the crunchy, vinegary, salty-sweet "health salad," which, along with pickles, accompanies every sandwich. All meals end with a complimentary shot of chocolate soda — and often with a compliment from the extraordinarily gregarious manager, who's got the demeanor of a Catskills comedian.
4. Russ & Daughters at the Jewish Museum
1109 Fifth Ave., at 92nd St.; 212-475-4880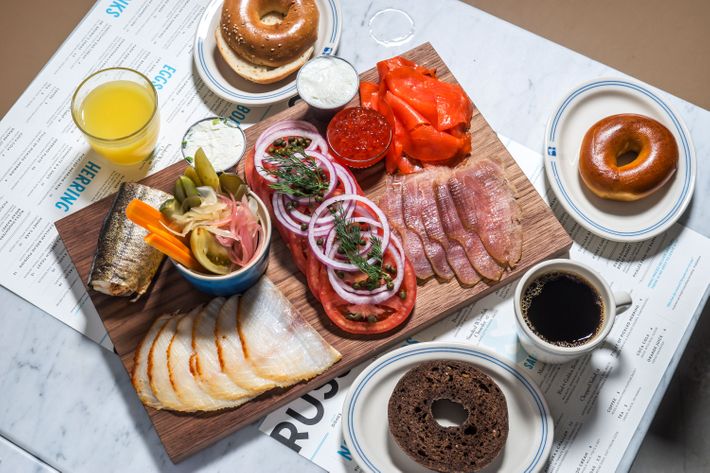 It was an easy transition into kosherdom for Russ & Daughters Café, given that there isn't much meat on the menu, anyhow. Otherwise, it's pretty much the same, food-wise: all the smoked salmon and bagels and pickled herring and blintzes and knishes and egg creams and black-and-white cookies you could ever want. There's even a takeout counter that mimics the original store downtown. Plus, this location has a few things the downtown one does not: a weekly set-menu Shabbat brunch, for which you can make reservations, and a gorgeously intricate Maira Kalman mural that does a great job distracting from the fact you're in a basement.
5. Izzy's Smokehouse
397 Troy Ave., nr. Montgomery St., Crown Heights; 347-425-0524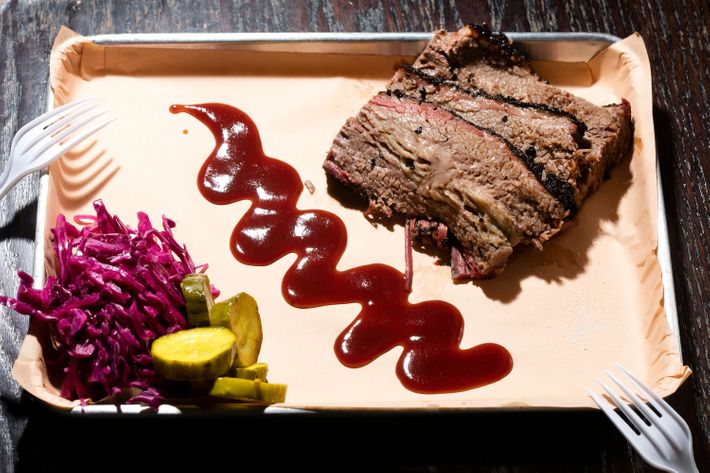 If a kosher barbecue restaurant sounds unlikely — pork does feature prominently in barbecue tradition, after all — then you're not thinking about the huge overlap in classic barbecue and classic Jewish food: brisket. This is not your grandmother's brisket, but it is among the best smoked-by-a-pitmaster variety you can get in the city, lusciously fatty and perfectly spiced. There's also pulled beef in place of pork, plus chicken, pastrami, prime rib, and sides. It's the real deal.
B & H Dairy
127 Second Ave., nr. St. Marks Pl.; 212-505-8065
This East Village holdout has remained essentially unchanged throughout the decades, offering as much comfort and nostalgia as it does literal sustenance. Everything at the sliver of a lunch counter is kosher and vegetarian and almost everything, including the excellent borscht, comes with fat slices of fluffy challah.
Cheburechnaya
92-09 63rd Dr., nr. Wetherole St., Rego Park; 7189897-9080
This Uzbek spot is popular among local kosher diners and the secular chowhound set alike. For our money, it's not quite as good as Taam Tov, but it's a lot bigger and certainly worth a trip to the fascinating neighborhood that is Rego Park. Menu standouts include the flaky savory pastries known as samcy, especially the variety filled with minced pumpkin; the heavily blistered, fried chebureki, which are sort of like giant empanadas filled with spiced cabbage and mutton; delicious herb-flecked pilafs; and juicy ground-lamb or -chicken kebabs.
Mike's Bistro
127 E. 54th St., nr. Lexington Ave.; 212-799-3911
Bistro doesn't seem like the right word for this place, which has more of a steakhouse vibe and is an absolute scene, as good for people watching as it is for eating. Which is not to say the eating's no good — quite the contrary, though the prices are exceptionally high. If money's no object, the tiny portion of handmade gnocchi, with duck and chicken confit and roasted portobello mushrooms, is excellent, as is the kasha varnishkes "bistro style," sprinkled, surprisingly, with little bits of popcorn for a delightful extra crunch.