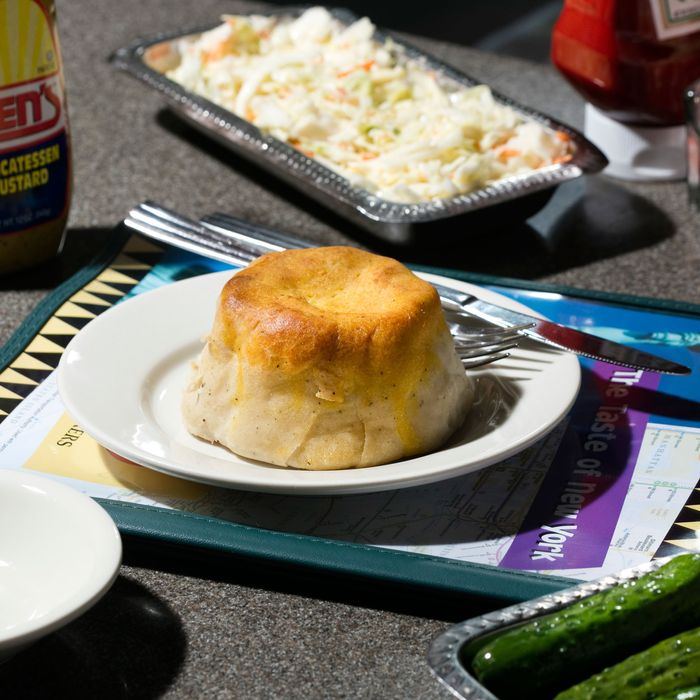 A world-class knish and all the trimmings at Ben's Kosher Deli.
Photo: Melissa Hom
The knish, when you really stop to think about it, is a pretty hilarious food: Eastern European–Jewish in origin (the word is Yiddish), it's basically a dense ball of mashed potato (or some other, usually at least partially starchy ingredient) encased in fairly thin pastry when baked, and thicker pastry when fried, Coney Island–style, in which case it's usually square instead of round. It's heavy, redundant, and resolutely mild — not remotely designed to ignite your taste buds in any way — but, at its best, it's also warm and filling and deeply, deeply comforting. Long gone are the days when you could find a Coney Island knish at any corner hot-dog stand, but there are still a number of old-school delis and the like that still bake their own. We've rounded up the best baked knishes in New York, focusing on the Ur-classic potato variety.
1. Ben's Kosher Delicatessen Restaurant
209 W. 38th St., nr. Seventh Ave.; 212-398-2367
Perhaps because it's part of a chain (with locations on Long Island, in Westchester, and in Florida), Ben's doesn't get as much love as some of the city's more pedigreed, institution-status delis, but it's actually quite good, as proven by its excellent round knish. Served warm from the oven, the open-top pastry — on the pleasingly thick side for a knish, even crustlike — is flaky and deep-golden-hued; and the potato filling is creamy, but still textured, with a good ratio of lumps, and perfectly seasoned, with plenty of salt and a nice hit of black pepper. They're especially good with the coarse house mustard, and a complimentary plate of pickles and coleslaw.
2. Pastrami Queen
1125 Lexington Ave., nr. 78th St.; 212-734-1500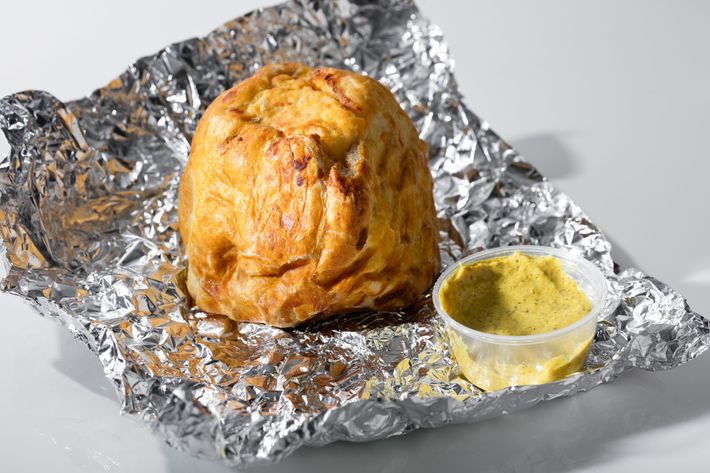 Pastrami Queen makes, fittingly, an absolute queen of a knish: a softball-size number marked by a flaky, crackly, golden-brown crust, with an oily orange sheen and a creamy potato filling whose texture rivals Ben's — smooth, but still a little chunky. The seasoning is spot-on, too: salty but not too salty, with just a hint of black pepper, and barely discernible slips of sautéed onion.
3. Russ & Daughters Cafe
127 Orchard St., nr. Delancey St.; 212-475-4881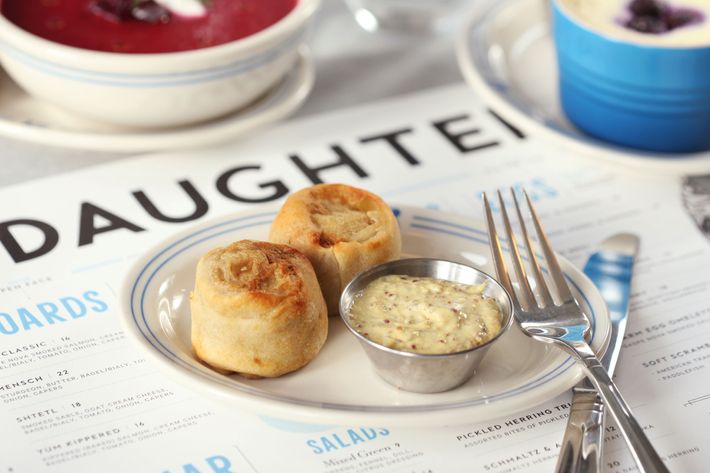 The knishes at Russ & Daughters are, first and foremost, adorable: They are miniature and come two to an order, tidy little packages of pastry twisted neatly at the top, with a ramekin of grainy mustard. The delicate, flour-dusted dough is satisfyingly stretchy with a uniformly browned and ever-so-slightly-crisp exterior. The potato filling, whipped 'til it's light and fluffy, is just a touch sweet, thanks to the secret weapon that is caramelized onions, undetectable in texture, but addictive in taste.
4. Barney Greengrass
541 Amsterdam Ave., nr. 86th St.; 212-724-4707
Barney Greengrass gets extra points for the way their open-top knish is served if you order it heated up (50 cents extra): They slice it in half around the middle, and griddle it like a diner muffin. This ensures both that it heats evenly and that every surface is at least slightly crisp. The pastry is thin and papery with some chewy folds, and the creamy salted potatoes are riced, which gives them a satisfying, unusual texture.
5. 2nd Ave Deli
Multiple locations
The round, open-top knish here is enormous, a mountain of a knish, with a thin but still flaky pastry, speckled with bubbles and slick with oil, and smoothly mashed, lightly seasoned potatoes. Balance it out by taking advantage of the complimentary health-salad-and-pickle plate. (And skip the square, fried iteration, which is unfortunately reminiscent of reheated carnival fried dough or a doughnut, and makes the potatoes a bit gluey.)
Honorable Mentions
Katz's Deli
Multiple locations
Avert your eyes when the guys behind the grill station pop your knish into a microwave to heat it up; you'd never know to taste it. The pastry is on the thicker side, flavorful and chewy, and even crunchy in places, and the fluffy potato filling is aggressively seasoned with salt and black pepper.
Yonah Schimmel Knishery
137 E. Houston St., nr. Forsyth St.; 212-477-2858
If we're being totally honest, the knishes at Yonah Schimmel leave something to be desired: The pastry is a bit like soft parchment paper and doesn't quite hold up to the admittedly delicious, generously portioned filling. But you can't talk about knishes in this city without talking about Yonah Schimmel, and we're delighted it still exists.