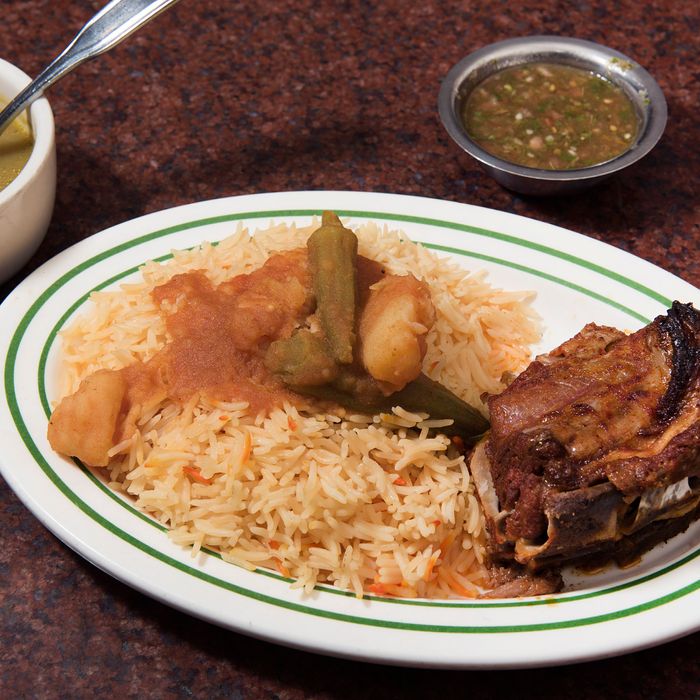 Yemen Café's lamb haneeth: a balm for bureaucracy.
Photo: Liz Clayman
The best part of jury duty is lunch. And while, in contrast to Manhattan's Civic Center, the immediate area around the Brooklyn courthouses can seem like a bit of a restaurant wasteland, there is truly great lunch to be had (and grocery shopping to do) if you're willing to take just a bit of a hike for your bánh mì, lamb and rice, or soup dumplings. Here, the very best places to eat lunch when you're doing jury duty in Brooklyn.
1. Yemen Café
176 Atlantic Ave., nr. Clinton St., Cobble Hill; 718-834-9533
The western end of Atlantic Avenue remains a Little Middle East of sorts, thanks to beloved strongholds like Sahadi's market and Yemen Café, which have been open since 1948 and 1986, respectively. Lunch at the latter is absolutely worth the ten-or-so minute walk from the courthouses (and worth a trip from anywhere, really). The dining room is perfectly comfortable, if nothing to write home about, and the food is both incredibly comforting and incredibly good. Every meal begins with a complimentary cup of steaming, salty, reviving lamb broth, followed by your choice of many variations on lamb-and-rice and chicken-and-rice. Particularly good is the lamb haneeth: a tender, slow-roasted shank accompanied by rice draped in a vegetable sauce fragrant with cardamom and cinnamon. For a lighter meal, there are plenty of appetizers — hummus, foul, baba ghanoush — that come with a huge circle of freshly made bread. Both the servers and the kitchen are usually speedy enough that you might have time to skip across the street to Sahadi's afterward and stock up on nuts and dried fruit.
2. Mile End
97A Hoyt St., nr. Atlantic Ave., Boerum Hill; 718-852-7510
The original location of the Montreal-style deli is as good as it's ever been, and lunch is the best time to go: Breakfast is served all day, so you can choose between smoked-meat hash, served with fried eggs, or a smoked-meat sandwich from the lunch menu, served with mustard on rye (plus poutine, if you want to go all out). There are many other options, of course, from Black Seed bagels to a falafel pita to a very good matzoh-ball soup, and even a few Middle Eastern–inspired salads. The tiny spot, on its quiet tree-lined block, tends to be fairly sleepy around midday, but if it's not, or you simply prefer to eat outside, there's a charming and convenient takeout window, so you can get your lunch to go.
3. French Louie
320 Atlantic Ave., nr. Smith St., Boerum Hill; 718-935-1200
If you feel like really treating yourself, there's perhaps nowhere in the vicinity more civilized than this French-American restaurant-café, which has an airy, whitewashed dining room and a lovely garden out back. There are plenty of substantial appetizers that would make for a perfect light lunch (especially paired with a glass of crisp white wine — if you're not sitting on a trial yet!), from anchovy frite, which comes with slices of fried lemon, too, to an avocado tartine to steak tartare. For bigger plates, there's a great grilled fish (sometimes trout, sometimes catfish) po'boy, a French dip with lamb instead of roast beef, a chicken paillard, and a double-decker burger with raclette. And if you want to really push it over the top, don't miss the s'mores profiteroles for dessert, featuring smoked marshmallow and pine-flavored ice cream.
4. Hanco's
85 Bergen St., nr. Smith St., Boerum Hill; 718-858-6818
Hanco's doesn't offer much, but everything it's got is reliably satisfying: extremely solid bánh mì on ideally crispy-but-squishy bread, with plenty of cilantro, pickled carrot and daikon, and jalapeño if you want it (the classic is especially good, followed by the tofu); very decent pho and cold rice-noodle salads; better-than-average summer rolls, made with thin, stretchy rice paper and shrimp; and bubble tea. It's unusually roomy for such a casual sandwich shop, too, located on a prime strip of Smith Street, and not a bad place to while away an hour, especially if you can get a seat by the window.
5. Yaso Tangbao
148 Lawrence St., nr. Willoughby St., Downtown Brooklyn; 929-337-7599
Kings County residents who are envious of the Manhattan courts' proximity to Chinatown will rejoice over this relatively new fast-casual spot in the heart of Downtown Brooklyn, which offers three tasty varieties of soup dumplings on its menu of Shanghai-street-food greatest hits. There are also doughy fried pork baos; crisp chicken-sauerkraut spring rolls; and a number of hearty and filling noodle soups and "over rice" dishes, from chicken curry to pork meatballs to fried gluten. It's counter service only, with eco-friendly dishware (even the soup spoons are made of cardboard) and food served on trays, but the space is clean, sleek, and modern, and the wooden communal tables with stools are not a bad place to sit.
Bedouin Tent
405 Atlantic Ave., nr. Bond St., Boerum Hill; 718-852-5555
The flaky pita used for the sandwiches and "pitzas" here is made to order and piping hot and delicious, and the assorted-salad platter lets you try all of their excellent mezzes for just $11. On a warm day, you can sit in the charmingly scrubby garden, but the restaurant itself, decorated with tapestries to look like — what else? — a bedouin tent, is nice, too.
Bien Cuit
120 Smith St., nr. Pacific St., Boerum Hill; 718-852-0200
Not only does this ace bakery offer a daily assortment of appealing sandwiches, quiches, and tartines — plus some of the best pastries the city has to offer — you can do your bread shopping here, too. Don't miss the super-crusty, extended-fermentation baguette or the seasonal specials, like the spectacular, sweet yet hearty burnt-honey-and-apricot loaf.
Ganso
25 Bond St., nr. Livingston St., Downtown Brooklyn; 718-403-0900
The area's best ramen joint offers a daily lunch special — any of the seven varieties of ramen plus a half-order of gyoza and a can of soda for under $20 — as well as lunch bentos, with your choice of salmon teriyaki or pork tonkatsu, served with rice and in a very-Brooklyn kale salad.
Iris Café
20 Columbia Pl., nr. State St., Brooklyn Heights; 718-722-7395
This lovely spot, on a block so quiet and tucked away that it feels almost hidden, serves brunch from 8 a.m. to 4 p.m. every day, offering healthy-ish breakfast and lunch classics from avocado toast and chilaquiles to a farro Cobb salad and roasted turkey sandwich. And if you end up with any time to kill, you're just a hop and a skip away from the Brooklyn Bridge Park outpost of Ample Hills.
Queen
84 Court St., nr. Livingston St., Brooklyn Heights; 718-596-5955
The number-one absolute best red-sauce joint in New York is Brooklyn's answer to Manhattan's courts-adjacent Forlini's, but better. There's only one menu for lunch and dinner, and prices can feel a bit high for a midday meal, but the $32.95 three-course prix fixe (which is only on offer until 6:30) is a pretty good value for a one-time splurge: an antipasto, a main course, and dessert, plus coffee or tea.
Shake Shack
409 Fulton St., nr. Adams St., Downtown Brooklyn; 718-307-7590
Heard of it? If you're craving a burger and a concrete and an extremely short walk, you can do no better.
Table 87
87 Atlantic Ave., nr. Hicks St., Brooklyn Heights; 718-797-9300
Table 87 claims to be the first pizza place in Brooklyn to offer a coal-oven slice; true or not, it's a good one, slathered in sweet marinara sauce and layered with fresh mozzarella and whole leaves of basil, with a charred-bubble crust. You can take a slice or two to go, or eat in; they also have a full menu of personal-size pizzas, panini, pastas, salads, sandwiches (including a burger), and calzones.