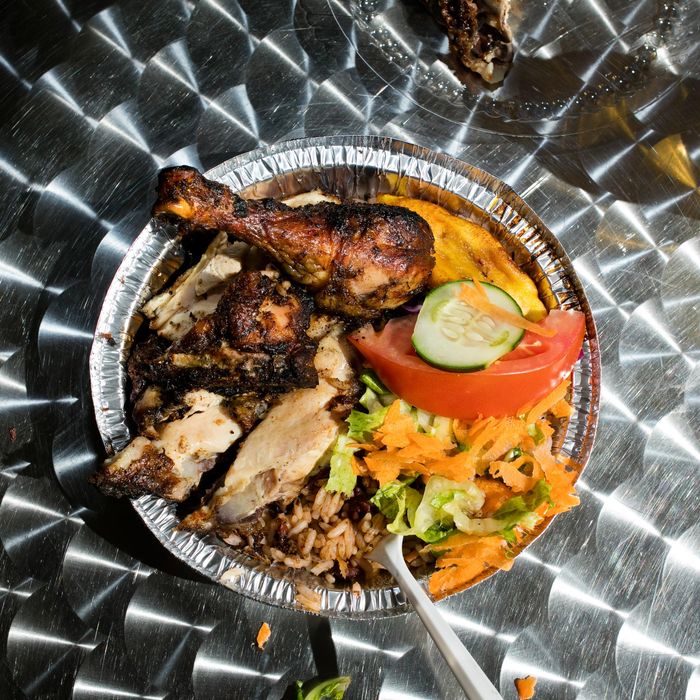 At Peppa's, it's all about the jerk.
Photo: Melissa Hom
There's a reason jerk chicken, which is thought to have originated in Jamaica, is a staple in the cuisines of many other Caribbean islands: When done well, it's spectacular, a marvel of spicy complexity and textures. We're lucky, in this city, to have the food of these islands so well represented, and to have a wealth of exciting options when it comes to this classic dish. Here, we've rounded up the absolute best jerk chicken in New York.
1. Peppa's Jerk Chicken Restaurant
Multiple locations
It would be easy to walk by the original Peppa's location, in Prospect-Lefferts Gardens, without so much as a glance — it's completely nondescript and even empty-looking, with just a few magazine racks up front and no seating. Behind the counter, though, an incredibly efficient assembly line is churning out exceptional Jamaican jerk chicken, which gets finished on a hot, crowded griddle before being unceremoniously hacked into pieces and crammed into a Styrofoam clamshell. It's everything jerk chicken should be: succulent meat; crispy, fatty, rendered skin that's been perfectly seasoned to excite but not overwhelm the palate. For more of a punch, there's a squeeze bottle full of thick, superhot jerk sauce flecked with chile seeds. For more of an atmosphere, try the newer Crown Heights outpost, which is sleeker and shinier and has a few stools along a window counter.
2. Exquisite Express
2847 Church Ave., at Nostrand Ave., Flatbush; 718-693-4643
Peppa's and this place, which is also Jamaican, are neck and neck; here, too, the birds are basically perfect, juicy and delicious, but with slightly crispier skin and nuttier-tasting seasoning. A thinner, more vinegary jerk sauce tingles on the tongue and allows for spice-modulation. Though this place is similarly efficient and definitely takeout oriented, there is limited seating, and the atmosphere is cheerful if spare.
3. The Food Sermon
355 Rogers Ave., at Sullivan Pl., Crown Heights; 718-484-7555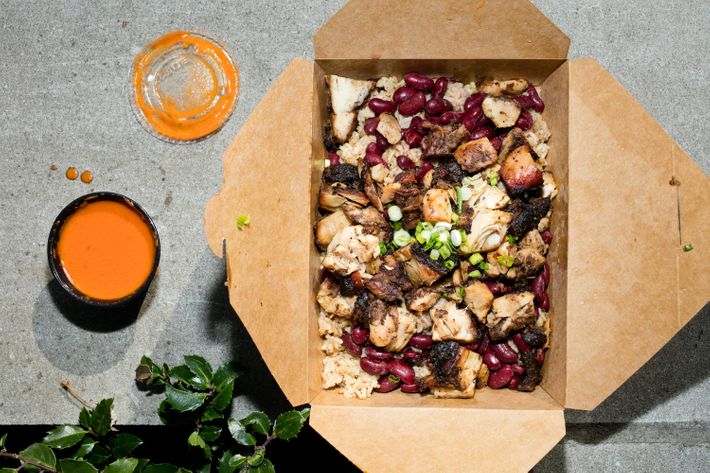 This Crown Heights West Indian spot (the chef is from St. Vincent and the Grenadines) is not much bigger than the others, but makes the most of the space — so crammed with communal tables and counters high and low that when it's crowded, it has a bit of a house-party vibe. The menu is modular: Choose your meat, grain, and sauce; vegetable sides are extra. The excellent jerk chicken, which comes cubed with skin on, is impressively moist and impressively spicy, and especially good with white rice, red beans, and sweet, creamy coconut sauce to balance out the heat.
4. Camille's
711 Flatbush Ave., nr. Parkside Ave., Prospect-Lefferts Gardens; 718-484-4275
The jerk at Camille's is so good that we aren't even docking points for the fact that it was served to us at room temperature the other day. The meat is succulent, the skin is partly caramelized and partly blackened, and the jerk sauce is perhaps the best we've tried: It starts out sweet and then builds to a thrilling heat that manages to be scorching, but distinctly round and fruity, too.
5. Errol's Caribbean Bakery
661 Flatbush Ave., at Hawthorne St., Prospect-Lefferts Gardens; 718-469-6078
The super-charred, salty skin on the chicken at Errol's has a nice, sticky crispiness to it, concealing tender meat that falls off the bone. The jerk sauce has a similar fruitiness to the one at Camille's, but is a bit thinner and a bit harsher, hitting you fast at the back of the throat.
Honorable Mentions
Angela's
417 Nostrand Ave., at Jefferson Ave., Bedford-Stuyvesant; 718-552-2297
The jerk chicken at this cozy corner restaurant, whose chef-owner is from Guyana, is baked as opposed to grilled, but the meat is surprisingly juicy considering, and encased in near-blackened, extra-spicy skin. Two full legs come to an order, alongside a plate of rice and peas, steamed cabbage, and sweet plantains. (There's also a jerk-chicken salad, in which the meat is served shredded and cold, atop greens, ripe mango, red pepper, and red onion.)
Fisherman's Cove
Multiple locations
The chicken itself is quite good at Fisherman's Cove, with juicy meat and evenly browned golden skin — but if it's heat you're looking for, you won't find it here. The jerk sauce is delicious — very thin and very vinegary — but not particularly spicy.
Glady's
788 Franklin Ave., at Lincoln Pl., Crown Heights; 718-622-0249
Though the setting is much more upscale than Peppa's and Exquisite Express, the jerk chicken at Glady's, which is also grilled, somehow doesn't quite reach their level. It's quite good as a backup, though, with a nice, round smoky-sweet seasoning. And it's a great place to have a full, sit-down meal, cocktails and all.
Miss Lily's  
132 W. Houston St., nr. Sullivan St.; 646-588-5375
The leg and breast that come in the jerk-chicken platter at Miss Lily's are a tad on the dry side, but the smoky jerk wings are excellent.
Sally Roots
195 Wyckoff Ave., nr. Harman St., Bushwick; 347-425-0888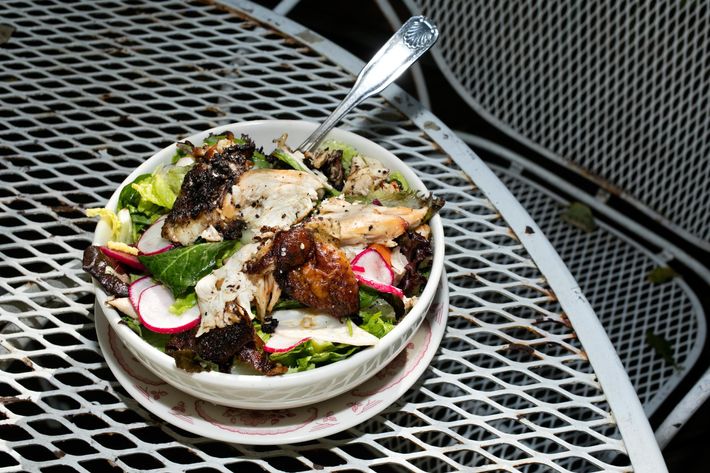 In general, the Pan-Caribbean Sally Roots offers more in terms of atmosphere and tropical-themed cocktails than it does in terms of food, but the jerk seasoning, applied generously to chicken (as well as ribs) deserves a shout-out: It's unusually and enticingly complex, sweet, spicy and almost floral. Plus the chicken comes with tasty little morsels of candied yam.
Sisters Caribbean Cuisine
47 E. 124th St., at Madison Ave.; 212-410-3000
The baked jerk-chicken dinner at Sisters is very similar to the one at Angela's, but spicier — if you can't take the heat, this one's not for you — and includes candied yam instead of plantains. It's a completely filling, totally satisfying plate of food.