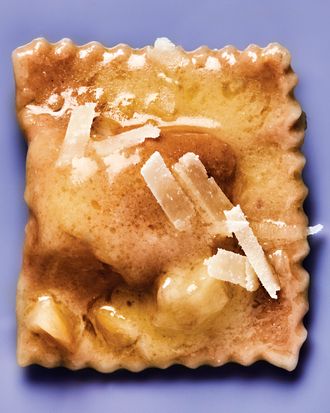 I Sodi excels at pasta, like this chestnut tortelli.
Photo: Bobby Doherty/New York Magazine
The problem with compiling a list of the best Italian restaurants in New York is that there may be more of them here than there are in Italy. So we've taken the easy way out. We've narrowed down the field. We've eliminated from contention the great old-school red-sauce joints already dutifully ranked here. And we've also removed from consideration pizzerias and restaurants that function primarily as such — despite our undying devotion to Franny's, Ribalta, and Otto, to name but a few. That brings the number of establishments serving what is indisputably New York's favorite food down to, oh, a mere several thousand or so. What follows then are the trattorie, osterie, enoteche, and ristorante that — by virtue of menu or technique, vibe or energy — are the absolute best Italian restaurants in New York.
1. I Sodi
105 Christopher St., nr. Bleecker St.; 212-414-5774
Unlike a bastion of French haute cuisine or an upmarket sushi den, the very best Italian restaurant, by our estimation, must be a neighborhood restaurant — a place you can roll into with minimal forethought and grab a seat at the bar, order some well-sourced salumi and cheese or a perfect plate of pasta, and let the worries of the day dissipate with a bracingly bitter Negroni. You can do all these things at I Sodi, Rita Sodi's sleek, unfussy paean to the food she grew up eating in Tuscany: simple salads blanketed with cheese, pancetta-wrapped rabbit, seasonal specials like chestnut tortelli, and a magnificent 20-odd-layer lasagna stacked up as neatly as a deck of cards. The drinks and service are on point, the mood jovial but always civilized. There's nowhere better to become a regular.
2. Carbone
181 Thompson St., nr. Bleecker St.; 212-254-3000
Of course, if it's spectacle you want, this is where to find it. The scripted homage to mid-20th-century Italian-American dining is pricey and dripping with shtick, but also undeniably fun and delicious — especially the table-side Caesar, the supercolossal veal Parmesan, the garlic-and-chile-suffused angel-hair pasta, and a limited-supply white lasagna sold by the $85 pan that could feed an entire crew of Gambinos.
3. Del Posto
85 Tenth Ave., at 16th St.; 212-497-8090
It's impossible to draw up an Absolute Best Italian Restaurants in New York list without Mario Batali establishments popping up everywhere like daffodils in springtime. And though Babbo is a sentimental favorite for many (and probably for Batali himself), the more meticulous and luxurious Del Posto best demonstrates what Italian fine dining can and should be: stylish and sophisticated, elegant but unstodgy, devoted to updating and refining traditional flavors and recipes for modern palates. Culinarily, it's the house that Mark Ladner built, and even though he's left the kitchen, his trademark combination of scholarship and comfort remains in good hands with longtime deputy and successor, Melissa Rodriguez. Though we do miss that 100-layer lasagna.
4. Marea
240 Central Park S., nr. Broadway; 212-582-5100
When it comes down to it, you judge an Italian restaurant on the strength of its pasta, and based on the merits of its fusilli with red-wine-braised octopus and bone marrow alone, Marea earns a place on this list. And what other seafood-focused Italian restaurant in town grills a better 50-day-dry-aged Creekstone sirloin?
5. Lilia
567 Union Ave., at N. 10th St., Williamsburg; 718-576-3095
Fine-dining fugitive Missy Robbins has built her Brooklyn base of operations around the things she loves the most: vegetables, seafood, and especially pasta. Clearly, nothing comes between the chef and her extruder, the tool responsible for al dente triumphs like ruffly mafaldine with pink peppercorns, and big fat commas of rigatoni diavola.
6. Babbo Ristorante e Enoteca
110 Waverly Pl., nr. Sixth Ave.; 212-777-0303
So much of what we take for granted when we go out to eat Italian — or go out to eat, period — began with Babbo: Fine dining with a rock-and-roll soundtrack. Allegiance to both the most classic Italian recipes and the most local, seasonal ingredients. The bearlike embrace of offal — those lamb's tongues, that testa, those sweetbreads and calf's brains! And let's not forget wine by the quartino; pasta tastings; and all that evocative, goofily charming menu language like Mint Love Letters and Spicy Two Minute Calamari Sicilian Lifeguard Style (is that really how Sicilian lifeguards do lunch?). When the joint opened in 1998, there wasn't another Italian restaurant like it. And to Mario Batali and his partner Joe Bastianich's credit, it feels just as fun and fresh today.
7. Barbuto
775 Washington St., at 12th St.; 212-924-9700
We wouldn't go so far as to say Barbuto deserves a spot on this list solely for its signature dish, the legendary "JW chicken." There's also the market-driven salads, the relentlessly seasonal pastas, and the flavor-enhancing wood-fired grill anchoring the open kitchen — all attributes that register Cal-Med as much as they do Italian. JW, after all, is Jonathan Waxman, a pioneer of so-called California cuisine, the movement that begat today's local-and-seasonal craze (a style of cooking the Italians know a little something about). Yes, the corner space can get crowded and painfully loud, but on breezy summer days with the garage doors rolled up and the West Village on glorious display, there are few better places to be.
8. Café Altro Paradiso
234 Spring St., at Sixth Ave.; 646-952-0828
After making a splash with peekaboo plating and unexpected combinations at Estela, Ignacio Mattos wanted to do something daring for a name-brand chef in 2016 Manhattan: unadorned, stripped-down, no-tricks Italian cooking, along the lines of London's venerable River Café. (Witness the quiet triumph of the antipasto plate; the butter-slicked potato ravioli; or a simple, succulent piece of perfectly cooked swordfish.) Although this strategy took some critics and fans by surprise, Mattos's style here is no less satisfying, if arguably more traditional. The menu changes often, but the level of cooking and attention to detail never waver.
9. Via Carota
51 Grove St., nr. Bleecker St.; no phone
We love this neighborhood canteen, from the owners of Buvette and I Sodi, and not just for its rustic antiques-strewn charm. We love that it caters to all our appetites at any time of day, from an impromptu afternoon snack to a well-crafted cocktail to a group feast. Special attention is paid to all manner of cooked and raw vegetables: an extravaganza of chicories in the winter; puffy fried-squash blossoms come summer. And equal care is taken with classic pastas, and even something as elemental as grilled chicken. Bonus points for the signature svizzerina, a hand-chopped steak cooked this side of medium-rare, leaking juice and adorned with nothing more than a clove of garlic and rosemary sprig.
10. Lupa Osteria Romana
170 Thompson St., nr. Houston St.; 212-982-5089
When Mario Batali and Joe Bastianich opened Lupa Osteria Romana in 1999 as a baby Babbo on a budget, it was an instant smasheroo — and remains, through the years and inevitable chef changes, a hot ticket and a lovely place to visit late in the afternoon before the hordes descend. But the rustic charm of the brick-walled room at night, with its golden glow, is hard to beat. So is the pollo alla diavola, the bavette cacio e pepe, and especially the pajata finta — a rare take on the classic Roman dish of milk-fed-calf's intestines, loosely interpreted here to keep the USDA at bay as a heady ragù of sweetbreads, tripe, and guanciale served with rigatoni.
Honorable Mentions
al di là
248 Fifth Ave., at Carroll St., Park Slope; 718-783-4565
It's been nearly two decades since mom-and-pop owners Anna Klinger and Emiliano Coppa established their Venetian-inspired beachhead on what was then an incipient Brooklyn restaurant row. Much has changed foodwise on the strip (and in the borough), but Klinger's signatures remain: the out-of-the-ordinary pastas (butter-sauced Swiss-chard malfatti, beet-and-poppy-seed casunziei), the calf's liver, the luscious braised rabbit with black olives and polenta. And the sight of the familiar yellow-awninged corner never fails to comfort and reassure.
Bar Pitti
268 Sixth Ave., nr. Bleecker St.; 212-982-3300
With Da Silvano ignominiously out of the picture, its cheaper, more populist neighbor continues to carry the celebrity-studded sidewalk-dining torch. But more than movie stars and fashion types dine here: The reliably tasty food and rat-a-tat charm of the Italian waitstaff continue to draw loyal locals, curious tourists, and successive generations of urban hipsters to two modest yellow-walled rooms, where the tables are get-to-know-your-neighbors tight. Owner Giovanni Tognozzi is always there, greeting regulars and sipping espresso — except when he's in Tuscany, stocking up on new-harvest olive oil. Don't be disappointed by the minimal menu; you'll be ordering from the specials board the servers lug around like ancient stone tablets. Everything is good; the rabbit is great. Pastas are often creamy and always al dente, and the chocolate-doused panna cotta is a world-beater. Cash only.
Frankies 457 Spuntino
457 Court Street, nr. Luquer St., Carroll Gardens; 718-403-0033
Let's give credit where credit is due: Frank Castronovo and Frank Falcinelli, the childhood friends from Queens who swapped fine dining for Southern Italian comfort, were busy making eggplant parm cool while Rich Torrisi and Mario Carbone were practically still in short pants. All the old Frankies classics — fork-tender braciola, tomato-sauced potato gnocchi with just the right soft-chewy bite, red-wine-stewed prunes with mascarpone cheese — are as good as ever, and those meatballs are still the envy of all the Italian grandmas in the neighborhood.
Gaia Italian Café
251 E. Houston St., nr. Norfolk St.; 646-350-3977
Is Gaia the restaurant for you? Better to ask, are you the customer for Gaia? Are you willing to comply with proper counter-ordering procedure, and to retain your sangfroid should the kitchen run out of ingredients, or have to ration its fresh-baked focaccia? To make a reservation if you plan to arrive after 5 p.m., and to be finished eating by 6:30 p.m., last call for food most nights? If you've grown weary of an increasingly corporate and impersonal restaurant scene, and you love homespun, unfussy cooking at bargain-basement prices (in actual bargain basements), then those minor inconveniences are a small price to pay. What chef-owner Gaia Bagnasacco saves on service — and décor, and china, and linen — she channels into shamelessly rich lasagna, delectable panini, and a chalkboard of intriguing specials that change throughout the day. BYO.
Maialino
Gramercy Park Hotel, 2 Lexington Ave., nr. 21st St.; 212-777-2410
Maialino is on this list not just for Nick Anderer's righteous Roman cooking, but for Danny Meyer's knack for creating the type of inviting all-day space that can give an interloper a bad case of neighborhood envy. Regional pasta classics like bombolotti alla gricia make for a lovely solo lunch in the laid-back front room, while the trattoria proper is a perfect place for a gang of chowhounds to tackle a celebratory platter of roast suckling pig. Come back for breakfast, sit at the sun-soaked bar looking out at the park, and order a plate of softly scrambled cacio e pepe eggs — and you may never want to leave.
Osteria Morini
218 Lafayette St., nr. Kenmare St.; 212-965-8777
There are good things to eat at this pasta-heavy Michael White restaurant that aren't pasta: porchetta, parmigiano "gelato," tiny meatballs larded with prosciutto and mortadella. But who are we kidding? When you say "Michael" followed by "White," you think pasta. That is why you go here, and that is why this restaurant is on this list. True, the pasta dishes at Osteria Morini may not be quite as accomplished as they are at White's uptown seafood shrine, Marea, or as luxed up with fancy ingredients, but they're close. Plus, at an average of $23 a plate, they're a third less expensive — a ready-to-eat alternative to uptown's haute pasta couture, if you will.
Porsena
21 E. 7th St., nr. Third Ave.; 212-228-4923
Founding chef Sara Jenkins spends most of her time in her native Maine now, but her guiding presence is felt in the brash anchovy punch of the wilted escarole salad; the compulsively edible, spicy crumbled-lamb sausage with mustard greens that dresses her signature pasta; and in simple, hearty entrées like a Hampshire pork chop with cannellini and cavolo nero. Porsena started out as a self-proclaimed "pasta restaurant," but has evolved into that rare multifunctional neighborhood joint that appeals to all ages and appetites — even one for Italianate avocado toast.
Roman's
243 Dekalb Ave., nr. Vanderbilt Ave., Fort Greene; 718-622-5300
Roman's is known as the Italian-inspired, farm-to-table, service-included, natural-wine-pouring restaurant in Fort Greene that rewrites its menu nightly, which isn't entirely true. What makes chef Dave Gould's seasonal cooking distinctive is not that dishes come and go, but that they mutate over time while still following recurring rustic motifs. Note the tendency toward hearty ragùs; chickpeas or other legumes in pasta or antipasto form; supersweet Peconic Bay scallops or Maine shrimp when they're in season; and grass-fed, locally-raised beef — the benefit of a whole-animal-butchering program Roman's shares with sister restaurants Diner and Marlow & Sons. She Wolf Bakery was born in the Roman's kitchen, so bread is also big, both to stay (as bruschette and pane cotto, or bread soup) and to go, by the crusty whole-grain loaf.
Sandro's
306 E. 81st St., nr. Second Ave.; 212-288-7374
That master of the pasta pot, Sandro Fioriti, has been flitting around New York, the Hamptons, and the occasional Caribbean island for over 30 years. Everything that passes through his swinging kitchen door is cooked with restraint and oblivious to fads, which only adds to its appeal. Get the fried artichokes, the puntarelle when it's in season, and the fantastic bucatini all'amatriciana — and try not to overdo it with the addictive housemade grissini.
Santina
820 Washington St., nr. Gansevoort St.; 212-254-3000
On paper, this one sounds out there, even for Major Food Group, the team formerly known as the Torrisi Boys. Just imagine the elevator pitch: A restaurant named after one of the partners' Sicilian grandmother, featuring "coastal Italian" food and tiki drinks served by staffers dressed like well-tailored Miami Dolphins assistant coaches, in a setting evoking the Italian Riviera circa 1963, housed in a Renzo Piano–designed glass box beneath the High Line. There's a lot going on, to put it mildly. But somehow it works. Despite the odds, it's fun and playful, bright and cheery— like Carbone on spring break. The food's good, too, especially the Ligurian-chickpea pancake called a cecina, a lunchtime fish sandwich, the guanciale e pepe rice, and fried-to-order cannoli-with-pizzelle shells made from Thomas Keller's Cup4Cup waffle batter.
Vic's
31 Great Jones St., nr. Lafayette St.; 212-253-5700
As a onetime understudy of Missy Robbins and Mark Ladner, Hillary Sterling excels in big, bold, and brightly acidic flavors, often ensconced is unassuming packages — like the sweet fried onions dusted in a punchy dehydrated-tomato-and-parmigiano powder that would greatly interest the evil geniuses who design junk food to trigger addictive eating responses in lab rats, and chile-spiked cabbage that eats like Italian kimchee. Pastas are available in full and half-orders — an option we endorse — and shapes to confound the most jaded pastavore. (When was the last time you had creste di gallo or ricotta-stuffed borsa?)
*A version of this article appears in the March 6, 2017, issue of New York Magazine.