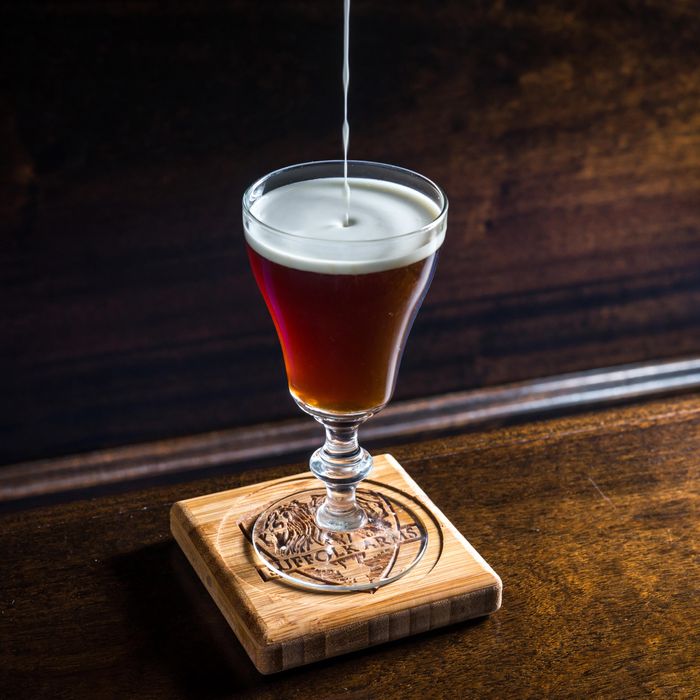 The cream on top of the Duke of Suffolk cocktail is long-shaken until it's marshmallow-soft.
Photo: Paul Wagtouicz
Something strange about hot cocktails: People are hesitant to cop to liking them, but they seem to really like the actual drinking of them. If that's why it's hard to find one that's not a watery hot toddy with a limp lemon slice, well, we should get comfortable with owning up to our appreciation. Given the chance to experiment with drinks in the canon outside of the hot toddy, we've found the city's bartenders to be remarkably inventive in making cocktails that are just as complex and exciting as their icy cousins, and that warm winter drinkers with every sip. (P.S.: That doesn't mean there aren't great hot toddies to be had, too!) Here, the absolute best hot cocktails to drink in New York when the mercury dips below freezing.


1. The Duke of Suffolk at Suffolk Arms
269 E. Houston St., at Suffolk St.; 212-475-0400
A previous tenant of the Suffolk Arms space was the dingy sin den Local 269. And maybe it's the specter of bars past, but there's still a hint of transgression about here — just in the drink menu instead of in the spilled-Budweiser smell of Local 269. That transgressiveness is on display with the Duke of Suffolk, a cocktail that's almost confusingly good. Take a sip: The Fruit Loops note is the Earl Grey tea, which is hot and sweetened and poured over the cucumber-y gin into a sherry-style glass. This is all topped with cream, which the bartender shakes aggressively in a squeeze bottle before layering it on top of the drink. That way it doesn't seep down into the drink (avoiding that coagulated, milk-in-booze look), and when you sip, it's as soft on your lips as marshmallow fluff.
2. The Yuzu Hot Toddy at Bar Goto
245 Eldridge St., nr. E. Houston St.; 212-475-4411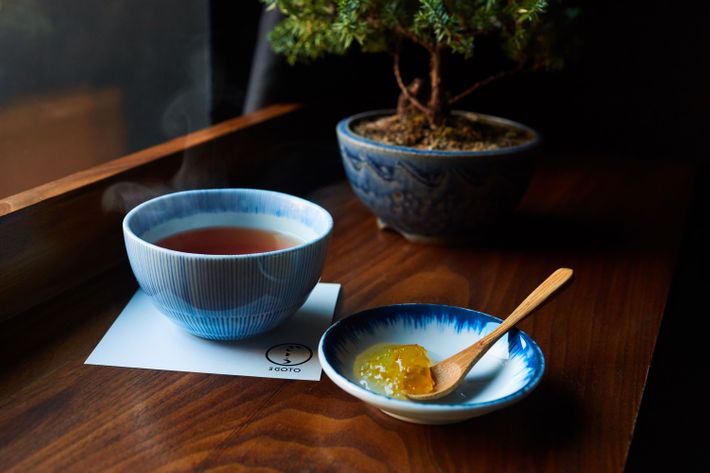 The Yuzu Hot Toddy at Bar Goto uses the apple-brandy Calvados, honey, lemon, two teas, and yuzu marmalade; the blend of ingredients make it a pretty burnt-caramel color. Should you want to up the tangy-sweet flavor, the cocktail comes with a sidecar of the marmalade, accompanied by a tiny wooden spoon for blending. (The toddy tastes well-balanced already, but a spoonful of marmalade–sip of drink–spoonful–sip routine isn't a bad idea.)
3. The Hot Buttered Rum at B-Side
204 Ave. B, nr. 12th St.; 212-475-4600
There is a time and place for etched glassware and golden cocktail-stirring spoons; there's also a time and place for drinking delicious, whipped-cream-topped cocktails at dive bars. When you're in the mood for the latter, head to B-Side, among the city's friendliest drinkeries, where the bartenders stir a scoop of a butter-and-brown-sugar mix into hot water and rum. Upgrade from the house to Myer's dark rum for a buck. The final touch on the caramelly cocktail is a pillow of whipped cream, pierced with a cinnamon stick and dusted with spices grated on top. Best drunk when it's snowing outside, staring out the bar's steamy front windows onto Avenue B.
4. The Dirty Word at Dirty French
180 Ludlow St., nr. E. Houston St.; 212-254-3000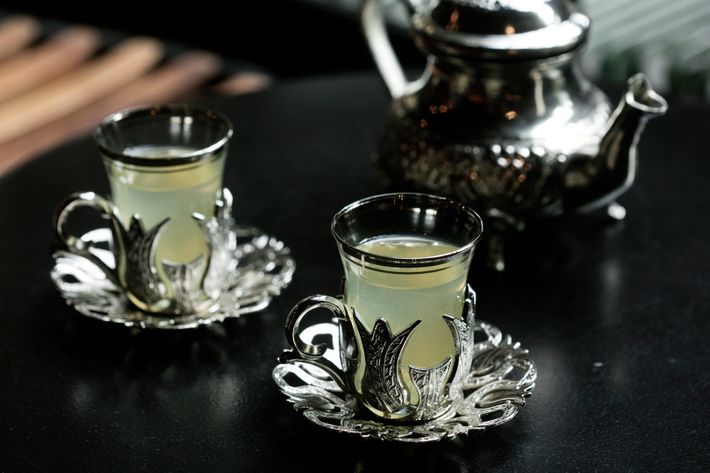 The Last Word is a delicious cocktail that's simple to learn: Its ingredients — green Chartreuse, maraschino, gin, and lime — are included in equal parts. At Dirty French, the bartenders up it a notch, but still keep it simple by topping the cocktail off with green tea. Sounds unusual, tastes outstanding. It's tangy, a little bitter, a little sweet, and one of the best-balanced hot drinks we tasted.
5. The Bear Trap at Dutch Kills
27-24 Jackson Ave., nr. Dutch Kills St., Long Island City; 718-383-2724
A bartender here created this cross between a hot buttered rum and a spiced cider years ago; owner Richard Boccato's had it on menus of his bars since (you can also drink it at the pretty new cocktail lounge Fresh Kills in Williamsburg, and it was on the year-round hot-drink menu at the late, great Painkiller). With good reason: It's creamy, rich, and satisfying. The bar staff blends a house spiced-butter with honey, mulled cider, and bourbon; it's frothed with an espresso wand, topped with grated nutmeg, and brought to your cocktail table in a glass coffee mug.
Honorable Mentions
The Hot Buttered Rum at Eugene & Co.
397 Tompkins Ave., nr. Jefferson Ave., Bedford-Stuyvesant; 718-443-2223
There are visible sticks of butter in this drink, which comes to the table a golden-brown color, served in a Mason jar that'll warm your hands while the drink warms your stomach. It's made with rum and cider, which helps cut the buttery richness, and also makes the drink feel possibly healthful (a dangerous trick).
Kentucky Nitecap at Fort Defiance
365 Van Brunt St., at Dikeman St., Red Hook; 347-453-6672
Everyone knows about Fort Defiance's Irish coffee. (And with good reason; it's great.) Less often discussed is the Kentucky Nitecap, which stiffens sweet, steamed milk with vanilla-infused Four Roses bourbon. As the name suggests, it's the kind of drink you imagine a cinematic southern mother giving to her children in tiny doses before bed.
The Hot Toddy at Wallflower
235 W. 12th St., nr. Greenwich Ave.; 646-682-9842
The most thoughtful, classic hot toddy in the city can be found at Wallflower. The drink uses lemon and honey like most of the city's pub-standard drinks, but also mixes in ginger and St. Elizabeth Allspice Dram, a liqueur that's standard in tiki drinks but is beautifully employed here to introduce a winter-spice flavor profile.