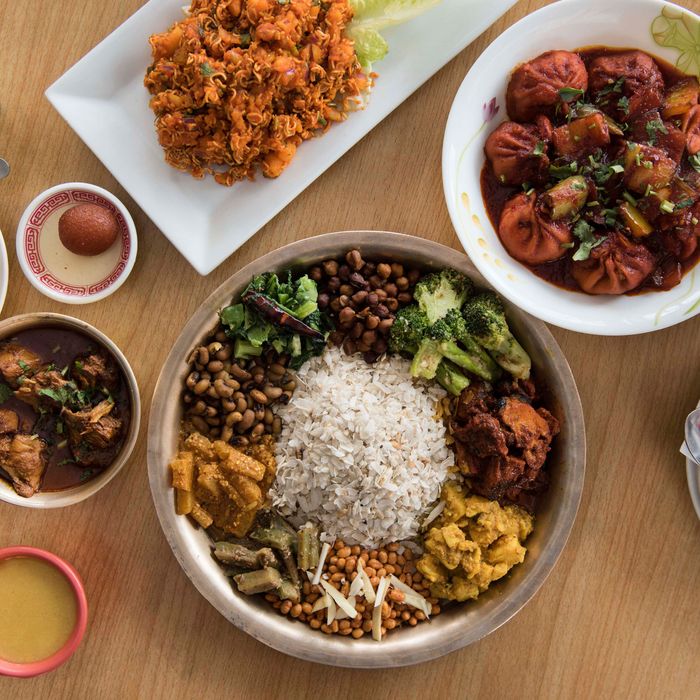 Woodside Cafe's superlative thali platter, momos, and more.
Photo: Liz Clayman
Himalayan food is surprisingly well-represented in this city: You can find yak-butter tea and the doughy, juicy meat-, veg-, or cheese-filled dumplings known as momos, versions of which feature prominently in the distinct but often overlapping cuisines of Nepal, Tibet, and Bhutan, everywhere from the Lower East Side to Ridgewood. This sort of food has proliferated so much in Jackson Heights and neighboring Woodside, in fact, that some have taken to calling the area Himalayan Heights. We've rounded up the best places in New York to go to for said momos and tea, plus Indian-influenced Nepalese curries and thalis; Chinese-influenced Tibetan spicy noodles; the cheese-and-chile Bhutanese dish known as ema datsi; and other specialities of the Himalayan region.
1. Woodside Cafe
64-23 Broadway, Woodside; 347-642-3445
There are a lot of momos in this city, but not a lot of momos that taste like the chile-momos at the pleasant Woodside Cafe, which once offered Italian food in addition to classic dishes of Nepal, but now deals exclusively in the latter. These perfect, fat little packages of dough, twisted neatly at the top and filled with your choice of juicy ground beef, chicken, pork, or vegetables (beef comes recommended), are fried till their chewy exteriors are also crisp, then slicked in an appealingly pink sauce that's equal parts spicy and sweet, and hopelessly seductive. Strewn with sautéed peppers and onions and snips of fresh cilantro, they're a true pleasure. Other standouts include the traditional set meals known as thalis, which arrive on a gleaming, round platter, featuring little piles or dishes of mustard greens; black-eyed peas; roasted soybeans; lentil soup; and chutney, plus a choice of curry and jasmine or "beaten" rice, for which the grains are flattened into crunchy, dry flakes. The wai wai sadeko, a chaat made with creamy spiced chunks of potato, little curls of dried instant noodles, red onion, cilantro, lemon, and green chile is so good, we would eat it right now if we could.
2. Dawa's
51-18 Skillman Ave., Woodside; 718-899-8629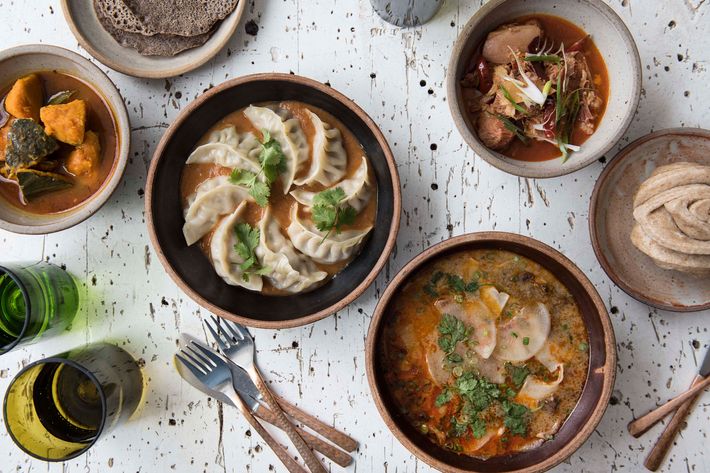 We're sorry, but you'd have to be crazy to order off the side of the menu that's not labeled "Himalayan-inspired" here — unless you've got an allergy or something, in which case, enjoy the New American food, we're sure it's great. (The chef, who was born in Nepal, went to culinary school in the U.S. and worked at Mercer Kitchen and Reynard). If there's nothing holding you back, you're in for a true treat, or several of them, in the form of, for example, the "pork chilli," a Bhutanese-style stew bobbing with tender, bite-size chunks of fatty, slow-cooked meat and heady with hot red chiles, plus ginger, scallion, and fermented bamboo shoots. It comes with the steamed bread known as tingmo, this version made with tangy whole-wheat flour and coiled beautifully into a roselike bun. The thenthuk, a mild but complexly flavored soup, is also excellent; its bone-marrow broth is flecked with hot chile skin and tiny branches of dill, and rich with chewy beef, silky tears of noodle, translucent coins of daikon, and the occasional salty exclamation point of a fermented black bean. The whole-wheat momos are good, too, though outshone by the exceptionally bright, slightly sweet tomato-and-fenugreek purée they arrive on.
3. Dhaulagiri Kitchen
124 Lexington Ave., nr. 28th St.; 917-675-7679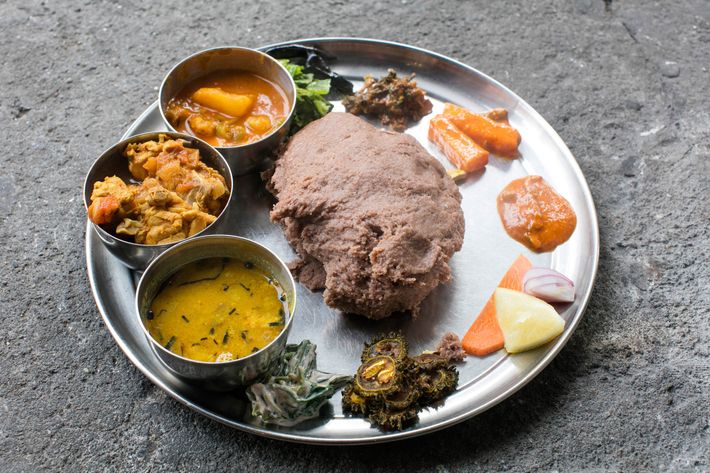 In the sea of restaurants in Manhattan's Curry Hill, Dhaulagiri, whose original location was in Jackson Heights, stands out not only as the only Nepalese-Tibetan place among them but also for serving some of the very best food. Though the dining room is disconcertingly basementlike, a meal here is truly transportive. Despite an abundance of momos and a wai wai sadeko almost as good as the version at Woodside Cafe, the best way to travel around the world may be by way of the great deal that is the dhendo platter, which is similar to a thali, with portions of curry, lentil soup, mustard greens, and spicy pickle to be mixed together, but rather than eating them with rice, you get a big, spongy ball of buckwheat-flour porridge, a.k.a. dhendo, to tear apart with your hands and dip.
4. Lhasa Fast Food
37-50 74th St., Jackson Heights; 646-256-3805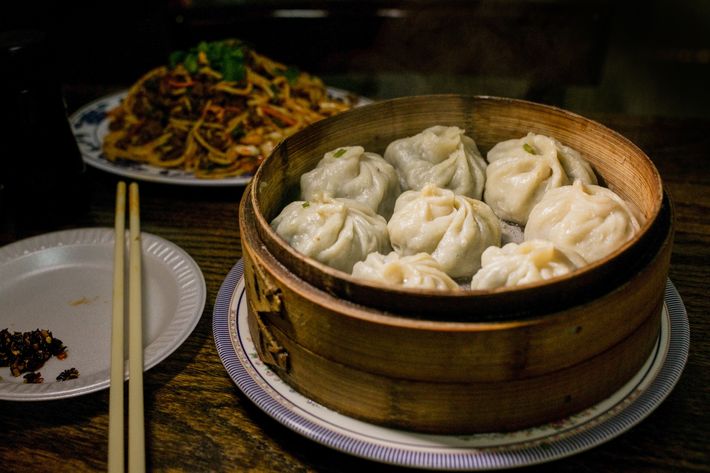 If you've ever heard of a momo counter hidden in the back of a cell-phone store, you've heard of Lhasa Fast Food, which is not just a novelty but also delicious. What it lacks in atmosphere (it's as tiny and windowless as it sounds) it makes up for in fragrant, steamy beef-and-cilantro momos, served in a bamboo steamer, and addictive, nutty, numbing spicy cold noodles — slippery and threaded with crunchy matchsticks of carrot, ribbons of cabbage, snips of scallions, and leaves of cilantro (beef optional).
5. Weekender Billiard
41-46 54th St., Woodside; 718-406-6672
Weekender Billiard is as much of a cultural experience as it is a culinary one — it's a literal pool hall, with plenty of tables, and makes for a fun scene, even without the large area cordoned off for dining. The traditional Bhutanese dishes on offer include ema datsi, a pile of just-cooked, still-crunchy, medium-spicy green chiles dressed in a mild melted cheese (sort of like a reverse chile con queso) and punctuated by the occasional morsel of stewed tomato. Fat little thin-skinned momos arrive super hot, containing rich, steaming broth and super flavorful (if slightly gristly) beef mixed with just-cooked chopped white onion and cilantro.
Honorable Mentions
Cafe Himalaya
78 E. 1st St., nr. First Ave.; 212-358-0160 
You've probably walked by this not-particularly-appealing-looking storefront a million times, and if it's not quite worth a special trip, it is worth a visit if you're in the neighborhood and hungry for momos, shredded-chicken soup, or perhaps best of all, the avocado, spiced-potato, and chickpea salad, tossed in a bright lemon dressing.
Café Tibet
1510 Cortelyou Rd., nr. Marlborough Rd., Ditmas Park; 718-941-2725
Tucked between a bodega and a Q-train station, the tiny, narrow, blink-and-you'll-miss-it Café Tibet rivals Lhasa Fast Food for most surprising location, and its food — momos, of course, and hearty entrées like the bright, crispy chili chicken — is surprisingly good, as well.
While in Kathmandu
758 Seneca Ave., nr. Woodbine St., Ridgewood; 718-386-3416
Though this Ridgewood spot has been open for some months now, it's still technically in soft-opening mode, which means the menu is limited to brunch items, and on weekdays, service ends at 4 p.m. There are several varieties of decent pot-sticker-shaped momos (pork is best) in a citrusy, gingery broth, but more importantly, there is a wonderful, savory-sweet, crunchy fried doughnut made from gritty, fresh-ground soaked rice, and a dense millet pancake, also savory-sweet, each of which comes with cumin potatoes, tomato chutney, and a tiny dish of curry.