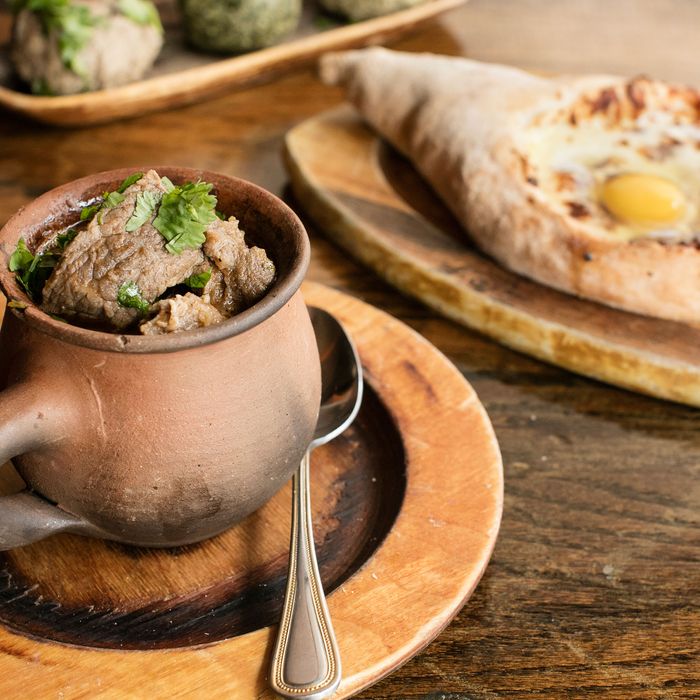 A clay-pot lamb stew and world-class cheese bread at Brighton Beach's Toné Café.
Photo: Melissa Hom
The cuisine of Georgia (the country, not the state) has become increasingly available in New York, spreading out from its insular southern Brooklyn hub to other parts of the city. That's a very good thing, considering such native delicacies as khachapuri, a category of compellingly cheesy breads — the indisputably best of which is adjaruli khachapuri, baked to order, filled with farmer's cheese, and served topped with butter and a raw egg which cooks as it's mixed in. Here we've rounded up the absolute best Georgian restaurants in New York — where to get the finest adjaruli khachapuri, the soup dumplings known as khinkali, Georgian salads, and lots more.
1. Toné Café
265 Neptune Ave., nr. Brighton 6th St., Brighton Beach; 718-332-8082 
One of the first things you see upon entering Toné Café is the eponymous toné, or traditional Georgian clay oven. Within its hip-high dome is where the magic happens: Toné Café makes the best adjaruli khachapuri in the city. The dough is shaped into a relatively deep boat with long, skinny handles and it's served so fresh out of the oven that it's steaming as you tear pieces off, almost too hot to touch. When it cools, it won't last long, what with the sour tang of the bread playing perfectly off the super salty, molten cheese and the rich egg and butter you've stirred in. Pretty much everything else here is superlative, too. Try the trio of pkhali, so-called salads which are more like finely ground pastes, made from walnuts and vegetables (in this case spinach, eggplant, and green beans). And Toné's version of the sausage known as kupati is wonderful: crisp-skinned, lightly charred and bursting with sweet, smoky ground pork; strewn with pomegranate seeds, red onion, and cilantro; and served with a traditional tart green-plum chutney. To drink: the sparkling, neon-green, mostly-sweet slightly-vegetal tarragon soda you will find at every Georgian restaurant in the city and become addicted to. (There's also Georgian wine, beer, and vodka.)
2. Georgian Dream
8309 Third Ave., Bay Ridge; 718-333-5363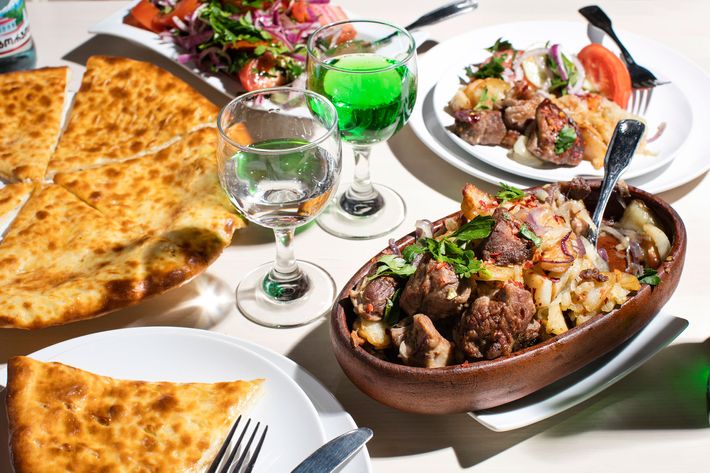 The newer Georgian Dream gives Toné a run for its money. It's a little more casual-feeling, brightly appointed, and comfortable, with an unusual amount of spacing between tables, and the menu is full of classics. The round, pizza-like khachapuri imeruli looks like a Domino's pie but is considerably more satisfying: Beneath its top layer of speckled white cheese is another layer of softer, curdier stuff, and the bread itself is dense and chewy. A dish called ojaxuri, described on the menu as a "popular family meal," turns out to be a wonderfully simple, rustic clay dish filled with cubes of browned pork and oily, golden potatoes thickly blanketed in sautéed onion. And don't be scared off by something called "dissolved coupat"— it's just sausage (an alternative spelling of kupati) and good sausage at that, two little coils with charred exteriors that shatter to give way to finely ground, juicy pork, intensely peppery and herby, offset by a handful of crisp French fries.
3. Mtskheta
2568 86th St., nr. Stillwell Ave., Gravesend; 718-676-1868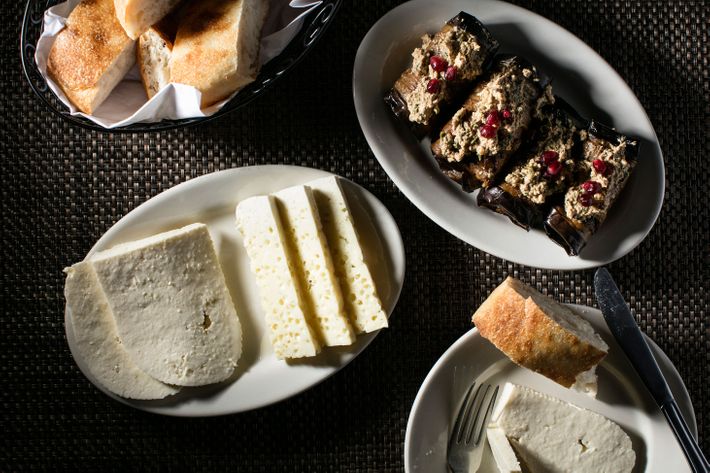 The space is dark and a little cave-like, with surfaces tiled in faux-brick or stone, and a huge mural of a woodland scene evokes the Old Country, as does the food: a deep clay pot of herby braised beans; a platter of mixed Georgian cheeses; stewed mushrooms. The baked goods selection is quite limited — no toné or adjaruli here — but the beef khinkali (soup dumplings you pick up by the fat little nub of dough on top) were some of the best we've tried, with taut, slippery skins and fragrant broth. And if they're out of dessert — hey, even if they're not — L&B Spumoni Gardens is just a short walk down the street.
4. Oda House
76 Ave. B., at 6th St.; 212-353-3838
If you live in Manhattan or the parts of Brooklyn closest to it, you don't have to trek all the way into the deep outer boroughs to get great Georgian food — you'll find it at Oda House in the East Village. Here the adjaruli khachapuri is on the sweeter side, glazed in egg wash, flakier and more pastry-like, though it still scratches the same buttery, cheesy itch. The pkhali, including a delicious leek variety, are elegantly plated, and the menu both showcases and veers beyond the classics you see elsewhere, including signature dishes like salmon baked with mushrooms, sour cream, and cheese, served with potato purée and sliced tomatoes.
5. Marani
97-26 63rd Rd., Rego Park; 718-569-0600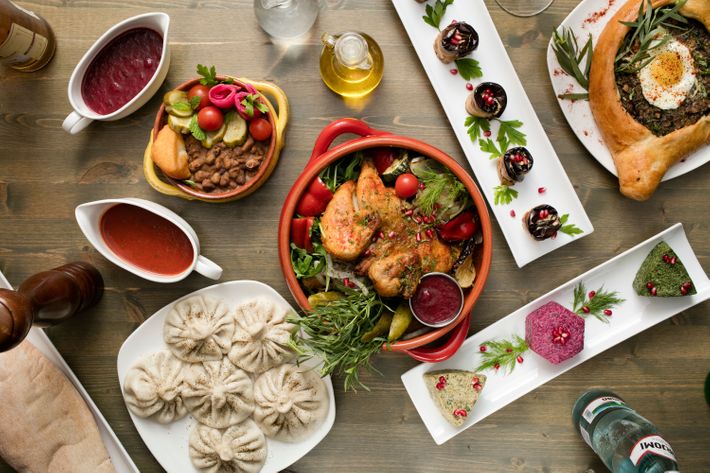 Our pick for absolute best Kosher restaurant is, naturally, a pick for best Georgian, too. If you're not keeping kosher, you might find the upstairs meat, downstairs dairy arrangement a little troublesome, but the process is seamless and the food good enough to justify it.
Honorable Mentions (in Alphabetical Order)
Cheeseboat
80 Berry St., at N. 9th St., Williamsburg; 929-295-8401
This Williamsburg restaurant makes a good-faith effort to trendify khachapuri by topping it with things like chorizo and Oaxacan cheese or meatballs or mac and cheese. It all gets a little confused, but their more straightforward offerings are a good introduction to Georgian food.
Old Tbilisi Garden
174 Bleecker St., nr. Sullivan St.; 212-470-6064
A very solid adjaruli khachapuri, on the sweeter side; a salad of crunchy tomato, cucumber, and red onion dressed in Georgian olive oil; and quite satisfying khinkali, right in the heart of Greenwich Village.
We Are Georgians
230 Kings Hwy., nr. W. 9th St., Gravesend; 212- 203-6067
The menu is limited at this tiny bakery-turned-sit-down-establishment, formerly known as Brick Oven Bread, but it's cozy and friendly, the khinkali are quite good, and you can order adjaruli khachapuri in multiple sizes and take salads to go from a glass case. Plus the name is unbeatable.