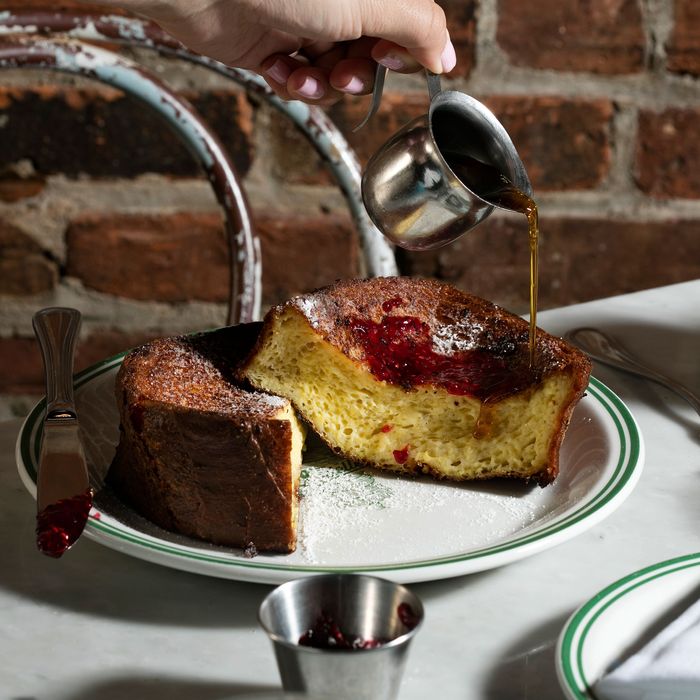 At Sadelle's, the challah is deep-fried.
Photo: Melissa Hom
French toast is a dish that can sound staid and boring: good when it's properly made, but ultimately just an easy way to use up day-old bread — sweet and straightforward and lacking exciting potential. But the chefs of New York should never be underestimated — and nor, they've proven, should French toast. You can get decent French toast almost anywhere that serves breakfast, but here is the absolute best and most interesting French toast in New York.
1. Sadelle's
463 W. Broadway, nr. Prince St.; 212-254-3000
Although this Jewish-appetizing-inspired outpost of the Carbone-Torrisi empire is breakfast-centric, it's known more for its house-baked bagels and smoked-fish towers than for its French toast. But challah fits right into their shtick, and challah makes great French toast — the greatest, as it turns out. You might not even notice it on the menu, but when we tried it — astounded by its heft and texture; its craggy, caramelized surface and hulking crusty corners; its rich, eggy interior; each bite activating the brain's pleasure center — a server smiled knowingly. "Isn't that good?" he said. "We deep-fry it." That's the dirty secret, a stroke of genius: It's soaked in egg, milk, and cinnamon overnight, then dunked in the fryer and griddled to finish, so that it's extremely dark and crispy, just shy of burnt. But, as insanely decadent as it sounds, it's also pretty simple, and so manages not to read as over-the-top, even daubed with tart raspberry jam and drenched in maple syrup.
2. Kopitiam         
51B Canal St., nr. Orchard St.; 646-894-7081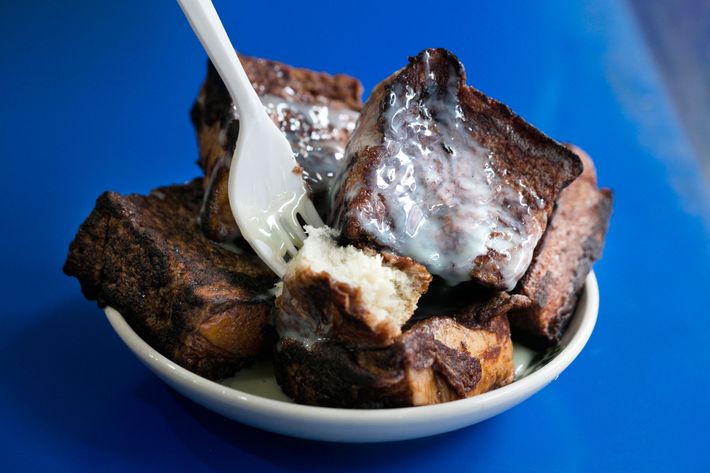 The tiny Malaysian breakfast-and-lunch counter Kopitiam is one of those restaurants that feels like a secret hidden in plain sight: It's on a prominent block of Canal Street, near lots of hot spots, but it's such a hole-in-the-wall that you'd probably walk right by it if you didn't know to stop. There are plenty of reasons to pop in, but high on the list is the incredible and surprise-upon-surprising French toast. A small bowl comes towering with neat squares of fat, spongy white bread that's been dunked in egg and condensed milk, dredged in an Ovaltine-like malt powder called Milo (made in Australia, but popular in Malaysia), then spread with butter and fried. The Milo's deep, rich, almost savory chocolate flavor is balanced nicely by an extra drizzle of sweet, sticky condensed milk.    
3. Russ & Daughters Cafe
127 Orchard St., nr. Delancey St.; 212-475-4881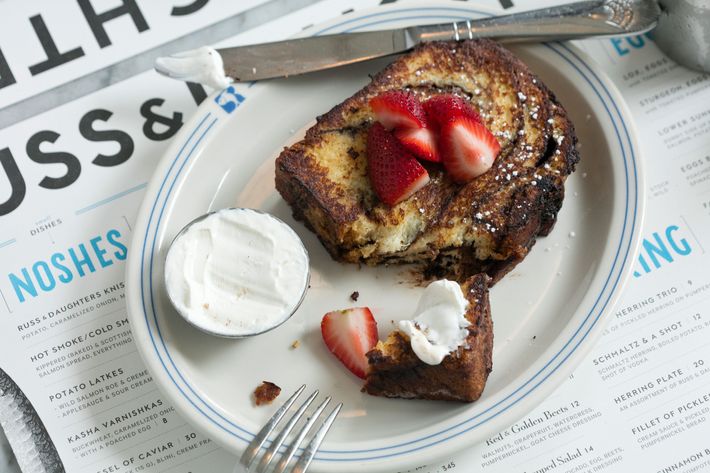 Russ & Daughters' chocolate babka is so good on its own, it's hard to imagine it could be improved upon. But an egg-bath and a trip to the griddle take a slice to another level, adding notes to its medley of flavors and textures, as the ribbons of chocolate melt and the surfaces go golden brown and crisp. A scattering of fresh berries and powdered sugar and a ramekin of sour cream prove perfect accompaniments, no syrup necessary — which makes it a very un-messy dish, packable and snackable for later if you don't finish it all in one sitting.
4. Fort Defiance
365 Van Brunt St., nr. Dikeman St., Red Hook; 347-453-6672
The pain perdu at this reliable Red Hook oasis is on the rustic side, made with two pleasingly thick slices of crusty, tangy country bread gently dipped in milk and egg, then griddled in butter for a caramelized finish, and topped with both blackberry and maple syrups, fresh blueberries, cinnamon sticks, and crunchy nut brittle. It also comes with a generous spoonful of mascarpone, and best of all, you don't even have to order the side of bacon you were eyeing — it comes with two strips of Nueske's.
5. Lalito 
104 Bayard St., nr. Baxter St.; 646-998-3408
Part of what makes Gerardo Gonzalez's cooking so exciting is his use of ingredients where you least expect them, but are delighted to find them — as illustrated by Lalito's weekend-only ube French toast, which has a dense, almost flanlike consistency punctuated by swirls of slightly sweet, slightly starchy purple-yam paste and caramelized edges. There's just a bit of syrup, pre-poured, and a mountain of tangy, high-quality yogurt that makes the dish, happily, as savory as it's sweet, further balanced by a handful of fresh fruit (pomegranate seeds, maybe, or tiny cubes of persimmon) and a sprinkle of black-sesame seeds.
Honorable Mentions
Buttermilk Channel
524 Court St., nr. Huntington St., Carroll Gardens; 718-852-8490
There's something slightly gimmicky about a mash-up French toast such as this one, which is meant to emulate pecan pie (a theme at this vaguely southern-inspired spot, where they also serve a pecan-pie sundae), but that doesn't mean it doesn't taste good. Huge wedges of eggy brioche French toast are drizzled in a syrupy caramel, then topped with powdered sugar and toasted pecans, with a dollop of whipped cream on the side.
The City Bakery
3 W. 18th St., nr. Fifth Ave.; 212-366-1414
On weekends, the hot station in the back buffet area at City Bakery offers "caramelized French toast": wedges of dense, slightly spongy bread (soaked in custard), pan-fried in butter and sugar so that it develops a deeply browned, crunchy surface. The result is as good as any classic French pastry — quite similar to a canelé, in fact — and just as easy to eat with your hands, with a cup of coffee.
Clinton Street Baking Co.
4 Clinton St., nr. E. Houston St.; 646-602-6263
The French toast at this tourist-beloved restaurant, which serves breakfast classics all day, is, we'd argue, better than its famous pancakes. Big squares of browned brioche are layered with seriously caramelized slices of banana, toasted pecans, and cinnamon sugar. But even with the addition of Clinton Street's signature melty maple butter, the dish manages to stay on the right side of sickly sweet.
Santina
820 Washington St., nr. Gansevoort St.; 212-254-3000
Another Carbone-Torrisi place, another deep-fried French toast, this one less astonishing than Sadelle's but still top-notch, made with triangles of the traditional Italian sweet bread known as panettone, but without the customary raisins or candied fruit. A crisp, golden-brown shell, dusted generously with powdered sugar, shatters satisfyingly when you cut into it, giving way to the fluffy, citrusy bread. On the side are fresh berries or sliced banana, depending on the season, plus orange marmalade and maple syrup.
Sarabeth's
Multiple locations
Sarabeth's makes another good, if much less ambitious, challah iteration — simple and straightforward and satisfying, with shiny-crusted, egg-soaked, squishy slices griddled golden brown, accompanied by sliced strawberries and tiny ramekins of butter and maple syrup.
Shopsin's
Essex Street Market, 120 Essex St., nr. Rivington St.; no phone
As with every other dish at Shopsin's, it's all about variety, and there are more than a few versions of French toast on the menu — dozens, in fact. "Slutty stuffed" is a good category, featuring sandwiches of two slices of bread — dipped in so much egg that a sort of omelettelike crust forms on their surfaces — filled with, say, chocolate-chip-almond butter, melting and oozing, or if you want to go full stoner, crushed Oreo and raspberry marshmallow fluff. The bread-pudding French toast is also very good, almost like matzo brei, but with chunks of crusty bread instead of matzo, tossed and scrambled with spicy maple bacon or sliced bananas, pecans, and brown sugar.