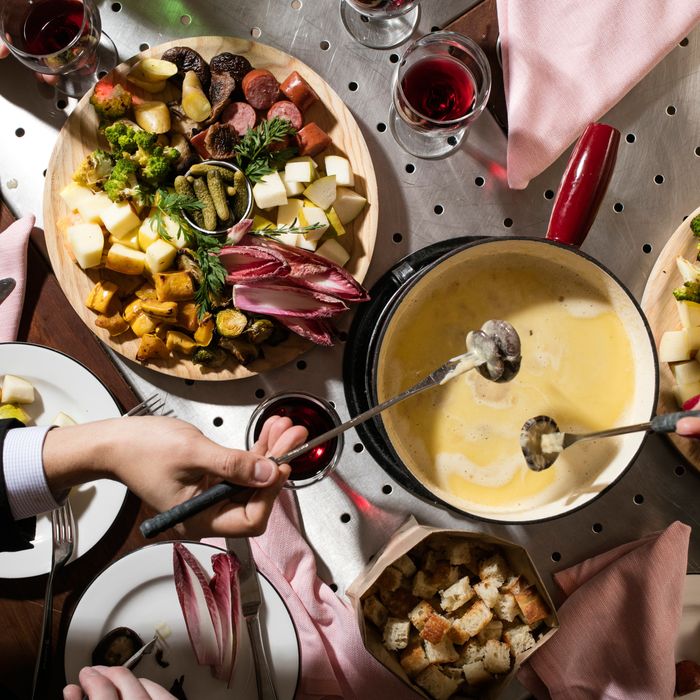 Fondue is the specialty of the yurt at the Standard East Village.
Photo: Melissa Hom
There is simply nothing cozier in the dead of winter than crowding around a gently bubbling pot of warm cheese, spearing cubes of crusty bread and other bite-sized morsels with a cute, long-stemmed fondue fork to dip into said cheese and then deliver directly to your mouth. (Purists might tell you that this is declassé, that the tool is meant only for transport, but eating from it is half the fun.) Artisanal, perhaps the city's most famous spot for fondue, is temporarily closed as it moves to a new location, but herewith, the best fondue in New York right now.
1. The Winter Garden at the Standard East Village
25 Cooper Sq., at 5th St.; 212-228-3344
As far as we know, there is only one place in all the five boroughs where you can eat fondue in your own private, heated yurt, the traditional portable round tent of Central Asian nomads (unless you build one in your backyard, that is). And it happens to be the best fondue in town. Through March 1, four yurts occupy the seasonal "winter garden" at the Standard East Village hotel, three of which can be rented out for groups of four to 12 with a food and drink minimum of $200 to $500. (The fourth is reserved for walk-ins, no minimum required.) Food comes from Narcissa, the hotel's restaurant, and fondue can be ordered à la carte for two, or as part of a set menu, with unlimited refills on cheese and fixings. The cheese is a pitch-perfect blend of Emmental and Gruyère, thinned with white wine and punched up with fresh-grated nutmeg, and fixings include cubed rosemary filone, smoked sausage, whole steamed fingerlings, and roasted Brussels sprouts. (Vegetarian option available.)
2. Après Ski Fondue Chalet at Café Select
212 Lafayette St., nr. Spring St.; 212-925-9322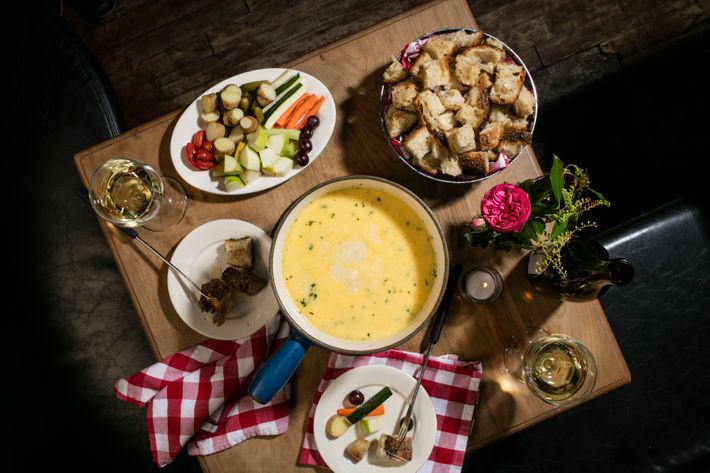 In winter, the back room (which is actually the boiler room) at neighborhood-favorite Café Select gets a makeover and a seasonal menu, becoming the just short of totally hokey Aprés Ski Fondue Chalet, complete with Swiss flag and snowboard as wall hangings. The namesake dish does not disappoint: a large ceramic pot of Gruyère and raclette (which can be flavored with cloves of garlic, or tomatoes, capers, and basil, or white truffle, or dark beer) arrives atop a Sterno flame. The plentiful accompaniments include oily filone, celery and carrot, grapes and grape tomatoes, sliced potato and cornichon (cured meats are extra) — and most importantly, a shot of the cherry brandy known as kirsch. Kirsch is sometimes mixed into fondue cheese; here it's for sipping or for giving whatever you're eating a dunk before it goes into the pot. (Brooklynites can find a nearly identical experience at the Fondue Chalet at Diviera Drive, Select's sister restaurant in Williamsburg.)
3. Taureau
558 Broome St., nr. Varick St.; 212-228-2222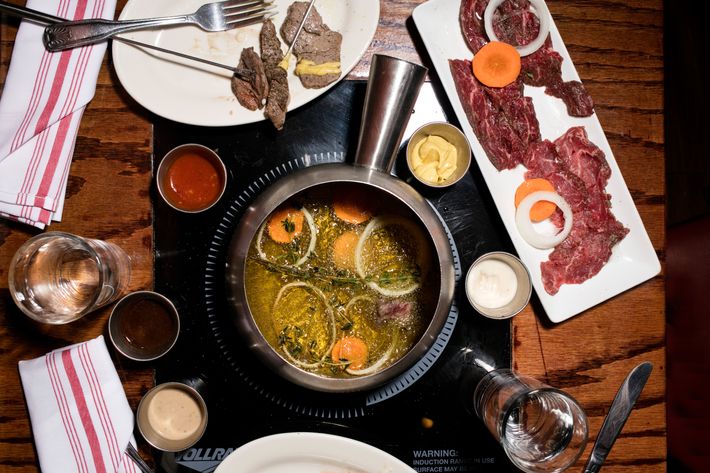 Fondue clearly lends itself to a back-room (or back-garden) experience and Taureau is no exception: The dining room's windows are on the street but to get inside you have to walk through La Sirène, of which it's sort of a spinoff. Fondue is the only thing on offer here, where the farmhouse-style tables have built-in electric stove tops, and it's served in two or three courses, prix fixe. First up is cheese: You have a choice of variations of a few variations from Swiss with nutmeg, garlic, and Chablis to smoked Gouda and Cheddar with beer. Crusty cubes of bread and a bright mixed-greens salad are included; anything else to dip (fruit, vegetables, charcuterie) are add-ons. From here you can skip straight to chocolate (sliced fruit and slivers of cake included) or add on a round of raw meat — the hanger steak is best —to be flash-cooked in a pot of bubbling oil or red-wine-based broth.
4. Trestle on Tenth
242 Tenth Ave., at 24th St.; 212-645-5659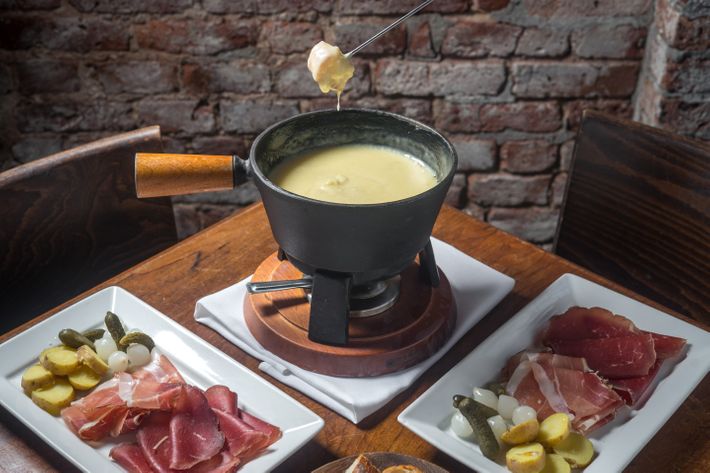 Chef Ralf Kuettel should know from fondue; he hails from Switzerland. And the seasonal (through February) Fondue Sundays at his otherwise only loosely Swiss restaurant do not disappoint. A generous, molten mix of Emmental, Gruyère, and Vacherin comes with cornichons, bundnerfleisch (air-dried beef), speck, potatoes, and crusty cubed Sullivan St Bakery baguette. Kuettel, a former sommelier, recommends drinking white wine, beer, or black tea with the dish — and, of course, finishing with kirsch.
5. Murray's Cheese Bar
264 Bleecker St., nr. Morton St.; 646-476-8882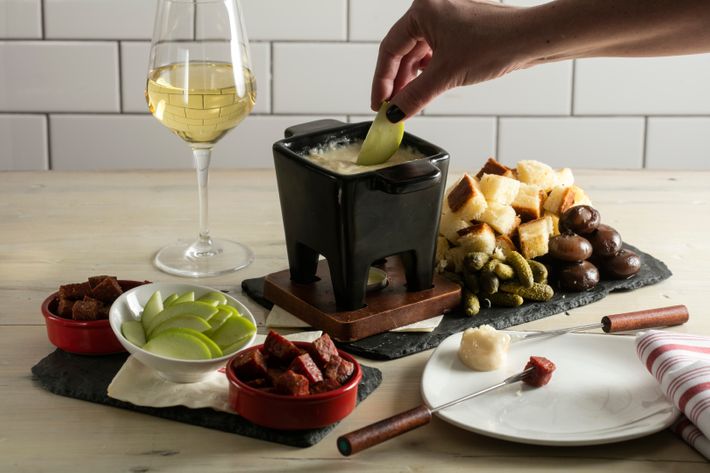 You could buy all the cheese you need to make your own fondue at Murray's Cheese, or you could skip three doors down to the shop's oft overlooked, pleasantly atmospheric restaurant, as crisp and clean as the store. The menu is by no means limited to but includes many cheese-centric classics, and the fondue is a great one. It's sized for two or four, and the smaller option comes in a ceramic stand modest enough to be heated by a single tea light — a cook stove suitable for a borrower. The cheese is Alpine-style, with Gruyère gone soft, creamy, and slightly grainy blended with nutmeg and Chablis. To dip there are two types of croutons — toasted brioche and country-style loaf — plus diced green apple; halved fingerlings, drizzled in olive oil; balsamic-pickled cipollini onions; and cornichons. Cubed chorizo is a recommended add-on.

6. Blue Ribbon Brasserie
97 Sullivan St., nr. Spring St.; 212-274-0404
Since 1992, the original Blue Ribbon has been doing a lot of things very well, the menu a steady mix of standards and twists. The fondue here is just as you might expect: resolutely familiar but solidly above average. The cheese, a combination of Emmental and Gruyère with kirsch and white wine, is thick and extra stringy; the pillowy bread cubes are crustless but supplemented by crisp, slightly sweet bread sticks. There are wedges of green apple, too, but the pièce de résistance is the half of a golden-edged twice-baked potato, laden with bacon bits. And James, the charismatic longtime bartender, makes a mean hot toddy.
Honorable Mentions
Black Mountain Wine House
415 Union St., at Hoyt St., Gowanus; 718-522-4340
On Tuesday nights, the Ur-cozy, woodsy wine bar adds fondue to their short, cheese-centric menu, a classic Swiss mix served with two types of crouton: a crusty loaf and a softer prosciutto bread.
Craftbar
900 Broadway, nr. 20th St.; 212-461-4300
You could argue about whether or not the dish described on Craftbar's menu as fondue actually qualifies — it's melted pecorino, served in a tiny cast-iron dish drizzled in acacia honey and topped with pepperoncini and, at the moment, pine nuts (sometimes it's hazelnuts). It comes with slices of hard-toasted baguette and without a flame to keep it hot. It's closer to fondue's Italian cousin, fonduta, often made with fontina. Whatever it is, it's fantastic.
Grand Ferry Tavern
229 Kent St., nr. N. 1st St., Williamsburg; 718-782-8500
The fondue at Grand Ferry — whose vibe feels distinctly mid-aughts Williamsburg, i.e. turn of the 19th century—is, like Craftbar's, more on the hot-cheese-dip end of the spectrum, sans candle or Sterno. It's also particularly pungent and decadent: It's made with creamy blue cheese, and served with two varieties of warm bread.
Kashkaval Garden
852 Ninth Ave., nr. 55th St.; 212-245-1758
It may seem out of place on a menu that's overwhelmingly Mediterranean, but the fondue at Kashkaval is taken very seriously, served in four variations, including a classic Swiss and one made with the Bulgarian sheep's-milk cheese called kashkaval. All come with bread for dipping; vegetables and meats can be ordered separately.
La Bonne Soupe
48 W. 55th St., nr. Sixth Ave.; 212-586-7650
It stands to reason that this tidy, cozy, no-nonsense French gem in Midtown would make an excellent, straightforward fondue. And it does, with cheese just the right texture and level of sharpness, served with bread. Sliced green apple costs extra.
Maman
Multiple locations
This winter, the Soho and Greenpoint outposts of this charming French café are hosting fondue dinners, roughly twice a month. For $65 you're invited to melt your own three-cheese fondue (after brief instruction from a chef), outfitted with a wooden spoon for stirring. The family-style meal includes salad, croutons, and roasted vegetables for dipping, plus two glasses of wine and dessert. They offer private fondue nights, too.
Olmsted
659 Vanderbilt Ave., nr. Park Pl., Prospect Heights; 718-552-2610
You have to hunt for the fondue on the menu of this 2016 newcomer — it's hiding in the dessert section. And as at Craftbar, it's more of a fonduta: a small wheel of famed Vermont dairy farm Jasper Hill's soft-ripened, bloomy-rind Harbison cheese that's broiled till gooey and then torched, served with a tiny dish of croutons, apple chunks, and pickled radishes.
Rèst-âü-Ránt
30-01 35th Ave., Astoria; 718-729-9009
There are two varieties of fondue at this wine-and-cheese bar: a classic with Emmental, Gruyère, and white wine, and the house blend, which adds Brie and cider to the other cheeses. To dip, bread is included, while assorted fruits, crudité, and meats are extra.
Vintner Wine Market
677 Ninth Ave., nr. 47th St.; 212-957-7500
Three types of fondue round out the menu at this café-and-food-market outpost of Ninth Avenue Vintner, the wine shop just down the block: a classic Swiss (Emmental and Gruyère) with Chardonnay, a Cheddar-and-ale, and an Emmental-Gruyère-Gorgonzola-dolce with Pinot Grigio. All are served bubbling over flame, with bread, apple, and salami for dipping.