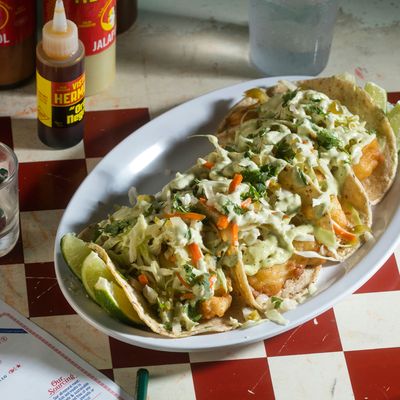 Tacombi's fish taco has true Surfside pedigree.
Photo: Melissa Hom
The fish taco as we know it — hot and crisply battered fillets fresh from the fryer, cool, crunchy cabbage slaw, rich drizzle of crema or chipotle mayo, compulsory squirt of lime — remains most closely associated with its purported birthplace, Baja California, and equally beach-and-taco-crazed points north, from San Diego to Los Angeles. Happily, that's not to say New York is completely lacking: Beyond the dish's innate deliciousness and compelling contrast of textures and temperatures, it represents the most easily achievable aspect of the surfer lifestyle, endless summer tucked into a warm tortilla or two. Our favorites are freshly fried (or even, on rare occasion, grilled) and well-balanced, possessing enough citrus or chile zing to cut through the richness. Here are the absolute best fish tacos in New York City.
1. Tacombi
Multiple locations
It only stands to reason that the city's best fish taco comes from a restaurant chainlet born in a van parked on the beach in Mexico. The tortillas are made in-house; the beer-battered haddock is perfectly flaky, not mushy; the pickled cabbage provides the requisite crunch and vinegary bite; and roasted-poblano mayo adds a nice subtle kick of heat. Thankfully, this standout, can't-eat-just-one fish taco is on the menu at all six Tacombi outposts from Nolita to Montauk, making it less a matter of where you're going to grab a few and more a matter of when.
2. Los Mariscos
409 W. 15th St., nr. Ninth Ave.; 212-920-4986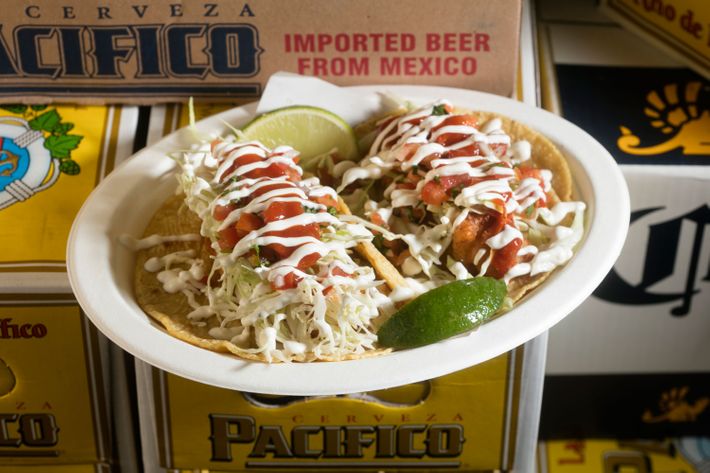 The West Coast vibe is fairly perceptible at this Chelsea Market sister stand to Los Tacos No. 1, both founded by transplants from Tijuana, Mexico, and Brawley, California. The fish tacos feature basa (a farmed Vietnamese catfish) that comes out crisp and piping hot, folded between tortillas and topped with tomatoes and just the right amount of crema. Think of it as an appetizer for the rest of the seafood-centric menu, an extravaganza of clams, oysters, scallops, shrimp, and ceviche. If you can't make it to Ensenada (or even Sheepshead Bay), order a bucket of Coronitas for the table and get to work.
3. Bar Bruno
520 Henry St., nr. Union St., Carroll Gardens; 347-763-0850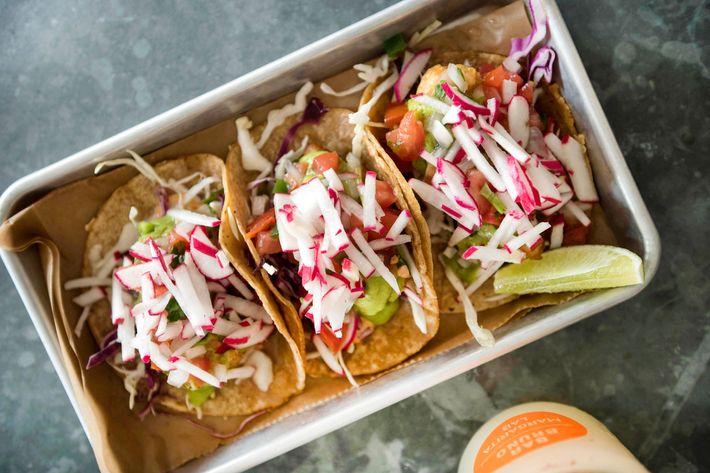 You'd never know it by the unassuming façade or the eclectic menu (pan-fried Amish chicken, sides of chicharróns), but the fish taco is the sleeper hit at this self-proclaimed "Mexican bistro" with European influences. Beer-battered mahi-mahi comes perilously close to being overwhelmed by toppings — a perfectly tomatoey pico de gallo and a rich avocado-tomatillo salsa — but somehow the elements cohere, and the result is a fish taco to make South Brooklyn proud.
4. Tacoway Beach
302 Beach 87th St., at Rockaway Fwy., Rockaway Beach; no phone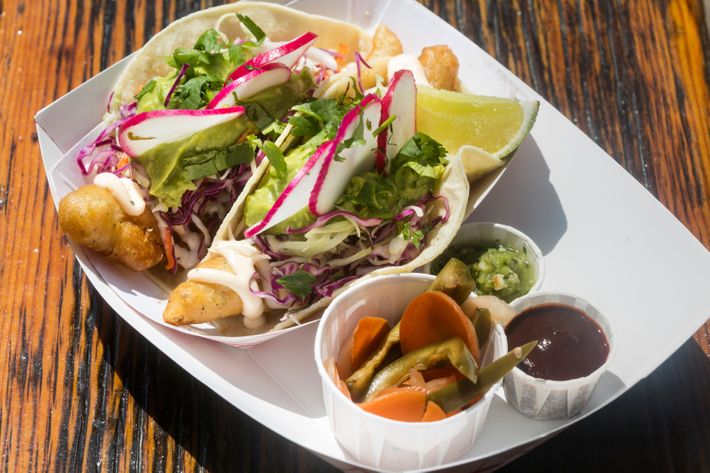 The greater metropolitan area's current appetite for Baja-style fish tacos can be traced back to Andrew Field, the founding chef of Rockaway Taco, who split with his partner and drifted nine blocks east to set up his own Surfside cantina. These heaping, three-napkin jobs still draw weekend lines for textbook tacos garnished with cilantro, a dash of crema, radishes, and marinated red cabbage for crunch and color. If you're feeling indulgent, ask for a generous helping of guacamole — a nontraditional topping, but much-appreciated on a hot day at the beach.
5. Nacho Macho Taco
Multiple locations
When presented with the option of fried versus grilled fish tacos, most people will choose the former. But Nacho Macho, with outposts in Crown Heights and Park Slope, makes a convincing case for the underdog with its rendition of grilled basa topped with fresh cabbage, cilantro, and a nice chipotle mayo for a touch of heat. If you're looking for a slightly healthier fish taco, you'll find it here.
6. Atla
372 Lafayette St., at Great Jones St.; 646-837-6464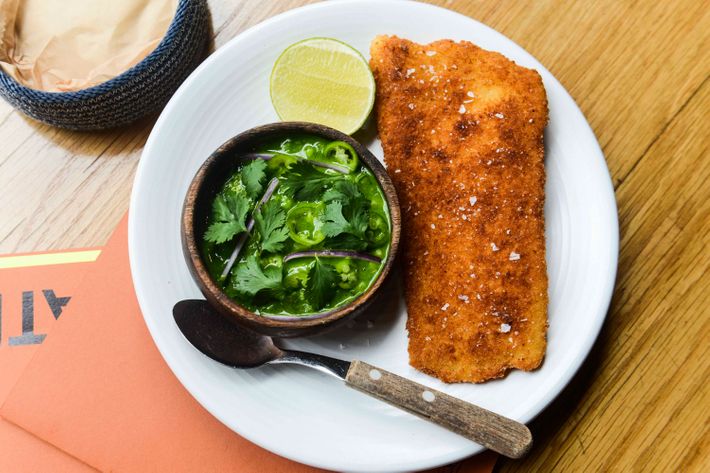 Atla's fish Milanese comes with tortillas, which makes it perfect for creating DIY fish tacos of your own. A lovely, verdant cucumber ceviche — featuring fennel, red onion, lime, cilantro oil, and serrano chilies, and a hunk of lime — is really all you need to bring out the best of the hake, which is both crisp and not too oily, thanks to a few tricks involving cornstarch and finely ground panko bread crumbs. You've never had a more elevated fish taco.
7. Empellón
Multiple locations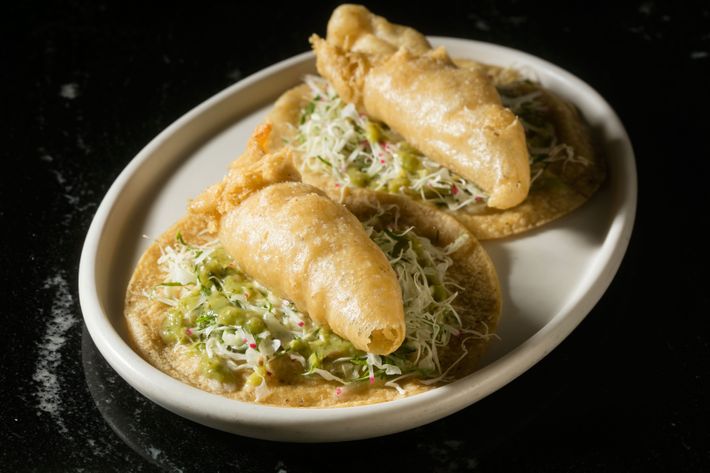 In his single-subject cookbook, Tacos, Alex Stupak cites a prevailing theory behind the origin of the Baja fish taco: Japanese fishermen working along the Baja peninsula applied their tempura techniques to local ingredients. He is such a fan of the style, he serves it at both Empellón Taqueria in the West Village and its upscale midtown sibling, Empellón. The recipe is the same: Long Island dogfish deep-fried in a mix of corn masa and water, then set atop a bed of lime mayonnaise with a tomatillo-and-sweet-pickled-jalapeño relish and a mix of shredded cabbage, onion, cilantro, and radish. The result is exceedingly crisp, bursting with complex and bright acidity that cuts right through the battered fish. And as luck would have it, they go for $5 apiece during Taqueria's happy hour.
8. Dorado Tacos
Multiple locations
The menu is pretty wide-ranging, but when you get down to it, Dorado is all about Baja-style fish tacos: beer-battered Atlantic whitefish, crema that registers somewhere between heavy cream and sour cream, pickled onions, a passable salsa fresca, and delightfully chewy tortillas. It might not be the city's best fish taco, but it's fast, (relatively) cheap, and will satisfy a craving.
9. Oso
1618 Amsterdam Ave., nr. 140th St.; 646-858-3139
Because they're made with pan-fried porgy, these pescado tacos aren't as crunchy as their deep-fried brethren. But they have in their favor fantastically fresh red cabbage and the innovative addition of crispy onions, like what you might find in the green beans at Thanksgiving, plus chipotle mayo for a pleasant dash of heat. It's a fish taco that's greater than the sum of its parts, and is best enjoyed with a standout margarita.