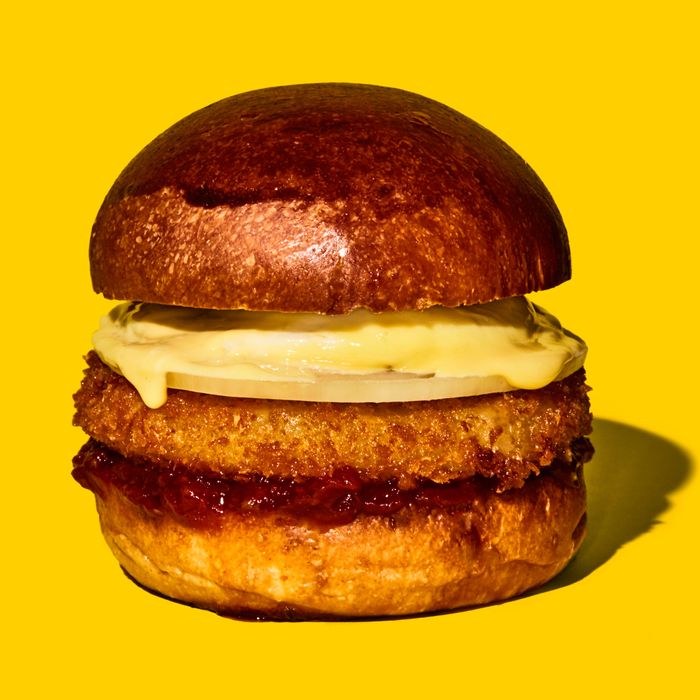 Flora Bar's egg and cheese.
Photo: Bobby Doherty/New York Magazine
Is there a more venerated New York sandwich than the bodega egg-on-a-roll, that whole-is-greater-than-the-sum-of-its-parts marvel and bedrock of urban culinary life? As you might expect with something so vital to the city's lifeblood, the sandwich has become inspiration for countless chefs. And whether or not you consider tinkering with the original form a criminal act, as many do, you can't deny that the best interpretations add something delectable to the category — be it Korean-spiced mayo, Jewish-style smoked meat, North African tomato sauce, or boutique-butcher beef fat. The common denominator: love and respect for the classic. Here are the absolute best egg sandwiches in New York.
1. Flora Bar's Egg and Cheese Sandwich
945 Madison Ave., at 75th St.; 646-558-5383
When people say that the beauty of a classic egg-and-cheese is that it's a sandwich impervious to gourmet upgrades, they underestimate the gourmet-upgrading abilities of Ignacio Mattos. This is the man, after all, who puts sunchoke chips and pickled elderberries into steak tartares, and fish sauce and radicchio mostarda on top of cheeseburgers, then leaves you wondering why all steak tartares and cheeseburgers aren't made this way. If Mattos had a recipe-development motto, it would be "Sound crazy on paper, taste great on the plate." Case in point is the egg-and-cheese he and his chef de cuisine Jacob Nemmers have concocted at Flora Bar. In typical Bizzaro-World fashion, the runny-fudgy-yolked egg is inverted with the cheese — a sharp slab of caciocavallo that gets breaded in panko and deep-fried like a Feast of San Gennaro mozzarella stick. There's tomato chutney for brightness, a slice of raw onion for bite, and miso mayo for richness (not that it's lacking in that department). When it arrives at the table, you look at it and ask yourself, What exactly is going on here? One crisp, gooey, tangy bite reveals all: a unique and irresistible take on a seemingly unassailable formula, and the best egg sandwich in New York.
2. Southside Coffee's Southside
652 Sixth Ave., at 19th St., Greenwood Heights; 347-927-4870
Southside's namesake breakfast sandwich is two organic eggs scrambled in lots of butter, Heritage Meats ham, melted Cabot Cheddar, pickled red onions, and the clincher: a fiendishly good concoction consisting of maple syrup, Dijon mustard, and some fancy coffee grounds emulsified with oil and egg yolks into a super-savory substance called "breakfast mayo." Pretty much the entire flavor spectrum of the American breakfast table on a toasted Balthazar Bakery brioche bun.
3. Frankel's Pastrami, Egg & Cheese
631 Manhattan Ave., at Nassau Ave., Greenpoint; 718-389-2302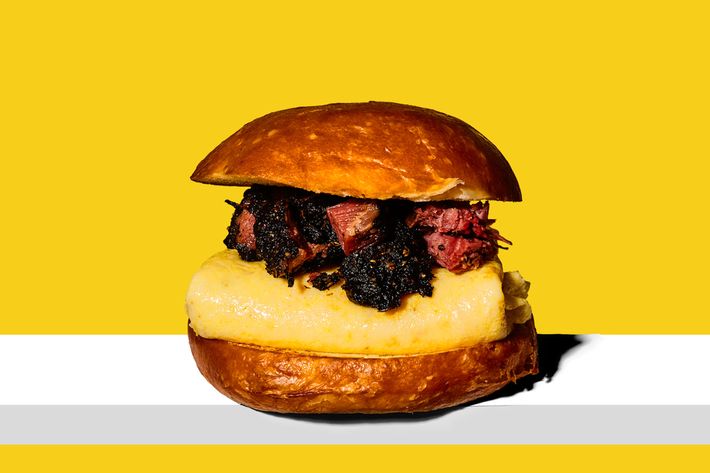 Brothers Zach and Alex Frankel and chef Ashley Berman are not only Jewish-deli obsessives — they're also New York bodega fanatics. And their Pastrami, Egg & Cheese is a thing of nondenominational beauty, a breakfast worth waking up early for (though you can order it until the very civilized hour of 4 p.m.). The spicy pastrami is cut into fatty chunks that remind you of the burnt ends you get at barbecue joints. The eggs, cooked omelette style, are hot and fluffy. And the featherweight challah roll provides just enough support without getting in the way. The key, though, is the American cheese. While all right-thinking deli mavens would consider the idea of slapping processed fromage on a plain pastrami sandwich an abomination, folding it into the eggs until it dissolves into a molten mass and plopping the meat on top of the eggs works like magic. In egg sandwiches (and pastrami sandwiches), as in life, sometimes rules are meant to be broken.
4. C&B Cafe's Chorizo-and-Egg
178 E. 7th St., nr. Ave. B; 212-674-2985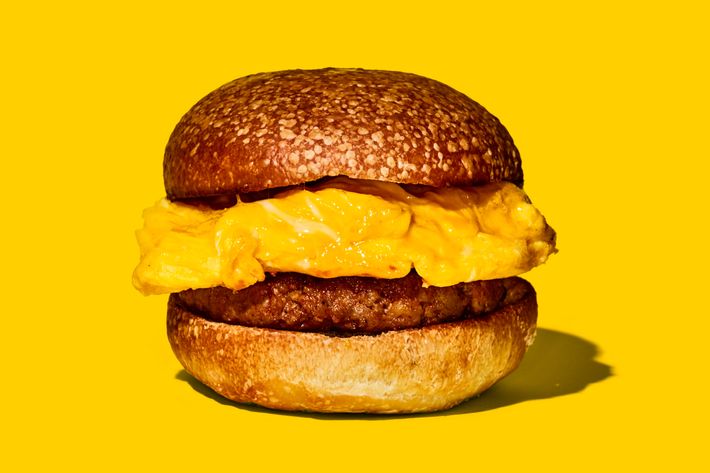 At his breakfast-all-day café, former Daniel cook Ali Sahin scrambles eggs as punctiliously as some chefs bake soufflés. He's no slouch at sausage-making either. His egg-and-chorizo on a puffy housemade roll is the best breakfast sandwich in the East Village. The housemade merguez with egg and Cheddar is the second-best.
5. Sullivan Street Bakery's Originale
236 Ninth Ave., nr. 24th St.; 212-929-5900
After years of wondering why these soft-cooked eggs are so mysteriously creamy and delicious, we've finally cracked the code: A kitchen mole reports that the secret technique involves tossing them into a blender with just the right amount of salt and olive oil, then blending for a precise amount of time — which, when it comes down to it, is kind of like making mayonnaise and egg salad all at once. These wonder eggs come on warm, slender sticks of pizza-bianca dough that Sullivan's mastermind Jim Lahey calls strecci, which look like aristocratic little hero rolls. Of the three sandwich variations available, the Originale's combo of salty slivers of bacon-crisp prosciutto di Parma and tangy-sweet demi-sec tomatoes puts it in the lead. Note: The bakery's Hell's Kitchen branch serves a miniature grab-and-go version on a brioche roll.
6. Rose Bakery's Breakfast Sandwich
160 Lexington Ave., at 30th St.; 646-837-7754
Two sunny-side eggs, undoubtedly the work of well-contented chickens; some lavish shavings of good English cheddar; a sweet swipe of tomato jam; a righteous mash of avocado; and some smoky strips of bacon on housemade sourdough so fresh and flavorful, they don't bother to toast it: This might be the most underrated breakfast sandwich in town, maybe because it's only available at brunch. Truth be told, it's a bit of a slippery mess, and you should probably eat it with a knife and fork as the kitchen presumably intended, but where is the fun in that?
7. The Breslin's Oven-Baked 3-Cheese Sandwich
20 W. 29th St., nr. Broadway; 212-679-1939
Someone counted wrong. This April Bloomfield artery clogger actually consists of four cheeses: raclette, manchego, and montrachet layered between two slices of crusty filone, plus grated Parmesan packed onto the outside of the bread. When cooked in a pan then finished in the oven, the inside gets all oozy like a gourmet grilled cheese, while the exterior crisps up like a Friulian frico. Get it with optional house-cured ham and a runny-yolk huevo sunk into the middle of the sandwich, and you have a sort of supersized croque madame crossed with an off-the-charts egg-in-a-hole. Bonus tip: Not only can you order the same sandwich in the adjacent Ace Hotel lobby; there's also a knockout lobby-exclusive bacon-egg-and-cheese on a butter-toasted English muffin. It comes in a little paper bag like a ShackBurger, so you can take it to go.
8. Daily Provisions' Italian
103 E. 19th St., nr. Park Ave. S.; 212-488-1505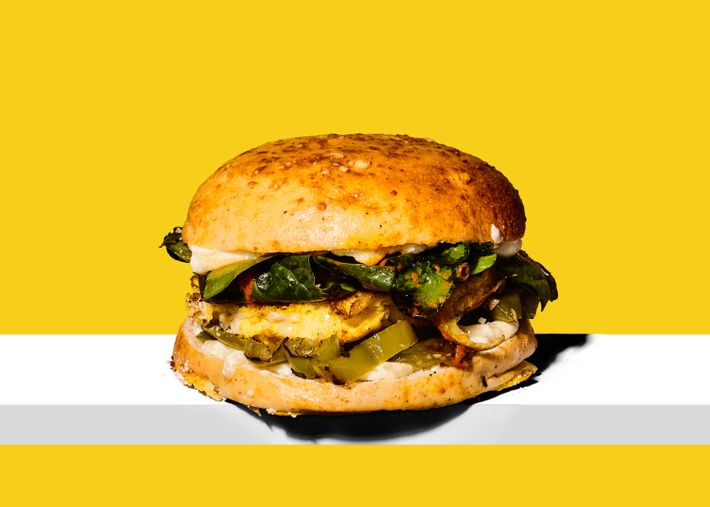 What makes a breakfast sandwich Italian? For Carmen Quagliata, who took flavor inspiration from his grandma's frittata, there's the Cubanelle peppers, sautéed in basil and garlic; the raw spinach, tossed with a Pecorino-Parmesan mix and house "wake-up" sauce; the mozzarella and provolone melted onto the top and bottom insides of the toasted bun; and the ricotta in the dough itself. And then there's the fried egg, its yolk just runny enough.
9. R&D Foods' Seeded Yogurt on Roti
602 Vanderbilt Ave., nr. St. Marks Ave., Prospect Heights; 347-915-1196
The injunction to "put an egg on it" has never been more persuasive that at this New Brooklyn general store, where sandwich savant Ilene Rosen conjures combinations from every corner of the globe (and her sandwich-encyclopedia mind). Although the egg-optional lingo might make the ingredient seem incidental (and less breakfasty, perhaps, than her staid-by-comparison egg-and-cheese), it's that bit of added protein that turns this Indian-themed wrap into a bona fide meal. The roti is made in-house, the yogurt is speckled with a spice rack's worth of aromatic seeds, and vegetal matter in the forms of pickled shiitakes and dark leafy greens add zest and bite. But it's the garlic achar condiment from Brooklyn Delhi that makes the thing flat-out ridiculously delicious, and will blast your taste buds into consciousness any hour of the day or night.
10. Estela's Egg, Pancetta, and Avocado Sandwich
47 E. Houston St., nr. Mulberry St.; 212-219-7693
Another Ignacio Mattos brunch-only take on the breakfast sandwich: pancetta, smashed avocado, and a fried egg on a Bien Cuit poppy-seeded pastry made with almond cream and seemingly an entire tub of butter. It's what a Burger King Croissan'wich dreams of becoming.
11. Chez Ma Tante's Sausage and Egg Sandwich
90 Calyer St., at Franklin St., Greenpoint; 718-389-3606
You could cure a hangover just by looking at this gloriously greasy assemblage of fluffy folded eggs, juicy housemade breakfast sausage, melted Gruyère, and gobs of aïoli on a soft roll. A garnish of those good Basque pickled peppers called guindillas is a valiant, if futile, attempt to cut through the fat.
12. High Street on Hudson's Bodega
637 Hudson St., at Horatio St.; 917-388-3944
Scrambled eggs, sweet malted sausage, and sharp Cheddar on a griddle-toasted sage-and-black-pepper biscuit that's hot to the touch. As far as we know, no New York bodega has ever made a breakfast sandwich on a biscuit, but the owners are from Philly, so cut them some slack. Besides, one bite of this super-sandwich and you won't give a hoot about authenticity.
13. Sunday in Brooklyn's Egg & Sausage
348 Wythe Ave., at S. 2nd St., Williamsburg; 347-222-6722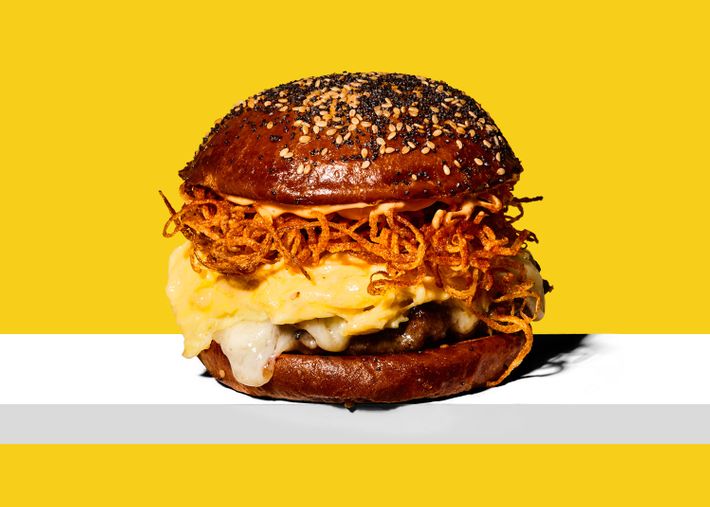 The chef, Jaime Young, did time at New Nordic-inspired Atera, but he's from Long Island, and his formative years were spent foraging the diners and delis of Nassau County, not the fields and fjords outside Copenhagen. His maple-syrup-enhanced sausage patty, scrambled eggs, crispy fried potato sticks, Cabot Cheddar, and gochujang aïoli on a Runner & Stone roll is an homage to the deli breakfast sandwiches of his youth, particularly one kitchen-sink colossus called "the Mess."
14. Du's Donuts' Scrambled Egg Sandwich
107 N. 12th St., nr. Wythe Ave., Williamsburg; 718-215-8770
Wylie Dufresne's stupendously sleek and eminently portable take on the breakfast sandwich is a combination of grilled cheese, bodega BEC, and something an astronaut could eat in outer space without Wet-Naps.
15. Houseman's Croissant Egg Sandwich
508 Greenwich St., nr. Spring St.; 212-641-0654
If egg sandwiches have a downside, it is their sometime inaccessibility beyond morning or weekend hours. Houseman has removed that obstacle by reserving a spot on the lunch menu for its gourmet croissantwich: a buttery, burnished Brooklyn-baked croissant filled with over-easy Pennsylvania eggs, super-creamy Rhode Island Crescendo cheese, and salty shards of Casella's American prosciutto that all meld together into one cohesive Franco-American package. Fries or salad included.
16. Sadelle's Classic Egg Sandwich
463 W. Broadway, nr. Prince St.; 212-254-3000
A crispy-edged fried egg with a runny yolk, mild melted Muenster, gobs of thick mayo, and good smoky strips of bacon on griddled challah. Essentially, it's a BEC dressed up like a grilled cheese, and a textbook model of the synergistic egg-sandwich school.
17. Upland's Roasted Porchetta + Egg Sandwich
345 Park Ave. S., entrance on 26th St.; 212-686-1006
Two of the greatest sandwiches of all time meet with predictably stellar results. The porchetta has an ideal ratio of crisp crackling to succulent meat; the egg is fried to a T. There's a smattering of the pickled Basque peppers for zip, and fries on the side. Lunch and brunch only.
18. Murray's Cheese's Breakfast Melt
254 Bleecker St., nr. Leroy St.; 212-243-3289
Your basic drippy, greasy, synapse-restoring breakfast sandwich elevated by top-notch ingredients: a farmstead egg, Nueske's bacon, and a brash young Fontina that melts like Velveeta.
19. Corner Slice's Peppers & Eggs
600 11th Ave., at 45th St.; 212-956-9339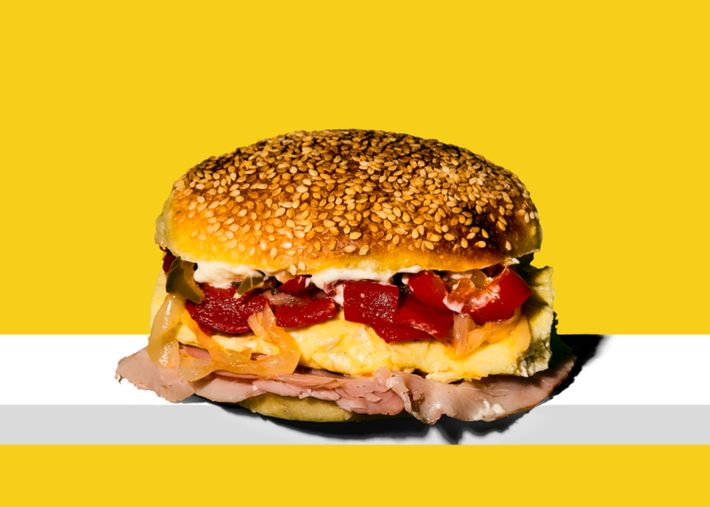 Mike Bergemann grew up on a steady diet of Defonte's supercolossal pepper-and-egg heroes. His cheffy homage — egg-and-mozzarella frittata, piquillo and B&G hot peppers, and Fra' Mani ham on a house-baked roll — is terrific, if more modestly sized for upscale-food-hall prowlers rather than Defonte's workingman fressers. Still, says Bergemann, there's a police detective who buys four of his sandwiches at a time. "When dudes in uniforms come in, it's a good sign."
20. West~bourne's Sunrise Kingdom
137 Sullivan St., nr. Prince St.; 347-534-3050
Lift the lid on this all-day vegetarian café's toasted Thomas' English muffin breakfast sandwich and you'd think there must be a rogue carnivore loose in the kitchen. What looks like extra-dark and crispy pieces of bacon or maybe chicharróns turn out to be deep-fried pickled onions battered in chickpea flour. That's just the type of move that can raise an otherwise ordinary McMuffin up a few notches on a list like this. Shallot-infused labne dressing is also a nice touch.
21. Court Street Grocers' Pork Roll
540 La Guardia Pl., nr. 3rd St.; 212-777-9292
Why cross the Hudson to cure a hangover when you can get two expertly scrambled eggs, American cheese, and New Jersey's unofficial state meat, the bolognalike pork roll, on a toasted Martin's potato bun at Court Street Grocers? Douse it with ketchup the way they do in Trenton.
22. Shopsin's Egg and Cheese and Scrapple
120 Essex St., at Delancey St.; 917-907-4506
The brightest mathematical minds couldn't tell you how many possible egg-sandwich combinations there are on Kenny Shopsin's menu. Our favorite combo at press time: scrambled eggs with American cheese and a nice slab of crispy pan-fried scrapple on a soft ciabatta roll, served with approximately five arugula leaves on the side for health. Wash it down with an Orange Julius.
23. Egg Shop's Hot Chix
Multiple locations
A hunk of juicy, hot-fried chicken and a super-runny sunny-side egg on a ciabatta-like roll get dressed up bánh-mì style with pickled carrot, cucumber, cilantro, jalapeño, and spicy aïoli. You'll need a bib and a nap.
24. Lena's Egg, Cheese, and Serrano Ham
1 W. 8th St., nr. Fifth Ave.; 212-979-2315
What began as a Basque-macaron shop and then morphed into a French café has gained a bit of a following for its breakfast sandwiches: impossibly soft and creamy scrambled eggs made using the espresso-machine steamer-wand technique popularized by Buvette's Jody Williams, seasoned with an aggressive blast of freshly ground black pepper, and served on warm ciabatta. Get yours with serrano ham and Idiazábal cheese, and eat it at one of the TV-dinner tables that bring to mind the school-desk-style seats at the late, great Prime Burger.