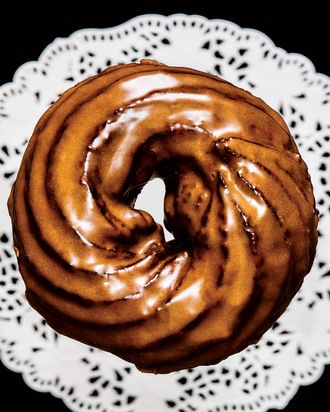 Maple cruller at Daily Provisions.
Photo: Bobby Doherty/New York Magazine
For the Best of New York, the focus, as always, is on things and places that are, if not brand-spanking-new, then newish, having debuted within the past year. Here, we have the best eats you can find city-wide, including beef-fat potatoes, transporting fish stew, and Indian egg toast.
Salad
Edda Bar
47 S. 5th St., nr. Wythe Ave., Williamsburg; 929-337-6792
Is there a foodstuff on this planet that a Nordic chef hasn't attempted to smoke, cure, or pickle? Nothing is safe. Even salad. Which explains why Fredrik Berselius's whole heads of young lettuce on the bar menu of his tasting room, Aska, only appear to be plucked from nature. In fact, they're subject to multiple labor-intensive manipulations: creamy whipped house-smoked hake piped between the leaves, a vinaigrette made from smoked oil and preserved ramp seeds, and a final flourish of dill powder and preserved ramp flowers. It's land meets sea, cured meets raw, and all it requires is a knife, a fork, and a suspension of all modern-day salad-bar presumptions.
Steak
Flora Bar
945 Madison Ave., at 75th St.; 646-558-5383
Ignacio Mattos may be a downtown cook, but he's long been known in restaurant circles as a chef with consummate uptown skills, and his sophisticated version of the ultimate uptown steak dish draws on influences from both worlds. Instead of the usual strip or filet, the beef is flavorful flap steak, prepared with a dash of uptown sherry and that beloved downtown condiment Vietnamese fish sauce for an extra umami kick. The garnish of beets matches the smooth, earthy texture of the beef, a little thatch of dandelion greens adds a dose of Greenmarket cred, and the impeccably made béarnaise bathes everything in the kind of classic gourmet goodness that staunch Upper East Siders expect.
Potatoes
White Gold Butchers
375 Amsterdam Ave., at 78th St.; 212-362-8731
What does it say that the best thing on the menu at April Bloomfield's meat-lover's paradise is a potato? Well, it says that Bloomfield is an ambidextrous chef, as practiced in the delicate vegetable arts as she is in meatier matters. Also: Where there are exceptional fried potatoes, there is bound to be animal fat. And so it is with White Gold's Yukon Golds — paper-thin slices, layered like croissants, confited in beef fat, pressed thinner still under weighted pans, cut into small lasagnalike squares, then deep-fried in more of that transformative tallow until they're as crisp around the edges as Pringles yet soft and creamy within. They come four to an order, propped up like a bowl of Rubik's Cubes, and it's not too much to say that they're the ultimate expression of starch and fat.
Cruller
Daily Provisions
103 E. 19th St., nr. Park Ave. S.; 212-488-1505
Until recently, we hadn't devoted a lot of time to pondering crullers, those twisty sticks of fried dough whose name comes from a Dutch word that means "to curl." That changed when Daniel Alvarez unleashed his maple-glazed version at Daily Provisions last month. His is actually a ring-shaped variation called a French cruller, made from eggy pâte à choux and possessing a delicately crunchy outer shell, a remarkably moist, creamy interior, and maple icing that contrasts perfectly with the almost savory batter. Think light and airy doughnut crossed with a stack of French toast drizzled with maple syrup, but even better. To put it in Modern Pastry Achievement terms: A maple cruller could give a Cronut an inferiority complex.
Food Court
Great Northern Food Hall
Grand Central Terminal, Park Ave. at 42nd St.; 646-568-4020
Thanks to Danish gastropreneur Claus Meyer, Metro-North commuters and everyday straphangers now know the flaky pleasure of the frøsnapper, the creamy comfort of a morning bowl of øllebrød, and the artful construction of a smørrebrød, the open-faced sandwiches of Denmark. These treats and more are available every day in Meyer's elegant conversion of Grand Central's Vanderbilt Hall into a Nordic smorgasbord of thoughtfully sourced, well-made Scanddinavian specialties (including Brooklyn-roasted coffee). It deserves the highest compliment one might pay to a train-station food court: You'd want to eat there even if you're not going anywhere.
Carnitas
Lalito
104 Bayard St., nr. Baxter St.; 646-998-3408
The Mexican-American chef Gerardo Gonzalez is an unabashed fan of carnitas bubbling away in their familiar vat-of-fat street-food milieu. But for his version of the Michoacán specialty, he makes a tropical braising liquid out of pineapple juice and beer, plus oranges, lemons, onions, garlic, and reserved carnitas fat from prior batches (mother fat, as he calls it), and slow-cooks chunks of shoulder for hours. Before sending them out, he crisps them up and anoints them with white sauce (a family recipe of mayo, evaporated milk, and garlic), red sauce (chiles and pineapple), and, ingeniously, crushed corn nuts for texture. On the side: hot flour tortillas made with coconut milk and more of that precious mother fat.
Onion Rings
Cannibal Liquor House
111 E. 29th St., nr. Park Ave. S.
You know those onion rings that when you bite into one a slimy strip of something (presumably onion) shoots out like an eel on a waterslide? These aren't those. These beer-battered beauties are built more along the lines of jelly doughnuts, the rings of Spanish onion buried deep within and well secured by an airy web of dough. Chef Francis Derby attributes their puffy size and considerable savoriness to resting the yeasty, Colt 45–spiked batter overnight in the fridge. To follow through on the allium theme, he plates these substantial specimens with a convincingly trashy French-onion dip house-made from crème fraîche, Kewpie mayo, caramelized onions, fried shallots, and a dash of beef jus.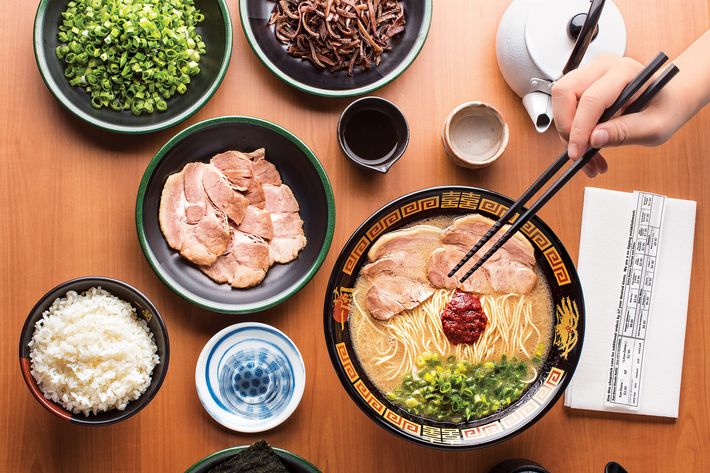 Ramen
Ichiran
374 Johnson Ave., nr. Bogart St., East Williamsburg; 718-381-0491
Certain foods taste better in certain environments. Hot dogs, for instance, are extra-delicious gobbled on the street, at the ballpark, or in their natural habitat — on the Coney Island boardwalk, where salt air and ocean breezes act as flavor enhancers. But who knew that tonkotsu ramen is at its best when consumed alone inside an isolated slurping pen called a "flavor concentration booth," as this Japanese chain would have you believe? The good news is that the soup, even when swallowed among other humans in the restaurant's adjoining dining room, is pretty great — deep and creamy with a long finish. The noodles are exceptional, too, as firm and springy as a brand-new Posturepedic, and you can custom-calibrate everything from the richness of the broth to the strength of the tare.
Toast
Paowalla
195 Spring St., at Sullivan St.; 212-235-1098
It looks innocent enough, like something your mom might have served for lunch alongside a bowl of tomato soup when you were 6. But Floyd Cardoz's egg Kejriwal — a blanket of serrano-spiked melted Cheddar, drizzled with green-chile chutney, and completely concealing a sunnyside egg on a slice of toasted brioche — is no nursery food. This addictive super-snack was named long ago for a furtive Bombay fresser who conspired with the kitchen at his local club to sneak him the eggs that are verboten under his community's strict brand of vegetarianism. Cardoz's interpretation is spicy-sweet (there's coconut oil in the chutney), deceptively complex, and compulsively edible — vegetarian-scofflaw cuisine at its finest.
Calzone
Ops
346 Himrod St., nr. Wyckoff Ave., Bushwick; 718-386-4009
Calzones are the redheaded stepchildren of pizzerias, demeaned as stuffed blobs of dough not worth the carbs. On weekends at this Bushwick pizzeria, a lighter, Neapolitan-style version is served that's worlds away from the gut bombs of your youth. The sourdough bread is light and springy, the fillings not stuffed inside like cheese is going out of style. There's always creamy, housemade ricotta, but that's the only common denominator for now. You might get the pugnacious combination of escarole, olives, capers, and anchovies. Maybe ricotta and salami, or soft, nutty kabocha, ricotta, and thinly sliced ribbons of guanciale, both served with a side of tomato sauce. Regardless, one bite confirms: The carbs are justified.
Curry
Fish Cheeks
55 Bond St., nr. Bowery; 212-677-2223
In New York of late, sweet Americanized pad Thai has given way to a flood of restaurants serving the pork-crazy, chile-mad food of Northern Thailand. But the chef-brothers at Fish Cheeks take a multiregional approach, heading south for their coconut crab curry. Spices are ground the old way into a paste, which paints the coconut a shade of Thai-iced-tea orange. It's a perfect vehicle for the briny blue stone crab, which comes in generous islands luxuriating in the coconut milk, enhancing its natural sweetness while the spices and bitter betel leaf temper it.
Fish Sandwich
Café Altro Paradiso
234 Spring St., at Sixth Ave.; 646-952-0828
One of the beauties of the fish sandwich is its adaptability, which may be why the cooks at this new Italian bistro in Soho have been tinkering with their excellent lunchtime-only creation for a while now. The bread was a baguette when we first enjoyed it; now it's a fat brioche bun. The fresh cod used to be broken into soft, flaky shingles; now it's sizzled in a fat golden-fried fillet. From the very beginning, however, the mayonnaise has been whipped fresh, the toppings have remained constant (piles of arugula and thin, crunchy ribbons of onion), and its place on the general deliciousness scale (a solid ten out of ten) has remained steadfastly the same.
Coq au Vin
Le Coq Rico
30 E. 20th St., nr. Park Ave. S.; 212-267-7426
Unlike many practitioners of this classic, oft-abused recipe, the noted Alsatian poultry chef Antoine Westermann takes care to marinate his free-range bird the day before cooking it in a garlicky mix of herbs and red wine. Then it's browned and braised, and eventually combined with mushrooms and bacon. The modest $19 sticker price adds to the allure, although right now the dish is available only as a weekly blue-plate special every Tuesday at lunch.
Delivery Dish
Sushi on Jones
348 Bowery, at Great Jones St.; no phone
Just because start-ups now deliver pork cheeks and lobster tacos, it doesn't mean these restaurant dishes taste as good on your couch. That's especially the case when it comes to sushi, since freshness and temperature are critical. Enter Sushi on Jones: a tiny Bowery Market spot that delivers its $50 omakase via Caviar, UberEats, GrubHub, and Postmates. Twelve pieces of nigiri, plus a tuna roll, arrive in a bamboo-printed paper box that's perfectly sized so the fish doesn't slide around. Inside, you may find a tender scallop topped with black charcoal salt, a double dose of uni, yuzu-dotted arctic char, and sweet botan shrimp. They miraculously don't suffer during the commute, arriving at their optimal flavor and texture.
Samosas
Pondicheri
15 W. 27th St., nr. Broadway; 646-878-4375
Like many exotic street foods popularized in this town over the years, the New York samosa tends to be a pale imitation of the real thing. At her eclectic Indian canteen in the Flatiron District, however, Anita Jaisinghani, who comes to the city from Gujarat by way of Houston, has the samosa skins of these golden beauties rolled fresh in-house instead of pulled prefrozen from a package. For the record, they're also fried to order (instead of popped into the nearest microwave) and filled with the kinds of ingredients you'd expect to find in a good Indian home kitchen (spiced potatoes, lentils, shreds of braised goat), instead of the overheated buffet tray of your local curry joint.
Fish Stew
Le Coucou
138 Lafayette St., at Howard St. 212-271-4252
What distinguishes this magisterial dish from the average faux-Provençal fish stew you find around town is certainly the fumet stock, which is served in a pot fresh from the stove and tastes like it's been boiled down from the husks of a thousand shellfish (which it has). There's also the mélange of local seafood goodies — plump shrimp, steamed mussels and clams, a perfectly cooked black sea bass, all plated and served with style and precision. But what really clinches it is the thick aïoli, which arrives on the side, in a small bowl, and makes everything it touches taste like the essence of the Côte d'Azur.
Eggplant Parm
Barano
26 Broadway, nr. Kent Ave., Williamsburg; 347-987-4500
The renovation of tired red-sauce recipes has been all the rage in haute Italian dining circles recently, and no one does a better job of it than Staten Island's own Albert Di Meglio. At his Williamsburg restaurant, you can enjoy refurbished versions of cannoli and Grandma's meatballs. But for our money, the best of these new old-school formulations is this delectable version of eggplant Parmesan, which is constructed with two kinds of artisanal cheese (mozzarella and Parm), vividly fresh tomato sauce, and half of a "wood roasted" eggplant, which tastes like it's just been snipped from nonna's garden.
Ice-Cream Sandwich
Win Son
159 Graham Ave., at Montrose Ave., East Williamsburg; 347-457-6010
What's the key to this imposing, endlessly Instagrammable Taiwan-themed ice-cream creation? You could argue it's the ice cream itself, a generous scoop of the kind of rich, creamy, gently melting vanilla rarely seen these days. Or maybe it's the softly textured mantou bun, which is slightly larger than your average mantou and deep-fried on its exterior to a golden crisp. But our vote goes to the syrupy pour of sticky, sweet condensed milk, which binds all of these elements together and raises them from the crowded ice-cream-sandwich category into something much rarer: a first-class Asian-fusion dessert.
Critics' Picks

| The Best New Burgers in Town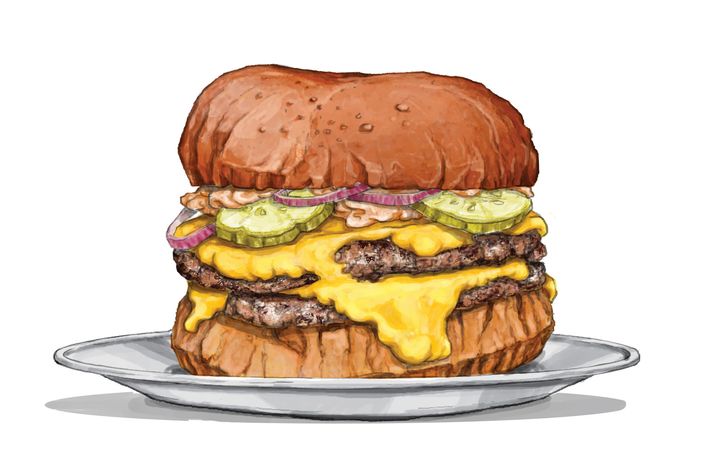 4 Charles Prime Rib
4 Charles St., nr. Greenwich Ave.; 212-561-5992
The secret behind 4 Charles Prime Rib's burger is that there is no secret. Nothing here you haven't seen before. Two griddled four-ounce patties, American cheese, soft bun, pickles, onion, Dijon-spiked mayo, with the squishy, acquiescent bite of a fast-food burger. You might even say its whole gestalt owes as much to In-N-Out as anything else. But every detail is spot-on, the execution flawless, the ingredient synergy unsurpassed. This isn't the best double cheeseburger I've tasted in the past year; it's one of the best burgers I've tasted in my entire artery-clogging, burger-chomping career. —Rob Patronite
Untitled at the Whitney
99 Gansevoort St., nr. Washington St.; 212-570-3670
Modest size (five ounces), careful sourcing (grass-fed beef from an upstate farm), and terrific toppings (a heady Jasper Hill Farm cheese blend, pickled-pepper-seasoned minced onions, puffy beer-battered onion rings, ketchup-aïoli-cognac sauce) make this sandwich museum-quality. —Robin Raisfeld
Chumley's
86 Bedford St., nr. Barrow St.; 212-675-2081
Like many of the elaborate pub burgers in this opulent-burger era, Victoria Blamey's double-decker monster comprises numerous carefully considered elements (two top-round patties, crisped shallots, melting bone marrow, a "secret" coffee-tinged sauce, a flap of gooey American cheese) that add up to an impressively satisfying, if messy, whole. —Adam Platt
*This article appears in the March 6, 2017, issue of New York Magazine.