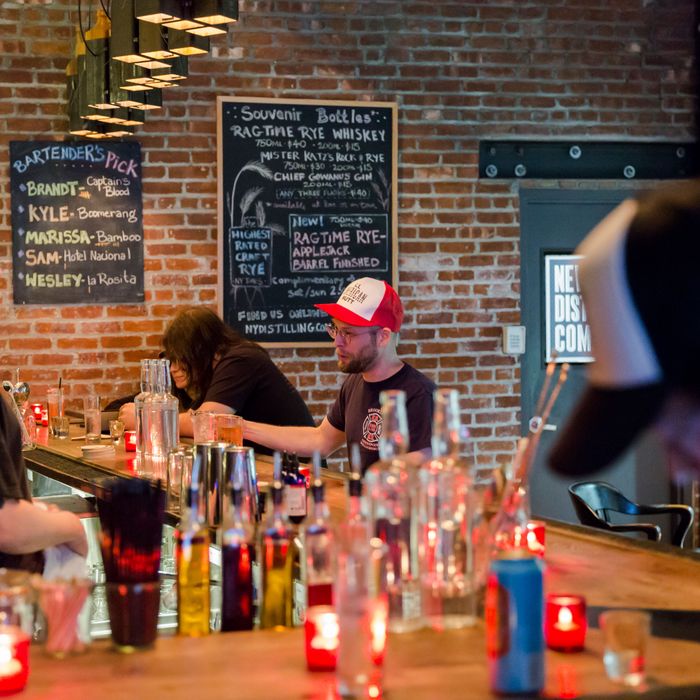 The New York Distilling Company's attached bar, the Shanty, is a destination in its own right.
Photo: Mark Abramson
Regulatory changes and a DIY spirit have led to a renaissance in local distilling, as bootstrap brands have set up shop throughout the boroughs, installing gleaming copper stills and stacks of oak casks, the resting place for raw moonshine to slowly evolve into whiskey worthy of a nightcap. Vodka, gin, rum, and even cacao liqueur are now native to New York, giving the city's saloons a chance to concoct locavore cocktails. But why bend elbows at any old bar when you can sip spirits and mixed drinks straight from the source? Many of today's distilleries offer tours and house tasting rooms or even their own cocktail bars worthy of a visit at happy hour — or any hour, honestly. The best destination distilleries blend a warm welcome and fun vibe with distinctive spirits that break flavorful new terrain. Here are the absolute best distilleries to visit in New York City.
1. New York Distilling Company
79 Richardson St., nr. Leonard St., Williamsburg; 718-412-0874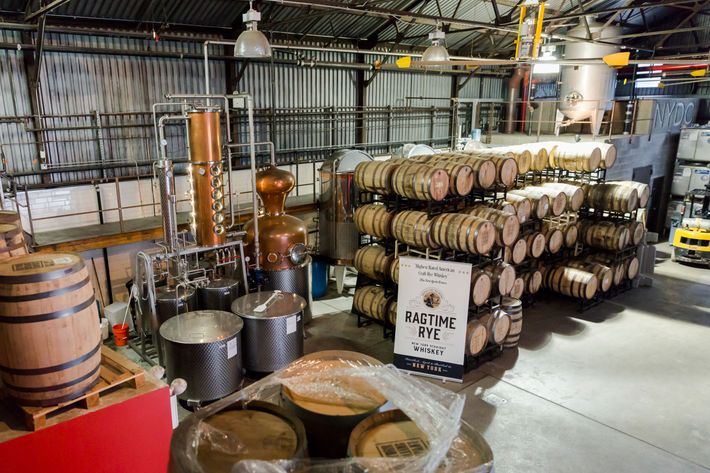 Perry's Tot, a Navy-strength 114-proof gin; bright and lively Dorothy Parker gin; brawny and peppery Ragtime Rye — they're all crafted behind an unassuming façade on the quiet North Brooklyn block where partners Allen Katz and Tom Potter launched New York Distilling Company in 2011. (It has also more recently become home to the Astoria Distilling Company and its Queens Courage Gin, a sideline project of distillery production director Chris Murillo.) These boutique spirits inhabit serious cocktails all over town, but there may be no better place to sample them than at the Shanty, the distillery's own adjacent bar, which has become a low-key, cocktail-cognoscenti destination in its own right. Attentive bartenders serve drinks priced as well as they're made: A meticulously mixed Manhattan and cinnamon-spiced 700 Songs Gimlet will run you just $11 apiece, $8 during happy hour. The boilermaker even gets a neat update, as pink gin — a premixed blend of Dorothy Parker, Angostura bitters, and Campari — is pulled from a 19th-century still, then served with a 16-ounce can of Brooklyn Summer Ale. (The beer choice isn't just local, it's personal: Before Potter became a distiller, he co-founded Brooklyn Brewery.) Weekend tours are free.
2. Interboro Spirits & Ales / Arcane Distilling
942 Grand St., nr. Catherine St., East Williamsburg; 877-843-6545

A squat, graffiti-decorated warehouse on heavily industrial Grand Street contains the city's most singular alcohol factory. It comprises Interboro Spirits & Ales and Arcane Distilling, which means two distilleries and one brewery beneath a single roof. Interboro's Jesse Ferguson favors a classic copper still to cook up smooth and citrusy Goodwin Hill Gin, made with wheat, barley, and botanicals, including juniper, lemon peel, and licorice root. Arcane's Dave Kyrejko operates a custom-built vacuum still to fashion an herbaceous fernet flavored with hops and a range of beer-derived whiskeys that, because of low distillation temperatures, retain an intense aromatic pop — beer and a shot, rolled into one potent package. All the distillates are available in the taproom, where windows provide peeks into the production process, and batched cocktails such as G&Ts are served on draft.
3. Kings County Distillery
299 Sands St. Building 121, at Perry Ave., Dumbo; 347-689-4180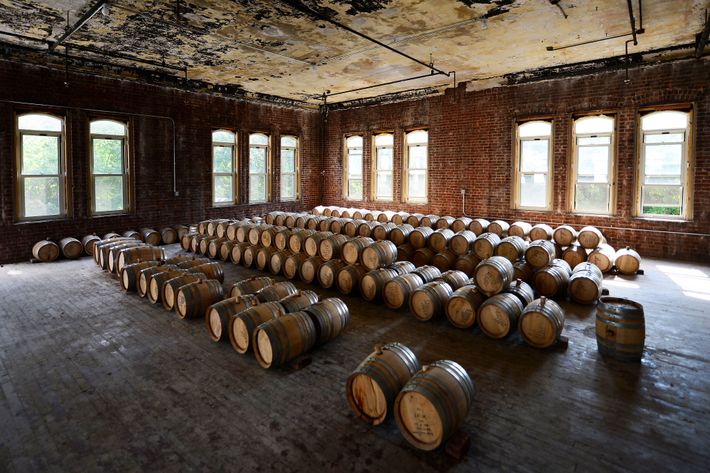 Here's a telling fact about the local spirits scene's youth: Kings County is New York City's oldest operating whiskey distillery, even though it only opened in 2010. (Full disclosure: It's co-owned by an editor at New York Magazine.) In that time, it's made a name for itself on the strength of award-winning releases like a richly potent barrel-strength bourbon, and its handsome, historic tasting room, headquartered in the Brooklyn Navy Yard's ceremonial Gatehouses entrance, where folks can pop in for a coffee or bitters-splashed soda and slowly work their way up to a curated flight of spirits. Look especially to the seasonally driven cocktails, which have included a margarita made with strawberry-ginger moonshine and a Negroni fueled by grapefruit-jalapeño whiskey.
4. Van Brunt Stillhouse
6 Bay St. 1st Fl., at Otsego St., Red Hook; 718-887-6012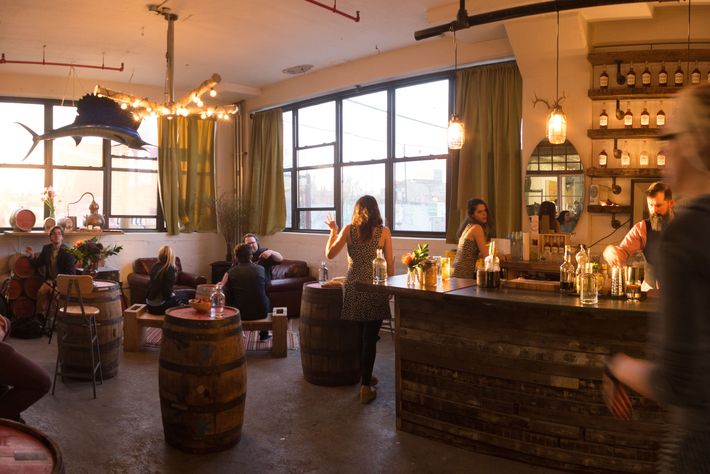 Spicy rye whiskey, smoky corn whiskey, and smooth wheated bourbon are some of the craft spirits you might encounter at this Red Hook distillery, where the tasting room has evolved into one of the nautical neighborhood's most convivial bars. Sip through sampling flights, or cool off with a refreshing, mint-tinged cocktail concocted with moonshine and cucumber. During Sunday night's happy hour, Old Fashioneds go for $8 a pop.
5. Port Morris Distillery
780 E. 133rd St., nr. Willow Ave., Port Morris; 718-585-3192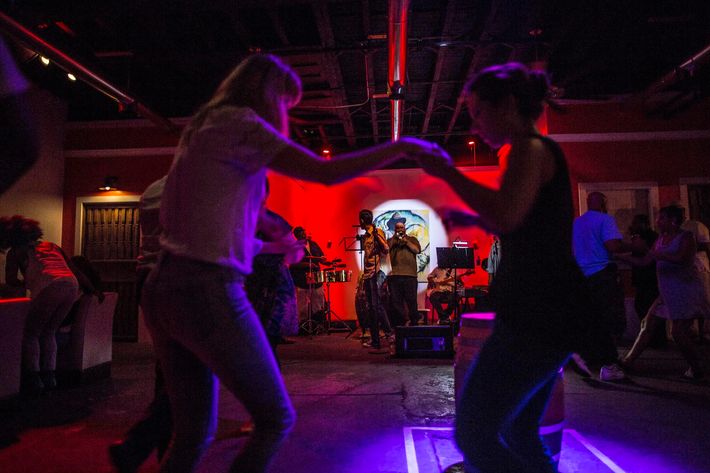 Sugarcane-fermented pitorro is the specialty at the fun and funky Bronx distillery, where Puerto Rican bomba bands regularly lay a drum-based soundtrack. Pitorro is Puerto Rico's version of moonshine, a sometimes rough-edged spirit that Port Morris rounds out with a lengthy fermentation process. You can drink it straight, but better still are the revolving, tropical-tinged housemade infusions (coconut, raisin, and tamarind among them) or cocktails like the Salma Hayek, a blend of habanero-infused pitorro and lime.
6. Cacao Prieto
218 Conover St., nr. Coffey St., Red Hook; 347-225-0130
Founder Daniel Prieto Preston sources organic cacao beans from his family's farm in the Dominican Republic to create his line of chocolates and spirits. Located on a cobblestoned Red Hook block, the soaring brick-production facility deftly spins Dominican sugar and cacao into rich desserts and several different rums and liqueurs, including the chocolate-bombed Don Rafael rum. Sample it during a weekend tour, when $20 buys samples of both chocolate and spirits, including the Widow Jane bourbons and ryes that are produced independently on the premise. Continuing the festivities, the Widow Jane team also runs the next door bar, Botanica, a breezy refuge for sipping the spirits straight-up or spun into classic cocktails.
7. Greenhook Ginsmiths
208 Dupont St., nr. Provost St., Greenpoint; 646-339-3719
Pay $20 to tour this Greenpoint operation on a Saturday afternoon, and the distillery promises that you'll "swim in a river of gin." Consider yourself lucky. Greenhook makes some of the city's finest, owing to an organic-wheat base and a vacuum-distillation process that creates an intensely aromatic spirit perfumed with chamomile, citrus, and cinnamon. You'll also sample gin liqueur infused with beach plums, a fruit native to Northeast coasts, and the corn-driven Old Tom, aged in both bourbon and sherry casks.
8. The Noble Experiment NYC
23 Meadow St., nr. Bogart St., East Williamsburg; 718-381-3693

This distillery, named for the phrase used to describe Prohibition, is the brainchild of Wall Street veteran Bridget Firtle, whose childhood home in Rockaway Beach was, fittingly, a speakeasy. Firtle's focus is rum, using organic, American-grown sugarcane to make the daiquiri-ready, unaged Owney's Distiller's Reserve Rum and the recently released Owney's Rum, which blends Distiller's Reserve with cask-aged Dominican rum. Sample them on an hour-long tour that takes a lively historical dive into New York's rum-soaked past.
9. Standard Wormwood Distillery
630 Flushing Ave., nr. Tompkins Ave., Williamsburg; 917-586-3742
At their Pfizer Building facility, lifelong friends Sasha Selimotic and Taras Hrabowsky — who started distilling in their Bushwick apartment — experiment with the myriad alcoholic uses of wormwood beyond its most famous one, in absinthe. The pals infuse the bitter plant, grown on Hrabowsky's family's Hudson Valley farm, into an array of unusual base spirits, including dry and black-peppery rye whiskey and agave smoked with pumpkin seeds and pineapple. The still is a retooled steam-jacketed kettle, which in a former life was used to make bagels in Queens. Tours are by appointment only; email contact@standardspirit.com.