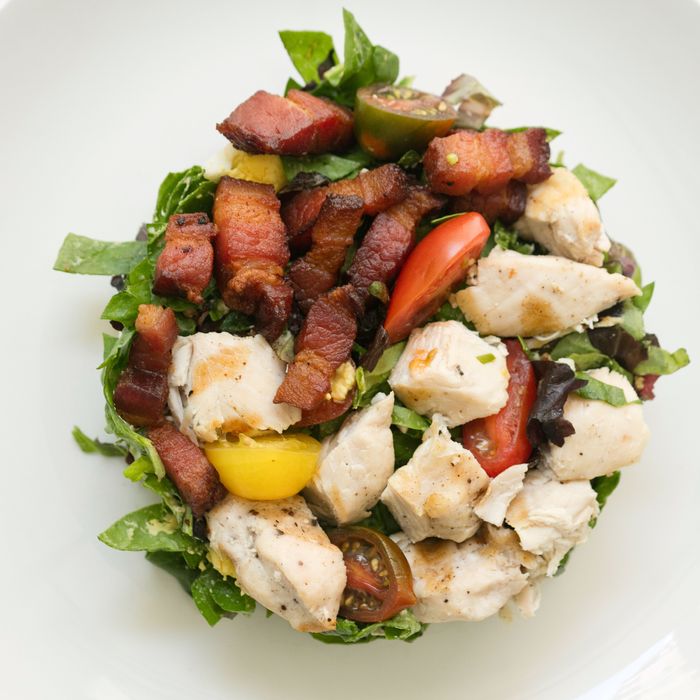 Michael's has the Cobbiest Cobb of all.
Photo: Dominick & Melissa Kallert
The Cobb salad, when you start to think about it, is sort of a strange dish — one of those mysterious, pretty dated yet still ubiquitous country-club classics for which there are several apocryphal-sounding origin stories. (There's a whole episode of Curb Your Enthusiasm about that.) According to one tale, it was invented by the restaurateur of a famous Old Hollywood establishment, who, in a bout of late-night hunger, threw together whatever he could find in the kitchen. The ingredients — lettuce, tomato, blue cheese, chicken, hard-boiled egg, bacon, and avocado — are just random enough that this seems plausible, but there's also a certain undeniable harmony to the combination, which explains why it prevails on so many menus in a town as innovative as New York. Here are the city's absolute best.
1. Michael's
24 W. 55th St., nr. Fifth Ave.; 212-767-0555
The Cobb salad at Michael's comes with a huge caveat, which is that it costs $32. But the price tag is, in a way, what makes it the Cobbiest of all Cobbs: The salad, after all, is the type of thing you eat while having a good old-fashioned power lunch on someone else's dime. This version has been lightly pressed into a sort of disc so that when it first arrives it looks deceptively small, a neat pile of lettuces heavily dressed in a tangy balsamic vinaigrette and topped with big hunks of golden-brown roasted chicken and nubs of thick-cut, crispy, sweet-and-smoky bacon. But start to poke at it with your fork and you'll realize it's quite dense and contains multitudes: cherry tomatoes; pockets of slightly melty blue cheese; artfully torn hard-boiled eggs with perfectly chalky yolks and befuddlingly silky whites; and bites of ripe avocado.
2. Sadelle's
463 W. Broadway, nr. Prince St.; 212-254-3000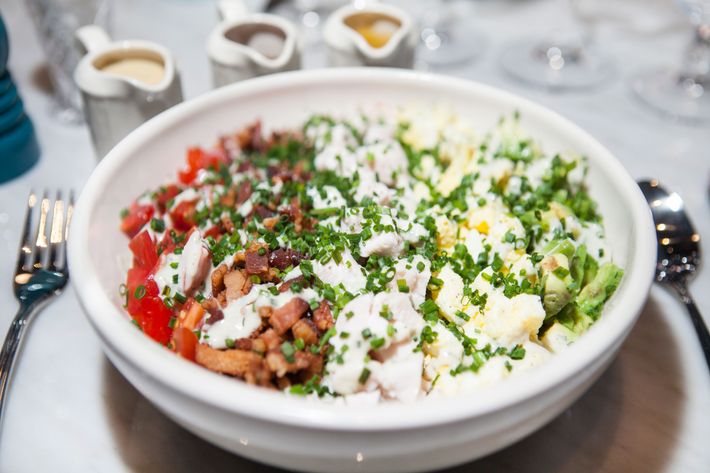 A Cobb for the Instagram age, presented with each of its signature ingredients lined up in a dense, tidy, colorful row, like a smoothie bowl, or a rainbow. But it's not just for show: The gently shredded poached chicken is succulent and flavorful; the salty bacon pushed to the tastiest limit of crispiness; the hard-boiled egg chopped and mashed so that it's halfway to egg salad, fluffy and light.
3. Building on Bond
112 Bond St., at Pacific St., Boerum Hill; 347-853-8687
At this charming and atmospheric neighborhood standby, a bed of shredded romaine is topped with a hefty grilled chicken breast, sliced and glistening with an herb marinade; about a quarter of an avocado, cut and fanned into segments; a scattering of grape tomatoes; a small handful of blue cheese; a sliced hard-boiled egg; and the pièce de résistance: delicious lardons of perfectly sweet, salty bacon. It's the perfect size, with ideal proportions, and a generous portion of balsamic dressing comes in a mini-pitcher, so you can pour to taste.
4. Hill Country Chicken
Multiple locations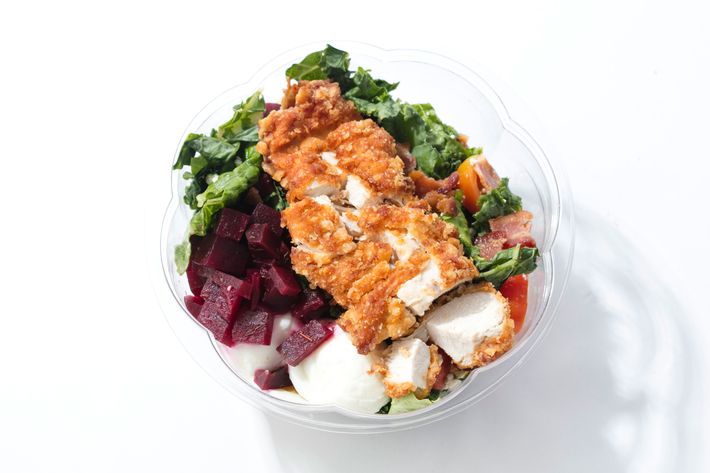 Though, as we've mentioned, the Cobb allegedly hails from California, you find many of its ingredients in southern food, and so a "country" version makes a lot of sense. At Hill Country Chicken, the lettuce is a mix of romaine and kale, the chicken is fried, the bacon is scant (which is okay, given the crispy, salty chicken skin), and the avocado is in the creamy dressing, which basically tastes like ranch. There are also crumbles of a rich blue cheese, and a surprise and welcome addition of pickled beets, which turn the whites of the sliced hard-boiled egg pink.
5. Red Hook Lobster Pound
284 Van Brunt St., nr. Verona St., Red Hook; 718-858-7650
As far as alternatives go, a lobster Cobb is a bit of a harder sell — yet there are actually several restaurants in the city that offer it. This one, unsurprisingly, is the best: mixed greens crowned with about a claw's worth of meat (chicken and poached shrimp are also available, but when at the lobster pound …); sliced avocado; cherry tomatoes; blue cheese; a quartered hard-boiled egg; chopped bacon; and a generous cluster of deep-fried, crispy onions, which is a nice touch.
6. '21' Club
21 W. 52nd St., nr. Fifth Ave.; 212-582-7200
Lunch is something of a commitment at the '21' Club, a formal-feeling affair that involves white tablecloths, silver, and servers in crisp uniforms. As such, the Cobb salad on the Bar Room's à la carte menu (at $33, even more expensive than Michael's) is a bit of a production, served elegantly in a wide, tall bowl, with the core ingredients neatly chopped into uniformly sized cubes: romaine hearts, tossed in a creamy dressing; poached chicken; warm, smoky, thick-cut bacon; ripe but firm avocado; a high-quality blue cheese. The unconventional addition of Kalamata olives adds a welcome hit of salt and umami; a sprinkling of chives, parsley, and scallions classes things up even further; and two halves of a jammy-yolked, medium-boiled egg frame the composition, dusted with fresh black pepper.
Honorable Mentions
Friend of a Farmer
Multiple locations
Rustic-chic may have gone out of style as a restaurant aesthetic, but Friend of a Farmer forges on, and its Farmer's Cobb is pretty satisfying, built on an airy bed of young lettuces with slices of warm, soft-edged grilled chicken breast; chopped diner-style bacon; half an avocado; a hard-boiled egg; a viscous lime-herb dressing that tastes strongly of honey; and, notably, no blue cheese, which makes it feel an iota healthier.
Iris Café
20 Columbia Pl., nr. State St., Brooklyn Heights; 718-722-7395
The lunchtime Cobb at this sleepy little spot replaces the chicken with plain quinoa, which is neither here nor there, and not for vegetarian purposes — it still contains crispy chopped bacon. What really sets it apart are the sweet, crunchy mini-wedges of iceberg, dressed in a citrusy mustard vinaigrette, and the perfect poached egg, which has a pleasingly smooth exterior, sprinkled with snipped chive, and an ever-so-slightly runny yolk. There's also avocado, sharp blue cheese, cherry tomatoes, and sweet corn.
La Bonne Soupe
48 W. 55th St., nr. Sixth Ave.; 212-586-7650
It's not entirely clear what a Cobb is doing on the menu at this otherwise pretty strictly French establishment, but restaurants in midtown tend to be in the business of giving the people what they want. Then again, we associate both lardons and blue cheese with France and both feature prominently in this salad, though the blue cheese here is Gorgonzola. The chopped grilled chicken is on the dry side, but the dressing — La Bonne Soupe's house vinaigrette, whose secret ingredient is a touch of chicken broth — helps make up for it, as do the generous portions of cherry tomatoes and cubed avocado.
Stone Park Café
324 Fifth Ave., at 3rd St., Park Slope; 718-369-0082
The Cobb at Stone Park is relatively light and bright, as far as Cobbs go, with a nice mix of fresh lettuces, including frisée, plus grape tomatoes; sliced avocado; simple but juicy grilled chicken; crisp, slightly sweet lardons; fairly mild, salty Maytag blue cheese; a shaving of red onion; and a dressing that tastes mostly of high-end olive oil. What sets it apart is the egg, which is breaded and deep-fried to a golden crisp. A truly runny yolk on a salad is not for everyone, but if it's for you, this will hit the spot.
Wollensky's Grill
201 E. 49th St., at Third Ave.; 212-753-1530
The Cobb at Wollensky's Grill, the more casual annex of famed steakhouse Smith & Wollensky, is so heavily coated in a mayolike dressing that it brings to mind the kind of chicken salad you eat between slices of bread as a sandwich. That said, it's quite good: The romaine is crunchy, the cubes of hard-boiled egg are tender, the dressing has a nice hint of citrus, and the chicken plays second fiddle to formidably steakhouse-size hunks of delicious, intensely salty bacon.