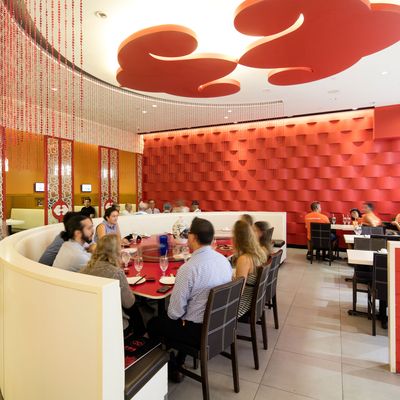 Dumpling Galaxy.
Photo: Melissa Hom
With a diverse dining scene that includes three hawker centers, tons of street food, and full-blown restaurants offering cuisine from all over mainland China as well as Taiwan and Hong Kong, downtown Flushing has been known as the real Chinatown since the 2008 Beijing Olympics. In the subsequent decade, so many top-notch spots have opened that some refer to Flushing as America's Greatest Chinatown. Recently, spendy newcomers with 'gram-worthy plating have ridden in on a wave of Chinese investment dollars, but the tastiest fare can still be found on the street, in the food courts, and at the older restaurants. Herewith the absolute best Chinese restaurants in Flushing.
1. Dumpling Galaxy
42-35 Main St., nr. Maple Ave.; 718-461-0808
This stylish spot lies down the street from the Queens Botanical Garden, which is especially apt since the Chinese name — Bai Jiao Yuan — of Helen You's love letter to tasty dough-wrapped morsels — means 100 Dumpling Garden. Stars include innovative dumplings like duck meat with mushroom — xiang gu ya rou jiaozi — and beef curry, or ga li niu rou jiaozi. The latter are lovely in a fried preparation where they are cooked upside down to form a constellation bound by a sheet of crispy dough. They wind up tasting like a Jamaican beef patty. Special off-menu dumplings include yang rou xiao long bao, lip-smacking, unctuous lamb soup dumplings. Were it just a jiaozi joint Dumpling Galaxy would merit the No. 1 spot, but what sets it apart is a deep menu of delicacies such as crisp pan-fried sole (xiang jiun long li) and garlic spare ribs (suan xiang pai gu). What's listed simply as braised pork turns out to be hong shao, or wobbly, red cooked pork belly that falls apart at the mere sight of a chopstick. Round out your feast with a platter of fried hot peppers, whose Chinese name hu pi jian jiao means tiger-skin hot pepper.
2. Joe's Steam Rice Roll
136-21 Roosevelt Ave., nr. Main St.; 646-203-7380
Even though Uncle Tony never ate here, a Chinese newspaper article featuring Anthony Bourdain graces the window. He'd have dug the rice rolls from Shi Mo Chang Feng Wang. The Chinese name means Stone Milled Rice Roll King and is well-deserved, since Joe Rong is the only person in New York grinding rice instead of using rice flour, resulting in a gossamer-thin roll of exquisite flavor and texture. Fillings include shrimp, pork, beef, and egg. Enjoy the show as the king pours the batter and filling on to a broad tray amid clouds of steam. For a Hong Kong treat, get the plain rice rolls with curry fish balls, peanut sauce, and sweet soy sauce.

3. Canton Gourmet
38-08 Prince Street, nr. Roosevelt Ave.; 718-886-9288
While the breathlessly named famous golden fried rice (zhao pai jing xiang ying) — shot through with raisins, dried scallops, and egg yolk and suffused with zippy XO sauce — and the famous garlic aromatic crispy chicken (zhao pai suan xiang ji) are well-known among non-Chinese, the real deal here is live seafood gracefully served up by a team of waiters in gray vests and black bow ties. The Chinese name Bi Feng Tang references Hong Kong's Causeway Bay, a luxe district that was once a fishing village. Delve deep into the 42-item roster of aquatic delights to find the plainly named house special stir-fry. The Chinese name te se xiao chao huang, best rendered as imperial seafood stir-fry, perfectly describes the mix of crunchy orange sea clam, tender squid, sawtooth-cut cuttlefish, frilly jellyfish heads, and sea-cucumber cylinders. House special Dungeness crab (Bi Feng Tang da xie), or Causeway Bay–style big crab, steamed over chewy, slightly sweet, glutinous rice with bits of sausage and other goodies is a showstopper.
4. Main Street Imperial Taiwanese Gourmet
59-14 Main St., nr. 59th Ave.; 718-886-8788
This grandly named temple of Taiwanese cookery is just a gua bao's throw from the L.I.E., but you won't find that pork-belly sandwich on the menu. That's because chef Lin's 20-year-old eatery focuses on home-style dishes like sanbeiji, three-cup chicken, so named for a trifecta of soy sauce, rice wine, and sesame oil. Jiu cai hua chao cang ying tou — minced pork, black bean, and chive — a dish colloquially known as fly heads, because of the tiny morsels' resemblance to the insect, is excellent spooned over rice, as is bu zi ku gua, or bitter melon with bu zi, the small, pickled berries of the manjack tree. Other standouts include qing zheng shi mu yu du, or steamed milk fish maw, a mackerel-like fish cooked in soy and ginger.

5. Szechuan House
133-47 Roosevelt Ave., nr. Prince St.; 718-762-2664
The absolute best Sichuan restaurant isn't some pricey arriviste. Chuan Ba Wang — Sichuan River King — has held court for three decades. Street-food classics like mapo tofu and dan dan mian are top-notch, but the kitchen excels at more involved fare like braised whole fish with bok choy and tofu (jian bai shui zhu yu). Served in a bubbling brazier, the head and tail breaching a fiery lake, it's marked with three peppers, the menu's highest level. The broth merits five peppers. It's meant not to be slurped, but rather spooned sparingly over rice with the veggies and fish, a perfect repast for river royalty. Ask for the off-menu fried shredded beef with celery and chilies (gan bian niu rou si), a delectable tangle of crunchy, salty pork strips riddled with dry chilies and garlic.
 
6. Soy Bean Chen Flower Shop
135-26 Roosevelt Ave., nr. Prince Street; 718-321-3982
The awning promises "flowers for all occasions," but this shop also sells creamy tofu for all occasions. Chief among those occasions is breakfast. It's easy to miss the specialty of the house, but look to the far right and you'll see Chen or his wife behind the window of a repurposed Good Humor ice-cream cart ladling out Flushing's freshest tofu. The warm dou fu hua, literally "tofu flower," comes with either a sweet or salty topping. The former, a ginger syrup, will be familiar to dim-sum aficionados, while the latter combines tiny dried shrimp, crunchy preserved mustard greens, soy sauce, chile, and green onions. If mozzarella is fior di latte, then surely these creamy curds are the purest blossoming of the soybean.
7. White Bear
135-02 Roosevelt Ave., entrance on Prince St.; 718-961-2322
There are 34 items on the menu, including several types of fried rice, noodles, and dumplings, at Bai Xiong, or White Bear, a tiny bare-bones storefront across from the Bland Houses. You, along with everybody else, are there for only one item though: wontons with hot sauce. Hesitate for a moment and the proprietress will put you in your place with a curt, "No. 6, sit down." The thin-skinned white morsels, known as hong you wonton, filled with pork and topped with scorched chile oil and crunchy bits of pickled vegetables are simply amazing. A standard order of 12 is $6.50. Feeling especially hungry? Score 20 for $11.25, or better yet take home 200 frozen wonton. You'll have to figure out how to make the sauce on your own though!
8. Chengdu Tian Fu
41-28 Main St., Golden Mall; 351-940-8473
Descend into the basement of Flushing's Golden Mall to find the OG Sichuan hawker stand, also known as Chengdu Heaven. A decade ago, the menu was Chinese-only, but these days there's a handy English picture menu, which includes Chengdu liang mian, thin, cold noodles topped with chile pepper, Sichuan peppercorns, and a heap of crushed garlic. Thin strips of pork in a sour, garlicky sauce called "pork with garlic sauce turns out to be yu xiang rou si, or fish fragrant pork slivers, a dish extolled by Fuchsia Dunlop in her book Shark's Fin and Sichuan Pepper. Even though the cooks aren't shy about employing the classic Sichuan mala numb-hot flavor profile, which marries tongue-burning chilies with mouth-tingling Sichuan peppercorns, the shui zhu yu — water-poached fish in a fiery broth animated with crushed dried chilies and a heap of Sichuan peppercorns — is remarkably well-balanced.
9. Old Luo Yang
136-20 Roosevelt Ave, New World Mall, No. 4, nr. Main St.; 646-331-0645
Liang pi, or cold skin noodles, are nothing new to Flushing; after all, Xi'an Famous Foods has been slinging the spongy wheat-gluten blocks and starch noodles since 2005. What sets Old Luo Yang apart is that its noodles come in a rainbow of colors: purple, orange, and green derived from vegetables. Purple-sweet-potato cold noodles, zi shu liang pi, get their hue from that tuber. Carrot and green bean come into play as well. Whichever color you choose, pair it with a premium pork burger, Lao Tong Guan rou jia mo, named for Tong Guan, a city in the northwest Chinese province of Shaanxi. The flaky flatbread sandwich is great on its own, but even better dipped in the red liang pi sauce singing with the Silk Road flavors of tahini, five-spice, and, of course, chile.
10. Desired Taste
35-20 Farrington St., nr. Northern Blvd.; 718-888-9622
With a name that sounds like a wholesale Chinese spice importer, this Dongbei spot offers Flushing's most spectacular lamb dish, roast lamb leg (kao yang tui), an entire haunch encrusted in a mouthwatering mantle of cumin and salt. The seasonal price of this large-format lamb skewer hovers at around $90, but it's well worth it since it feeds half a dozen people. Get some cumin and ground red pepper to use as a dip for an extra burst of flavor. Tiger vegetables — lao hu cai — a verdant tangle of cilantro and hot green peppers, dressed with black vinegar, cuts through the rich meat nicely. For dessert there's slightly charred, grilled durian (te se liu lien), rendered somewhat mellower and sweeter by the kiss of the flame.
11. First Lamb Shabu
136-72 Roosevelt Ave., nr. Union St.; 929-362-2061
The first thing you notice when walking into this hot-pot spot next door to Macy's is the perfume of five-spice and mutton hanging in the air, like ovine aromatherapy. That's because the specialty of the house is rich lamb soup replete with ribs and spine. Plastic gloves are provided, so you can pick up the vertebrae and get at the ridiculously tender bits of meat that cling to the bones. Traditional hot pot, including a spicy Hello Kitty gelatin that melts into the soup, is offered as well, but at First Lamb Shabu, lamb is clearly the first choice!
12. Prince Noodle and Cafe
40-09 Prince St.; 718-888-9295
Hong Kong–style noodles — springy yellow strands topped with wontons — are more of a Manhattan specialty, but they can be found in Flushing. This casual Hong Kong café, whose Chinese name Shifu Chio means Master Chio, predates the influx of regional Chinese food. The menu is divided into "Golden Oldies" like fried fish cake lo mein; "The Conservatives," a septet of congees; and HK noodles. Order the Dumpling Trio Lo Mein (HK Style) to experience the best of what Shifu has to offer. First comes a bowl of mellow chicken broth. Wontons, shrimp dumplings, and shrimp-and-watercress dumplings comprise the trio served over a prodigious tangle of noodles along with some greens. The dumplings are lovely, especially the shrimp ones. The dish's Chinese name translates to "three-color dumpling lo mein."
13. Hao Xiang Ju
133-51 37th Ave., nr. Prince St.; 718-353-8998
At first it's not obvious that Hao Xiang Ju serves Hunan cuisine. One look at the fish head with chopped chile (duo jiao yu tou) that graces every other table though, and it becomes apparent that the specialty is the fiery cuisine of Chairman Mao's home province. Showered in pickled chilies and swimming in a fiery broth, the fish is best eaten over rice. Xiang bacon (smoky bits of pork belly mixed with hot peppers and garlic chives) and sautéed bitter melon with green peppers (xiao jiao dou gu ku gua), a plate of bitter gourd singing with wok hai and the bite of hot peppers, are also excellent. Even though Hao Xiang Ju is best translated as Good Hunan Hangout, it also offers Dongbei cuisine, including Flushing's best Muslim lamb chop. Listed on the menu as crispy lamb rib with chile pepper (zi ran kao yang pai) it is fried fresh to order, the succulent meat encased in a craggy mantle of cumin and chile.
14. Chinese Korean Dumplings and Noodles
136-20 Roosevelt Ave, New World Mall, No. 30, nr. Main St.; 718-358-1478
Despite the name, the half-dozen Chinese ladies who roll and fill dumplings here all day don't do fusion. Instead, they offer 17 kinds of dumplings — including pork-shrimp and chive and lamb — alongside such Korean favorites as cold buckwheat noodles (naeng myun) and spicy tofu stew (soondubu). The reason for such a menu? The ladies hail from Shandong, home to a Korean population since the ninth century. Each order of 15 Chinese dumplings comes with a quick Korean kimchee, an unfermented cabbage slaw seasoned with red pepper powder. The Chinese name Zhong Han Mian Shi translates to Chinese Korean Noodle Eats. For a real treat, order a ten piece of fried lamb dumplings served as a wreath of deliciousness conjoined by a sheet of crispy dough.
15. Tasty Popcorn Chicken
135-45 Roosevelt Ave. at Main St.; 347-506-0010
Come evening, the line spills out the door at this aptly named hawker stand. The specialty of the house is yan su ji, tender chunks of Taiwanese salty fried chicken with fried basil. Pescatarians can opt for Spanish mackerel, (yan su tu tuo yu) and offal adventurers might want to go for blood rice cake (yan su mi xue gao), but really everyone is here for the namesake chicken. For dessert, there's fried mantou drizzled with condensed milk. This treat's Chinese name yi si juan — silver-thread bun — is somewhat more poetic and quite fitting for the layered, golden-brown fried bun with the yellow center.