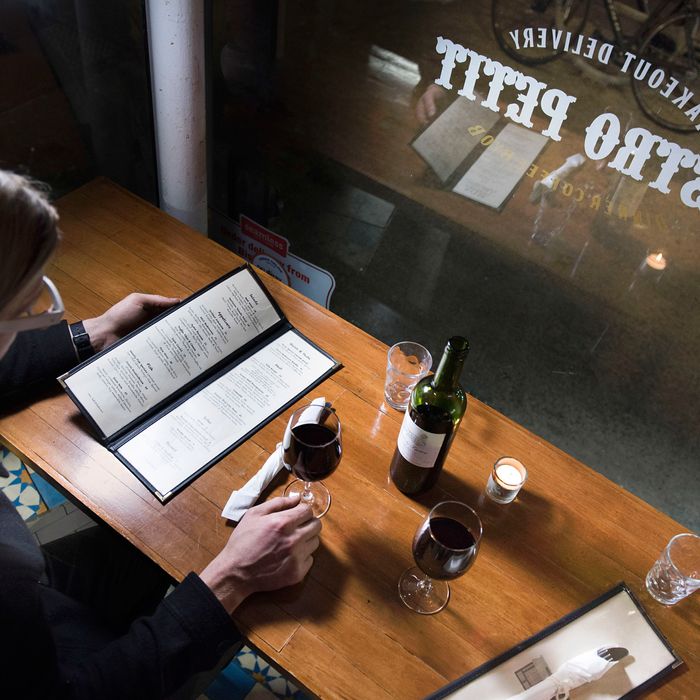 What pairs best with Korean beef bourguignon?
Photo: Liz Clayman
Considering that restaurants make so much of their money from selling alcohol, the idea that there are great ones that allow you to bring your own bottle with little or no corkage fee seems almost too good to be true. Whether you're a college student looking to pinch pennies and still get buzzed on "Two Buck Chuck" at dinner, or a couple wanting to celebrate an anniversary with a bottle of good Champagne you've been saving (paired with food prepared by someone else), here are the very best BYOB restaurants in New York.
1. Bistro Petit
774 Driggs Ave., nr. S. 3rd St., Williamsburg; 718-782-2582
At this tiny, overlooked gem on a quiet corner in South Williamsburg, the fact that you can bring your own wine or beer is just icing on the cake. The menu, from the Korean chef Sung Park — who cut his teeth at Jean-Georges — seamlessly marries French and Korean flavors and techniques to sometimes transcendent effect, evidenced especially by the kimchi bouillabaisse and the Korean beef bourguignon, made with short ribs. There are only 13 seats, mostly at counters, so reservations are strongly recommended, and there is a corkage fee of $10 per bottle of wine — but if you buy it at the Bottle Shoppe nearby and mention you're headed to Bistro Petit, you get 10 percent off.
2. Lucali
575 Henry St., nr. First Pl., Carroll Gardens; 718-858-4086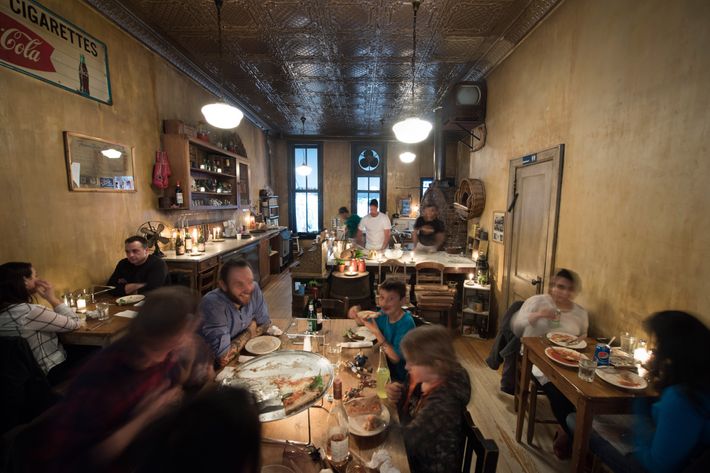 There are many reasons to eat at Lucali: It's the best restaurant in Carroll Gardens, with some of the best pizza in the city, in one of the most romantic dining rooms. The fact that they don't serve alcohol but allow you to bring in your own is a big added bonus, as is the fact that you can be sure that any wine shop in the still quite-Italian neighborhood can recommend a great bottle to pair with red sauce.
3. Peking Duck House
28 Mott St., nr. Pell St.; 212-227-1810
There may be better Peking duck in the city, but the lacquer-skinned bird on offer here is duly satisfying, as are some of the menu's other Cantonese standards. Also, the atmosphere may be bar none in Chinatown: formal, but warm and comfortable, as suitable for a planned celebration as for a spontaneous one. And it's the only Peking duck in the city you can toast over with your own wine or beer.
4. Astoria Seafood
37-10 33rd St., Long Island City; 718-392-2680
In general, a diner has more agency in this restaurant than in most: It's half fish market, which means that eating here entails surveying all the incredibly fresh goods, laid out on ice, physically picking out exactly what you want, and delivering it yourself to the kitchen to be cooked expertly and simply. So it feels especially fitting that it's BYOB, too — and all that power (plus bargain prices) makes up for what it lacks in atmosphere.
5. Taci's Beyti
1955 Coney Island Ave., nr. Ave. P, Midwood; 718-627-5750
As far as cuisines of the world go, Turkish is not particularly well-represented in New York, but Taci's Beyti has been doing it great justice since the 1980s, and a meal here is still worth the trip to Midwood. The mixed mezze platters, featuring some of the best grape leaves in town, are a must, as is the warm hummus layered with melted butter and thin strips of pastrami, but the real draw is the many forms of lamb, all of which will go well with — what else? — the wine they let you bring in.
6. Spicy Village
68B Forsyth St., nr. Hester St.; 212-625-8299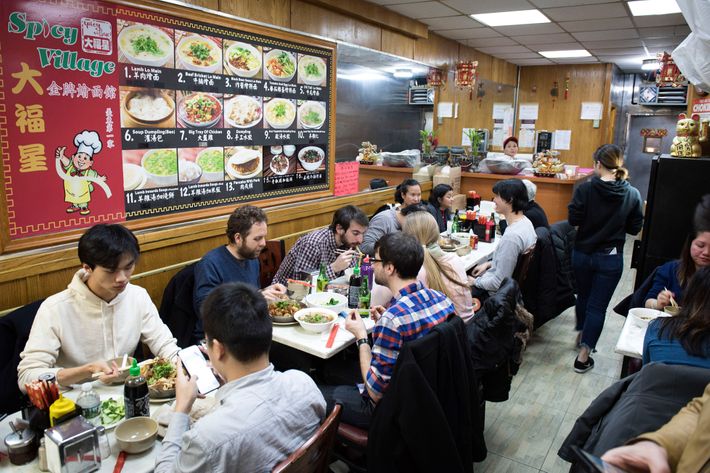 Bringing a bottle of expensive wine here — where the excellent, remarkably inexpensive Henanese food is served on Styrofoam, under harsh fluorescent lighting — could make for a fun, high-low experience. Bringing beer, at least, is nonnegotiable: You'll need it to cut through the formidable heat of the most famous dish on offer, the tantalizing "big tray spicy chicken," which is, ironically enough, made with beer itself.
Honorable Mentions
Cafe Himalaya
78 E. 1st St., nr. First Ave.; 212-358-0160
You could easily pass over this unassuming slip of a spot on the edge of the East Village — or pass into it, with a six-pack or bottle of wine under your arm and an appetite for solid momo and an avocado-potato salad studded with mustard seeds and cilantro that will keep you coming back.
Di Fara
1424 Ave. J, at E. 15th St., Midwood; 718-258-1367
Unless you rent it out for a big group, the seating area at this pizza mecca leaves much to be desired, and trying to secure a chair and a spot at one of the banged-up tables can be stressful. You're probably better off taking your pie to go, or scarfing a slice standing up. If you do get a seat, take consolation in the fact that you're free to imbibe whatever spirits you've brought with you.
The Islands
803 Washington Ave., nr. Eastern Pkwy., Prospect Heights; 718-398-3575
Caribbean food calls for Caribbean beer, and at this tiny, tasty Jamaican restaurant you can BYO Red Stripe or whatever else you choose to pair with your jerk chicken or curry goat.
Tartine
253 W. 11th St., at 4th St.; 212-229-2611
A French restaurant in the West Village with a BYOB policy is pretty much a recipe for success, no matter how the food is, but Tartine's bistro classics, from onion soup to bouchée à la reine (chicken pot pie), are better than they have to be.
Tortilleria Mexicana Los Hermanos
271 Starr St., nr. Wyckoff Ave., Bushwick; 718-456-3422
For what may be the cheapest BYOB meal in the city, grab a seat in the dining area of the converted garage often referred to as "the tortilla factory," and enjoy your own beer (or homemade margaritas?) alongside tacos made with still-hot tortillas, just a few dollars apiece.