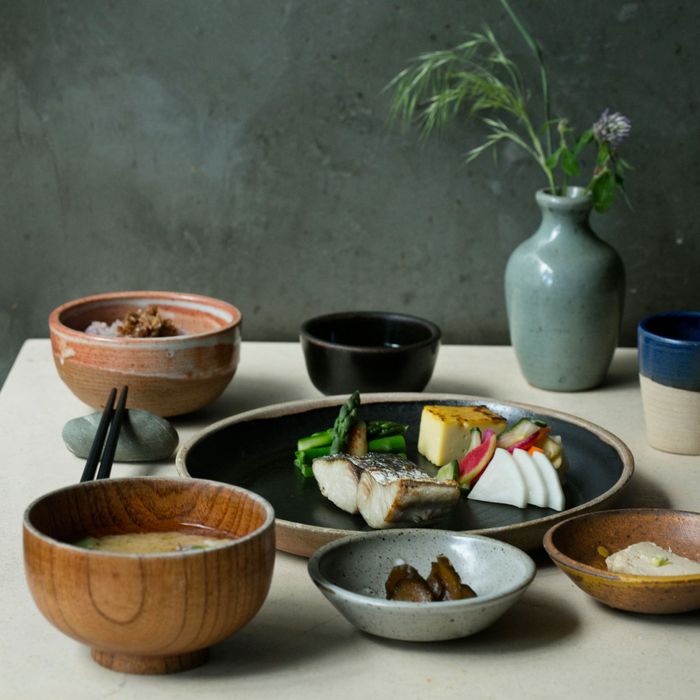 Okonomi's traditional Japanese breakfast.
Photo: Melissa Hom
If your schedule allows it, going out to breakfast on a weekday is one of the city's greatest pleasures. Most people are at work, or at least getting ready for work, and so there's almost never a wait for a table, even at the sort of hot-ticket establishments where scoring a dinner reservation feels like a minor miracle. Plus, as restaurants have gotten more and more interesting, so too has the scope of what they offer for the first meal of the day. Vegetables are in, and why shouldn't they be? Breakfast is now much more exciting than eggs and pancakes — though those are still good, too. Here's where to get the absolute best weekday breakfast in New York.
1. Okonomi
150 Ainslie St., nr. Lorimer St., Williamsburg; no phone
It can seem, sometimes, that the Japanese do everything better, and breakfast is no exception. There are a handful of places in New York to get a traditional Japanese morning spread but none so cozy and elegant as sunny little Okonomi (which turns into a ramen joint called Yuji by night). The menu is set, which means decision-making is kept to a bare minimum: Basically the only choice is which type of fish you'd like and whether you want to opt in for any of the small selection of add-ons, including a gently poached onsen egg, and uni. Otherwise, you're presented with a beautiful ceramic plate upon which are arranged a small slab of roasted or salt-baked fish and a rotating selection of delights, in neat tiny piles — pickled and steamed vegetables, a square of custardy omelette. On the side: a steaming bowl of miso soup, a small cup of purple seven-grain rice, and green tea. Not a drop of butter or oil is used to prepare anything, which means that you leave feeling full but never heavy, nourished and awakened by the strong but nuanced flavors and ready to take on the day.
2. Tekoá
264 Clinton St., at Verandah Pl., Cobble Hill; 347-987-3710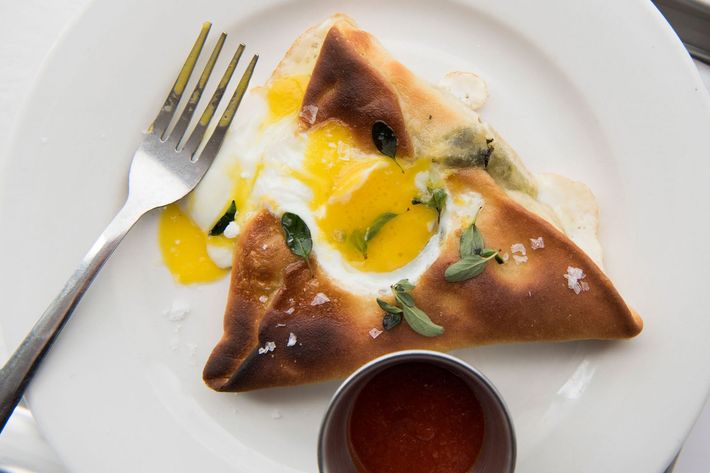 Another country known for its breakfast? Turkey. It was surprisingly hard, considering, to find a good representation of it in New York before Alex Raij opened this coffee-shop-that's-also-a-restaurant next to her restaurant La Vara, on a primo Cobble Hill corner just across the street from the neighborhood's excessively charming namesake park. Raij's classic Turkish comes with a house-made simit (similar to a sesame bagel, but tangier and crustier); a jammy-yolked, four-minute egg; slices of cucumber and tomato; slabs of salty manouri cheese; and a tiny volcano of yogurt, pooled with olive oil and sprinkled with sumac; plus olives and pickled Guindilla peppers. The small menu's other options are excellent, as well, from the luscious, tarragon-y eggs mayonnaise, served on a griddled potato bun, to Raij's interpretation of egg-in-a-hole, made with a spinach pie, from nearby bakery Damascus, instead of toast.
3. abcV
38 E. 19th St., nr. Broadway; 212-475-5829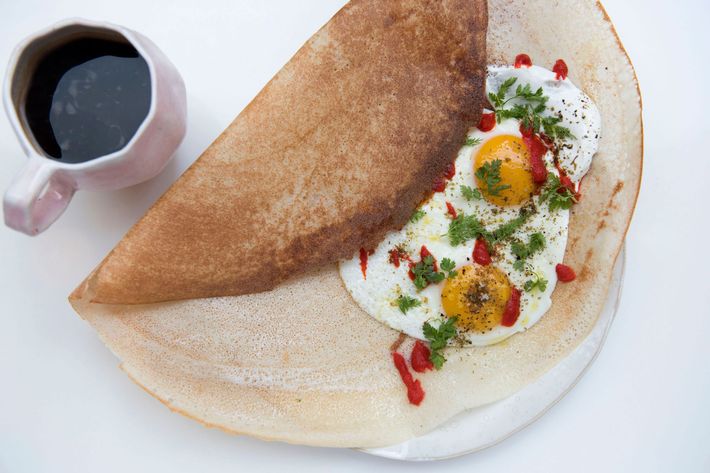 The latest of Jean-Georges Vongerichten's beloved ABC restaurants does not disappoint. It's completely vegetarian and often even vegan, but never in a labored way, and at breakfast the lack of meat is even less noticeable. The enormous, crisp dosas are especially good, golden brown and wrapped around yogurt and avocado or Swiss chard and a fried egg, and even the more outlandish-sounding, of-the-moment options — like the icy sea buckthorn and persimmon bowl, with whipped macadamia milk, amaranth and ginger granola, bananas, and cape gooseberries — hit the spot. Plus, the restaurant itself is as peaceful and beautiful as you'd expect a vegetarian restaurant in a high-end furniture store to be, outfitted with delicate pastel ceramics and interesting textiles.
4. Russ & Daughters Café
127 Orchard St., nr. Delancey St.; 212-475-4881
Like the Japanese, the Jews, too, understand the brilliance of fish for breakfast, and though there are many places in this city where one can get "appetizing" in the morning, the sitdown extension of the decades-old shop, with its subtly retro vibe and roomy booths, is a lovely place to be, especially on a quiet weekday morning. In addition to platters of said fish — smoked, naturally, and served with bagels and bialys plus cream cheese and all the fixings — there's an appealing selection of egg dishes, from scrambled with sturgeon and onion to sunny-side up with potato pancakes. And if you want something really bracing, go for the pickled herring.
5. Tim Ho Wan
85 Fourth Ave., at 10th St.; 212-228-2800
Most dim sum parlors are absolute zoos on weekends, and this culty Hong Kong transplant is no exception. On weekdays, though, it's considerably calmer, with shorter waits but the exact same tantalizing menu. There's something especially thrilling about indulging in a sweet bun filled with barbecued pork or a steamed shrimp-and-Chinese-chive rice roll on a Monday. And if you're in a particular rush, you might even be able to grab a spot at the standing-only counter, which is a surprisingly fun place to eat.
6. Atla
372 Lafayette St., at Great Jones St.; no phone
Mexico City is all the rage these days, in no small part because of its culinary offerings, and an extremely elegant and satisfying breakfast tradition is a huge part of those. With the opening of his second and more casual, open-all-day New York restaurant, Enrique Olvera has transported a bit of that here. The kitchen turns out things like chilaquiles — made slightly healthier with flaxseed tortillas — an arctic-char tostada, top-notch guacamole, and of course the plain but comforting puffy pastry known as a concha, best enjoyed with coffee or, better still, a steaming mug of thick hot chocolate. For a more refreshing beverage, try the tepache agua fresca, made from fermented pineapple rind.
7. Shopsin's
120 Essex St., nr. Rivington St.; no phone
The menu at Shopsin's is, in a word, insane, and it could take a person an actual lifetime to eat their way through the breakfast options alone, but it's a worthy challenge. Pancakes are a specialty: there are over 30 varieties, and more than two dozen types of pancake sandwiches, and 15 kinds of "silvercups" (pancakes, eggs, meat, and cheese jammed into a silver cup). But there are also eggs galore, and bread-pudding French toast, and matzoh brei (eight flavors), and hash, and hash browns, and basically anything else you can think of — plus things you would never, ever think of.
Balthazar
80 Spring St., at Crosby St.; 212-965-1414
Eating at Balthazar any time of day is a delightful experience, but breakfast offers special bounties, including a pitch-perfect full English, eggs en cocotte with soldiers, and a basket of top-hits breads and pastries, from chocolate croissant to orange brioche. There are even oysters, if you're in the mood! And coffee by the literal bowlful, of course.
Barney Greengrass
541 Amsterdam Ave., nr. 86th St.; 212-724-4707
Should you find yourself on the Upper West Side, you can do no better for breakfast (or for appetizing) than this landmark. An obvious choice is the buttery, piping-hot eggs, scrambled with sturgeon or Nova Scotia (or both, if you want to go crazy) and served with your choice of a bagel or bialy from the "Bagel Bin." But there are also omelettes and egg sandwiches (punched up with tongue, or salami) and whitefish and broiled kippers and challah French toast and ….
Buvette
42 Grove St., nr. Bleecker St.; 212-255-3590
The eggs at Buvette are made by what almost feels like magic: steamed with an espresso wand. They're also delicious, served atop crusty toast with either prosciutto and shaved Parmesan or smoked salmon and crème fraîche or goat cheese and sun-dried tomatoes. There are also crêpes and a croque madame (plus a monsieur) and Belgian waffles and even a sort of Belgian waffle-croque hybrid, on the menu as a waffle sandwich. The tiny basket of croissants feels steeply priced at $7, not to mention the tiny carafe of fresh-squeezed orange juice for the same price — but gosh they're good.
De Maria
19 Kenmare St., nr. Elizabeth St.; 212-966-3058
Like abcV, De Maria seizes upon the current moment of wellness obsession, though takes a somewhat meatier approach; there's more than one dish involving bone broth on the menu, and quite a bit of fish. But it, too, manages to transcend it, serving food that actually tastes good, including tahini yogurt with apricot and sumac and the Japanese-y Rooster Bowl, a hearty mix of grains, cured fish, and pickled vegetables with a cup of rich broth on the side. The big, airy, Zen dining room is especially gorgeous by day.
Kopitiam
51B Canal St., nr. Orchard St.; 646-894-7081
There are only three items on the "breakfast" section of the menu in this five-stool Malaysian coffee shop, but they're all phenomenal: squishy toast spread thickly with the coconut jam known as kaya; poached eggs slipped into a bowl of sweet soy sauce and sprinkled with pepper; and a tower of squares of French toast that's been dredged in an Ovaltine-like chocolate malt powder called Milo, then drizzled in condensed milk. There's also "white coffee," a Penang speciality made with beans roasted in milk and olive oil. And don't be afraid to order from the menu's "savory" section, which includes an excellent nasi lemak. As the chef-owner Kyo Pang will tell you, Malaysians aren't strict about what's for breakfast.
Le Coucou
138 Lafayette St., at Howard St; 212-271-4252
The food at Le Coucou is of a richness probably best cut with alcohol, at night — and you're probably going to want to lie down after a meal here. But if you feel like going all-out at breakfast, it's definitely the easiest time to get in (you might even have the place to yourself) and there's no denying the utter deliciousness of the floppy clafoutis-like pancake, with its dollop of crème fraîche, and the crispy wedge of pommes darphin you should order to accompany your supremely classic Gruyère-and-fines-herbes omelette.
Little Park
85 W. Broadway, at Chambers St.; 212-220-4110
Breakfast at Little Park manages to feel as classic and indulgent as you'd expect from a hotel restaurant (it's attached to the Smyth), while also nodding to the current vogue for healthy food. There's duck hash with poached eggs and brioche French toast and a bakery basket with cultured butter, but there's also coconut-and-spelt pancakes with roasted apple, and intensely comforting organic oatmeal with stewed figs, honey, and almonds.