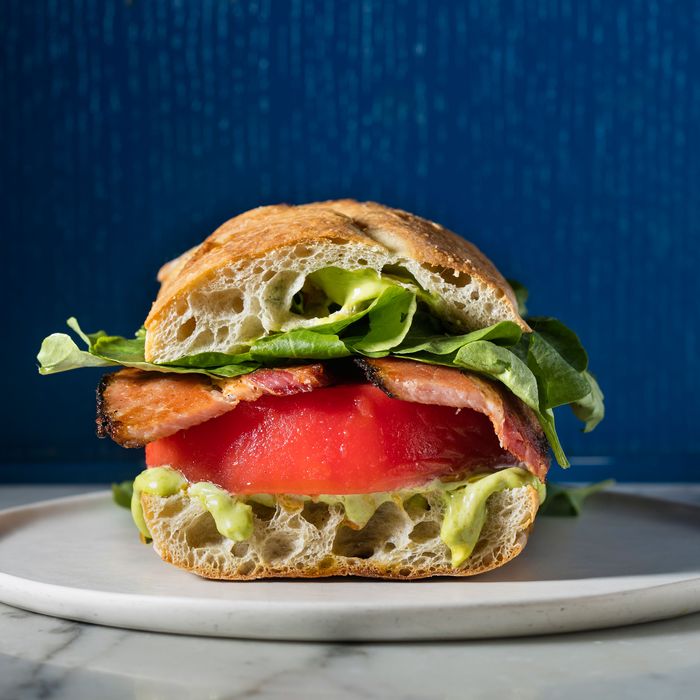 Daily Provisions' LT with B.
Photo: Melissa Hom
While pretty much everyone agrees that the BLT is a great sandwich, no one agrees on what makes it great. Some say it's the tomatoes, that the BLT is a seasonal treat only to be consumed when the Green Zebras and Cherokee Purples are at their late-summer peak. And some say it's not the tomatoes. Others say it's all about the bacon. Not too many come out in defense of lettuce. If we didn't know better, we'd say that unsung mayo is the real hero of the BLT: You can't, after all, have a BLT without mayo. If life was fair, and the abbreviation BLT&M wasn't such a clunker, mayo would get an opening credit. The point is that although we embrace the late-summer BLT bounty, we also acknowledge that the bacon, lettuce, and tomato is not at its core an ingredient sandwich. It's a gestalt sandwich, with the whole being so much greater than the sum of its parts that in the end, it's good even when it's bad. But when it's truly great, it's transcendent. Here are the best BLTs in New York.
1. Daily Provisions
103 E. 19th St., nr. Park Ave. S.; 212-488-1505
Don't let the fact that it's not listed on the menu of Danny Meyer's bakery-café stand between you and the city's preeminent BLT. Just order the LT, a seasonal stunner that showcases local tomatoes at their sweetest and juiciest peak, and then add the optional bacon. While the lettuce and tomato can truly stand alone, the bacon does transform the thing, adding meaty chew and salty fat to the plant-based proceedings. As BLTs go, this is a super-cheffy model, with technique applied to the smallest details and unconventional ingredient choices that might strike purists as outrageous: The bread is not Pepperidge Farm but house-baked ciabatta, which on paper sounds spectacularly wrong (too bready, too sharp) but on the palate is a delicately crisp, sufficiently soft wonder, its exterior massaged with garlic and its multiple nooks and crannies harboring caches of basil aïoli the way doughnuts conceal jelly. Instead of iceberg or romaine, which many deem necessary for ballast and crunch, you will find a layer of peppery watercress, escaped perhaps from a nearby afternoon-tea tray. The peak-season tomatoes are blanched and peeled and marinated in a lemony dressing that melds with the herby aïoli in a creamy-tangy alchemy of acidified fats. And the thick-cut Heritage bacon is neither shatteringly crisp nor unwieldily soft but somewhere deliciously in between, handily disproving the notion proposed by some mavens that top-shelf pork belly is wasted in a BLT.
2. Shake Shack
Multiple locations
When the Shack's Innovation Kitchen recently debuted a fancy limited-time BLT (twice-smoked bacon from Daniel Boulud's former charcutier, Balthazar Bakery sourdough, you get the picture), it made such a splash that market analysts raised their Shake Shack target share price and the stock jumped almost 6 percent. But anyone who has ever swiped through to the end of the digital menu on one of the chain's ordering kiosks knows that BLTs are nothing new for the company: A more plebeian model (with less pedigreed bacon) came about as a burger hack back in 2008. In composition, ingredients, and general cohesiveness the "secret" menu item closely resembles the chain's beefy raison d'être — same respectable all-season tomatoes, same frilly green-leaf lettuce, same Shack sauce. Same bun, even: a sweet Martin's potato roll turned inside out and butter-toasted on the griddle, presumably to replicate the crispy mouthfeel and golden appearance of a slice of toast.
3. Frankies 457 Spuntino and Frankies 570 Spuntino
457 Court St., nr. Luquer St., Carroll Gardens; 718-403-0033
570 Hudson St., at 11th St.; 212-924-0818
Good, meaty bacon, fairly juicy tomatoes, crisp romaine, and what we're guessing is Hellmann's. Yes, it sounds like a regular BLT, alright. But what distinguishes Frankies' otherwise classic version is Sullivan Street Bakery pizza bianca — those wavy planks of dimpled dough, nearly all paper-thin crust, its purpose to pull a Houdini and disappear into the sandwich. You may never go back to toasted white, rye, or multigrain.
4. High Street on Hudson
637 Hudson St., at Horatio St.; 917-388-3944
On the other hand, what's wrong with good bread asserting itself every now and again? High Street's lunchtime BLT special is a tasty rebuttal to BLT snobs who say that bread should know its place and stay where it belongs — in the background. (How can it when you have Melissa Weller, wild-yeasts whisperer and alt-grain advocate, baking the loaves?) Lightly toasted slabs of rye miche are sturdy but pliable, containing but not overwhelming multicolored heirloom tomatoes, chewy-crisp Heritage bacon, and a few crunchy leaves of Little Gem, all bound together with just enough trusty Hellmann's.
5. Court Street Grocers
Multiple locations
A seasonal recipe that gets dusted off only during the waning days of summer: Burgers' Smokehouse bacon, crisp romaine, and upstate tomatoes on toasted Orwashers Swiss Health bread, given several wanton swipes of tarragon mayo. If you're a flavored-mayo-phobe, ask the kitchen to swap out the tarragon stuff for Duke's. Either way, it's a sandwich worth a ten-month wait.
6. Pickler & Co.
216 E. 45th St., nr. Third Ave.; no phone
At its heart, the BLT is a coffee-shop sandwich, and Pickler & Co. has the soul of a classic New York coffee shop in the body of an oddly located midtown deli squeezed into the lobby of a fashion college with a perpetually scaffolded façade. There are celebrities-riding-sandwiches prints on the kitchen wall, and a regular clientele that punches in their own orders on the counter terminals and retrieves their own pickles from the cooler with the intimacy of the neighbor who knows under exactly which flowerpot the key is hidden. The BLT here is resolutely unfancy, as befits the premises, but well made: panini-grill-pressed Balthazar sourdough; extra crisp bacon; team-player tomatoes; fresh romaine. Where it veers from the script is in its choice of mayos. (There are six, including horseradish and avocado.) Closed weekends.
7. Dimes
49 Canal St., nr. Orchard St.; 212-925-1300
We're suspending our no-avocado rule for Dimes because (a) they have the good sense not to call their avocado-enhanced BLT a BLAT, (b) they cleverly smash the fruit in question into a paste that acts as much as adherent for holding slippery ingredients in place as it does flavor booster, and especially (c) their take on the sandwich is freaking delicious. We should also mention the pickled jalapeños, the cilantro mayo, and the roasted tomatoes that surprisingly play a supporting rather than lead role, and give the lie to the argument that the BLT is strictly a seasonal sandwich featuring a temperamental star.
8. Choice Market
318 Lafayette Ave., at Grand Ave., Clinton Hill; 718-230-5234
This chalkboard-menu café has a healthy-hippie, college-town vibe and the crunchiest BLT in town, by which we mean it is super crisp as opposed to politically left, vegan, or environmentally aware. The secrets to its success are a sturdy seven-grain bread that gets smooshed to a T in a panini press, bacon cooked remarkably crisp, and an advanced lettuce-stacking technique that results in a heightened sense of crunch and squelch. The tomatoes and housemade rosemary mayo acquit themselves nicely, and the whole architecturally sound thing is surprisingly easy on the palate given the emphasis on maximum texture.
9. Union Square Cafe
101 E. 19th St., at Park Ave. S.; 212-243-4020
Before there was the Daily Provisions (B)LT, there was the Union Square Cafe BLT, served seasonally at lunch and brunch, and the shared DNA is readily apparent. The Heritage bacon and beefsteak tomato are familiar, but both the sandwich itself and its individual layers are more streamlined than the version next door, and nearly as succulent. Here, there is arugula, as questionable a choice of greenery as watercress. But the biggest differences are the bread — housebaked filone, charred on the grill and slathered with plenty of mayo — and the potato salad that comes on the side.
10. Eisenberg's
174 Fifth Ave., nr. 22nd St.; 212-675-5096
Not for the heirloom-tomato crowd, but a textbook crunchy coffee-shop version: snappy iceberg, crisp bacon, tomatoes that will win no blue ribbons at the county fair, and gobs of Hellmann's served on thoroughly toasted white. Simple, unpretentious, delicious.
11. Shelsky's Brooklyn Bagels
453 Fourth Ave., at 10th St., Park Slope; 718-855-8814
Like Shake Shack, Shelsky's bagel shop in the South Slope is a secret supplier of BLTs. They don't list the sandwich on the menu, but it's there for the asking: shredded iceberg, thick mayo, good-enough tomatoes — essentially a bodega-style BLT slightly elevated by the quality of the bacon. Despite the surroundings, order it on an appropriately supple kaiser roll, not a bagel, to lessen the dreaded BLT squeeze-out factor.
12. Sunny & Annie Deli
94 Ave. B, at 6th St.; 212-677-3131
The quirky East Village bodega's house "Special BLT" is served, quirkily, as a wrap sandwich minus the mayo and with a bunch of things (sprouts, watercress, cheddar cheese, avocado) that would make a BLT purist's blood boil. Truth be told, it's pretty delicious. But if you want a traditional bodega BLT, they do that too, and do it well: OK tomatoes, shredded iceberg, super-crisp bacon, on perfectly toasted white bread and a good overall BLT gestalt. Why they go light on the mayo and squirt it on top of the lettuce, we don't know. What have these folks got against mayo?
13. Baz Bagel & Restaurant
181 Grand St., nr. Mulberry St.; 212-335-0609
To go with the Miami Beach luncheonette vibe, Baz's BLT comes on toasted whole-wheat challah: a seldom-seen choice of bread in BLT circles, and a good one. The sandwich is heavy on the bacon and light on the mayo, but neverthelesss strikes an architecturally correct, classic-coffee-shop balance.
14. 'Wichcraft
Multiple locations
Believe it or not, there are people who prefer their BLT bread untoasted. The sandwich specialists at 'Wichcraft have a compromise: The inside of the sliced country bread gets toasted to avert sogginess; the outside does not, to avoid tearing up the roof of your mouth, a fate known in sandwich circles as pressed-panini palate. Applewood-smoked bacon, Bibb lettuce, housemade aïoli, and Greenmarket tomatoes complete the picture.