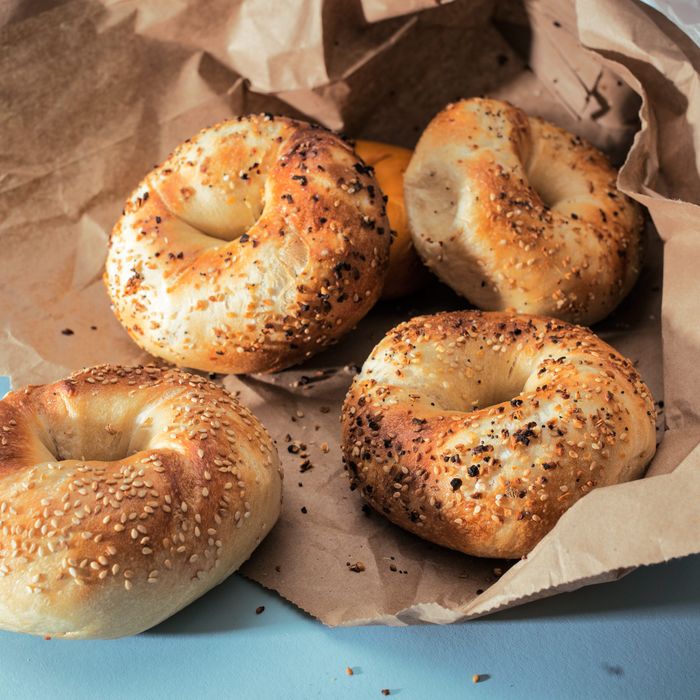 Note the craftsmanship at Utopia Bagels.
Photo: Melissa Hom
We're going on 50-plus years of lamentations that the glory days of bagels are behind us, but tell that to the bakers who still hand-roll, custom-proof, kettle-boil, and board-bake every day. Here, the absolute best bagels in New York.
1. Utopia Bagels
19-09 Utopia Pkwy., at 19th Ave., Whitestone; 718-352-2586
From the outside, the mini–shopping center looks like a place to score discount Venetian blinds. Inside, purists may as well put on blinders in the presence of shaggy, coconut-festooned piña-colada bagels. But don't be misled. Try the brown-and-yellow brindled egg-everything; or the lopsided and nicely chewy plain; or the fantastically roasted, tangy-surfaced salt flavor, which has a perfect ratio of buttery and astringent and is what a soft New York pretzel wishes it could be. Workers at the 36-year-old Queens institution ply dough into loose, ropy circles, which get an extra-long rest and leisurely ferment before a kettle dip and a flip on the boards. The result is smooth-mantled bagels with plenty of crackle that come in twisty wreaths, an undervalued metric for spotting the real thing in the wild. Miniature versions are also available, and it's worth getting a sampler of each kind.
2. Absolute Bagels
2788 Broadway, nr. 108th St.; 212-932-2052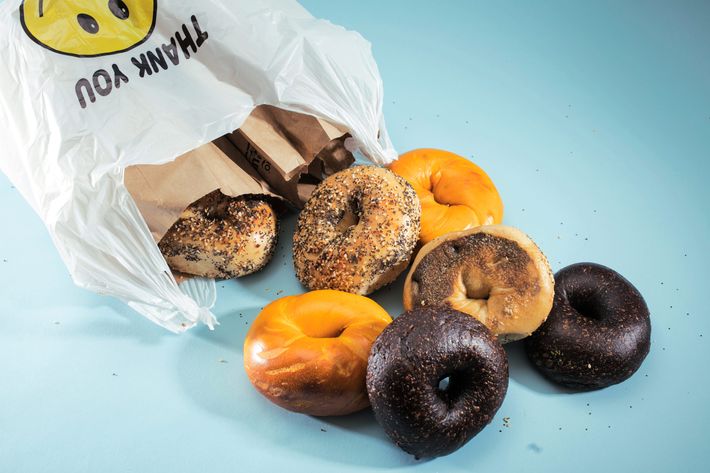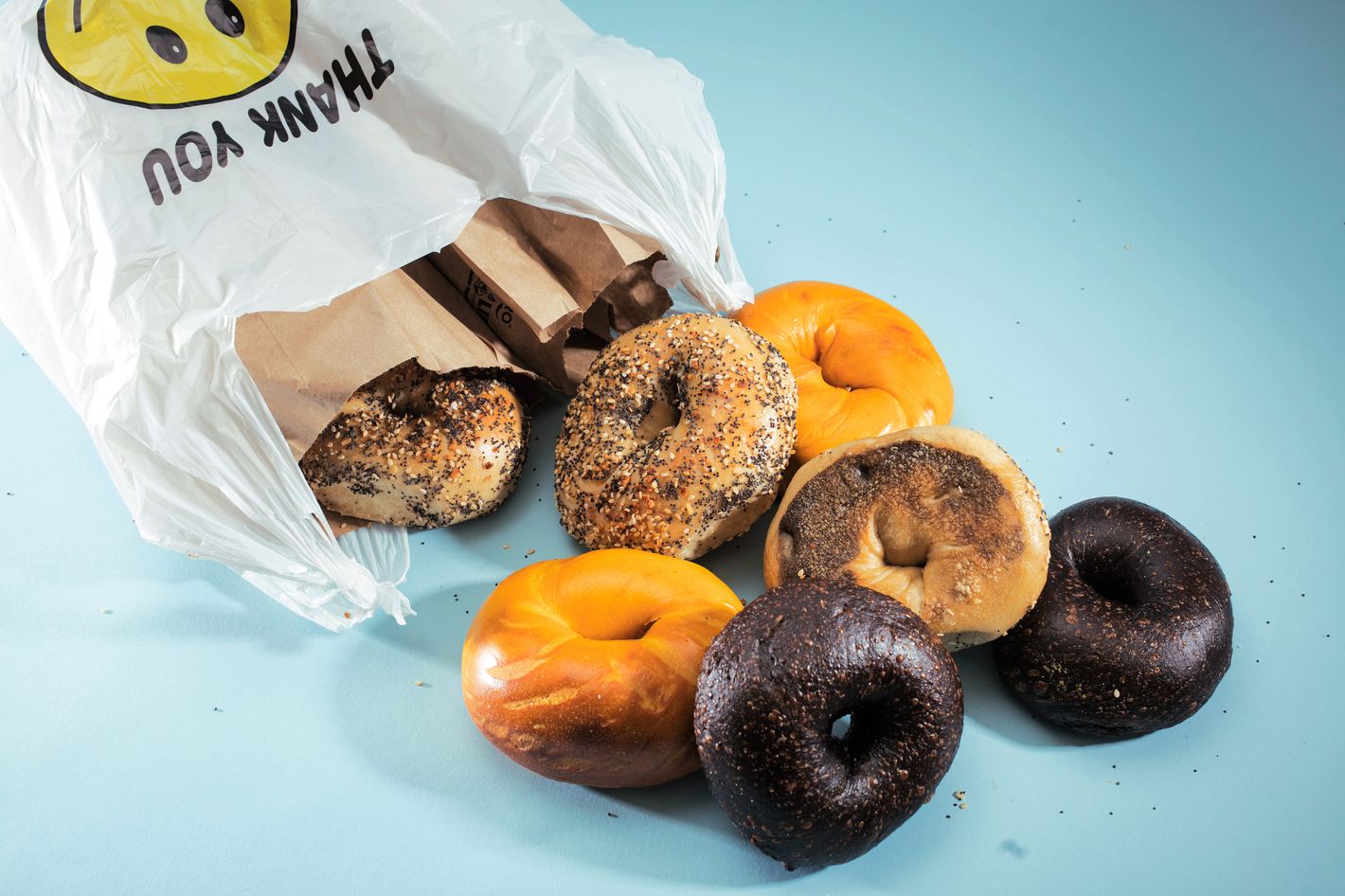 What more can be said about Absolute Bagels, beyond its succinct logline here as being a "filthy little store with sublime bagels" and the requisite mention that it's nabbed just about every accolade of bagel-worthiness in its 27 years of business? For starters, standbys like sesame and chewy onion have dapper, almost pinwheeled crusts. Beneath the topcoat of seeds and salt on any given variety — mini-bagels shine here, too — there's a blistery crust with old-school verisimilitude in spades, a given thanks to owner Sam Thongkrieng's early work at Ess-a-Bagel. Regulars consider Absolute's overhead ductwork and general grime as points of pride. In a nod to Thongkrieng's heritage, they order Thai iced tea over coffee, and while some opt for the cream cheeses in goofy throwbacks like pimento-olive, most get the fat-dappled salmon or smoky whitefish. While other places imbue an assembly-line sameness to their repertoire, Thongkrieng's bagels seem to have distinct personalities. The egg variety is buoyant, even orblike. It may have more in common with something like tong yod, a yolky Thai sweet, than a bagel, but it's still a must-order.
3. Bo's Bagels
235 W. 116th St., nr. Frederick Douglass Blvd.; no phone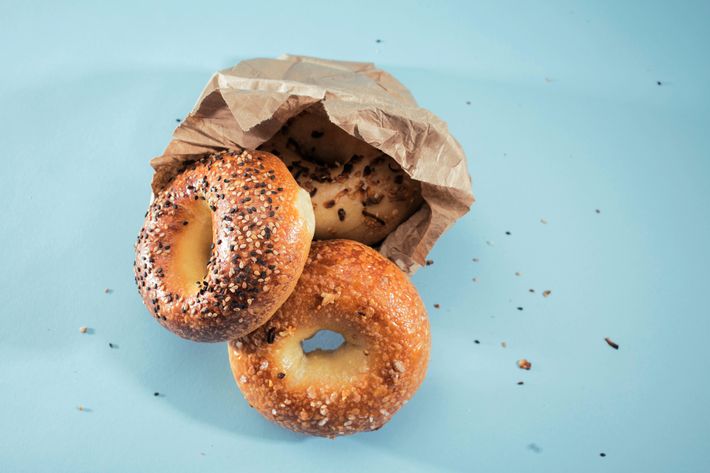 Though it only recently opened, signs point to the subway-tiled Harlem shop as a juggernaut in the making: Weekend lines stretch out the door, and flavors like za'atar seem like new classics in the making. Blueberry, neon purple and conniption-inducing elsewhere, is another example. At Bo's, the flavor comes perfectly round and magnificently roasted, with crisp crust raised in brown patches, thanks to the flashy Picard oven, which blasts bagels in full view of customers. Partners Ashley Dikos and Andrew Martinez use real blueberries and no sugar, and the result is possibly the world's first, truly excellent berry bagel. Talk about moon shots. Another to try is the Black Russian, which has a canopy of sesame seeds that gives way to a dense crumb flecked with caramelized onion.
4. Murray's Bagels
500 Sixth Ave., nr. 13th St.; 212-462-2830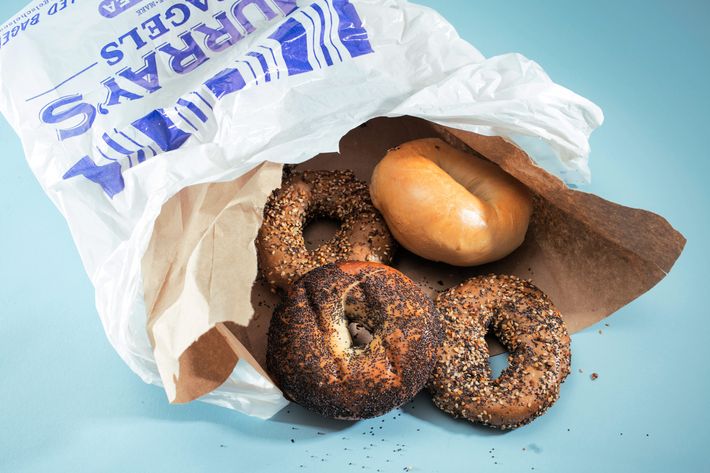 Murray's made headlines two years ago when it conceded to customer demand and started to toast its bagels, which do not need to be toasted, upon request. The overture was egalitarian, but also a sideshow that took some crucial bandwidth away from the Murray's craftsmanship, on display now for 21 years in Greenwich Village. The best time to go has always been as early as possible, when a paper-bagful brims with steam and a whiff of yeast.
5. Ess-a-Bagel
831 Third Ave., nr. 51st St.; 212-980-1010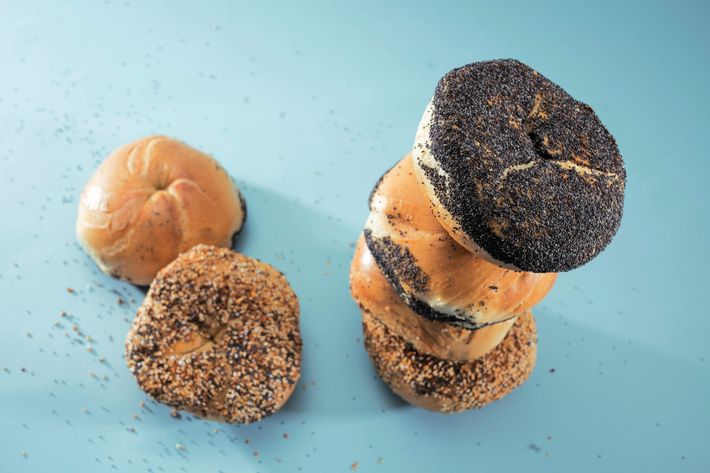 The origins of one of Manhattan's most venerated shops trace to 1976, after co-owner Aaron Wenzelberg lost the lease of his Brooklyn doughnut shop and regrouped on the East Side. A standard-issue Ess-a-Bagel tends to be inflated to the point of obscuring the hole. They look sweet and doughy, but aren't either, so experts tend to let it slide. With its pressed ceilings and weirdo chandeliers, Ess-a-Bagel is a rare place that keeps chopped liver and lake sturgeon on offer. These days, David Wilpon, nephew of co-founder Florence Wilpon, presides over the brand, to near-constant crowds. It's telling that regulars persevere tour groups and snaking lines (80 minutes, ugh) for lox rippled with fat, plus bagels with a joyfully seedy, near-uniform crunch.
6. Fred's at Barneys
Multiple locations
It's a little-known fact that Mark Strausman, the R&D-minded renegade behind the long-running department-store bagel program, once cooked for Frédy Girardet, the gifted and undersung nouvelle-cuisine power player. Old-guard Michelin discipline shows in his painstakingly made "Straussie's," available in plain, poppy, and everything flavors, Sundays only, and only in the refined, teacup-clinking department-store setting. The overachieving bagels boast an unmistakably dark, uniform bake. All available source material suggest that their size is akin to what you'd find on the Lower East Side 100 years ago, so the burnished-surface-area-to-crumb ratio makes for a bagel unlike any in town. "It's about preservation, not innovation," Strausman says.
7. Bagel Hole
400 Seventh Ave., nr. 13th St., Park Slope; 718-788-4014
Customers waiting for orders at New York City's most debated-over shop are treated to the high-pitched squeal of the workhorse stand mixer in back and a seemingly possessed ATM machine up front, plus the occasional squad of tourists from Kansas who read about the place on a listicle like this one, and who are nonetheless doing it wrong by complaining about the toughness and size of their turkey-and-Swiss sandwiches. A bagel should never be thin-skinned, of course, and the misshapen, diminutive, and sometimes even skimpy aesthetic here is a sign of greatness. One of Bagel Hole's most enduring pleasures is how its wares, particularly when kept basic and ordered with a minimal spread of whitefish or cream cheese, underpromise but overdeliver. These are bagels for eating, not Instagram.
8. Tompkins Square Bagels
Multiple locations
Stunt cream cheeses (cotton candy; please, no) aside, the most crucial sign of a great bagel place has less to do with its stance on whether its hapless staffer will scoop or toast your hard-earned, rock-salt-crusted lump of round bread, and more if it's baking around the clock and rotating stock. Christopher Pugliese's East Village shops may be best known for social-media-friendly (and atrocious) toppings like mac and cheese and will, for the record, toast upon request. On weekends, they're crowded but the lines move fast, just long enough for customers to catch a whiff of yeast, or see one or two turns of the incessantly filled wire baskets. The frenzy of practically airborne pastrami lox and onion flakes channel a certain type of bygone N.Y. shop, chocolate-chip-cookie-dough cream cheese be damned.
9. Tal Bagels
Multiple Locations
The plain and untoasted bagels here, with very little cream cheese and not a lot of anything else, could be held as the gold standard in a city awash in extreme flavors and baroque toppings. A recent cross-sectional sampling of a sesame bagel indicated a thick brown crust that spanned an extra millimeter or so beneath the seeds, which may explain the deep-roasted flavor imparted into the crumb. Perhaps this production hallmark helps explain the shop's reputation for packing the flavors and textural qualities of a more compact bagel into a slightly larger package. Whatever the case, the chainlet's recent East Side expansion includes a welcome, appetizing shop component, which means more pickled herring for all.
10. Hot Bagels, a.k.a. New 13th Avenue Bagel Bakery Corporation
4807 13th Ave., nr. 48th St., Borough Park; 718-633-4009
Customer service at this kosher bakery in Borough Park is an afterthought, but at least the line is swift. Likewise, the environs are absolutely unfancy, but the oven in the back is probably better seasoned than any other around town, something analogous to Dom DeMarco's frozen-in-time pizza across town in Midwood. A "HOT BAGELS" sign adorns the storefront, like dozens of other places around town, and however bulbless and nonfunctional, this one means business: Buy whatever's fresh out of the steamy galley in back, with some lox spread.
Honorable Mentions
Bagel Oasis
183-12 Horace Harding Expy., nr. 183rd St., Flushing; 718-359-9245
From its nearly six-decade-old perch on a service road above the Long Island Expressway, this venerable Flushing spot has seen several dozen generations of Ford Mustangs zoom by. With roots that trace directly to the storied Bagel Bakers Local 338 union, it has outlasted several million metric tons of exhaust, and these days, beyond its illustrious poise as a perpetual, 24/7 respite from commuter hell, the Oasis endures with flavors both old (hard salt) and newfangled (crunchy sunflower). Both tear apart with trademark softness and improbably decent chew.
Bagel Pub
Multiple locations
At its Park Slope location, it's not uncommon to encounter — indirectly, near the coffee station, when everyone is looking at their phones and no one knows who this lady is talking to — a loud, self-described defector from nearby Bagel Hole, the enduring neighborhood champ. While hundreds of auxiliary players like panini and smoothies and even burgers round out the menu in staggeringly small print, it's the streamlined crowd management that gives this place an edge.
Bagel Supreme
9401 Fifth Ave., at 95th St., Bay Ridge; 718-745-1108
Bay Ridge is home to a dozen underappreciated bagel spots — H&L and Bagel Boy among them — and the truth is, Bagel Supreme is the median for a high-gluten style that's proliferated for 40 years now from lower Brooklyn out into the suburbs. The norm is shellac-finished and infallibly oversize, in other words, but with a sweet and tangy mantle that lands any given sesame-seeded bagel somewhere between good bread and stealth pastry. Ideal for layered Taylor ham, egg, and cheese at the start of the workday.
Best Bagel and Coffee
225 W. 35th St., nr. Seventh Ave.; 212-564-4409
At this seven-year-old shop near Penn Station, fault-finders may zero in on the beastly proportions of the bagels, abundance of chicken cutlets on everything, and menu detours into the more phantasmagorical realms of chicken "cheesesteaks" and "Italian" omelettes. But its fans are legion, and though these hulkish bagels aren't like others around town, the choir is totally on key. The full-throttle morning-rush-hour assembly line is a real sight to behold, and in the unlikely event that your sandwich fails to impress, each foil-wrapped example could probably double as a travel pillow for the LIRR ride home.
Black Seed Bagels
Multiple locations
At Noah Bernamoff and Matt Kliegman's establishments, the Montreal-style house specialty is designed to have a (literal) lower-profile, and its time in a honey-tinted boil and wood-fired oven makes for bronze but softly sweet and hard-pretzel-tang on the bagel's A and B sides. Collaborations, like a recent Little Tong team-up that melded Sichuan-peppercorn bagels and chile-oil-slicked chicken salad, keep it all interesting, while the signature sandwich that sports cream cheese dolled up with lox and dill has become something of a classic in the three years since it was introduced.
Brooklyn Bagel & Coffee Company
Multiple locations
Again, the disconcerting presence of experimental Cool Ranch or Oreo cream-cheese flavors might preempt any expectation that the mini-chain is here to carefully re-create some old-guard H&H-level aesthetic, but the same Astoria kettles that turn out slick rainbow bagels also produce some wonderfully craggy varieties. The house everything, for example, tends to be crammed with toasty seeds and burned bits of allium, and might as well announce itself as the long-lost cousin of the fabled Upper East Side institution.
Daniel's Bagels
569 Third Ave., nr. E. 37th St.; 212-972-9733
Let's hope none of the roughly 2 gazillion high-rises sprouting up in the vicinity never encroach on Daniel's. Yes, it's rough around the edges, but look closely and there's a soulful sourdough bagel that packs a lot of flavor, plus whitefish salad that's just about perfect. The goofy, anachronistic cartoon-bagel maven named "Fats Gramm" still adorns its paper coffee cups, and the near-uniform, one-inch-diameter center hole of the bagels themselves should appeal more to connoisseurs, because even the most committed bakers gave up on this once-crucial spec long ago.
David's Bagels
288 First Ave., nr. 19th St.; 212-780-2308
Perhaps due to a longer mix or a slower proof, David's bagels are jumbo and plush. Who knows? Thing is, they never seem to be underbaked, and what's more is a by-product of the considerable heft is a densely bubbled crumb, which pushes the texture and taste of these bagels toward something singular, and maybe even approaching the gnomic standards once uttered by Mimi Sheraton in the pages of New York: "doughy, chewy, heavy, indigestible — delicious."
Glendale Bagels & Quality Deli
69-35 Myrtle Ave, nr. 69th Pl., Glendale; 718-381-1363
This underrated gem keeps its head down. Core bagel varieties tend to be blistery-golden or covered generously with seeds, and the nova is cool and stacked thick. The mind-boggling array of sandwich options are described on deli placards taped to just about every square foot of the interior. A lot of the names ("MTA," "DSNY") are short and sweet, and most of the combinations were designed to go on soft rolls or into wraps. A sturdy bagel also gets the job done.
Hot Bialys & Bagels
116-63 Queens Blvd., nr. 78th Ave., Forest Hills; 718-544-0900
The squat, discuslike bagel subtype known as flagels are more readily available than the top-billed bialys. Though maligned by scholars, order one, because few places do them better. While puffy in appearance, hand-rolled bagels like the heavily freckled poppy seed faithfully toe the salty-and-chewy line a good bagel is supposed to deliver. Garlic flavor, which like salt is becoming hard-to-find, makes a regular appearance, and there's nothing squishy about the mantles, which have the right amount of textbook-level chew. Beyond all of that, the old front-facing signage is gorgeous.
Kossar's Bialys
367 Grand St., nr. Essex St.; 212-473-4810
It's a good, preservationist-minded look for the Lower East Side: The bagel-adjacent merch is replete with puns, the open kitchen is admirably bright, and nimble fish cutters sashay knives through an impressive range of smoked and cured seafood before your eyes. Take the nova with onions and capers, which derives a small, elegant flourish from a dab of "everything" cream cheese. Any shop slinging maple-bacon and cake-batter cream cheese could learn a thing or two from Kossar's non-ostentatious approach.
Sadelle's
463 W. Broadway, nr. Prince St.; 212-254-3000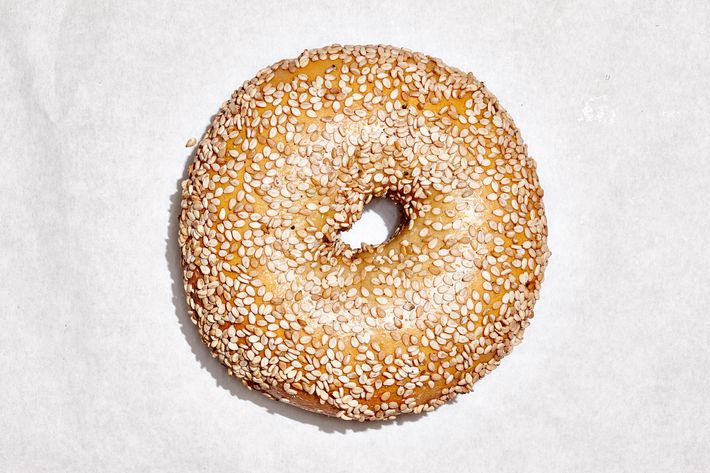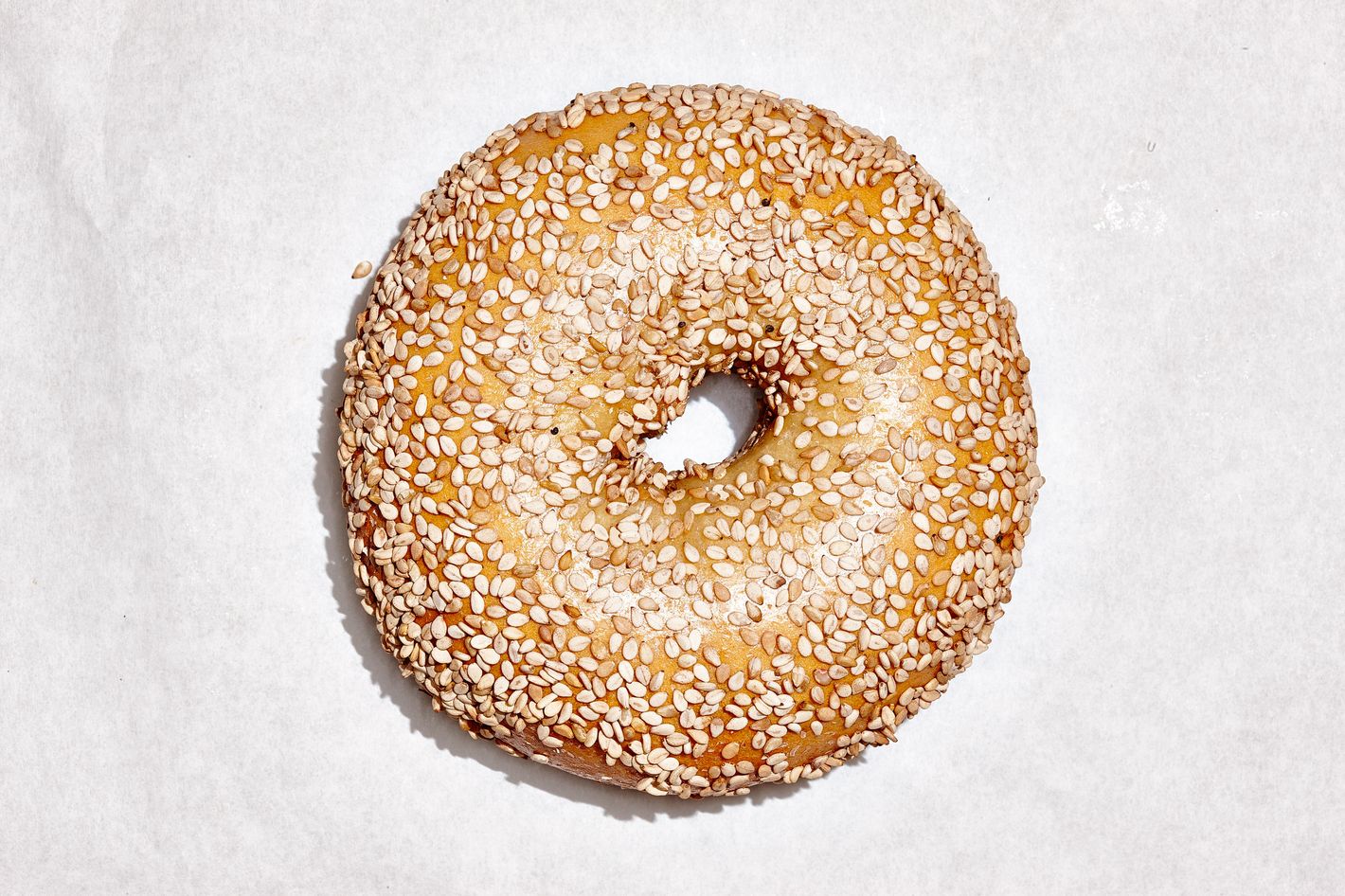 Co-owner (and bagel savant) Melissa Weller's carefully devised recipes continue to draw crowds at this two-year-old bakery and restaurant. While pumpernickel-everything now only makes an occasional appearance, everything 2.0 bagels still crackle with a genius push from mixed-in fennel and caraway seeds. Should you need them, no-gluten bagels come in plain and everything varieties, and are vastly superior to anything similar sold around town, while the must-order, caper-strewn appetizing towers continue to draw in all the cool kids of Instagram like a sci-fi tractor beam.
Whitestone Bagels
24-17 149th St., at Willets Pt. Blvd., Flushing; 718-762-7700
Bagel varieties that at first seem dirigible-plump are revealed to be well-made, with calibrated flavor profiles. There are layers of deepening malt to the pumpernickel, for example, which is why flavors tend to sell out well before Whitestone's early (1 or 2 p.m.) closing time. And however it comes across as an affront to tradition, the French-toast flavor is not only tortoise-shell-swirled and winsome — the house version doesn't sport the lethal dusting of powdered sugar championed by its nearby peers — it's delicious, with a discernible shot of maple-cinnamon to offset the eggy, creamy crumb.