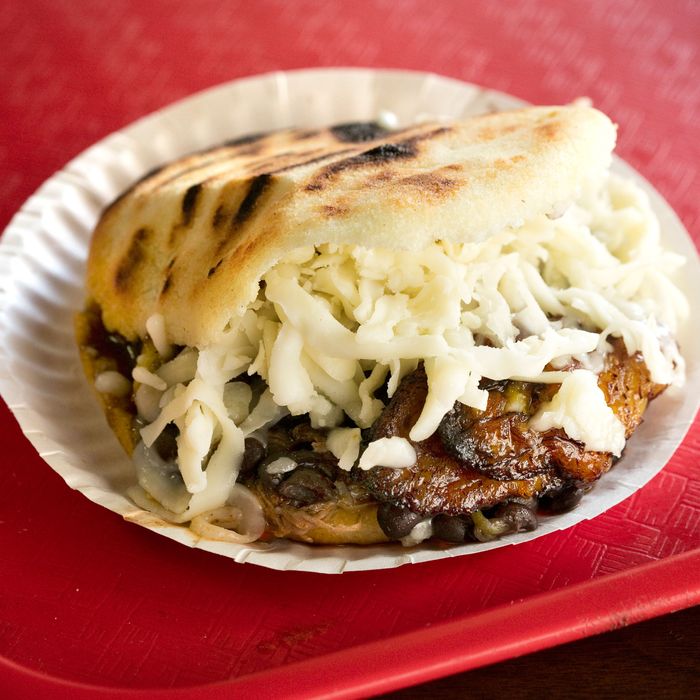 The city's best arepa can be found at a pizza place in Queens.
Photo: Melissa Hom
The arepa doesn't get enough attention. Done well, a sandwich made by splitting open the savory, grilled or fried cornmeal cake — most commonly associated with Venezuela, but eaten widely in other Latin American countries, too, including, especially, Colombia — and stuffing it with things like soft, salty white cheese, shredded beef, black beans, and sweet plantain (an extremely popular combination known as pabellón) makes for a perfect food: compact, complex, delicious. Here are the very best, most perfect arepas — filled with those ingredients and others — in New York.
1. TuArepa Pizza Cafe
100-22 67th Ave., Forest Hills; 718-766-8900
One might describe TuArepa Pizza Cafe — which is tucked away on a rather dreary block of Forest Hills, across the street from a branch of Mount Sinai medical offices — as an arepa bar masquerading as a pizza parlor. Despite the name, it looks much more like the latter, and a totally nondescript one at that. But the arepas get first billing for a reason. Grilled ones (as opposed to fried) take about 20 minutes, warns the menu, because, impressively, they're grilled fresh to order, instead of grilled and reheated, as they seem to be at many places. You can watch this process, if you like — the cast-iron griddle is behind the long glass counter where the pizzas and Venezuelan buffet are displayed — and it's well worth the wait, resulting in arepas with crisp, charred edges and soft, but not mushy, interiors. Get the excellent pabellón, filled with chewy shreds of stewed beef, slices of sweet plantain, black beans, and thick curls of cheese or a fantastic version of reina pepiada (chicken salad) made with warm, gently pulled dark meat and big chunks of ripe avocado.
2. Caracas Arepa Bar
Multiple locations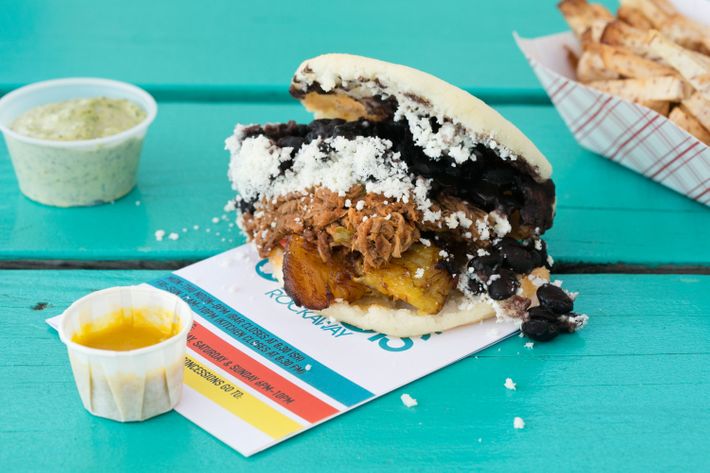 Luckily for arepa lovers, there are three outposts of this charming franchise, in three different boroughs — we're partial to the Rockaways location, which is basically on the beach and has an especially good-times vibe — and the arepas are created equally at each (though the menus vary slightly). The corn cakes themselves, which are on the smaller side, are both grilled and baked, then filled with your choice of high-quality ingredients: They make a superior pabellón, too, and La Del Gato — with grated Guayanés cheese, sweet plantains, and avocado slices — is another winner. And don't miss the addictively spicy-sweet mango hot sauce; the taro fries (only at the Rockaways location), served with an herby mayo that works as an arepa condiment, too; and the Arnold Hibiscus Palmer, made with hibiscus iced tea and papelón con limón, a traditional Venezuelan drink made from sugar cane and lemon.
3. El Cocotero
228 W. 18th St., nr. Seventh Ave. S.; 212-206-8930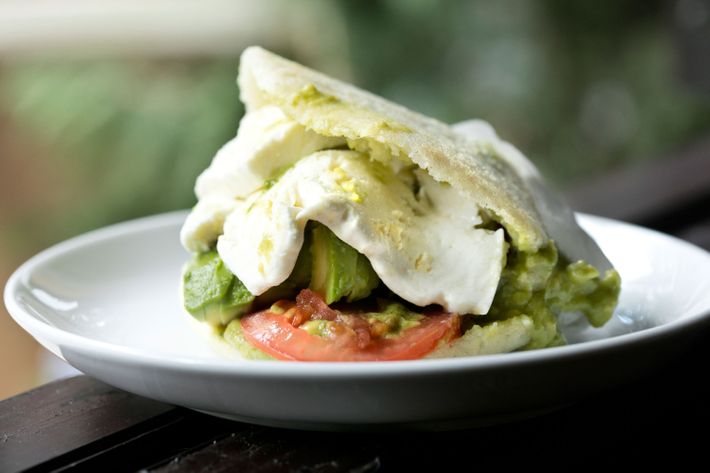 El Cocotero feels like a center of Venezuelan culture in Manhattan: On a recent weekend, an event the restaurant hosted for expats to register to absentee-vote drew people in droves. And so it's no surprise that it's also a completely convincing culinary ambassador, offering a comprehensive menu of some of the city's top arepas in a lovely, transportive setting, with palm-tree wallpaper and fresh flowers on every table. Its relatively soft, pliable grilled arepas come stuffed with your choice of more than two dozen filling combinations, including the terrific Chiquinquira — featuring the vinegar-based Venezuelan guacamole known as guasacaca, plus sliced avocado and slabs of Guayanés cheese — and a simple but spectacular off-menu option that pairs crispy little morsels of fatty, salty chicharrón with avocado and mayonnaise.
4. Arepas Cafe
33-07 36th Ave., Astoria; 718-937-3835
This cheerful spot is proudly patriotic, with a huge Venezuelan flag hanging on one wall, and an evocative beach-scene mural on another, plus a big-screen TV showing fútbol. And the arepas do the nation proud, arriving super quickly — thin, hot, and crispy — stuffed with extra-salty beef and beans, plus a big chunk of browned sweet plantain, for the pabellón, and juicy roast pork, avocado, and grated Guayanés cheese for the mami. Condiments include a hot sauce that is "seriously hot," warned a server recently (he was right), and a mild, creamy cilantro dressing — "Good on everything but your drink," we were told. Lunch is an especially nice time to go, when a $12 combo gets you any two arepas plus a drink, like the tart, sweet, sunset-colored parchita, or passion-fruit juice.
5. Arepa Lady  
Multiple locations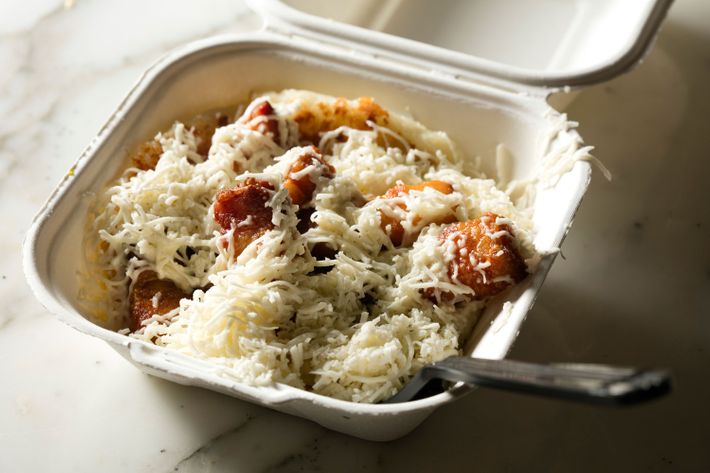 For Colombian-style arepas, you can do no better than the Arepa Lady, whose wares used to be available only at her late-night weekend cart under the 7 train in Jackson Heights, but can now be obtained at both a sit-down restaurant a few blocks away and at the new DeKalb Market Hall in downtown Brooklyn. The menu is mix and match, with four different types of arepas: the chocolo, or sweet-corn pancake (which is known as a cachapa in Venezuela and categorized separately); the arepa rellena, which is sliced open and filled like its Venezuelan cousin often is; the arepa de tela, served like an open-faced sandwich with fillings on top; and the arepa de queso, which has mozzarella baked into the dough. Any of these, whose pale exteriors are branded with a crisp, brown griddled circle that brings to mind an English muffin, can be paired with the meat of your choice — grilled chicken or steak, chicharrón, chorizo, or a mixture — plus cheese and avocado if you ask for it. It's hard to find a combination that's not delicious.
6. Patacon Pisao
Multiple locations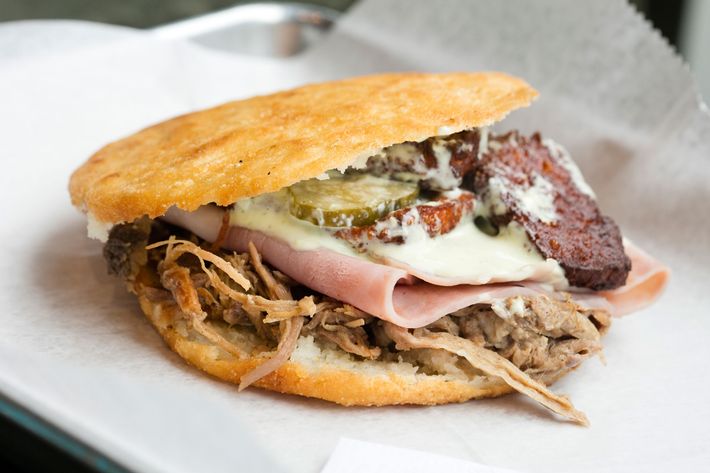 Though this food truck turned mini-chain (with brick-and-mortar locations in Washington Heights, Elmhurst, and the Lower East Side, plus a pop-up in Coney Island) is best known for another Venezuelan sandwich — the one it's named for, the plantain-based patacon — it makes a mean arepa as well. Its version, which is on the larger side, about the size of a huge burger and about as unwieldy to handle, can be fried or grilled before being sliced cleanly in half, instead of notched into a pocket (another burgerlike touch). For fillings, you can "build your own" with ingredients from shredded chicken to double-smoked bacon to fresh jalapeño, or choose from a small menu of "original creations," like the deeply satisfying Cubana, layered with pulled roasted pork and deli-style ham, plus golden slabs of fried queso blanco, half-sour pickle coins, and salsa verde.
Honorable Mentions
Arepas Grill
21-19 Broadway, Astoria; 718-355-9686
This surprisingly suburban-feeling spinoff of Arepas Cafe (it shares a huge parking lot with a big grocery store and a few other establishments) is not quite as good, in comparison — the arepas themselves can be on the softer, more flaccid side — but offers a very similar menu and is a great option for a larger group.
Arepera Guacuco
44 Irving Ave., nr. Troutman St., Bushwick; 347-305-3300
As at TuArepa Cafe, the arepas themselves are grilled to order — by the Venezuelan owner's mother, no less — but here, they get a quick trip to the oven, as well, so that they're browned and bubbly on the outside, and soft and steamy within. The fillings are a bit less exciting than they tend to be elsewhere — in the pabellón, the ingredients are mashed together, so you lose the contrast of textures, and the reina pepiada is a little cafeteria-esque, heavy on mayo and mixed with peas and bell pepper. But the shredded pernil with orange cheddar cheese is great, and the mariscada — a plate of shrimp, mussels, and squid in a dark, oily tomato sauce that comes with a big wedge of lime and a piping hot, unopened arepa — makes for a nice departure from the more ubiquitous options.
Cachapas y Mas
Multiple locations
Cachapas are the star of the show here, but the fast-food-style fried arepas are worth a try, too. As big as and even more burgerlike than the ones at Patacon Pisao, they come wrapped in tinfoil, even if you're eating in, and when you order at the counter, they'll ask if you want them "con todo," or with everything, meaning lettuce, tomato, ketchup, and mayo. This works with some fillings — like the Cubana, made with impressively succulent pernil, or roast pork — better than others, like the silky chicken salad, which is better on its own.