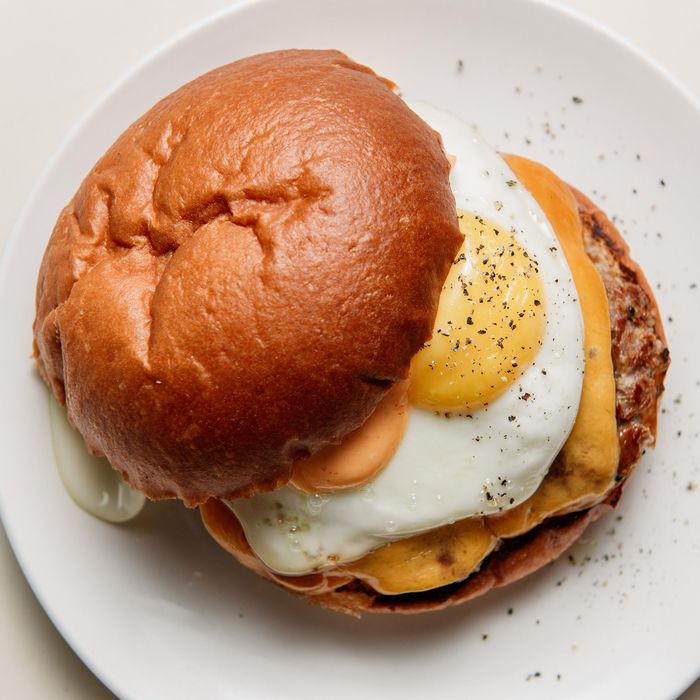 The brunch roll from Australian café Sonnyboy.
Photo: Scott Heins
What is breakfast on the town without an egg sandwich? It's satisfying enough to carry most of us into the late afternoon if not the evening, and there seem to be a million and one ways to make it new and exciting while keeping all the comfort that makes it a mainstay. Right now, there's a wealth of super-interesting new egg sandwiches to be tried across the city before work or on a lazy Sunday. Below, our favorites and where to find them.
Brunch Roll
Where: Sonnyboy
How Much: $11
Close your eyes and imagine the Platonic ideal of the egg sandwich. What you imagine is most likely what Sonnyboy serves, a fried-egg sandwich with a spicy sausage patty that's neat as a pin. There's cheddar cheese, of course, but the difference-maker here is a spicy-sweet chili jam, the perfect complement to the heft of the egg and sausage.
Soft Scrambled-Egg Sandwich
Where: Hunky Dory
How Much: $9
Curried caramelized onions and Vermont Cheddar add some warm umami, while a mixture of arugula and frisée brings the crunch to this whopper of an egg sandwich. There's an option to add lamb-and-pork sausage or bacon and avocado if you want to really go for it at brunch.
Fried-Egg Sandwich
Where: Malibu Farm
How Much: $15
This restaurant recently opened its doors on the same corner of the South Street Seaport that's home to the Fulton and Bar Wayō, bringing with it all the produce-driven pleasures of eating like a Californian. Its homey take on the egg sandwich is served on earthy wheat toast with bacon, arugula, buttery Havarti, and — mashed broccoli. Fun! It all melds together very nicely once the yolk starts flowing.
Egg-Salad Sandwich
Where: The Jones
How Much: $9
If, like us, you believe the egg-salad sandwich is a special thing, you'll love this breakfast-friendly version with slightly mashed hard-boiled eggs, frisée for texture, and fragrant tarragon. The oversize slabs of sourdough on either side make it a two-hander.
Anything Egg + Cheese
Where: Gertie
How Much: $9
How about a bespoke BEC? Altogether, there are 32 possible mix-and-match combinations at this Williamsburg café. Get egg and cheese on an English muffin or a bialy; add turkey or bacon or zucchini bacon or pickled peppers. It's your day: Go wild.
Falafel Saj
Where: Sahadi's
How Much: $9
Next time you're in Industry City, check out the new Sahadi's, where you'll find the falafel saj with a soft-boiled egg and your choice of green tahini or labneh. Don't forget to bring a bag so you can go crazy at the bulk bins post-breakfast.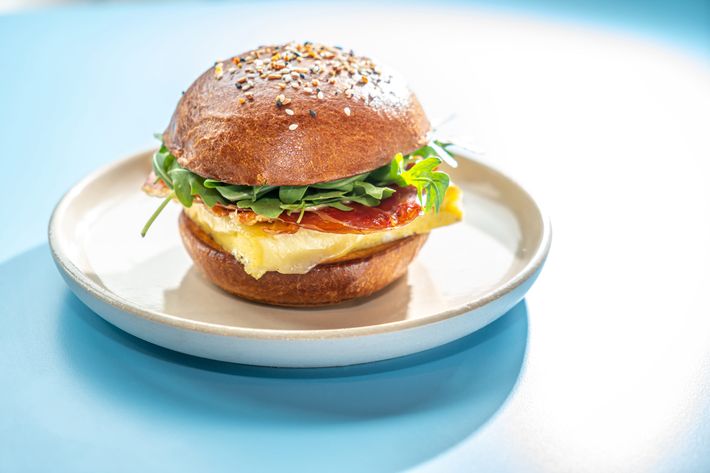 The PEC
Where: Ciao, Gloria
How Much: $10
Renato Poliafito's Prospect Heights spot is already gaining mad traction among the Instagram set — especially the restaurant's PEC, featuring fried prosciutto, a fluffy frittata square, and scamorza cheese (a melty, sharp mozzarella). A handful of peppery arugula and aïoli spiked with Calabrian chile oil takes the whole sandwich from just good to great.
Croissant'wich
Where: Farine Baking Company
How Much: $7
Earlier this year, Jackson Heights welcomed this new, halal-friendly bakery and restaurant from acclaimed pastry chef and Queens native Michael Mignano. Among the offerings is this egg sandwich served on a freshly baked croissant and stuffed to bursting with chive-flecked scrambled eggs and aged Cheddar. It's buttery, rich, and filling all at the same time. For a few bucks more, ask the kitchen to add beef bacon or salmon.
Bacon, Egg, and Cheese
Where: BabyDudes
How Much: $8
For a few months now, BabyDudes has operated out of a small storefront in Crown Heights serving food that punches way above its weight. Take, for instance, the shop's BEC, featuring a soft-boiled egg, tomato jam, sharp Cheddar, and chopped bacon served on bread from the masters at Sullivan Street Bakery. If you find yourself wanting a little tang and heat, owners Tali and Hannah will add pickled jalapeños and red onions for another $1.50.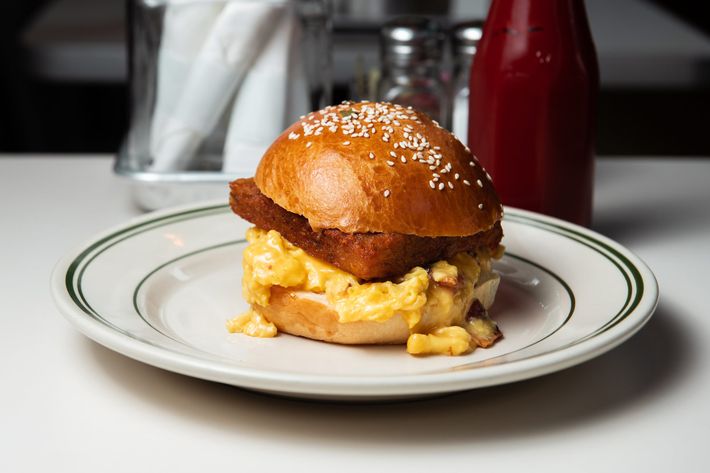 Chinatown Egg & Cheese Sando
Where: Golden Diner
How Much: $9
Far from New York City, there is a place called Waffle House, where the hash browns are somehow both crispy and soft and every bite is like a hug for your mouth. The closest we may come to that bliss this year is with Golden Diner's egg sandwich. At the center of the just-scrambled eggs, American cheese, and sesame-seed-flecked bun is a perfectly crispy-soft square of hash browns that has truly changed the egg-sandwich game.
Milk Bun BEC
Where: Win Son Bakery
How Much: $9
Don't miss out on Win Son Bakery's take on the classic BEC. Crisp slices of bacon and a thin folded egg jut out from a freshly baked milk bun with grassy raclette — arguably, the internet's most famous cheese — smothered on top. It comes wrapped, making it easy to take to go.
Bacon, Egg, and Cheese
Where: Edie Jo's
How Much: $12
After three months in business, Prospect–Lefferts Gardens favorite Edie Jo's will start serving brunch this Saturday. Expect an entirely new menu, with steak and eggs, buttermilk pancakes, salmon toast, and — the reason we're here — a BEC stacked with Berkshire-pork bacon, aïoli, and roasted tomato.