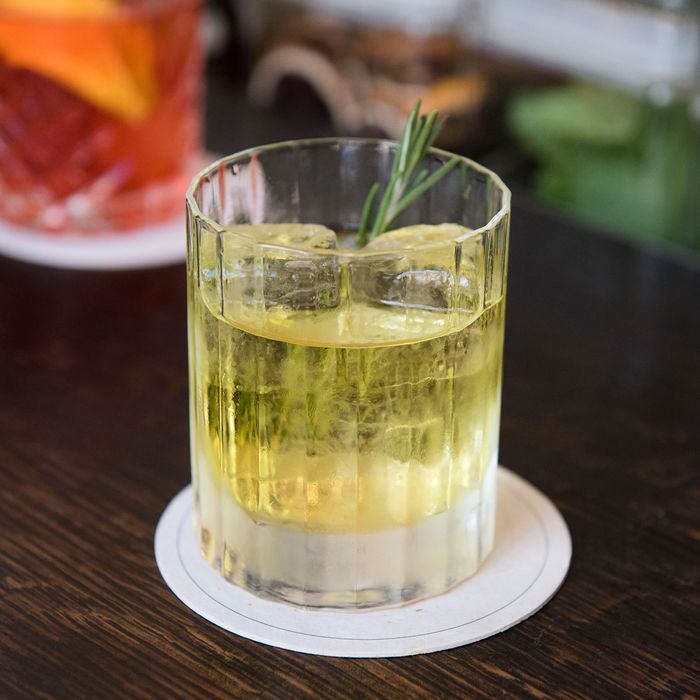 Spend your afternoon drinking all of Dante's Negronis … or at least as many as you can.
Photo: Liz Clayman
It's the summer solstice and thus the longest day of the year, which means it's also the day with the most opportunity for drinking before dark. That's right: It's prime day-drinking season in New York — the time of year when you can feel great about a 2 p.m. Dark 'N' Stormy or four. (And, as you've heard, you can officially drink before noon on Sundays, too.) So whether you're brunching or taking a weekday afternoon off, here are 25 spots for all day-drinking occasions, from an outdoor space to enjoy the sun to a dive to escape from it.
Achilles Heel
When the sun starts to set and fills this room with warm light, the bar is particularly handsome, especially when you've got an Americano or Martini in hand. And it's a great place when it's a bit quieter during the afternoon — the bar opens at 4 p.m. on weekdays, and noon on weekends. There's also an ambitious food menu, which changes daily, but might include bavette steak and rice, fava-bean-and-anchovy toast, and always cheese, charcuterie, and oysters.
Atla
There's no outdoor space at Enrique Olvera's all-day restaurant (it opens for breakfast at 8 a.m., except on Sundays when it opens at 10 a.m.), but it doesn't matter. Staying inside on this street is more pleasant, and the big, storefront-spanning windows mean you get the benefit of all that sunshine. Start your day off with an Oaxacan coffee, made with Fidencio Clásico mezcal, or, if you're really feeling it, an overproof margarita.
The Brooklyn Barge
This spot for seasonal dining on the water has a full bar, which makes it the next best thing to a midday booze cruise this side of the East River. (It opens at 4 p.m. on Mondays and Tuesdays, but before noon the rest of the week.) There are share plates like nachos, if you just want to snack, as well as more substantial options, including grilled-fish tacos and a Jamaican jerk grilled-chicken sandwich.
Birdy's
The retro Bushwick bar serves cheap house drinks — just $7 or $5 during the happy hour that runs until 9 p.m. — and serves unpretentious drinks like whiskey sours and the Rob Roy.
Blind Tiger Ale House
Blind Tiger looks like an ordinary tavern, but it's got a great selection of craft beer. (Do note that it gets quite crowded during happy hour.) The draft list changes regularly, but includes beers from Founders, local hops enthusiasts Other Half, and Austin's reliable Downeast Cider.
Clemente's Maryland Crab House
At the edge of southern Brooklyn, Clemente's is a classic New York summer spot thanks, in no small part, to its all-you-can-eat crab feasts and expansive deck. It's ideal for a festive afternoon: Unlimited crabs are offered on Mondays and Tuesdays for $35 per person, but a dozen will only set you back $33.
Colonia Verde
There is, really, no where nicer to be outside and have a legal, professionally made day drink than the Fort Greene restaurant. Not that the hacienda-like space needs any help, but it doesn't hurt that the Bloody Marys (a.k.a. the queen of the day drink) are tops. It's open on weekdays (except Mondays) for lunch from noon to 4 p.m., and on weekends from 10 a.m. to 3:30 p.m.
Dante
Dante's historic space, with its white walls and tiles and sidewalk, makes it a very pleasant place to leisurely sip on a drink. It also opens at 10 a.m. daily, and replicates the Italian aperitivo bar, the sort that serves drinks that won't get you smashed at 2 p.m. There's a entire page of Negroni variations, including an excellent rendition of the classic version served on tap, and another page of spritzes for summer.
Diamond Dogs
The Astoria bar has a bigger backyard and cheaper drinks ($5 to $8 for mostly local beers, and cocktails hover around $10) than local favorite Sweet Afton, so it's a good place to go in Queens late in the afternoon.
Diamond Reef
The Bed-Stuy bar only opens at 3 p.m. Friday through Sunday, but it more than makes up for it between the subtropical vibes, spacious outdoor area, backyard-barbecue-appropriate grilled food, and frozen drinks.
The Drift
The inside of this Greenpoint bar from the Commodore guys feels like a Vermont ski lodge, but the backyard picnic tables are perfect for drinking piña coladas and snacking on pimento cheese when it's sweltering.
Flora Bar
If your idea of this cherished New York pastime is a lot classier, you'll be happy to know that Ignacio Mattos and Thomas Carter have opened the garden at their uptown restaurant in the Met Breuer.
Fort Defiance
There's just something right about drinking a piña colada at Fort Defiance on a hot summer afternoon. That might be because it's the best one in town; it also has a lot to do with the restaurant's lived-in décor and location near Red Hook's breezy waterfront.
The Gatehouses at Kings County Distillery
Kings County Distillery's new bar, café, and tasting room are located in the historic Gatehouses, a medieval revival structure that was painstakingly restored. (Full disclosure: One of the owners is a New York editor.) It includes an outdoor area, and in the "it's five o'clock somewhere" spirit, booze starts flowing at 8 a.m. on weekdays. (On Saturdays and, starting July 2, Sundays, it opens at noon.)
Good Story
An afternoon mai tai is great, but what about an afternoon mai tai up in the sky? At Surf Shack, this season's edition of the Arlo Soho's rooftop bar, you can bask in the summer while having your end-of-day drink. (Except on weekends, when it opens at noon.)
Grand Banks
What's better than an afternoon cap with a lobster roll? Head to oyster-restaurant-and-bar-on-a-boat Grand Banks, which opens at 3 p.m. on Mondays and Tuesdays, and noon the rest of the week.
Lavender Lake
Housed in a former carriage house, this Gowanus bar (an excellent place for grown-up birthday parties) has a large, enclosed outdoor area where you can enjoy local beers (Other Half, Finback) and solid, creative cocktails like the U.S.S. Eldridge (Owney's rum, cold-pressed orange-peel oil, honey simple syrup, and grapefruit bitters). Monday through Thursday, it opens at 4 p.m. for late-afternoon drinking, but Friday through Sunday it opens at noon for a proper day-boozing session.
Lois
Day-drinking is not a time for making complicated decisions over long wine lists, which is why this bright and cheerful East Village bar — where everything is on tap and available for tasting — is the ideal wine bar for an afternoon tipple or eight during weekends, when it opens at noon.
Lolo's Seafood Shack
Harlem's Caribbean seafood spot opens at noon daily (except Mondays, when it's closed), and its colorful backyard makes for a very nice place to while away an uptown afternoon.
Madre Mezcaleria
There's a lot of great mezcal at the Prospect Heights bar, and the cocktail menu here was recently revamped by a Death & Co. bartender who moonlights here. Try the Tepache Sunrise, a riff on the famous cocktail made with the fermented pineapple-rind drink, or a Mezcal Mule made with mango and eucalyptus. It doesn't open until 4 p.m. on weekdays, but inside or on the patio, it's still ideal for some end-of-day-drinking. (On weekends, it opens at 2 p.m.)
Nowadays
This place is like the adult version of your childhood friend's awesome backyard. There's decent beer, straightforward food (think burgers and fish tacos), and a lack of pretension, and the team running it also oversees Mister Saturday, so they really know how to have a good time.
Sally Roots
Two facts about this Caribbean restaurant: It opens every day at noon, and the patio will make you feel like you're on vacation at a tropical beach shack. The only problem, it seems, is that the frozen drinks are so good, you might be done in before your friends finish work.
Sunday in Brooklyn
Brunch is served every day at this sunny Williamsburg restaurant, which means cocktails like the Bloody Mary–riff Sunday, Bloody Sunday and the bourbon-spiked Sundae coffee.
Tacoway Beach
Everyone's favorite fish-taco stand relocated to the Rockaway Beach Surf Club last summer, with the added benefits of beach-friendly cocktails (a piña colada, of course, and a margarita) and an outdoor patio …
Thai Rock
… Or avoid the madness at Tacoaway Beach and check out this Thai restaurant's patio. Plus, there are spring rolls stuffed with carrot, cabbage, and bean noodle and, if you want something spicier, fried roti bread with massaman-curry dipping sauce.
This post has been updated with new information throughout.