Ingredients, like gods and streaming series, need evangelists in a crowded market. Buckwheat has Shuichi Kotani, who, five nights a week, can be found in Greenpoint, medieval-looking soba-kiri cleaver at the ready. There he is behind the counter at Uzuki, shaving, chopping, and simmering, all in the service of soba. The word means "buckwheat" in Japanese, and it tends to get short shrift in the ramen-leaning noodle wars. Not here. Kotani is overseeing a symphonic buckwheat-rehabilitation program. Soba — in miso, in tofu, in tea, and above all in noodles — is the star of the show.
His is a convert's zeal. Noodles in Japan tend to be divided along geographic lines; soba is associated with the east, wheat-based noodles like udon with the west. Kotani is from Himeji in the south-central Hyogo Prefecture, which is famous for its wheat-flour somen noodles. He eventually moved to restaurants in Yokohama and Tokyo — soba country — and since relocating to New York in 2008, he has devoted himself to buckwheat. He founded Worldwide Soba, Inc., under whose banner he teaches soba classes and sells his own line of soba noodles, called Towari. Last month, Kotani opened Uzuki at the back of a warehouse in North Brooklyn.
Any meal at Uzuki (Japanese for "April") is by design a buckwheat tour. This also means the entire restaurant, down to its beer, is gluten free. Start with soba neri tofu (homemade tofu with buckwheat flour, sesame, and soy), a wiggling cube of milky curd with a soft sweetness reminiscent of red-bean paste, or soba crackers (homemade junk food). Gomaae, the cool spinach-and-seaweed salad that is a sushi-bar staple, is dressed with a creamy sesame paste, which gave me an entrepreneurial vision of peanut-butter-and-roughage sandwiches that I might patent to finally make my millions. Just as good was a tiny platter of miso paste studded with little pops of crunchy buckwheat seeds. The stuff radiates umami with a flavor that lasts forever. It is salty, sweet, faintly electric — it hums on the tongue.
But we are here for soba noodles. Kotani spends time crafting vessels to do them justice: gibbous, altarlike ceramic bowls that tilt their faces forward like handmade versions of the clamshell Venus floated in on. There are hot variations and cold. Chilled noodles cut with matcha are generally showcases for seafood, crowned with raw salmon, slippery lobes of uni, or both in the deluxe sashimi bowl, which has the added benefit of tuna, yellowtail, scallops, and a single translucent shrimp. This is delicious — though extravagant at $72 — and more subtle than explosive.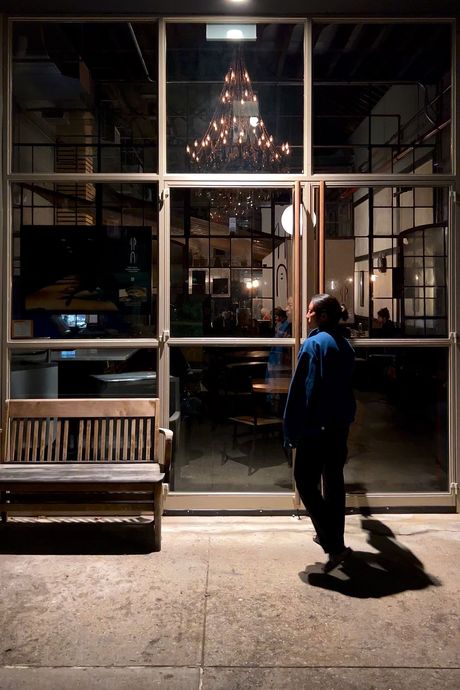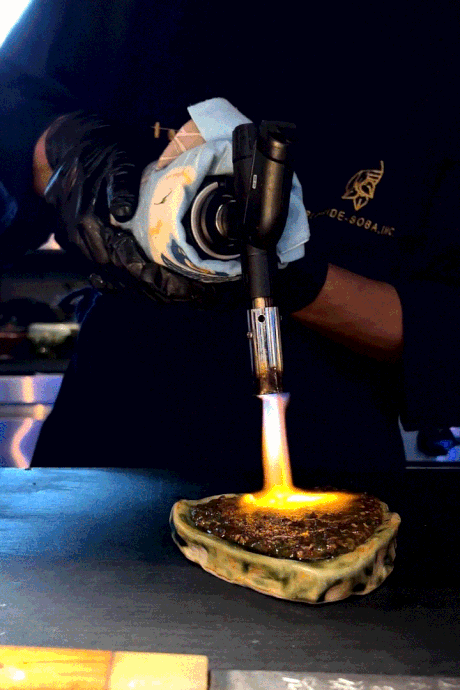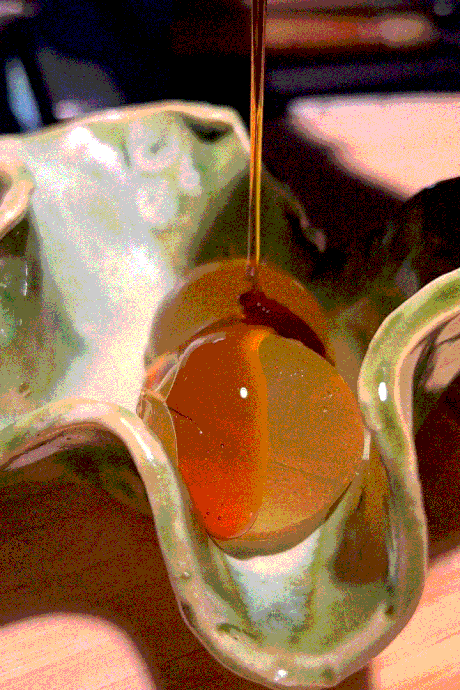 My dream soba leans toward extroversion. For that, there is duck shio soba. One is meant, I'm sure, to ogle the tender, gamy slices of roasted duck breast and confited legs, not to mention the noodles, soft yet snappy with an almost tannic bitterness. But the real highlight is the broth, slick and spicy and brightened with yuzu. It burbles for six hours, one of the cooks told me; I would have believed it simmered for days. It is so good I liked it equally well without any duck at all, in the ume shio soba, with little more to dress it up than noodles, scallions, a zingy little pile of umeboshi (Japanese pickled plums), and swollen bubbles of buckwheat to chase around the bottom of the bowl.
This experience is worth extending, which the staff will do, topping off a diminishing bowl with a teapot's glug of soba-yu (noodle cooking broth). Finish with a cool, minty, medicinal scoop of Kotani's shiso-leaf sorbet or — you've come this far, embrace the monomania — soba ice cream, eggy and luscious, as if brown bread could melt.
Kotani presides over the whole with a hushed authority. A quorum of cooks works busily beside him in near silence, quiet enough to hear the Hampton Hawes Trio on the stereo. While service is still smoothing itself out — you can go longer than you may like without placing an order or finding a napkin — the pervading mood is one of contented calm. It's not the soba noodle that Uzuki has introduced to New York, but the soba oasis. Not every restaurant has the gestalt to set a behavioral tone, yet it feels impossible to be loud here.
For the past few years, Greenpoint has been undergoing a thrilling and concerted Japanification thanks in large part to a local Japanese architect, Aki Miyazono, who is Kotani's partner in the restaurant. Uzuki shares the building with Cibone, a Japanese home-goods gallery where you can buy kintsugi ceramics and handmade tea bowls; House, a tasting-menu restaurant; and a New York outpost of Dashi Okume, which has been selling dashi since 1871. (There is a build-your-own dashi station, like a Dylan's Candy Bar of desiccated squid, bonito, and kelp.) Across the street is Bin Bin, "a sake shop for natural-wine lovers." There are bento boxes and homemade pastries at Acre café on Meserole Avenue and sencha or soba-cha (buckwheat tea) at Kettl up the road. And now, Uzuki. It is a worthy addition to the landscape.