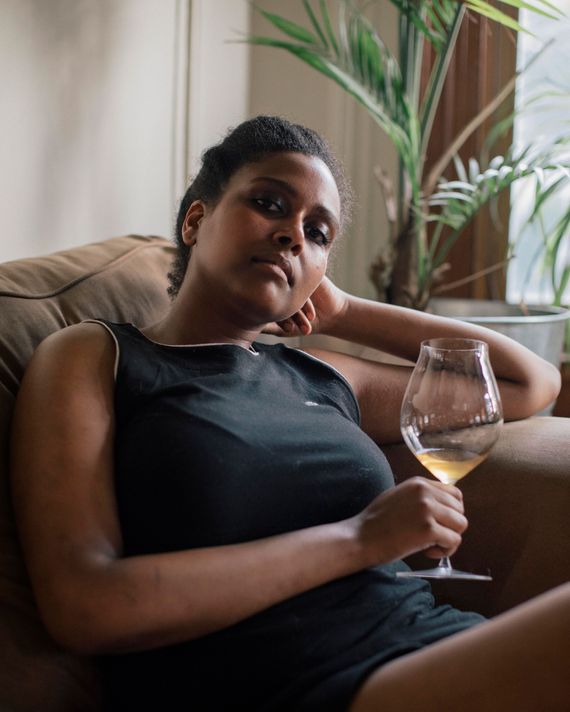 Photo: José A. Alvarado Jr./Redux
Tammie Teclemariam appears, out of nowhere, through a kitchen window at the rear of a stately three-story house in Ditmas Park, a bottle of Cavallotto "Pinner" 2018 in one hand and a delicate wineglass in the other. She hands them down to me and then materializes a few minutes later with her own already filled glass, a plastic container of drunken noodles, and her year-old rescue dog, Buffer. As she fills my glass, Teclemariam explains that we're drinking a Pinot Noir (or Pinot Nero) from Italy — which is unusual, she informs me, given that Pinot Noir grapes aren't native to the area. Just then, one of her five roommates walks through the courtyard from a garage turned recording studio. "Is it cool if we hang out here?" she asks as he saunters past. "I don't know if you realize this, but I'm famous now, so it's just going to be interviews nonstop. No, I'm just kidding. I mean, I'm not kidding about being famous."
"I have been renting the same bedroom for five years," Teclemariam says with a disenchanted affect. "I have nothing except for my dog. I spend all of my money on the best wine that I can drink out of, just, a personal hobby and love of it."
And yet, to members of the insular world of food media — whether they'd like to admit it or not — the self-described "wine unprofessional" and freelance writer evokes an intense sense of fear, fascination, or both. Until recently, Teclemariam operated mostly on the fringes of the New York City food scene, developing her knowledge about wine while working at various shops, including two years at Astor Wines, and becoming friendly enough with editors and writers within the industry to get bylines at Wine Enthusiast and Wirecutter. Then, on June 8, the 30-year-old tweeted a photo of Bon Appétit editor-in-chief Adam Rapoport and his wife, Simone Shubuck, dressed in stereotypical Puerto Rican costumes at a Halloween party in 2004 just days after he dismissed a pitch about Puerto Rican cuisine from Puerto Rican writer illyanna Maisonet. "I do not know why Adam Rapoport simply doesn't write about Puerto Rican food for @bonAppétit himself!!!," Teclemariam captioned the photo. For many staffers at the exceedingly popular food publication, who for years had dealt with what they considered to be rampant mistreatment of minorities and severe pay inequities, the photograph was simply too much: One after another called for Rapoport's ouster, and before the day was out, he had resigned.
Pouring herself another glass of wine, Teclemariam says that the moment she realized she would never want to work at Bon Appétit — a decision largely based on conversations with current staffers about the workplace culture — her attitude toward the brand shifted. "I thought, Now that I know that they're actually being trash, fuck it, we're cyberbullying Bon Appétit," Teclemariam says. "If freelancers are going to have to suffer all of the consequences of not having health insurance or a steady source of income, then at least there had better be some benefits. And the benefits had better be that we can police the workplaces that we interact with. It does not have to be a whisper network."
Teclemariam's Twitter feed, @tammieetc, has since become the "Page Six" of food media, a destination for news and rumors about the goings-on at Bon Appétit and other publications, mottled with plenty of off-color jokes, commentary, and the occasional photo of Buffer. A few years ago, I worked briefly at Bon Appétit, and when I arrived, I was surprised to find that I was the only black person on the editorial staff. I would later realize that this was a problem at most food media outlets, but at the time, I struggled to fit in and found Rapoport's leadership especially lacking. Watching Teclemariam air dirty, sometimes unsubstantiated laundry over Twitter this summer has been both unnerving and electrifying — and it helped me find my anger all over again.
"I think it was a gradual thing that really only popped off after I started going to protests for George Floyd," Teclemariam says. "I'm taking off my boots, my toes are blistered, my thighs are chapped, and I thought, What are we going to do next? What's Monday? And that's literally all it was. It wasn't like, I'm going to plot to take down Condé Nast. But if something works, you see how far you can take it." Teclemariam followed the fall of Rapoport with calls for the removal of Condé Nast VP of video Matt Duckor, who resigned the next day.
If Teclemariam's role in the respective downfalls of Rapoport and Duckor seemed at all like a fluke, the morning of June 29 changed that. After dropping hints over the weekend — "Stay tuned for monster manager Monday!" she tweeted — Teclemariam shot off a series of allegations against the New York–based editor of the Los Angeles Times food section Peter Meehan, ranging from "a very poor understanding of L.A. geography, food, and culture" to sexual harassment and verbal abuse. Two days later, the former Lucky Peach editor stepped down, writing, "Tweets on Monday alleged a number of things I don't think are true, but they also compelled my staff to speak out."
" 'Tweets on Monday' — that's not my name," Teclemariam says, taking a swig from her glass. " 'Alleged a number of things I don't think are true.' Well, bitch, the things that came out afterward are a lot worse." Subsequent public statements by multiple Lucky Peach and L.A. Times staffers confirmed or elaborated on some (but not all) of her initial allegations.
She goes inside to get another bottle, which sends Buffer, who's been gleefully digging in the dirt next to us, into a fit of whimpers until she returns. As Teclemariam pours an inky black-currant mead into our glasses, a mail carrier walks into the backyard to hand over the day's deliveries, which includes the most recent issue of Bon Appétit addressed to a former roommate. I ask her why reporters at more well-connected outlets didn't break these stories, like the New York Times, which buried Teclemariam's name in the 32nd paragraph of its own report on Rapoport's resignation. "It's not news to them, that's why" she says flatly.
Teclemariam insists that much of what she has tweeted was easily gathered from in-person and online conversations, even if Twitter — and her furtive sources — don't exactly allow for showing one's work. "If actual journalists want to talk to my sources, I'm happy to refer them," she says. "I'm not making shit up, and I'm not doing this out of some kind of sick fantasy to take over media. I'm just over here living in the same pandemic that we all are. And I'm fed up."
She says she's been fed up most of her life. As an only child raised in Silver Spring, Maryland, she witnessed her Eritrea-born parents' unhappy marriage firsthand, and today she barely speaks with them. ("My dad was a librarian, and my mom was barely literate in English, so that tells you everything you need to know about their relationship.") At 16, her father sent her to St. John's College, a private liberal-arts school in nearby Annapolis, best known for its Great Books program requiring students to read Sophocles, Tacitus, and Copernicus — and a handful of black authors. Two years later, Teclemariam moved to France to enroll in pastry school but decided not to pursue it after seeing how pastry chefs in professional kitchens get "throttled creatively by everybody else." After graduating from St. John's, she entered the wine industry, where she was a sales rep for an importer, although, she says, "nobody was buying wine from me because I didn't have any friends."
In 2015, Teclemariam landed an internship at Eater (like New York, a Vox Media publication), where she says her experience put her off working on staff at a food publication. "A lot of people who have been dickmatized by their salary jobs have no freedom to speak back, to complain, to do anything," she says. "As a freelancer, you have to be interested in preserving your relationships to all of these places, but if these aren't safe places to work, then what's the point in holding out faith?"
"What I'm talking about is people's careers, people's paychecks, and people's livelihoods," she says. "And I don't want to ask an outlet for permission to publish something when I'm pretty sure that my sources are solid. I feel too much urgency. I don't fucking care."
Teclemariam is clearly aware of the power she has recently amassed. About a year ago, she spoke with a book agent, who told her that until she had at least 20,000 followers, it would be difficult for her to land a book deal. I point out that becoming a media-industry crusader overnight, and especially going after a brand as big as Condé Nast, is certainly one way to build a following.
She pushes back, saying the easy route would be to post pictures of herself drinking wine in a bikini, something she has absolutely no problem with other people doing. But it's not for her. "I only need to do this because Bon Appétit was already so bereft of standards, that people who are being harassed are not being taken seriously," she says.
Still, she's made mistakes. According to an L.A. Times spokesperson, she misstated how much Meehan was earning in his position at the paper and she had to walk back an inaccurate report that Bon Appétit drinks editor Alex Delany had been fired when he'd actually been suspended. She can also be vicious, calling on her followers to hassle Bon Appétit video personality Brad Leone during an Instagram Live show and tweeting that Vogue editor-in-chief Anna Wintour is "famous for being thin at 70." Teclemariam's rebuttal: "I don't think that I'm capable of really abusing anyone who's a millionaire until I myself am a millionaire."
I ask her if she ever fears running up against a particularly litigious individual with pockets deep enough to tie her up in court for years. "It is very easy to play litigation chicken," Teclemariam says. "But the thing is I'm not lying." That said, she keeps her CashApp and Venmo handle in her Twitter bio, perhaps hoping to engender the kind of assistance that generated more than $116,000 in donations to the legal fund for Moira Donegan, who in 2017 created an open (and anonymously) sourced Google Sheet she called the Shitty Media Men list. As for fears that she may be blackballed from the industry, she says she's still receiving freelance assignments. In July, the New York Times, included her on a list of Black wine professionals tired of being "ignored, patronized, or dismissed."
So, then, how far does this one-woman campaign go? "I mean, I don't know," Teclemariam says, flicking her eyes upward and shaking her head. "How many bad bosses are there?"
Over a text exchange a few weeks later, Teclemariam suggests that she is already thinking more expansively about her career. "I have lots of opinions on so many subjects that I'm ready to share and after five years of operating in the shadows, I'm ready for a moderate level of food-media fame," she tells me, though she's not completely clear on what her future will look like. "I wanna be paid!"
*A version of this article appears in the August 17, 2020, issue of New York Magazine. Subscribe Now!