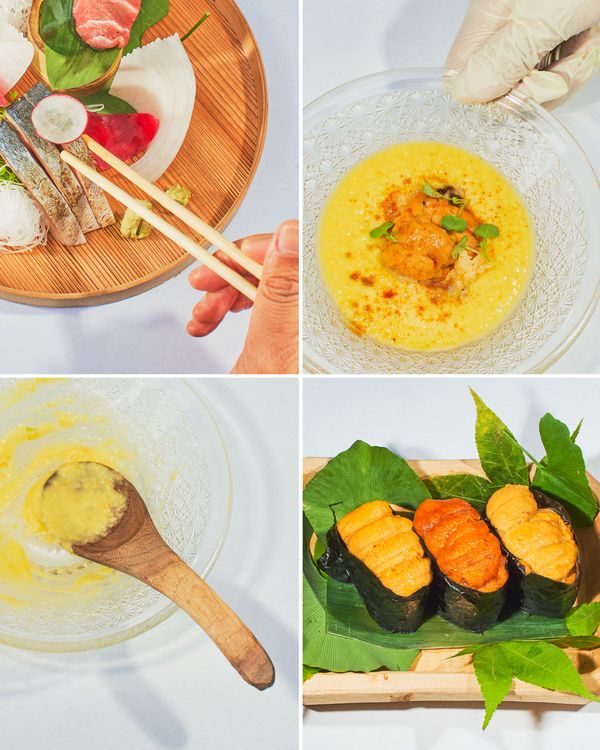 Selections from a DIY
omakase
meal outdoors at Odo, including sashimi and uni.
Photo: Heami Lee
There are all sorts of good reasons not to order or, by some miracle, attempt to manufacture your own home-style sushi omakase experience while in the midst of a citywide pandemic emergency. "Everyone knows cold food is covered with germs," one of my daughters said when the idea was briefly raised, then shelved forever, in our little family pod, and who can argue with that? Like cheeseburgers, freshly baked naan bread, and a thousand other delicacies, top-class sushi tends to wilt and lose a little of its essence when sealed in a container and subjected to the rigors of the carryout experience. And there are the moral factors — the environmental concerns, the obscene cost in a time of economic crisis, and the summertime spectacle of the gilded 0.5 percent feasting on $800 Masa bento boxes out in the Hamptons while, back in the town, the restaurant business slowly withered and died.
But with outdoor dining still in bloom around the city, and some semblance of indoor dining scheduled to begin soon, news of the death of New York City restaurants seems, for a few days at least, to be just a little premature. Scrolling through various reservation apps, your humble critic was surprised to find a variety of sushi omakase dinners being offered on the sidewalks of the city, and several places were even fully booked. When I asked one of my connected sushi-crazed friends if he could help procure a table at the ever-trendy Shuko, below Union Square, he called back sounding the way he used to sound in the good old days, when assorted nabobs and sushi bros (and fat-faced critics) waited for weeks, and even months, for the pleasure of devouring overpriced omakase dinners in tiny, semi-ventilated rooms. "Sorry Platty, there's nothing I can do," he said. "They're fully committed for the evening."
Which is how I found myself perched a little uneasily at a makeshift, plastic-topped sushi bar that the proprietors of the East Village restaurant Sushi Dojo have set up among the shuttered shops and graffiti-strewn dining boxes on an increasingly crowded little stretch of sidewalk along First Avenue. There are bowls of Wagyu fried rice on the menu and gently sizzled soft-shell crabs for $10 apiece, although if you happen to have a little cash in your pocket (or a recently reopened expense account), I recommend one of the three omakase options, which arrive several pieces at a time. There were two kinds of uni in my modest selection and a tender slip of king salmon decorated on top with a slice of fried garden tomato, although the highlight was a log-shaped hand roll generously stuffed with tuna, which I enjoyed while an agitated gentleman walked by yelling "We gotta hang Cuomo for all he's done!" into his phone.
The mood was slightly more serene further downtown at Kintsugi, which an intrepid young chef named John Daley opened a month ago on Grand Street, not far from the entrance to the Holland Tunnel. My $95 "Outdoor Omakase" began with a nourishing serving of miso-and-shrimp-head soup, perambulated to our linen-covered table in a lovely aqua-colored bowl. A glass coupe filled with a delicately tangy mix of seaweed, uni, and salmon eggs appeared after that, followed by a selection of sashimi (maguro, mackerel, and sweet scallops finished with yuzu) elegantly laid out, just like old times, on a block of black slate. The seven-piece nigiri selection was professionally done and even a relative bargain for the price, although if you enjoy consuming your omakase dinner in silent contemplation, book a table for later in the evening, when the rush-hour traffic has thinned and there aren't so many police choppers hovering overhead.
There weren't any choppers in the sky above Odo, on West 20th Street, when I sat down to dinner with one of my avid big-city sushi connections, who said he'd gone cold turkey on his favorite addiction for more months than he could remember and was dressed for the occasion in his pressed business shirt and a stylish blue-and-white mask. Before the COVID calamity hit, Hiroki Odo operated a cocktail bar at the front of the house and a renowned set-course kaiseki bar in a cramped little space in the back, but these days his dining room consists of several widely spaced wooden tables spread out on the sidewalk under a canopy of coffee-colored parasols. There were bottles of hand sanitizer at each table, and soon servers appeared wearing gloves and black face masks to ask politely whether there were any allergies the chef should be aware of.
The chef had pivoted away from the classic set-course experience, they explained, but we were free to create our own omakase, which began with a variety of top-grade sashimi served on two round wooden trays. There were skewers of perfectly fried soft-shell crab after that ("No one deep fries like this at home," my guest intoned) and a selection of uni from the famous sea-urchin regions of Japan (Hokkaido, Miyagi), which caused my guest to close his eyes in a rapturous way, like a teetotaler tasting his first martini in a long time. As the sun set over the empty street and more dishes arrived (traditional onigiri toasted over the charcoal grill, more skewers, a helping of late-summer-corn porridge dressed with bits of unagi), we agreed that the open-air omakase had its charms, and it would probably be a long time before we ever set foot in a stuffy, cramped, indoor omakase room again.
*A version of this article appears in the September 28, 2020, issue of New York Magazine. Subscribe Now!