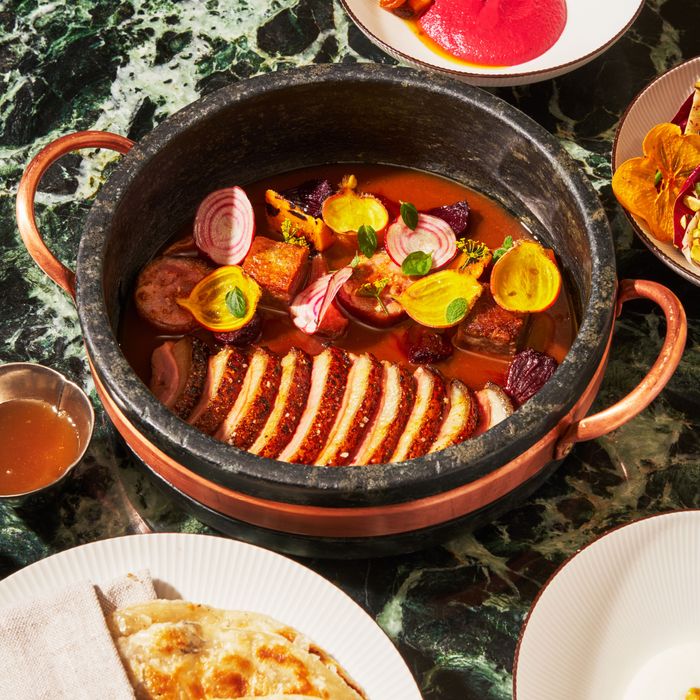 Saga's dry-aged duck with beet tagine, m'semen bread, and chicory salad.
Photo: Adam Friedlander
Why do I feel like ten years ago people stopped eating like this?" whispered my guest not long after the relentlessly cheerful parade of servers and hosts and drinks experts who populate the suite of cocktail nooks and dining spaces at the newish tasting-menu destination Saga, down on Wall Street, had introduced themselves one by one. There was Ashley, who'd greeted us merrily in the lobby of the Art Deco tower at 70 Pine Street, and the smiling host who met us at the elevator door after we'd been whisked to the 63rd floor. There was Bridget the bartender, who whipped up our gin drinks, and Ellis the sommelier ("I'll be taking you on your wine journey this evening"), and Daniela, who led us to our table shortly after we toured the various penthouse balconies with their glittering views of the harbor and city, each of them equipped, as on a cruise ship, with electrically warmed chairs and neatly rolled blankets.
Saga is the brainchild of the talented chef James Kent and manager-partner Jeff Katz (the name is an acronym of the letters of their children's first names), whose first collaboration, the excellent Crown Shy, sits on the ground floor of 70 Pine. This venture has clearly been designed, presumably with the avid financial backing of the building's latest owner, as a kind of ambitious, upmarket bookend to the more populist operation downstairs, which drew rave reviews not so long ago for Kent's elegant iterations of roast pork chops and duck ragù. At Saga, however, you're charged $245 before you even walk into the elevator — a fee that includes a seven-course dinner (which is not that many courses by ye olde tasting-menu standards) along with other elaborate, slightly forced touches, including a visit to a special tea parlor to sip digestive cups of Moroccan tea.
All of this must have seemed like a good idea during the go-go years leading up to the pandemic, but the dining landscape has undergone a radical and sudden sea change since then, of course, and four-hour tasting menus, private tearooms, and even breathtaking skyscraper views no longer carry the kind of cachet they once did in this muddled, slowly recovering, utilitarian world. The sense of traveling backward in time at Saga is amplified by the size of the rooms, which are small to the point of being poky, especially by grandiose postmodern real-estate-developer standards (they used to be the offices of the diminutive insurance-company titan Hank Greenberg); the décor (sparsely adorned walls, a brownish carpet, pieces of furniture described tartly by my guest as "hotel-conference-room chic"); and the omnipresent loop of curious, Muzak-like tunes that echo endlessly over the tables.
There's nothing tired or too curiously dated about Kent's solid, technically impressive cooking, though on my visit there wasn't much that a jaded tasting-menu veteran hadn't seen before. "We like to think of our menu as the story of how the chef got to where he is today," our server intoned as we took delivery of a palate-brightening creation made with a little dome of a meringuelike substance filled with yuzu foam and served with a collection of carefully tweezed microgreens in a glass bowl. Next comes a "five way" tasting of fluke set on a variety of props (scallop half-shells, a bed of seaweed, an elevated silver tray) that Kent, who, we're told, spent many influential years in the fluke-rich regions of Long Island, enlivens in a number of playful, generally successful ways with dabs of XO sauce, toppings of salmon roe, and delicately rolled strips of shiso.
Like the humble fluke fish, XO sauce and shiso leaf aren't exactly novel ingredients in the upper realms of big-city-restaurant cooking, however. Neither is that aged murderers' row of fancy-dinner signifiers — caviar, black truffles, and foie gras — that make their inevitable appearance soon afterward, one set over a foam whipped from bonito broth (the caviar) and the other two mingled in a kind of chawanmushi, or Japanese-style egg custard. As with most things at Saga, it was hard to find fault with these dishes, though as one course follows another (black bass from Long Island with Eleven Madison Park–style focaccia rolls, an excellent dry-aged Moroccan-accented duck, the Parker House–roll "ice-cream sandwich" for dessert), you get the sense that Kent, who was chef de cuisine at Eleven Madison, and his team are dutifully reproducing time-honored lessons instead of embarking on something more imaginative and new.
This is easier said than done, of course, during these fickle, treacherous times with prices rising and staffing tight. A restaurant like this has its own clientele to consider, which, judging by the procession of suits taking the elevator up to the private-dining "salon" and the snatches of conversation about stock prices and golf resorts drifting over from the next table, is made up of stolid Wall Street burghers who expect truffles and caviar when they fork over several hundred bucks for their dinner, not to mention that thousand-dollar bottle of Rhône or Bordeaux (see the "Powerful and Structured" section of the wine list). For the record, my very pleasant course-pairing "wine journey" with the loquacious and knowledgeable Ellis cost a relatively modest $155 and featured a variety of orange and biodynamic wines, though, as usual with establishments like this, it helps to have a friend in crypto or access to an old-fashioned expense account or a generous elderly uncle with a taste for truffles and foie gras.