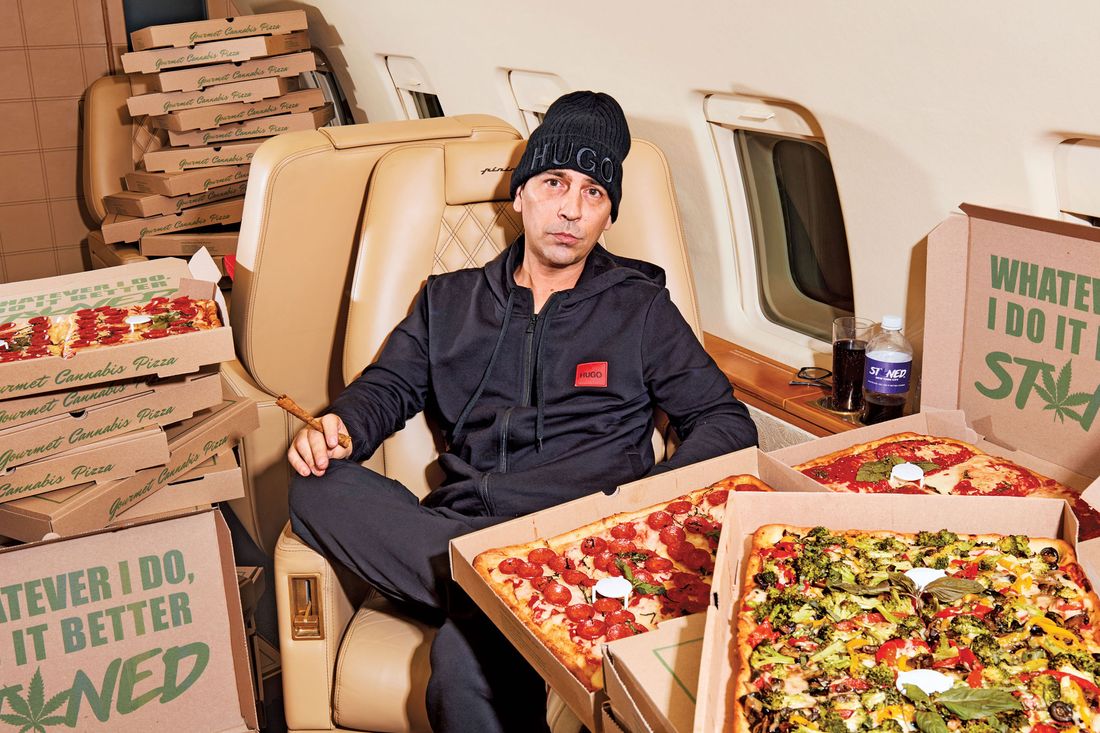 Chris Barrett on November 20, 2020.
Photo: Jessica Pettway
This article was featured in One Great Story, New York's reading recommendation newsletter. Sign up here to get it nightly.
Three hours before his most recent arrest, the Pizza Pusha, a.k.a. Chris Barrett, leans back in the executive seat of a private jet. He's in a white Hugo Boss sweatshirt and black Air Force 1's. Stacked high on the seat next to him are Stoned Gourmet Pizza boxes, the logo printed in kelly-green Batman letters with a marijuana leaf replacing the first O. The boxes are for piping-hot Sicilian slices drizzled with THC-infused olive oil.
Distributing recreational cannabis is still illegal in New York, where the pizza is coming from. It's still illegal in Florida, where the pizza is headed. The co-pilot, after being asked if the delivery crew could pose up front with a pizza box for Instagram, scurries back to the cockpit to report this drug-smuggling operation to the Florida authorities. Barrett shrugs off the potential implications. "I've done a lot of risky things in my life. Selling pizza ain't one of them," he says matter-of-factly, with a fuhgeddaboudit salami-shop accent and the hand gestures to match. "Besides, it's good content."
In the soon-to-be 15 states (including, this year, New Jersey) with recreational marijuana already approved, it is sold in slick packaging through user-friendly websites and at catered dinner parties. But back in NYC, the state may have decriminalized possession of small amounts, and the NYPD may have cut down on marijuana-related arrests (especially if you're white or live in an affluent neighborhood), but cannabis delivery services still operate underground. Sellers can't officially advertise. Craigslist pages offering Astor Place Starbucks meetups at 4:20 are quickly taken down. To grow, pot businesses rely on word of mouth, one text and friend of a friend at a time; it can take years to build a client base.
Barrett, though, has skipped the furtive Craigslist stage. He broadcasts his offerings — THC-infused sodas, garlic knots, and chicken wings, plus an assortment of marijuana strains — on Instagram as customers follow his deliveries in real time. "It's by no means genius," he says. "I deliver Stoned Pizza to famous people, and they post videos eating it, getting stoned." In the Instagram tradition of trading free product for exposure, a celebrity would tag @pizzapusha, their curious followers would follow Barrett's account, and, if he was lucky, they'd order a pie. The strategy has worked well enough to make the Pizza Pusha the most talked-about cannabis distributor in New York. On this day, the famous client is former heavyweight champion of the world Shannon Briggs, who is waiting in the airport parking lot for his pizzas.
The plane lands outside Miami, and with a mischievous grin, Barrett skips down the steps onto the rain-slicked tarmac. Unaware they are starring in a commercial for pot pizza, two masked police officers emerge from the reception area. "You got anything to tell us, sir?" says one confronting Barrett, grabbing the pizza carrier from his hand and placing it on a dolly. Barrett becomes apoplectic, playing to the camera as if he were being interrogated in a Scorsese film. "Do your own fucking investigation!" he says. "You guys don't know what you're talking about!"
Apparently expecting to find pounds of drugs, the officer opens the box, and the cheesy steam dissipates to reveal a thick Sicilian covered in secret sauce. "Okay, you've got me … you found the pizza," Barrett admits, as if he were talking to Mystery Incorporated.
Instead of sending the pizza to a laboratory to test it for THC, Miami-Dade police arrest Barrett for "resisting an officer without violence," and he is taken to the county jail. Meanwhile, marketing director and comedian Young Jack Thriller recovers the pizza and delivers it to Briggs, who endorses the Pizza Pusha to his 350,000 Instagram followers.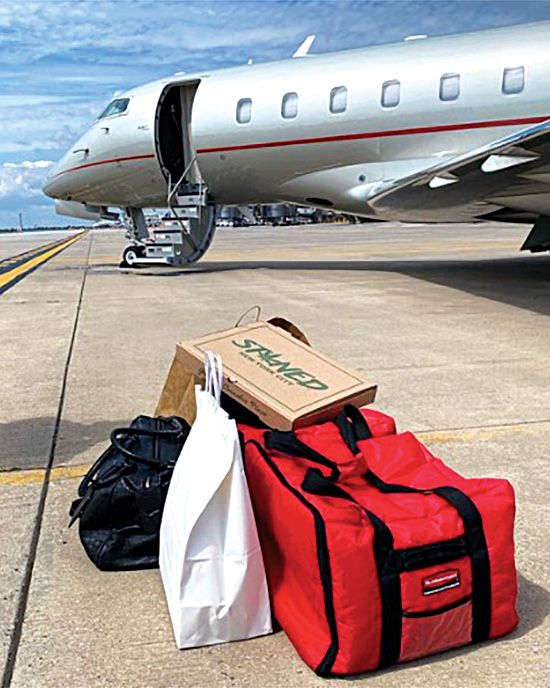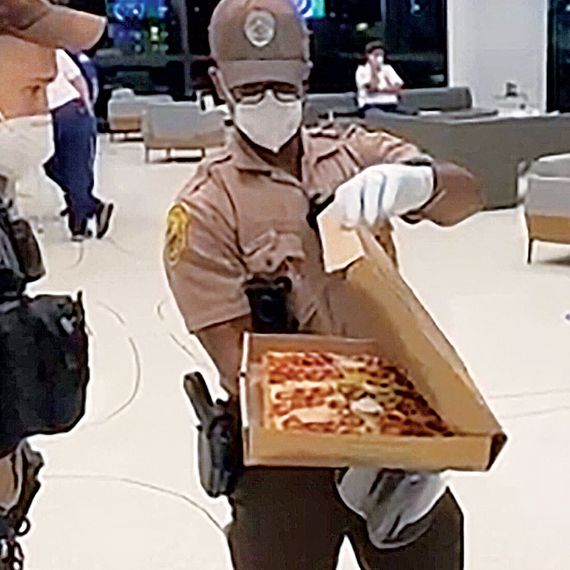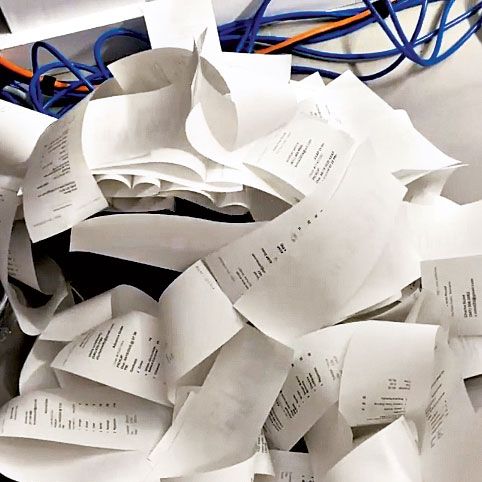 A week later, Barrett invites me to his Harlem brownstone for dinner. At 47, the stoned Mighty Mouse is a wiry five-foot-seven with a scarred shaved head and a blunt-stained perma-smile unsettled only by a persistent hacking cough. "It's not COVID," he assures me. "I just smoke a lot of these," referring to the comically large blunt hanging from the corner of his mouth.
I follow him down a long corridor into his kitchen. Nadia Day, Barrett's 40-something business partner–chef–girlfriend, is waiting to greet me. She offers me an $8 bottle of Pizza Pusha's Stoned Soda, which contains 30 milligrams of THC. (A typical serving of THC for a newbie is around 10 mg; for a stoner, it might be 50 to 100 mg; any more brings the possibility of going full Maureen Dowd.) "This is just the events space," Day says of the apartment. She wants me to know this is no longer a mom-and-pop shop run out of this place. Plus it isn't zoned for commercial use. "We used to cook here, but the Fire Department came."
It's a warm September night, so we walk to the backyard, which is tremendous by New York standards. There's a Jacuzzi built into the deck, which leads down to patio seating for 30, where the Pizza Pusha team has been hosting socially distanced "stoned speed dating" nights. I sit across from Barrett at the end of the 20-person marble table as he presses a button, lighting a gas fire that rips down the center from end to end.
Barrett's journey to pot pizza began in 2015. Looking to get in on the marijuana gold rush, but not sure what part of the industry to focus on, Barrett relocated to America's cannabis capital, Humboldt County, California, where he rented a five-acre property in Eureka and started growing. "These hippies had me over, served me a gourmet cannabis-infused meal, and I'm thinking, This is the future. This is what's missing in New York City," he says. "A lot of people like me would rather eat and smoke weed with their friends than drink." The next year, Barrett moved back to New York, and by 2017, he had hatched a plan to start a cannabis-pizza delivery service. He sourced the best supplies and recipes Bensonhurst could offer and taught himself to cook pizza. He lived in a basement below a kitchen, where he tested different infusions, the exact ingredients of which he will not reveal. "It's a science," he says, raising his eyebrows to emphasize that I should not ask about the recipe again.
When the coronavirus pandemic hit, the Pizza Pusha's Instagram DMs were flooded with stoners hoping to purchase $55 pepperoni pizzas. Barrett says the business grew from 20 employees to, at its peak, 70; today, 35 team members cook and drive pizzas to 50 to 100 distanced and isolated customers per day in the tristate area.
As we sit outside, Day offers me a slice. A thick-crusted, rectangular Sicilian pie, it's an above-average pizza by New York standards. If you're reading this anywhere outside NYC, it would be the best pizza you could get your hands on. Reviews on weed-centric blogs have been mostly favorable. ("The pizza is a 6/10. Not bad," New York Magazine restaurant critic Adam Platt tells me when I give him a pie to review. It's "a 10/10 on the weed-pizza scale," he adds. "I awoke in a daze of camel-tongued paranoia, however. Maybe a little less kush next time.")
By my third slice, I am staring in wonder at the star etched onto the glass eyeball of Jack Thriller, who has joined us around the fire. Born blind in his left eye, the stand-up comedian spent his childhood as the victim of bad one-eye jokes. "So I became quick," he says in his proper Georgia drawl. Last spring, Thriller, who had spent the past several years on MTV's sketch-comedy show Wild 'N Out as well as hosting 50 Cent's podcast, was booked to do a 50-city comedy tour with Martin Lawrence. Then COVID hit and the tour was canceled, and Thriller needed work. "That was my break. I was going to make $150,000, buy myself three eyeballs. I was real down on my luck until the Pizza Pusha handed me that bag."
Thriller took over the brand's social media. With his help, @pizzapusha gained 50,000 more followers in about six months as the company created Instagram memes and comedy skits and sent pizzas to musicians like Method Man and Ty Dolla $ign and comics like Michael Blackson.
Does Barrett worry about getting busted? He takes a moment to think about it. "We're in the middle of the worst economic crisis of our generation," he says finally. "I provide jobs. Tax dollars. You want to live in the past or the future?"
Besides, cops have mostly turned the other way. Retired NYPD lieutenant Dave Siev told me, "Police are out looking for violence. If the pizza is leading to gang activity, money laundering, other criminal activity, he could be on their radar. But no, from what I am aware of, there is no weed-pizza task force at present." I heard much the same from other officers and elected officials. "My guess is that, at some point, law enforcement is going to put a stop to this pizza enterprise," Janos Marton, then a progressive candidate for Manhattan district attorney, told me over a slice of Stoned in Washington Square Park. "But in 2021, the State Legislature will figure out a way to make the process legal so there can be more Pizza Pushas. Especially with the budget deficit we are facing."
When we first started talking, I wondered if Barrett was playing up the Italian-from-Brooklyn thing, if the Pizza Pusha character was just a social-media act. Then I learned where he came from.
Christopher Barrett was born in 1973 in Bensonhurst. His father remained absent throughout his childhood. When his 30-year-old mother began dating a 21-year-old pizza deliveryman, Barrett objected: "No offense to pizza guys, but I thought we deserved better."
Barrett's mom married the pizza guy, but the young Pusha refused to accept a stepfather who was only nine years his senior. Barrett begged his elderly Italian-immigrant grandparents to take him in, and he moved into their small apartment above the B&A Pork Store. Money was tight, so Barrett sold Jolly Ranchers in the halls of his middle school, earning himself the nickname the Candyman. He made a ten-cents profit on each, using the money to purchase sneakers and other childhood luxury items. He spent his early-teenage years smoking weed and skipping school, hanging with connected guys on the streets of Bensonhurst. "I was a really bad kid because I didn't have anyone to tell me not to be," he says. "I would come home, my grandmother would be asleep in front of the TV. She would wake up and ask if I had allergies. She was too old to realize that I was high."
At 15, Barrett declared his independence. He dropped out of school, renting the basement apartment in his friend (the future club promoter and Kardashian acquaintance) Chris Reda's mother's house on 17th Avenue. "He didn't have anywhere else to go, so of course we took him in," says Reda. "But I wasn't worried. Chris has always been wise for his years, and once he has a plan, there's nothing that can stop him."
To pay the rent, Barrett worked at a gas station. "The mob controlled everything in Bensonhurst, so that's what you knew as success: a gangster, a bank robber, a criminal — not a gas pumper," he says. One day, he tells me, the notorious bank robber Dominick Natoli offered him a lift home from the station in his 1977 white Lincoln Continental. "That was the beginning of my life of crime. I'm just happy I got it out of my way in my teens," Barrett says without a hint of irony.
He was offered work stealing getaway vehicles for Natoli's bank heists. "It was exciting, and I was making enough money to quit pumping gas," he says. Over the course of a year, Barrett stole upwards of 15 cars for Natoli, a small portion of the auto thefts the teen was doing at the time. The gig ended when Natoli was again arrested for bank robbery. Then Joey Amato — a captain in the Colombo crime family — approached Barrett. Amato invited him to spend his days at a nondescript Italian social club, where he could have all the free cold cuts and chicken parm he could eat. In the Mafia version of an internship, Barrett became their errand boy.
The late '80s was an eventful time to be around the Colombos. At the top of the company, Colombo captain Michael Franzese's oil-and-gas scheme defrauded the government of tens of millions of dollars. On the ground floor, Candyman Barrett sold Tootsie Rolls in bodegas, raising money for fake missing-children charities.
But it wasn't all harmless scams. The Bread Association was a Colombo price-fixing scheme that controlled the price of bread in the city. When one baker revolted, selling his wares for five cents more, Amato told Barrett to handle it. Barrett says he assembled a crew of kids from Bensonhurst. The aspiring mafiosi waited outside the man's bakery with baseball bats and beat him into submission at 3 a.m. Looking back on his teenage years, Barrett admits, "I knew what I was doing was wrong, but I didn't have many cards to play. They were the only good people to me up until that point."
Years later, Barrett had graduated to collecting bags of money. "Nobody would have looked at this kid walking into the bar and thought, He's carrying $80,000," he says of his days visiting Brooklyn bars and social clubs to collect Joker Poker–machine money for the Colombos. "I was 17, pocketing $1,500 a week, thinking I've made it. Then the war started."
In 1991, acting Colombo boss Victor "Little Vic" Orena staged a coup after Colombo boss Carmine Persico was incarcerated for life. Persico allegedly took out a hit on Orena, but the plot failed when Orena evaded the ambush outside his home. Brooklyn erupted in violence. "I went from carrying money under my shirt to carrying it underneath a bulletproof vest," says Barrett. "Every day, I woke up thinking this could be my last." The third Colombo war was one of the most brutal and violent in New York Mafia history, with dozens shot, killed, or never seen again.
Amato had situated Barrett in a luxury apartment. In return, Barrett says, he was asked to hide guns for Orena. When FBI agents raided Barrett's apartment, they discovered several firearms, and Barrett was charged with multiple felonies. He spent most of 1992 on Rikers Island awaiting trial. The New York State charges against Barrett were dismissed, but the federal government recharged him in a RICO case, along with five other co-defendants.
"Barrett was a driver and personal bodyguard to Joseph Amato," the indictment read. "Barrett maintained an arsenal of weapons for Joseph Amato's crew, which he distributed to the crews members on an 'as needed' basis," and he "assisted Tommy Cappa and Joseph Amato in the disposal of the motor vehicle used by Christopher Liberatore on the night Matteo Speranza was murdered." He waited in federal jail for more than three years before pleading guilty to aiding and abetting the use of a firearm in relation to "a conspiracy to murder Gregory Scarpa." In jail, Barrett kept to himself and was mostly left alone by other inmates — "the one good thing about being connected to a Mafia case of that magnitude," he says. At 22 years old, Barrett was sentenced to five years in federal prison.
After his release in 1998, Barrett, now 24, borrowed money from a friend and moved to San Antonio, where he opened his first Sprint mobile-phone store. "I wanted to stay clean. Be a better person," he says. "That meant staying out of Brooklyn. Cell phones were hard to get, but I knew they were the future. So I became a cell-phone pusha." Within three years, Barrett had 16 Sprint stores in cities across the country. Eventually, competition drove down the price of phones. "The gold rush was over, and so was my parole."
Barrett shut down the stores and returned to hanging with his old friend Chris Reda. Before he was Scott Disick's buddy, making regular appearances on Keeping Up With the Kardashians and promoting COVID-era nightlife in Tulum, Reda was the top spring-break promoter in the tristate area, marketing events to college kids as they traveled to Mexico. ("We were throwing the first MTV Spring Break after-parties," Reda brags.) These parties expanded to regular Las Vegas pool parties. He hired 50 Cent, the Game, Eminem, and other popular hip-hop artists of the time to perform at his events, and he put Barrett in charge of the talent, making sure they arrived at their hotel, had a nice meal, and got to the venues. In Cancún and Vegas, Barrett connected with many of the hip-hop stars he would later send his Stoned Pizza.
When Reda graduated from throwing one-off parties to owning New York nightclubs, he took Barrett along with him. The Griffin, at one time the city's most popular hip-hop club, opened in 2009. It became Barrett's office, where he ushered the Rihannas of the world into their booths. Rubbing shoulders and partying with celebrities was now his livelihood. "Things were going smoothly. The clubs were killing it," Barrett says. "But then my brother got locked up."
In 2003, his 19-year-old half-brother, Robert Maffei, allegedly chased another car onto the Belt Parkway after a passenger in it seemed to flirt with his girlfriend. Maffei was convicted of firing a single shot that fatally wounded the passenger, Francesco Santillo. (Maffei is still appealing his conviction.) After Maffei was sentenced to 25 to life, Barrett tried to send him a care package, but the salami and the deodorant were rejected by the prison because they both contained trace amounts of alcohol. Barrett tried again, and again the package was returned. "Here I am, a convicted felon, trying to send my brother a package in prison, and even I can't figure it out," he says. "The box is too big; it's not the right-size tuna can. There's a lot of family members out there who can't figure out how to send their loved ones a package."
So Barrett started a business of his own, Send A Package, to make it easier to mail packages to prisoners. Rather than purchasing and shipping their own items, an inmate's friends and family members could log on to the website and select from some 3,500 different items, and the company would guarantee their delivery. The site sold everything from hygiene products to food and soon stumbled into the music business. The New York State Correction requirements deemed CDs illegal; cassette tapes have screws in them and were therefore also banned. Through a connection with Jay-Z associate Shawn "Pecas" Costner, Barrett got Universal Records to provide him with tapes without screws, and he became the sole music distributor in the state's prison system. Prodigy from Mobb Deep became a close friend and a useful link to many rappers looking to get their music into prisons. "I don't want to know how they did it, but the label removed the screws and then glued back together thousands of tapes," says Barrett.
When a few years had passed and the company still wasn't profitable, an investor sued, claiming mismanagement of funds. "It's easy to point blame. Not only did I lose my money, but everyone else did too," said one investor, who asked not to be named. "Chris is a dreamer, but he's not a corporate guy. I have nothing negative to say about him as a person, but hopefully he learned as much from Send A Package as I did. Or else, I venture to say, the same thing will happen with Stoned Pizza."
Barrett denies any mismanagement but ultimately decided to walk away. Forever the marketer, he tells me, "I needed to move on to something new. Marijuana has been my passion since the '80s."
The Pizza Pusha wakes up at 5:30 a.m. in his Long Island City penthouse one day in September. Dressed in a plush Four Seasons robe, he checks his Instagram and banking apps as he sits at his desk, rolling his first blunt of the day. As the sun rises over the city, he swipes $10,000 through a money counter. Day pulls out her Bible and does her morning prayers upstairs, then goes for a jog. Back at the apartment, they eat croissants, discussing where they will next charter the private jet (a very generous friend was letting them use the plane twice a month).
An hour later, Barrett throws his Tesla SUV into ulcer-inducing mode as we barrel toward Manhattan on the 59th Street Bridge. Beat-up Air Force 1's tap on the driver's-side floor to the rhythm of a Christian-pop radio hit. "Nadia got me into it. It's positive! Besides, hip-hop sucks these days," he says. The "What would Jesus do?" chorus propels us onto the FDR.
"You're moving pretty fast," I tell him, clawing the passenger's-side door. He thinks I'm complimenting his business.
"Tomorrow, there will be a Famous Pizza Pusha, a Pizza Pusha Pizza, a Famous Original Pizza Pusha," he says, referring to Ray's, New York City's most famous pizza name, which has inspired numerous copycats. "I've gotta establish myself now so there can be no disputing who was first."
We Pac-Man through the East Village en route to his soon-to-be restaurant. I look out at the shell of my neighborhood, with more shuttered than open storefronts and restaurants. Over half of New York's restaurants that haven't already closed say that, without aid, they're in danger of going out of business for good. On one side of the street, three dozen people line an entire city block, bags of bottles slung over their shoulders, as they stand in line to use the recycling machine. When we arrive at the restaurant, Barrett's landlord, also an Italian from Brooklyn, hands him the keys. With the landlord desperate to rent the space, Barrett was able to negotiate a deal without having to pay key money (a standard fee for a restaurant space).
Barrett unlocks the gate to reveal a pizza window that opens directly onto
the street. We enter through the doors and walk into a dusty, abandoned Western-movie set of a restaurant with seats for 30 socially distanced customers. Barrett beelines to the two-ton steel-encased brick pizza oven. "We're calling the place St. Ned," he says, flipping open the street pizza window. "When it becomes legal, then we add the O back."
Barrett is hoping to open the space as a full-service restaurant in just under two weeks, and Day is on hand to oversee its makeover. A team of six-foot-tall female models rips down posters of Brigitte Bardot, Marilyn Monroe, Bette Davis, and a slew of American iconography, clearing away the Valley of the Dolls motif of the previous tenant. A young Black female artist begins decorating the room with new Cubist-style paintings, while legendary graffiti artist Hektad paints dozens of hearts on the façade.
"This is going to be the hotbox room," Barrett says, walking me into a glass-framed space in the corner of the restaurant.
"What about COVID?" I ask him.
"We're installing industrial fans that will suck the smoke out," Barrett says, pointing up to the windows in the glass room as he blows smoke toward them. "The ventilation will be better in here than the restaurant" — which would seem beside the point.
"I think it would be better served as an office, Chris," Day interjects, as Barrett hands me a bag of Cake Mix bud and an Entourage blunt wrapper.
Throughout the afternoon, Barrett meets with suppliers, promoters, marketers, influencers, and various Bensonhurst characters. Three bussers clean and scrub the floors. Struggling out-of-work models, carpenters, plumbers, electricians, suppliers, and engineers buzz in and out. A young assistant shows up with a comically large box and attests, "This was the biggest television for sale in all of Manhattan. I checked everywhere."
On Instagram, Barrett posts a picture of the bustling interior, and private-dining reservations begin sliding into his DMs. "We'll have hundreds of reservations by the end of the week," he says. A kid rides by on a Revel scooter, smoking a joint. He makes a "cheers" motion to Barrett and drives off at the green light. A UPS delivery guy walks back to his truck from the apartment building across the street. Recognizing Barrett, he screams with his fist in the air, "Pizza Pusha!"
When asked how he knows the Pizza Pusha, the UPS guy responds crisply, "Everyone knows the Pizza Pusha, man!"
Barrett's childhood friend Ernie Cappone comes outside to join us. He's the owner of Cappone's Salumeria, an upscale Italian-sandwich spot with locations in Chelsea Market, midtown, and the Financial District. They grew up together in Bensonhurst, and Cappone has been lending his guidance and resources to help with the opening. Cappone estimates his businesses have lost $1.7 million since COVID hit. He has been forced to lay off more than a dozen workers. But he's optimistic about St. Ned's. "Chris is different — he has a niche market. He has the opportunity, and when it's federally legal, he'll have the footprint," he says. "But he's gotta be careful." Legalization will bring its own business risks if pizza stalwarts like Roberta's or 2 Bros. can choose to add THC-infused slices to their menus. As usual, Barrett is unworried. "Legalization is going to open up the floodgates," he says. "I'd rather take a piece of the pie with legalization than the whole illegal pie."
Back in the Tesla, we head to the Pizza Pusha fulfillment center in Williamsburg. The ceilings are six feet high, and I have to crouch to walk through the cramped basement to use the bathroom. Up until business took off, Barrett lived here, cooked pizza here, and took orders from here, envisioning a day when the duplex might become the prep kitchen and he wouldn't need to sleep in this dungeon.
A year later, it's now home to one of the brand's two prep kitchens. We walk upstairs to the first floor, where five cooks are making dough and rolling it out into pizza crusts and garlic knots. Chicken-wing sauce is prepared. Cheese is grated. A man fills bottles full of THC soda. A woman vacuum-seals pepperoni.
After Barrett hands them new supplies and pays his employees in cash, we're off to the kitchen. In a carriage house on a cobblestone street in Sunset Park, pizzas sizzle inside industrial ovens. A tattooed, middle-aged Italian American guy from Bensonhurst cooks to the sound of Sade, sprinkling cheese on a pie with one hand and adjusting the temperature controls of the oven with the other. He worked in the West Village mainstay Joe's Pizza for 20 years and finally saved enough money to open his own West Village pizzeria in 2019. COVID wiped it out. With his family to feed, Barrett's call couldn't have come any sooner.
Pizzas complete, the chef pulls them out of the oven and drizzles 320 milligrams of THC-infused olive oil on top of the pies. "Less is more," he says, handing me a fresh Sicilian slice.
Inside the tollbooth-size office next to the kitchen, two young women sit in front of computers dispatching orders from customers to the fleet of drivers, whose code names include French Montana, Jay-Z, Nas, Redman, Biggie, Prodigy, Havoc, Q-Tip, and Busta Rhymes. Over the 30 minutes I am there, three orders come in via Instagram DMs totaling $1,300.
A few weeks later, on October 10, Barrett hosts his first event at St. Ned's, a private birthday dinner for 30. He arrives in the late afternoon with long black drapes borrowed from a friend's restaurant. Assistants grab the drapes and scramble to black out the front windows as the guests begin to arrive for the grand opening.
Downstairs, Barrett asks the electrician if he has fixed the broken generator. "Five minutes," the old man promises. The kitchen is bustling. In a back room, a young man breaks down a pound of Oreoz bud into party favors in artisanal pouches featuring the name BACKPACK BOYZ, the suppliers of the strain.
Upstairs, the bouncer folds the black curtain over the door, sealing us off from the outside world and into this hotboxed cannabis speakeasy. "Everyone is now locked in," he says. "If you want to leave, you can't come back!"
There are a few masks, but I'm the only attendee wearing an N95. Everyone I talk to tells me they're from Brooklyn. I wonder if this is one of those "superspreader events" I keep hearing about. Blunts are smoked. Music plays. People dance. While hiding in a corner, I connect with a Russian woman who introduces herself through her handle, @damnhomie11. She tells me how many followers she has (1 million) and how "in the future, all of life will take place on Instagram; there will be no television." There are so many @damnhomie11 types here it's like I'm in a real-life Explore page. I can practically hear the ding-ding of follower counts going up.
Day comes to find me, explaining, "This isn't the way it's going to be. We want to be a supper club, not a party spot." Apparently, she is nervous that they are "too popular."
Still, the influencers serve an essential purpose. Emcee Daniel Jean (577,000 followers), striking in a black-and-white tuxedo, takes the mic. "Who wants some free money?" he says. "Help paying bills? All we need is people to hashtag #pizzapusha! I'm going to choose the five best ones, and you get free money. I got Zelle, Cash App, free money. Between you all, I see a few million followers. Share the love!" Camera flashes bounce off the metallic birthday balloons. Mission accomplished, Jean tells everyone to leave. The crowd doesn't seem to be listening, so he stands on a table. "Get the fuck out! We takin' it outside!"
The after-party commences on the corner, where, in front of a deli, standing on top of a trash can, rapper ItsBizkit lip-syncs to his latest track, "Outside Wit It," his videographer capturing the scene for a music video. The streetlamp illuminates the haze from the party favors. As if on cue, a convertible BMW pulls up full of young, beautiful women who join the celebration. Across the street, police officers stand next to their cars, minding the scene.
After the influencer event–cum–music-video shoot, back inside the restaurant, Day receives the second wave of customers, who have come for a standard sit-down dinner. I am seated next to four Black middle-aged women eating pizza and chicken. They have been following the Pizza Pusha's movements on Instagram and became loyal customers after ordering his pies and attending brownstone-backyard parties. "It's unfortunate there aren't more places like this," Brooklyn resident Tardara explains to me while taking a puff on a joint. "I like stoned chicken. What's the problem?"
The place is now filled to legal capacity — which, under normal circumstances, would be an off night. The nearly 100-inch TV screen plays marijuana videos. The walls are decorated with hand-painted micro close-ups of cannabis pollen. Guests listen to R&B classics, smoke joints, and get stoned by way of pizza. "We're opening in Miami next month," Barrett tells me at the end of the night.
The next morning, I wake up with a hangover as if I had drunk three bottles of tequila. I piece together that, out-of-my-mind high on pizza and soda, I cleaned out my closet of childhood memorabilia, including my baseball-card collection, my starting-lineup sports figurines, and some ties that I never wear. I imagine I'm not the only person for whom pizza leads to munchies, which lead to pizza, which leads to my sifting through a trash can, collecting the relics of my past.
I see Barrett again in Harlem a few days after Christmas. He looks worn down, but who isn't? There is no separating his business and personal life, as workers fill orders from his living room. Like the rest of us, he has taken some hits. His cat fell out of his penthouse window in Long Island City, plunging to its death. Barrett could no longer stand living where Buddy died, so he moved back to the Harlem brownstone. He and Day have broken up. "It was too difficult managing a business, being together 24/7 in a pandemic," he laments. Meanwhile, the business slowed down as COVID numbers inched back up, triggering restrictions on indoor dining. His plans to expand to restaurants in Miami and on Long Island were put on hold.
We eat steak, and Barrett plays me some Mafia YouTube videos, setting my facts straight about the Colombo wars. Reflecting on his past, he reminds me that things could be worse. Joey Amato, his onetime boss, is once again fighting criminal charges, while Barrett is on the verge of becoming a legal-cannabis mogul. "Cuomo is saying he is going to legalize it," he says. "When that happens, I'll be able to add the O to St. Ned and spread my wings."
But the following day, Instagram shuts down Barrett's account, and he loses out on some New Year's Eve business. The account is reactivated five days later with no explanation, except that he had supposedly violated its terms.
On January 6, Governor Cuomo announces a proposal to legalize cannabis, with an emphasis on those most affected by the war on drugs. Out of Cake Mix, I text my longtime delivery service, and within 15 minutes, a young man arrives on a classic fixed-gear Bianchi with a selection of 20 strains, edibles, and THC distillates.
He's wearing a mask, sunglasses, and a bicycle helmet and looks as if he's about to rob a Chase truck. After purchasing an eighth of Jordan 1, I ask what he thinks will become of the city's cannabis delivery services after pot is legalized. Pocketing the cash, he puts his backpack on and stops in front of the door. "When things go legal, we'll be looking for new jobs," he says, shrugging. "It'll be like pizza. If you don't have the best product and arrive within an hour, there's always the other pizza spot on the next block."
Additional reporting by Jack Denton.
*This article appears in the January 18, 2021, issue of New York Magazine. Subscribe Now!