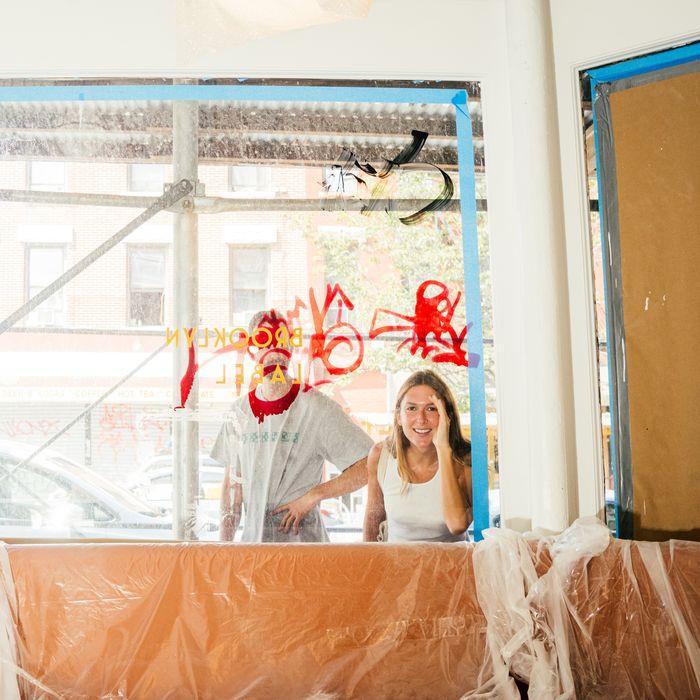 Bar Americano, coming soon to Greenpoint.
Photo: Jutharat Pinyodoonyachet
For the first fall since 2019, there is an abundance of new places to eat and drink on the horizon as chefs are finally able to put some long-gestating pre-pandemic plans into action, revive once-closed favorites, or simply launch new projects entirely. Here's what you need to know about the busiest opening season in years.
Dame's Seafood Experts Are Moving to Mammals
Dame, the seafood spot that opened to much acclaim during the height of the pandemic in 2021, serves arguably the best fish and chips in the city. But when its owners, Patricia Howard and Ed Szymanski, open their next restaurant, Lord's (506 La Guardia Pl., nr. Bleecker St.), in October, they'll honor the tradition of London's fabled St. John — among others — for a new spot that is, in Szymanski's words, "bistro-y, but English and not French," with a heavy emphasis on offal and homemade terrines. (But remember, Dame got its start as a pop-up offering bottarga-topped beef tartare and skewers of grilled duck hearts.)
The Dhamaka Team Will Open Three More Places
In 2018, Chintan Pandya and Roni Mazumdar broke out with Adda, their standout Indian canteen in Long Island City. Since then, their collection of restaurants has grown to include the impossible-to-get-into Dhamaka and the fried-chicken counter Rowdy Rooster. Next on their agenda is reviving Mazumdar's original restaurant, Masalawala, and moving it to Park Slope (365 Fifth Ave., nr. 5th St.), adding some new dishes from Pandya as well as a grocery component. They'll also unveil Kebabwala in the East Village (82 Second Ave., nr. E. 5th St.), offering their take on India's street grills. And finally, at the end of the year, they'll uproot Adda and move it to the East Village (201 First Ave., nr. E. 12th St.), where it can coexist comfortably among all their other businesses in the area.
Dumbo's Getting a Waterside Bar …
The boat-bar specialists behind Grand Banks and Pilot will dock at the Fulton Ferry Landing next month with High Tide (1 Water St., nr. Old Fulton St.). If you've been to their other establishments — a list that includes Island Oyster on Governors Island and Holywater in Tribeca — you won't be surprised by High Tide's appropriately nautical theme, the array of rum drinks, or the tartar-topped fish sandwich.
… And Greenpoint's Getting Some Aperitivi
Steve Kämmerer, Conor Hynes, and David Clarke will open Bar Americano in Greenpoint (180 Franklin St., at Java St.), giving the neighborhood its own Italian drinking destination with two house versions of the namesake cocktail (one classic, one white) and vermouths by the glass. To eat: anchovies, oysters, and the like. "The core of the bar is going to be the golden hour, 4 to 7 p.m.," says Kämmerer.
Alex Stupak Is Rethinking 'American' Food
More than a decade ago, Alex Stupak pivoted away from pastry to open what would become the first outpost in his Empellón empire, and in October, he'll swerve again with Mischa (157 E. 53rd St., at Third Ave.), an updated take on the ye olde neighborhood restaurant like the Lexington Avenue hole in the wall Donohue's — "My favorite restaurant of all time," says Stupak. For the chef, opening an "American" restaurant is a chance to reinvent timeworn tavern tropes. What does that look like, practically? Ink-dark hummus made from chana daal and black tahini to start, or a seven-vegetable salatim including turmeric-tinged trumpet mushrooms and sweet potatoes with coriander. And don't forget the hot dog: Mischa's is made of brisket and topped with kimchee. "At this point," Stupak wonders, "why is sauerkraut still seen as more New York–y than kimchee? There's no way it is."
Manhattan Will at Last Have a Train-Station Omakase Bar
On September 14, chef George Ruan will open Joji in Grand Central Terminal in an alcove connected to the One Vanderbilt skyscraper next door (1 Vanderbilt Ave., at 42nd St.). With a mere ten seats at the counter and an eight-person dining room, a starting price of $375 per person, and an hours-long tasting menu described with words like bespoke, it's clear that Ruan — who previously worked at Masa and has partnered with Daniel Boulud on this new project — is aiming for the highest of high rollers at his underground jewel box.
Two Neighborhood Favorites Are Settling Into New Digs
In the East Village, Virginia's will return less than a year after its original location closed, taking over the former Root & Bone space (200 E. 3rd St., at Ave. B) and bringing back its bestselling bone-marrow-mayo–topped burger. A bit further uptown, Danny Meyer's comfort-focused trattoria Maialino will move into the Redbury Hotel (30 E. 30th St.) for a temporary residence that's being billed as "vicino" — Italian for "close by."
Sam Mason Is Headed Back to a Pastry Kitchen
The original wd~50 pastry chef and current Oddfellows flavor guru will handle desserts at chef Franklin Becker's new restaurant, tentatively named Press Club Grill (49 W. 32nd St., at Broadway), when it opens in midtown's Martinique hotel in October. Will we see a return of his chocolate gnocchi or black-olive cake? The chef says it's too early to know for sure but hints that he has had some time away from the grind to think up a whole new set of ideas.
A Chophouse Comes to Brownstone Brooklyn
When it opens in Carroll Gardens later this month, please do not call Gus's Chop House (215 Union St., nr. Henry St.) a steakhouse. "A chophouse is different because it's neighborhood-y," says chef Chris McDade, who, along with partner James O'Brien, also runs the popular Popina nearby. "It's not an expense-account place." There will be meat, however: dry-aged beef, various cuts of pork and lamb, and slow-roasted whole chickens sauced with onion jus. Plate-size hash browns too, topped with trout roe. And a starter called "leeks à la wedge" that combines two icons into a singular new dish. Classic crème brûlée should appeal to the kids in the neighborhood, while freezer-chilled martinis should appeal to their parents.
Kwame Onwuachi Is Back in Town
Homegrown celebrity chef Kwame Onwuachi isn't revealing too much about the restaurant he's set to open inside Lincoln Center's renovated David Geffen Hall — including its name — but the Top Chef alum and New York City native has teased dishes like a luxe chopped cheese and promised he'll stay true to the Afro-Caribbean flavors that made him famous in the first place.
Even More Chefs Are Being Lured to Rockefeller Center
Tishman Speyer's ongoing culinary overhaul of Rock Center continues apace: The next spots to arrive are Naro (610 Fifth Ave.), a rink-level Korean restaurant from the team behind Atomix and Atoboy; an expansion of Homer Murray's friendly 21 Greenpoint (30 Rockefeller Plz.) that will add a grab-and-go counter to the sit-down options; Jupiter (620 Fifth Ave., at W. 50th St.), a pasta destination from the trio of stars who made King a hit on the outskirts of Soho; and Five Acres (30 Rockefeller Plz.), a vegetable-centric café where Olmsted chef Greg Baxtrom will be able to supersize his farm-to-table ambitions across all three meals of the day.
A Le Coucou Chef Is Taking Over Manhatta's Sky-high Kitchen …
As Le Coucou's chef de cuisine, Justin Bogle was responsible for turning out that restaurant's menu of French throwbacks. Now he has taken over the 60th-floor kitchen at Danny Meyer's Manhatta (28 Liberty St., nr. William St.), where his new menu — set to debut September 16 — will be a more forward-looking affair. The umami of classic beef tartare is amplified by a base of homemade hazelnut miso; cured scallops are paired with a sauce of reduced red pepper and an oil of black olives; and grilled lobster tail will land alongside a traditional French sauce choron that's darkened and deepened with black garlic and squid ink.
… While a Rooftop Hit Is Expanding Down to Ground Level
After the successful debut of Laser Wolf at Williamsburg's Hoxton hotel, chef Michael Solomonov is importing another of his Philadelphia projects. When it opens in October, K'Far (97 Wythe Ave., at N. 10th St.) will take over the hotel's lobby with an all-day restaurant and takeaway counter whose kitchen remains open straight from 8 a.m. to 11 p.m. serving breakfast, lunch, and larger dishes (such as schnitzel and braised lamb) for dinner. The baked goods from pastry chef Katreena Kanney are the main draw, particularly the light, unboiled Jerusalem bagels and the snail-shaped kubaneh, sliced and served as open-faced toast.
New York's Superchefs Keep on Expanding
After stretching their empire to Miami, Boston, Dallas and beyond, the Major Food Group will get back to its roots, sort of, by finally re-launching Torrisi (275 Mulberry St., at Jersey St.) this September. Executive chef Charlie England — the chef de cuisine at Carbone for the past half-decade — will oversee a menu that includes the fresh mozzarella on which co-owners Rich Torrisi and Mario Carbone first built their reputations, dry-aged duck made with a sauce of actual mulberries, and something that's (somewhat ominously) being called "house pepperoni." And in Chelsea, Marcus Samulesson has teamed up with executive chef Rose Noël for Hav & Mar (245 Eleventh Ave at W. 26th St.), which when it opens later this fall will take equal cues from Samuelsson's Swedish and Ethiopian backgrounds. Expect dishes such as dawadawa bass with clams and miso-roasted potatoes, as well as Black Mermaid Rice & Peas, which includes djon-djon mushrooms, crabmeat and lobster.
Zero Bond Is Getting Some Competition
Various nightclub power players (including Richard Wheeler and Josh Angel from megabar 1 Oak) and celebrity investors (most notably Carmelo Anthony) make up the muscle behind 9 Jones (9 Jones St., nr. W. 4th St.), a semi-private club in the West Village with a Greek-leaning menu and cocktail-cart service. The dining room will have plush velvet seating and crystal chandeliers — of course — but the real place to be is a hidden back room featuring its own entrance and a one-way mirror through which VIPs (and, possibly, a certain nightlife-loving mayor) can peer out undisturbed.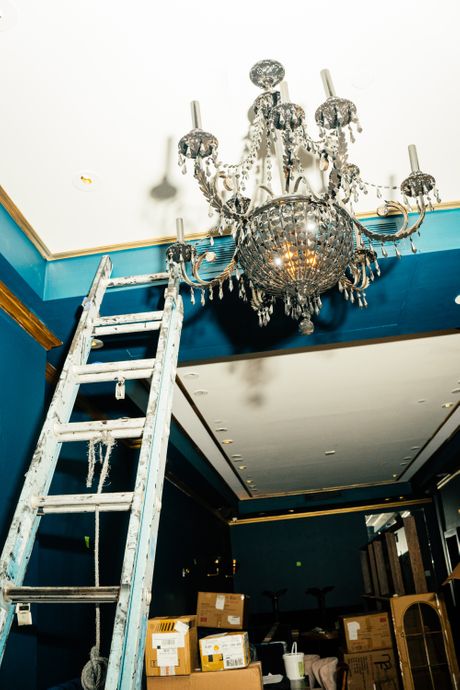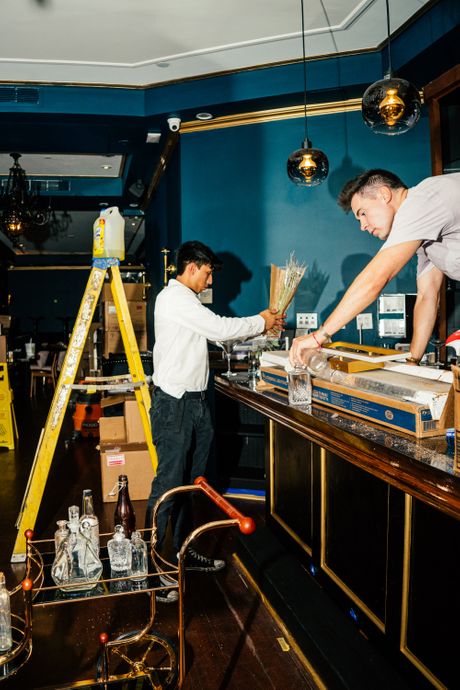 Chumley's Will Be Reborn As Froggy's
New York's most famous speakeasy, which was last rebooted in 2016, will get a new life — and, this time, a new name. "If we kept it as Chumley's, it would seem like it was 'under new management,' " says Will Aghajanian, who, along with his wife and co-chef, Liz Johnson, will open Froggy's (86 Bedford St., nr. Barrow St.) in November. Despite the name change, the goal is to maintain the space's long history as an upscale American tavern with a straightforward menu of burgers, chops, and Cornish hen, which at Horses, the couple's popular Los Angeles restaurant, is served over a salad of dandelion greens. "We met a guy in the coffee shop down the street and started talking about this place," says Johnson. "I'm sure after we left, he was like, 'These hipsters are gonna fucking ruin it!' "
Fine Dining Will Make a Case for Itself
What is the appetite for precious chef creations and overly elaborate tastings amid all the current cultural and economic turmoil? We're about to find out: On August 31, owner John Coppola and chef Chris Cote will open a Dumbo tasting room called Pearl Street Supper Club (147 Front St., nr. Jay St.). Cote, a New England native, will turn out flights inspired by the region. In lieu of fancy chowder, he'll offer dishes such as baked monkfish tails and cured bluefish with Canadice grapes, drawing on techniques he honed while working at Aska and Copenhagen's fabled Noma. On the other side of the Manhattan Bridge, chef Ignacio Mattos is working on Amado Grill (9 Orchard St., at Canal St.), a tasting-menu restaurant inside the Nine Orchard hotel that will serve as the upscale companion to the chef's more casual Corner Bar. Up on Manhattan's West Side, chef Christophe Bellanca — a vet of L'Atelier de Joël Robuchon — will be dressing quick-seared hiramasa with passion fruit and the Japanese citrus sudachi when he opens Essential by Christophe (103 W. 77th St., nr. Columbus Ave.) in November. Meanwhile, the furniture chain formerly known as Restoration Hardware is opening RH Guesthouse (55 Gansevoort St., nr. Ninth Ave.), a boutique inn with a ten-table Champagne and caviar bar as well as a first-floor live-fire dining room that will sport the requisite truffle fries and Wagyu rib eye. And finally, chef Markus Glocker is set to unveil Koloman (16 W. 29th St., nr. Broadway) in Nomad, transforming the former Breslin space into an upscale Franco-Austrian atelier with oxtail bonbons, sweet and savory soufflés, beet-sauced salmon en croûte, and an extensive Champagne list.
Midtown Will Get Its Own Hawker Center
It's been in the works for a while, but Urban Hawker (135 W. 50th St., nr. Seventh Ave.) is on track to open in late September. The 11,000-square-foot complex is modeled on the open-air bazaars of Singapore, featuring 11 of that country's vendors, all of whom have thriving food stalls back home, offering specialties such as soto ayam, a comforting chicken soup; flaky roti prata, a late-night favorite; and white bee hoon, wok-fried rice noodles simmered with an eight-hour chicken stock that can be loaded with shrimp and squid, if you'd like.