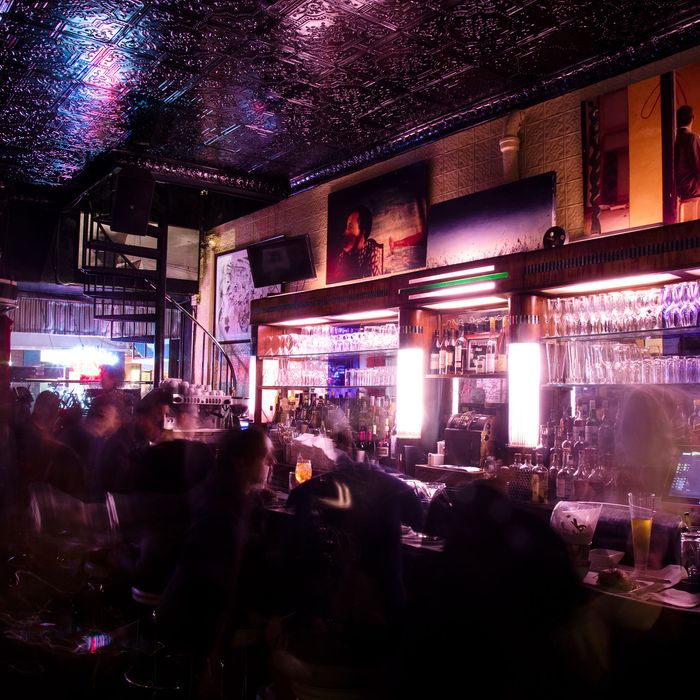 Who doesn't love Raoul's?
Photo: Erinn Springer
Valentine's Day is just over a week away and already, everyone's been bombarded with news of specials and prix fixe menus. But some restaurants are romantic year-round, whether it's February 14 or September 26. Last year, Grub asked 14 chefs to offer their takes and the responses were enlightening, unexpected, and, of course, amorous. So, we asked 19 more chefs and food folks to share their favorite places to take a date just in time for this year's lovefest. Here's where to eat your heart out this Valentine's Day in New York City.
Laurent Kalkotour
Executive chef, Minetta Tavern
"So, for me, Raoul's in SoHo is the place to go for a truly romantic dinner. It's been an institution since the '70s with glamorous pictures on the wall and dim lighting to set the mood. It's a NYC classic that executes great French food. Go with the steak au poivre is superb and martinis and you'll be set."
Efrén Hernández
Head chef, Mimi and Babs
"Definitely Hotel Delmano where I had my first date with my wife, Rebecca. I think she picked it out. It's a great spot for a date because it's a very intimate candle-lit space with a sky mural that makes it feel like an escape from the city. We had micheladas. Sometimes it's hard to find a good michelada done right but they nail it every time. We drink a lot of micheladas together and that was the first one we ever shared. I also really like their seafood towers and in the summer we always sit outside."
Chloe Coscarelli
Chef and author of Chloe Flavor
"What could possibly say Valentine's Day better than vegan fondue? I absolutely adore Ladybird and think it's the most perfect date spot. The dimly lit, cozy ambience (complete with plush velvet emerald seating) and the decadent shareable menu makes for the perfect dinner experience for two."
Jae Lee
Chef-owner, Nowon
"My favorite spot in the neighborhood is Ruffian. Although the space is small, the setting is intimate and feels special. The music is great, the food is greater and the wine is never bad. Tell the somm what you prefer and they will find you something you will absolutely love. Their food menu changes daily and sometimes weekly depending on the chef and I love that."
Matt Conroy
Chef de cuisine, Oxomoco
"Le Coucou is a restaurant I find to be truly romantic. Enjoying French food and having a nice bottle of wine in that dining room is just beautiful. They have everything I want for a special night out. It's both fancy and comfortable at the same time. Plus, it's where my wife and I celebrated our first wedding anniversary, so it's a special restaurant to us."
Victoria Blamey
Executive chef, Gotham Bar & Grill
"I have to say my favorite spot, that I happen to go to a lot with my boyfriend, is Long Island Bar in Brooklyn Heights. I think either the corner bar seats are so intimate or the old-school booths with these cute vintage lamps that almost make you forget there's anyone else around you. And I have to admit that their negroni is one of the best; add on fried cheese curds and that's a perfect date night."
Aaron Crowder
Chef-partner, Cervo's
"The most romantic thing about King is that you don't have to think about King while you're there. The food, the wine, and the service are all so simply subtle, allowing you to spend all your time focusing on your company. Bandol, yes please. Carta di musica covered in bottarga, my favorite. The pasta! Steak with any type of perfectly braised beans sitting in a pool of really good olive oil, you can't go wrong. All of this made for you and your love by the extremely thoughtful and charming women of King in New York City, the most romantic city in the world."
Adrienne Cheatham
Top Chef, season 15 runner-up
"Mountain Bird is a small Japanese-French brasserie that's tucked away on a quiet street in East Harlem. All parts of the bird appear on the menu in different uses, highlighting technique and a no-waste philosophy. The restaurant is intimate, cozy, and well thought-out. There's a little fireplace near the back, but even if you don't get a seat there, the atmosphere always makes you want to pull your seat closer to the person you're eating with. And it's run by a husband-and-wife team (talk about romance)."
Kaity Mitchell
Pastry chef, Portale
"I'd say that one of my favorite restaurants for a romantic evening in the city is The Musket Room. Whether I'm sitting at the beautiful bar or in one of the cozy corners of the dining room, the buzz in the room is always the perfect volume to feel like my conversations are private. I love that you can choose from three, seven, or 11-course tasting menus so you can decide if you just need a quick night out or if you want an experience to fill your evening. And I've never once had a dish that I didn't love, especially the desserts. There used to be a carrot cake on the menu that I definitely could have had a couple more rounds of."
Joaquin Baca
Head chef, Būmu
"I love La Vara in Cobble Hill for a romantic dinner. The food is beautiful, fun, and sexy. I love the crispy eggplant dish served with honey, migas, which is made with torn bread, chorizo, seared grapes, and an egg, and cumin-roasted lamb breast — delicious. We usually have wine with our meal, but sometimes stop into Long Island Bar or Brooklyn Inn before or after dinner. It's an intimate space in an intimate neighborhood, and it feels different from regular New York. It's a great neighborhood to stroll in, especially after a meal."
DeVonn Francis
Founder-chef, YARDY
"There's a little corner booth by the door at Bunna Cafe in Bushwick, which I covet for a romantic night out. Tearing injera off of metal platters topped with slow-stewed tomatoes, aromatic sauces and savory greens is a lovely vehicle for romance (and a useful device for those who need to keep their hands busy to alleviate nervousness). Bunna checks all of my boxes. The room never feels too loud or crowded and it's honestly great for late night shmooze or daytime flirting."
Kia Damon
Culinary director, Cherry Bombe
"Suki is small Japanese curry spot on East 7th Street that seats no more than six people. There isn't much around to distract you, so you can really lean on and focus on your date. I've only been there twice but I'm already so in love. I see the pork katsu in my dreams at night. It's cute for little dates when you're getting the night started and breaking the ice. It's also great for a solo date. As someone who has 'Myself' tattooed in a heart on my arm, I am definitely a fan of a solo date."
Eli Sussman
Co-founder, Samesa
"Since Flushing feels out of the way for most people, it feels special to head to New World Mall Flushing and try lots of different dishes together. It's also cheap, so trying lots of items from multiple kiosks is great for dish inspiration, and then talking about the variation of spice and different regional cuisines is a special way to spend the afternoon before catching a movie."
Alex Stupak
Chef-owner, Empellon
"When I was living in Boston and I met the girl (Lauren Resler) that I would one day marry, and one of the first and most sexy memories I have about her is that the girl can crush a lot of oysters. A lot, as in she is good for four dozen by herself. It might sound strange, but in my upbringing, oysters were always kind of looked at as a macho thing for 'the guys' to consume so when I first encountered this I was a smitten kitten. When Lauren and I moved to NYC together knowing nothing of this city, some of the first places we ate together were iconic, easy to research, and discover. To this day, a meal at the Grand Central Oyster Bar for us is about a memory of one of our very first dates as well as the journey we have taken together."
Tamy Rofe
Co-owner, Colonia Verde
"Arriving at Blue Ribbon Brasserie when they're serving the late-night menu is just the best feeling. As parents of two kids, just getting there makes us feel like 'we've still got it.' Not just that, the bottle list is great and it is so reasonably priced! The food is really delicious and hits the spot. We also love the lack of décor and 'Instagrammable' design. It's just pure and simple old-school New York and all of its grit."
Jack Harris
Chef-partner, The Jones, Fairfax, and Bar Sardine
"One of the places my wife and I love for a date night is Achilles Heel. It's a cozy little spot on a quiet street in Greenpoint. We like to get a corner spot at the bar, not too far from the fireplace. They have an amazing wine program that's eclectic and accessible, and a full bar. The menu is small, but everything is always delicious, so you don't have to spend too much time deciding on food, and you can spend more time focused on your date. Start with oysters and a gin martini, then get a bottle of wine and order the rest of the menu, you can't go wrong!"
Yewande Komolafe
Chef and food stylist
"I lived in Williamsburg the last four years, and saw a lot of what I knew from when I first moved to the city close up shop. That's why Sweetwater is so special to me. In a continually reinventing city, I am comforted by its consistency. Has the menu changed in the last 20 years? Hardly at all. Has the lighting, the booths, the burgundy-hued bar top or the mirrors behind it? Heavens no. Romance is not staleness or monotony. True romance is a sustained indulgence. Sweetwater is the simplest expression of this. In a neighborhood that has given itself over to full-blown excess, Sweetwater still keeps a small part of the neighborhood warm and inviting."
Ryan Bartlow
Chef-partner, Ernesto's
"I'd have to put Buvette on the top of my list of most romantic restaurants, especially late night at night between 11 pm and midnight when you can grab a seat at the bar and the crowd has died down a bit. I used to go with my fiancée after work when we started dating and it became a special routine to us. It still is! The ambience is warm and perfect and the music, decor, sights and smells are all an escape after a long day in the big cruel world. The tartines, the vegetables and the desserts are mandatory for us and we never skip the tartare, brandade or the duck if they have it. We wash it all down with a bottle of Hervé Souhaut, and some chocolate mousse to finish. That is a romantic evening."
Renata Ameni 
Pastry chef, Crown Shy
"I used to live in Clinton Hill, and Olmsted in nearby Prospect Heights immediately became my go-to restaurant when it opened. The backyard garden is one of my favorite oases in New York replete with string lights suspended over raised beds of herbs. It's lovely in the summer, but I think the space is particularly romantic when it's cold. The restaurant has a stash of plaid blankets — perfect for sharing — to go with warm cocktails and s'mores. Because I no longer live down the block, Olmsted also has a nostalgic quality that's hard to beat."
Marian and Hannah Cheng
Owners, Mimi Cheng's Dumplings
"Café Altro Paradiso is one of our standbys to celebrate a special occasion. The space is beautiful and elegant, but not fussy. The menu is constantly changing, but consistently delicious. We like to start off with the charcuterie plate that always has some delicious pickles and chunks of parmigiano, the sausage, and the fennel salad. If you like anchovies, you should definitely order the crostini. For mains, we always gravitate toward the pasta, whether it's the rotating mushroom pasta, the cacio e pepe, or lemon pasta. The wine list is great, too."
Fany Gerson
Chef, La Newyorkina and Dough Doughnuts
"In the city, I love to go to Txikito. My husband and I go as often as we can. It's very welcoming, has amazing food, and it's one of those places that invites you to stay there for a long time and linger over the meal, which is what I find romantic. The service is so warm, but not intrusive and I just love it."
Kyo Pang
Chef-owner, Kopitiam
"My all-time favorite romantic restaurant in the city would be La Lanterna Di Vittorio. The ambience, with its intimate, romantic garden seating, complete with lanterns and a fireplace, freshly made pizza (still dreaming about that prosciutto pizza), and pesto lasagna, are all winning components to a magical date. Bonus is that the menu is quite wallet-friendly: I've rarely exceeded $30 there, which is quite rare for such a setting in the city!"
Ochi Vongerichten
Co-owner, Wayan
"Estela is our go-to date night spot after work. It's only a few blocks away from Wayan and open late, a major plus for us. Cedric and I love to sit at the bar and always order a Tito's martini up with a twist (our favorite). We split the endive salad to start (best salad in town) and love to end the meal with the lamb ribs with chermoula and honey. The dim lighting and moody ambiance make it the best night cap."
Jae-Eun Jung
Sous chef, Café Boulud
"Recently, I can't get enough of Kochi, which means skewer in Korean. They offer a nine skewer tasting menu but it's not uptight at all. Currently, they're BYOB so bring your favorite wine and enjoy it over mellow music and dim lighting and a series of truly delicious small plates."
Emily Fu
Pastry chef, Benno
"JoJo by Jean-Georges is the epitome of classic New York style and elegance. The mix of vintage China and mismatched silverware adds to the romance of dining in a beautifully renovated, cozy townhouse. The menu is seasonally charged, ever changing and always delicious, but one dish that has never left the menu is his warm chocolate cake with vanilla ice cream. And for someone like me who rarely skips dessert, I know my meal there will always end on a high note."
Liz Alpern
Co-founder, Gefilteria and Queer Soup Night
"My partner and I shared one of our first meals at Frank, which adds to the particular allure of the place, but I think anyone would agree that this place is a romantic oasis among the bustling spots on Second Avenue. There's no bad table in the house: wherever you sit, it's dark, candlelit, and cozy. It never gets too loud, so romantic conversation flows easily. The appetizers are all perfect for sharing (very romantic), and personally, I think pasta is sexy."
Johnny DePierro
Head chef, The Banty Rooster
"For me, iIt's Shuko. I love that restaurant. The vibe is exactly what Delores, my wife, and I look for in a romantic restaurant. We've been eating there for years and it's always the place we go when we want a special night out. Between the playlist — which I always enjoy — the interaction with the chefs at the counter, the killer wine list, food, and the ambiance, it has won our hearts and continues to be one of our favorite restaurants in NYC. It's also the place where I realized I wanted to be with Delores for the rest of my life back in 2016."
Natalie Hernandez
Chef-owner, Boca Santa
"My partner and I love trying interesting new wines and snuggling up close to each other, Ops is a perfect place to find both. When you walk through the door, you immediately feel the warmth of the brick oven and the last time we went, we sank into an intimate and cozy booth which provided an excellent vantage point for people watching. The food is rustic, simple, hearty and delicious. The simplicity and non-fussiness of the restaurant is our definition of romantic."
Angie Rito
Chef-owner, Don Angie
"For romantic dinner dates, Scott and I love going to Queen in downtown Brooklyn. We have a soft spot for Italian-American joints — especially those with family history (Queen has been family-owned and operated since the '50s and the father-son team is always in the house). The service is truly impeccable — they cater to guests' needs, with classy touches like tableside frenching which you see less and less these days. Every single thing is handmade and you can feel the love that was put into it, including the bread plate which is one of the most impressive ones we've had anywhere. It's some of the best Italian-American spots in town, in our opinion."
Camilla Ruth Marcus
Founder, west~bourne
"Sadly, two of our all-time favorite date spots, dell'anima and Torrisi, are now closed. So, we've recently adopted Bar Goto as our go-to hideaway when it's just us. Their Far East Side cocktail, okonomiyaki, and chicken wings are unbelievable, and we love the unassuming and understated sexiness of the izakaya. You lose all track of time and where you are, which is exactly what we want when we get to be just the two of us. We honeymooned in Japan, though now that's almost a decade ago, and so anything that brings us back to that trip always holds special meaning."
Trigg Brown
Head chef, Win Son
"Jake [Leiber] and Aidan [O'Neal]'s restaurant, Chez Ma Tante, is perfect for me in many ways. My wife, Patty, and I go there whenever we can. The dining room is simple, with the old floor being the most interesting part in comparison to blank white walls with no decoration. It just always feels good, and it's always humming. Then comes the food, and whether it's a plate of aged cheddar cheese chunks or charcuterie, the stracciatella or the Caesar salad, it's all perfectly seasoned and balanced. And that pork shoulder steak with the lentils is a top-five all-time favorite for me."
Christine Lisa
Pastry chef, Daily Provisions
"Long before I worked for Union Square Hospitality Group, I loved Gramercy Tavern. The two corner bar seats are my go-to for a romantic date night (or Galentine's Day). It feels very cozy and intimate; even on a busy night, there's no one standing behind you trying to order from the bar. You have the perfect view of the Tavern, its colorful mural, and the cooks at the wood-fire grill. Order the seafood tower with bubbles, roasted oysters, and flatbread and leave the beverage pairing up to the bartenders."