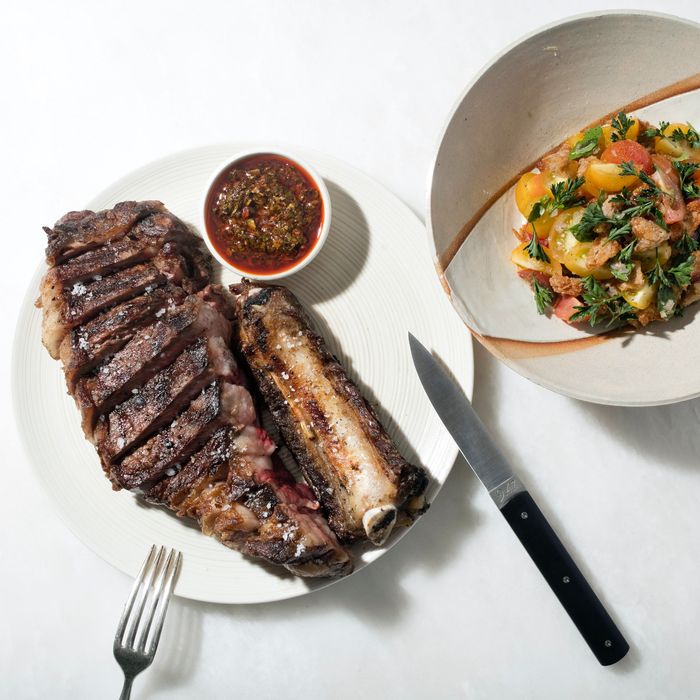 Bone-in rib eye cooked on the parrilla and served with chimichurri and panzanella salad.
Photo: Melissa Hom
Like many of the polished little DIY dining establishments blooming all around the borough these days, Metta looks almost too much like a harried Manhattanite's fantasy of what a twee, homegrown "New Brooklyn" restaurant is supposed to be. The tables in the cozy corner space on Adelphi Street, near the Greenmarket in Fort Greene, are mismatched (some are marble-topped, some wood) and set with gently wilting wildflowers. There is the usual jumble of antically named brews on hand at the bar ("Night Shift," "Daisy Cutter"), along with a cocktail list enlivened by beet shrub and something identified on the menu as "chive brine." We're told the food comes mostly from within a locavore, 200-mile radius, and much of it is prepared on an elaborate network of grills and braziers.
But like many of these modest-appearing DIY joints, Metta (it's a Buddhist term for "kindness") is a more cosmopolitan operation than it seems. The executive chef is a well-traveled young cook named Norberto Piattoni, who comes to the city from Argentina, where he studied the dark art of "open fire" barbecue asado with the master of that genre, Francis Mallmann (for several years, he ran Mallmann's asado restaurant in Uruguay). During the course of his travels, Piattoni also stopped in California, where he picked up tips on haute locavore dining at the San Francisco restaurant Bar Tartine. The yeast starters used for the fresh-baked bread come from a former baker at Tartine Bakery, as it happens, and the impressive grills (a hanging metal "fire basket," a coal pit, and two griddles) are modeled on the great fire-belching Rube Goldberg contraptions made famous by Mallmann and designed by Piattoni himself.
On my first visit, we tasted a satisfying chunk of the house sourdough, which was baked in a newfangled electric oven. The crust was dark and crunchy and curved like a piece of Bundt cake, and the center had a gingery color to it like just-baked anadama bread. There was also a faintly charred wheel of pitalike flatbread on the table, served with a fresh yogurt-and-cucumber tzatziki pooled with extra-virgin olive oil, which we enjoyed with half a dozen cool, slippery oysters from Cape Cod (tipped, yes, with ramp mignonette), along with a helping of sliced raw beef hearts (called carpaccio on the pocket-size one-page menu) tossed with a chopping of scallions and a spoonful of rich, smoky chile paste.
The chiles used in this beef-heart chile paste were charred over coals, for the record, and the griddled beets that followed them were scattered with a pleasingly awkward combination of chewy rye berries and crème fraîche, all thrown together, like an elevated camping supper, in a simple white bowl. Bowls of pulled "crispy lamb" appeared after this little salvo of dishes (its crispiness was dulled, unfortunately, by a sour mass of pickled parsnips), along with a rash, failed attempt to conjure up a tonnato sauce from Atlantic bluefish (a weirdly bitter note muffled everything), but the best of the crackling, flame-forward cooking has an elemental, faintly mysterious quality, like it's been beamed into this neighborly little block of the city from some wild corner of the world.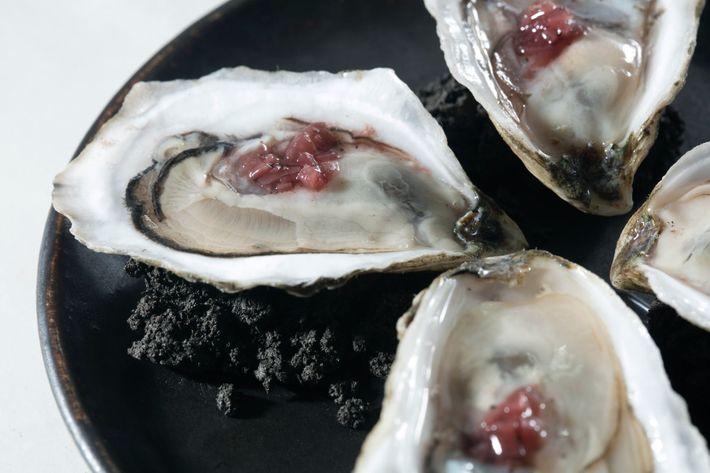 Grilling is a notoriously delicate, temperamental art, however, and just like at the finest barbecue venues in the Carolinas or South Williamsburg, the results can vary depending on what hour of the day (or week) you drop in. The first time I ordered it, the leg of roast chicken was steamy and tender inside, and the skin, which had a brittle, melting quality to it, dissolved on the back of the tongue. The same was almost true of a simple cut of striped bass, although when I ordered both dishes later, on a busier, stressful evening for the kitchen, both of them had been cooked through. The chewy barnyard-pork steak holds up a little better against the ebb-and-flow restaurant service, but if you have the cash, the most durable and delicious of all is the gorgeous rib eye ($95 for 35 ounces), which served as a fairly regular special on my visits, with a plate of late-summer-tomato panzanella salad on the side.
Metta is one of the more popular restaurants of the crowded Brooklyn dining season, so for the best results, go early, on a lazy weeknight, when the sidewalk outside is filled with the pleasant aroma of wood smoke and the communal tables aren't jammed with parties of locals singing raucous birthday songs. The most interesting of the small, deceptively simple desserts is Piattoni's much-publicized sweet-potato creation (the potato is roasted in ash on one of the kitchen's fire contraptions and poured with herb-infused cream), and if the noise in the little room grows too oppressive and the sensitive, neighborly operation starts to seem overwhelmed, you can drown your sorrows in a wine list, which includes a number of well-chosen (though not inexpensive) bottles from the Loire and Burgundy, along with what's surely the most impressive selection of magnums and jeroboams in all of Fort Greene.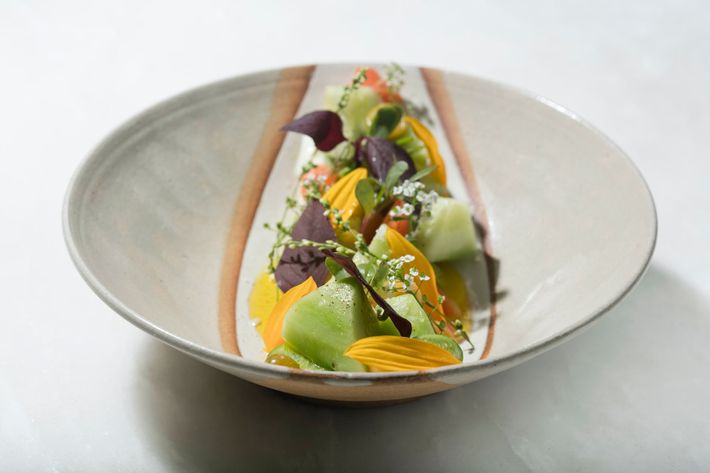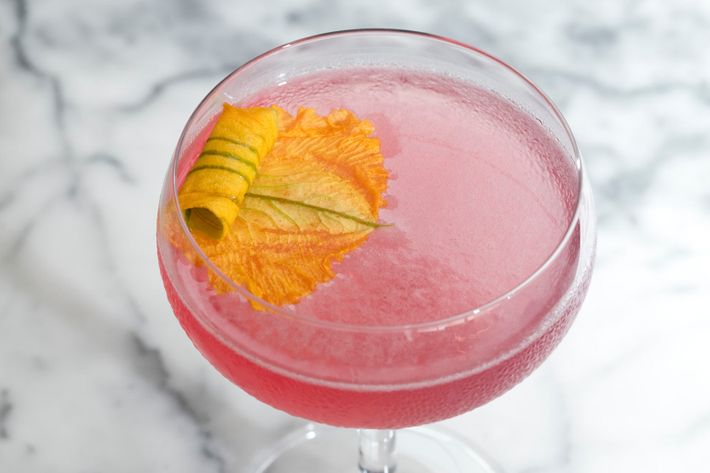 Metta
197 Adelphi St., at Willoughby Ave., Fort Greene; 718-233-9134; mettabk.com
Open: Dinner, Tuesday to Sunday.
Prices: Appetizers, $6 to $16; entrées, $22 to $29; rib eye by weight.
Ideal Meal: House sourdough with oysters and/or beef-heart carpaccio, market steak or prime-rib special, charred sweet potato.
Note: For a front-row view of the flame-forward cooking experience, take a seat at the dining counter in the back of the house.
Scratchpad: One star for the vibe in the pleasant (and hopefully uncrowded) room and another for the best of the asado cooking (on a good night) and the wine.
*This article appears in the October 2, 2017, issue of New York Magazine.