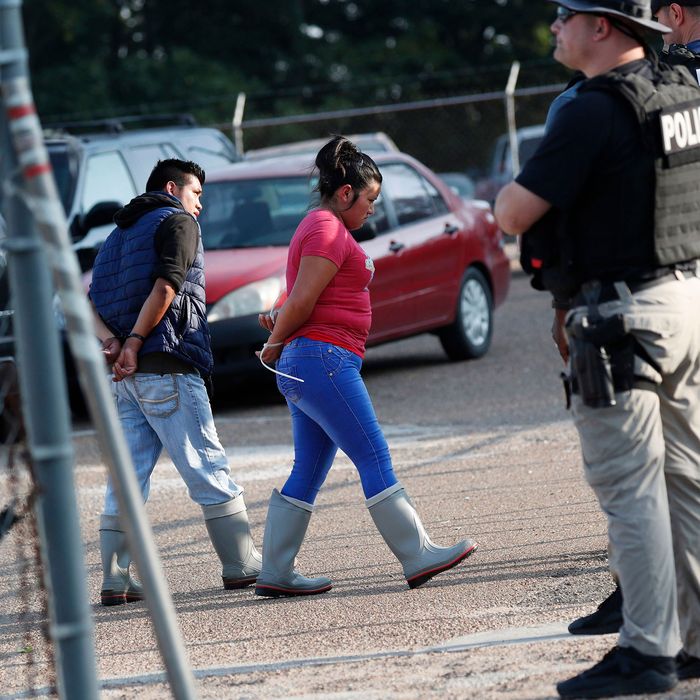 Photo: Rogelio V Solis/AP/Shutterstock
Once again, the food industry, one of the largest employers of immigrants, has been targeted by U.S. Immigration and Customs Enforcement for a large-scale raid.
In what's being called the largest workplace ICE raid in the last decade, agents descended on seven poultry processing plants across small towns in Mississippi and arrested 680 people suspected of being in the country illegally. The raid took place in the middle of the day, leaving a number of children without one or both parents.
According to the Associated Press, the raid — reportedly months in the works — involved nearly 600 ICE agents who detained employees of Koch Foods Inc., Peco Foods Inc., and three smaller plants. The employees were then bussed to a nearby military hangar for processing. Reporters at the Washington Post and NPR reached out to executives at all five plants and only Koch Foods (no relation to the Koch brothers) and Peco Foods offered any comment, with the latter saying, "We are fully cooperating with the authorities in their investigation and are navigating a potential disruption of operations." Koch Foods, meanwhile, has resumed production.
Overnight, about 300 of the people detained by ICE have been released on either "humanitarian grounds" — meaning they had minor children at home who were without at least one parent or guardian — or because they will have to plead their case in federal immigration court. There's no word yet on what will happen to the other 380 detainees.