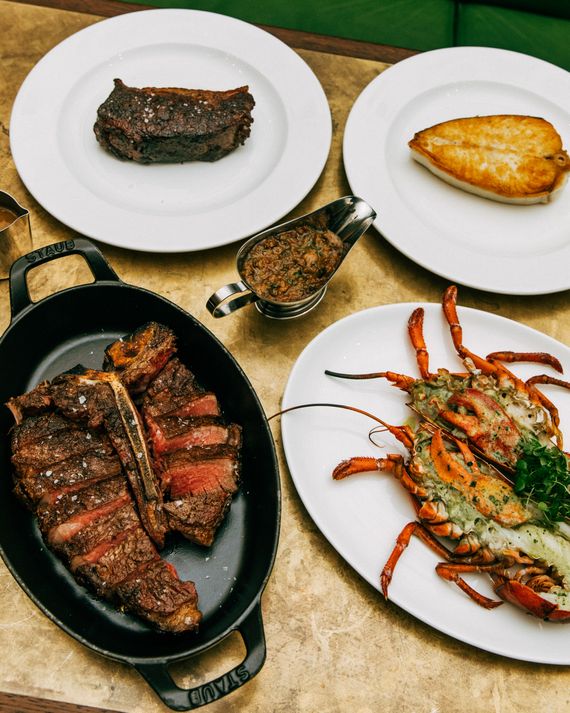 Photo: DeSean McClinton-Holland
As COVID takes its time ebbing away from the life of the city, all sorts of welcome signs of recovery are springing up around town. Broadway is open again, of course, and the last time I wandered down Restaurant Row on 46th Street, herds of goggle-eyed tourists were jostling for space along the sidewalks just like in the old days. The lean-to sheds up and down the avenues are made of sturdier materials for the coming cold weather, and many are set with proper four-tops and strings of decorative lights. A few vanished establishments are even coming back to life (hello, Gotham), and here and there the kind of theatrical, big-money, high-concept restaurants that used to open weekly, like Broadway plays, during the boom years seem to be slowly returning to the landscape.
The long-awaited New York outlet of the U.K. steakhouse franchise Hawksmoor is one of these places, and though your humble critic is as skeptical of the ridiculous phrase U.K. steakhouse as any red-blooded New Yorker, I couldn't help feeling a little lift in the heart as I took my seat in the large room and waited for the performance to begin. The large space at the bottom of Park Avenue South has been appointed with all the familiar props of the beefeating experience: wood-paneled walls, tastefully reinforced chairs, chalkboards scrawled with daily cuts of beef, which are sold here by the ounce. The wait staff aren't dressed in the standard steakhouse costume (waist apron, buttoned-up shirt, etc.), but on the evenings I dropped in, the tables were filled with the usual suspects: a few Englishmen who knew the brand along with portly expense-account folk eyeing their usual porterhouse order and admiring their recently decanted bottles of marked-up red wine.
Luckily, a fat cat was among our party, so soon our decanter would arrive too, preceded by excellent martinis and a strangely alluring, tartly sweet creation called a Sour Cherry Negroni. There were fresh oysters from Island Creek up in the old colony of Massachusetts, set with a wedge of lemon on the customary bed of crushed ice. There was an elaborate crudo dish that you wouldn't see on the menu at Peter Luger or Smith & Wollensky in a hundred years (steelhead flavored with ginger and chile oil, for the record) and an artful steak tartare topped with a vivid orange egg yolk that worked even better once I removed the pickled shiitakes from the mix. Something called an "ash-baked beet" salad wasn't half-bad either, to my quiet surprise, and the grilled scallops (sweet, garlic crusted, finished with a few drops of white port) were even better and brought to the table by the genial, non-Luger waitstaff with proper ceremony, sizzling in their great fan-size shells.
At this stage, the meat's a bit of a mixed bag, as one would expect. The promising-sounding "Old Spot" pork belly was dank as opposed to crackly and tasted only faintly like real farm-raised pork. My portion of Elysian Fields lamb T-bones looked (and tasted) as if it had been microwaved in some grim hotel kitchen instead of sizzled on the grill of a great London chophouse. I was sad not to see more of the great U.K. classics (Sunday roast, a mixed grill, proper lamb chops with pots of mint sauce), but the grass-fed steak is charcoal grilled, which is definitely not the case at Keens or Sparks. If you happen to have a taste for English rump roast, you can get that here, along with presentable, though absurdly pricey (did we mention it charges by the ounce?), versions of old New York favorites like (in order of preference) rib eye, New York strip, and the porterhouse, which is often gone by 8 p.m. and costs a hefty $4.50 per ounce.
Do we have any more quibbles? Even this New Yorker thought the "Yorkshires" were too crispy and could have been pillowier inside. The sides could have been bigger and better, especially for the New York crowd (the fries are a disaster, and the great "mash and gravy" comes in what appears to be a cast-iron butter cup). There could be a few more sauce options, and they should be served in gravy boats instead of little metal cream holders that look as if they were designed for a polite high tea. The London menu is filled with bountiful seafood options, and we hope in time they'll migrate here too, though the halibut was one of the best seafood dishes I've had since the beginning of the end of the COVID era; so was the lobster, which was grilled, like the scallops, to a perfect tender sweetness and doused with garlic butter.
In other words, like the best steak joints around this steak-obsessed town (Porter House, Cote, the Grill), Hawksmoor New York is a proper restaurant with trained chefs in the kitchen and wait staff who treat customers with respect. Pay five dollars for the "sourdough and cultured butter" and you get fat, warm slices of bread with a golden pat of butter in the middle instead of the typical three-day-old bread basket. Order a dessert by the very talented pastry chef, Carla Henriques, and you won't get random week-old pies or clouds of stale schlag. You'll get a chocolaty peanut-butter Louis inspired by the famous dish at Le Louis XV in Monte Carlo, a lovely meringue bombe stuffed with lemon-ripple ice cream, and, of course, wheels of sticky toffee pudding in pools of caramel with a melting scoop of "milk ice cream" on top — a dish so warm and comforting and un-steakhouse-like that on another visit I had to be restrained from ordering it twice.