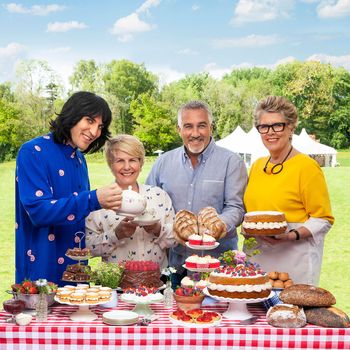 Something is different about this.
Photo: Mark Bourdillon/Love Productions/Channel4
This post originally ran in August 2017. We are reposting it today in conjunction with the show's debut on Netflix.
We probably expect too much from our food shows. It's not sufficient for a host to mug his way through the pancake palaces and greasy spoons of America — that person must be Guy Fieri, who represents the sentient id of a deep-fat fryer. A host can no longer teach viewers the perfect way to roast a chicken, they must do so while also soothing our various postmillennial neuroses. We aren't satisfied watching the country's best young chefs cook incredibly intricate restaurant dishes unless they do it with artificial time constraints against at least a dozen other young chefs.
That is to say, we need our food shows to be about more than food. The Great British Baking Show, as it's known in the U.S. (and which is called the Great British Bake Off in its homeland), is the reigning champion of food TV that is about much more than its central, gently unfolding narrative. Look past its unending procession of custard tarts and Swiss rolls and you see that the show's bucolic tent setting is nothing less than a "symbol of British society today."
That quote is from Nadiya Hussain, who in addition to being a fantastic cook and the victor of the show's sixth series — season three, Stateside — is a Muslim woman who sports fashionable hijabs and has become a star in her own right. The marrow of most GBBO assessments is that the show's light drama functions as a sort of spiritual balm that transcends borders, most notably seen in its sensible approach to issues of diversity and representation.
It is also exceedingly popular: During the show's previous season, which aired on BBC One, episodes garnered an average of 13.6 million viewers, and more than half the TV-viewing public throughout Britain watched its final episode live. Episodes can cause sheet-pan sales to spike by 800 percent, and one writer took an NSA-level look at social-media accounts to try to determine who would be a finalist before the most recent season began airing. The Great British Bake Off, in other words, is required viewing.
So you probably heard, many times, that the show has been ruined by creator Love Productions' cash-grab-motivated migration from (the relatively staid) BBC One to (the flashier) Channel 4. Only Paul Hollywood, one-fourth of the show's original hosting team, made the jump to the new show. Beloved hosts Sue Perkins and Mel Giedroyc are headed into game-show territory, and the even-more-beloved Mary Berry diplomatically stayed behind at BBC to tour "stately" homes and help locate Britain's Best Cook.
I am an on-the-record Baking Show/Bake Off superfan, and I didn't know what to expect when I fired up a screener of the new season's first episode. It was difficult to believe Hollywood when he proclaimed the retooled show is "10 times better" than the original, because that is so obviously impossible. The rumored changes seem far too drastic, and likely to undermine the show's inherent charm.
Let's start with the hosts. In Berry's place is Prue Leith, a South African author who has sold a gazillion cookbooks. Also joining are comedians Sandi Toksvig and Noel Fielding, who is probably best known to fans of extreme British weirdos like Old Gregg, a Day-Glo-fabulous merman from The Mighty Boosh. If you don't follow such things, it's probably sufficient to say that he looks like the benevolent, steampunk version of Russell Brand. British tabloids had a field day with Fielding in particular, reporting that he will be "AVOIDING" sugar and cakes on set, before following up with an "exclusive" photo of Fielding toting a pack of McVitie's biscuits. It got to the point where the comedian was forced to "clarify" his comments, as if he was in damage-control mode after a major PR crisis.
And yet, if the first episode is any indication, the show's fans may experience mild turbulence, but The Great British Baking Show 2.0 offers much the same ride as it did before. This year's bakers include an IT manager who grew up in Nigeria, a cancer survivor obsessed with food science, and a biomedical scientist who lives in North London with her wife, cat, and sourdough starter. One woman has a master's in psychology and served as a Royal Artillery officer; another is a 71-year-old widow whose children sneak her messages of encouragement. Signature, technical, and showstopper challenges also remain, and viewers who love baking and kitchen tricks, such as helping dehydration-prone sponge-cake layers with a little syrup, will not doubt continue to be rewarded. It's still fun to see what ends up working and what doesn't, and the goofy innuendo and puns are intact, though "exposed bottoms" seem to be the new "soggy bottoms."
That's not to say there aren't also some mildly troubling signs. The jaunty, pizzicato soundtrack is back, but where the background music once functioned as sonic Klonopin, it now sounds louder and more constant. If the tent itself also seems less pastel and maybe even a little daunting ("I don't think anyone has any idea quite what the tent does to you in there," one baker remarks), it can definitely be chalked up to the show's new, complete lack of Mary Berry's soothing vibes.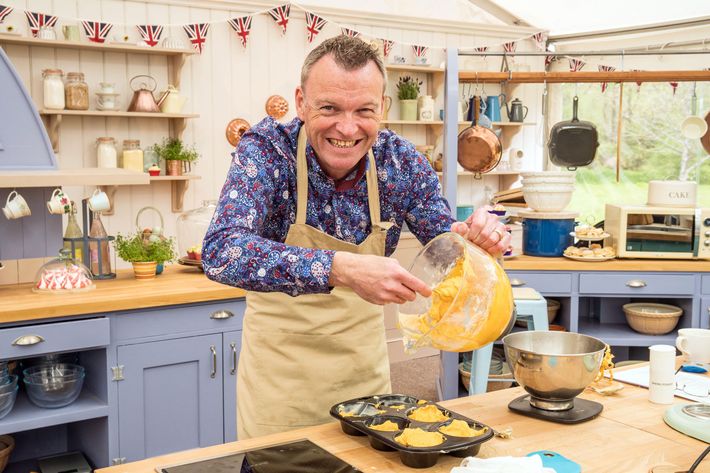 Aside from a silly cold open in the premiere that involves a fake hot-air balloon, Paul Hollywood is stoic as ever, but with higher-quality, less shellaclike hair product, and it's exactly two seconds into the episode before it's readily apparent that Mary Berry's gentle, posh compassion has given way to Prue Leith's more stentorian tone, which is amplified by a stylish, red, tuniclike jacket that bears faint traces of Hunger Games antagonism. Like the music, it all seems a little too carefully produced.
Otherwise, it's business as usual. English audiences were promised "surreal twists" from Fielding, but in the first episode, that's largely limited to his choice of a bird-pattern collared shirt, and defiantly popping a contestant's marigold garnish into his mouth after Leith dismisses it as inedible. He can do cheeky like Mel and Sue, it turns out, and without getting too saccharine about it, he can match their heart, too. When a baker can't make an integral part of his cake design work, he mutters under his breath about whether it will be redeemable. Fielding appears out of nowhere, jumping into place behind the man's back like a materialized children's-book character: "Everything's redeemable," he says. "You can do this."