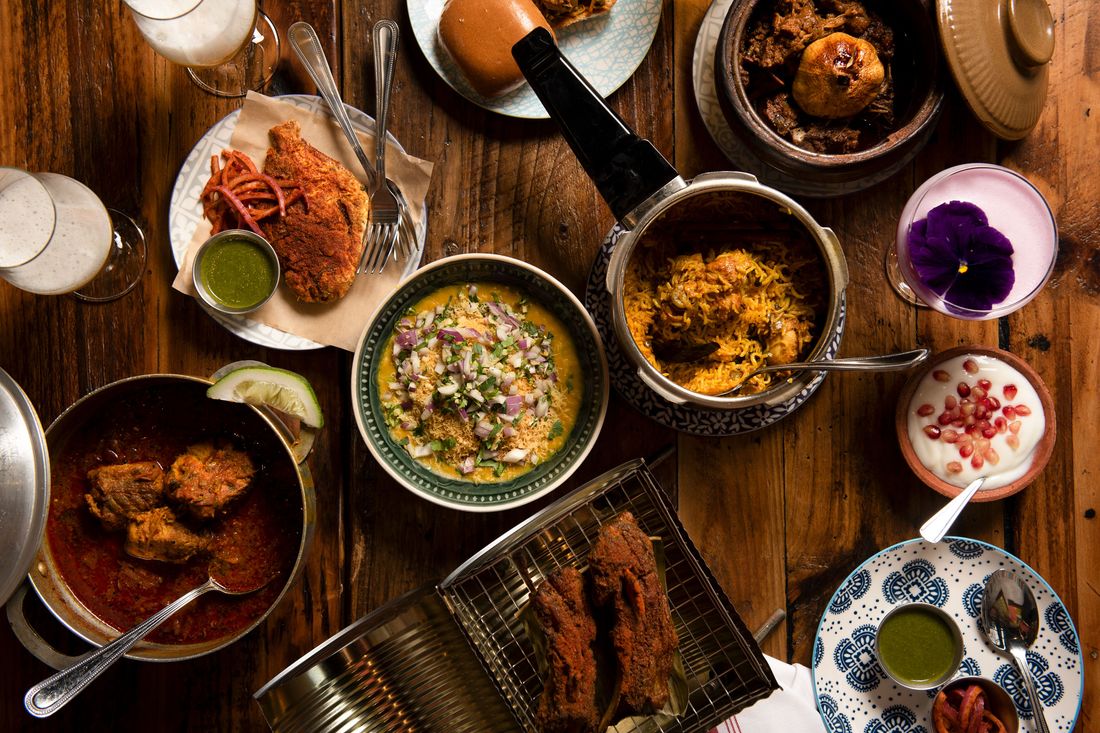 A few of the regional Indian specialties at Dhamaka.
Photo: Liz Clayman
Searching out a fiery new iteration of Sichuan noodles, say, or a pot of dry curry cooked the way it's cooked in the kitchens of central Pakistan has always been a fine momentary cure whenever the urge to travel hits, especially in this international city and especially now. So if you're feeling a little restless after a year's hibernation on the couch, and if you've ever dreamed of touring the far-off culinary corners of India — places where the regional delicacies include well-simmered goat kidneys, lamb ribs steamed in pockets of banana leaves, and chunks of tenderized dogfish — then I suggest you strap on a mask and amble down to the jangling, brightly lit Pan-Indian bistro Dhamaka, which opened a couple of months ago near the entrance to the new, spaceship-size Essex Market building on the Lower East Side.
Dhamaka is the brainchild of Chintan Pandya and his partner, Roni Mazumdar, whose Long Island City canteen, Adda, was the darling of the city's Indian-food set a couple of years back, during the dim pre-pandemic times. You can find unexpected goat parts on the menu at Adda, too, though the idea with this slightly more ambitious operation is to push New Yorkers further into regions where the masala-slurping, tandoori-loving hordes rarely go. The tables are set with silvery metal plates from the home country designed for eating in the traditional way: with your fingers and a wheel of bread. The sidewalk space is hung with strings of lights and covered with the kind of corrugated roof you see in restaurants around India, and as Bollywood tunes mingle with the sounds of traffic, it's possible to feel, at long last, as if you're getting out of the house and seeing a little of the wide world again.
The dogfish ("baby shark" on the menu) is a version of a fish-curry specialty from the coastal villages around Mazumdar's hometown of Kolkata, for the record, and it's served here in a rich stew with melting triangles of softly cooked potato. Before it arrived, we enjoyed small plates of pomfret, or paplet, flash-fried in a secret blend of flours and dusted with chile, cumin, and a hint of mango powder the way they do it in the bars of Mumbai, along with nuggets of crispy fried eggplant with small pots of bracing, wasabi-like Bengali mustard. A North Indian version of pig's-head salad called doh khleh drove the pork loons at my table into fits of ecstasy, and it was followed by the Ramadan dish gurda kapoora (goat kidneys and testicles), a fiery dissertation on the textural joys of nose-to-tail cooking, served here with a stack of toasty, sweet pao buns on the side.
To create their eclectic menu, the proprietors co-opted old family recipes (the bharela marcha, stuffed sweet peppers, came from Pandya's mother-in-law in Gujarat) and traveled widely throughout India for years. The most vigorous member of the research team was Pandya himself, who, prior to coming to New York, had spent years working in Mumbai with the Oberoi luxury-hotel chain. During the course of his regular culinary excursions around the country, he discovered many of the dishes on the menu, including an elaborate head-on-rabbit feast, popular during the hunting season in the northwestern state of Rajasthan, which he will reprise provided you manage to scrape together $190 and order the dish at least two days in advance.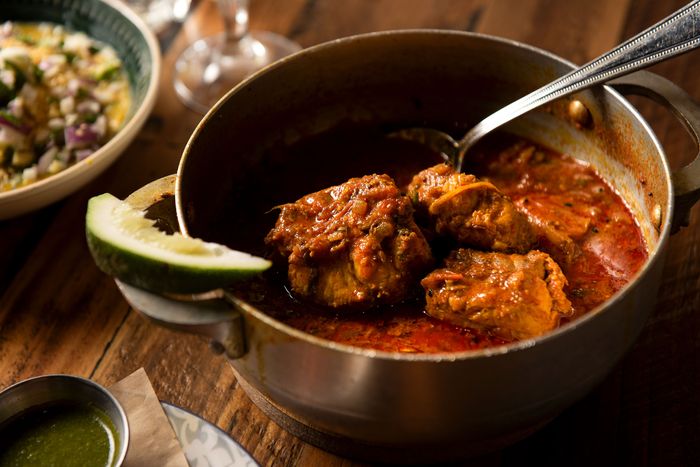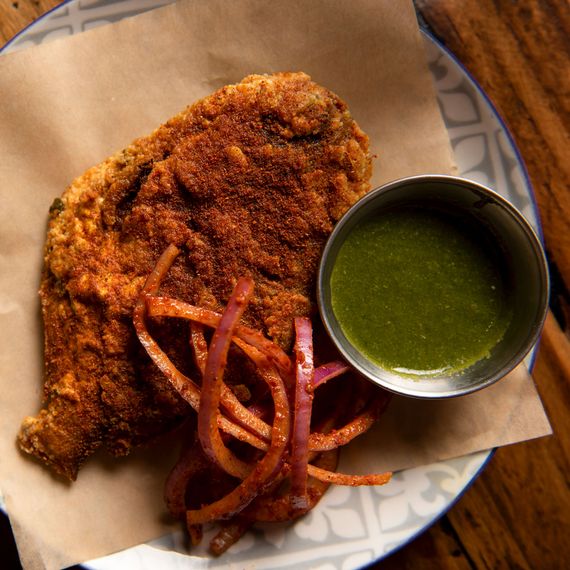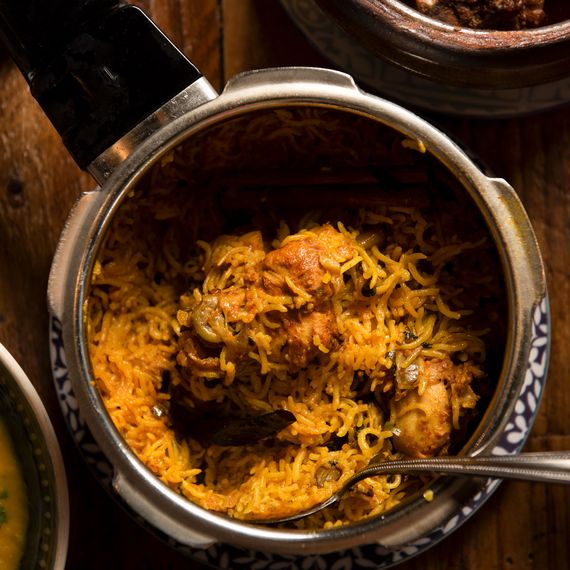 I never did get a taste of this rabbit dish ("Rajasthani khargosh" on the menu), though we did enjoy tiger prawns grilled with plenty of black pepper and meatballs of minced chicken cooked with an egg inside as they do in the kitchens of Lucknow. We ate delicious chicken pulao brought to the table in the small pressure cooker in which it had just been prepared, great steamy servings of saffron-flavored biryani dotted here and there with savory nuggets of goat's neck, and pots of spicy mutton done in the style of a northern Bihari town called Champaran, where the meat is cooked for hours in clay pots and served with a giant bulb of garlic on top that you mash into the stew with your spoon.
These ingredients are carefully sourced (which means there's only one Rajasthani rabbit feast available per day at Dhamaka), and other hard-to-find items (hello, goat testicles) are rationed because when the suppliers in Jackson Heights don't have them, they disappear from the menu. There are a variety of carefully sourced cocktails to choose from, too (gin garnished with betel leaf, mezcal mixed with green chile and passion fruit), and after the savory portion of dinner is over, be sure to call for the only house dessert, a warm, spongy, tangy, sugary curdled-milk treat called chhena poda. It's placed in a tiny clay pot and stuck with little wooden spoons, just like on the street corners of Odisha, and unless you've been to that eastern part of India, I guarantee you've never tasted anything like it before.