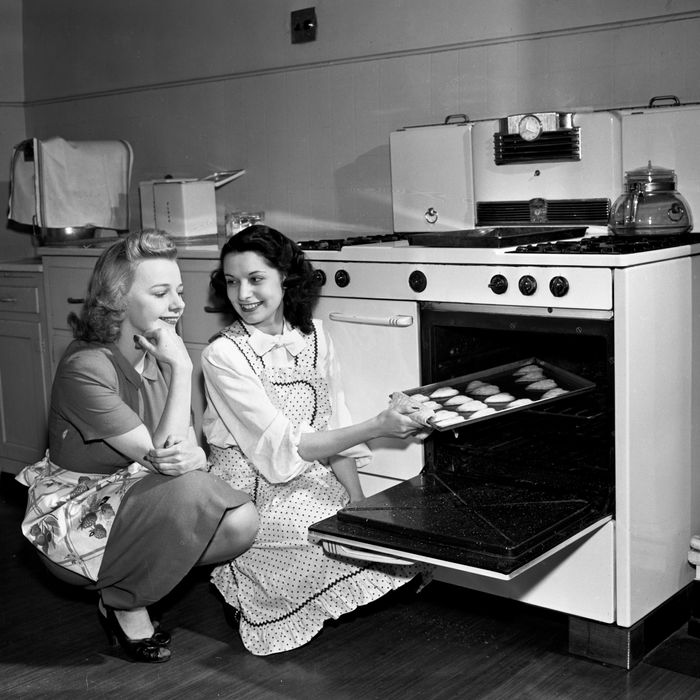 Photo: CBS Photo Archive/Getty/CBS via Getty Images
You may have noticed some posts from our friends at the Strategist on Grub Street. They'll be dropping in every now and again, sharing their expertise on the basics you don't have time to research and the weird and wonderful things you don't yet know you need.
While everyone is cooped up at home, cooking and baking seems to have become the preferred method for keeping busy. (Even professional chefs have been baking up a storm. "Since the pandemic started, I think I've baked Bon Appétit's BA's Best Chocolate Chip Cookies at least a dozen times," says pastry chef and food stylist Emily Petrick.) Of course, baking bread requires a kitchen full of equipment, but if you haven't quite mustered up the courage to tackle sourdough, a good sheet pan — and maybe a whisk and a few bowls, which you most likely already have — is probably all you really need. Sheet pans also come in handy for big batches of savory meals, like roasted chicken and vegetables, that you can save for later.
To find you the best sheet pan — that heats evenly but won't warp in the oven, is easy to clean, and has enough of a lip to prevent spills — we spoke to 14 bakers, chefs, food bloggers, and a candy-art creator about what they use at home. We found seven different sheet pans for every type of home cook, including a few inexpensive, industrial options to buy in bulk and a new, Instagram-friendly option that's a recent favorite among the professionals.
Best-rated sheet pan
Although Great Jones Holy Sheet is a relative newcomer — it launched in November 2019 — four of our experts say it became their instant favorite. Erin Jeanne McDowell, recipe developer and author of The Fearless Baker, admits the sheet pan appealed to her at first because of the bright blue color. "It's unusual for a baking sheet," she says, but adds, "When I tried the tray, I realized what a great pan it was and became properly obsessed." The most impressive aspect to her was how easy it is to clean. "Even when I roasted vegetables at a high temperature to specifically char them, the pan cleaned off like I was in an infomercial without the need to scrub it intensely." It's technically nonstick, but to maintain the pan properly and for an easier cleanup, you should still use parchment paper or foil. Molly Yeh, cookbook author and host of Girl Meets Farm on the Food Network, also calls it "the prettiest pan" and also likes it for roasting "specifically sturdy vegetables," like potatoes, cauliflower, and carrots. It's so strong and sturdy, she's even used it as a pizza stone. "Just preheat it in your oven for 30 minutes or so and slide your pizza right on it," she explains.
But the Holy Sheet is great for more precise baking endeavors, too. Maayan Zilberman, sculptural candy artist and founder of Sweet Saba, uses it to make delicate sweets, like hand-painted sugar cherry blossoms, because the color allows her to easily see what she's doing, and since the sheet "doesn't warp in the oven," it's a "consistent, flat surface that's stackable."
Editor's note: The Holy Sheet is currently out of stock, but you can preorder now, and it is scheduled to ship on May 7.
Best-rated (and less expensive) sheet pan
"A flat baking sheet is like gold in a professional kitchen," explains Zoë François, pastry chef and co-author of the cookbook series Artisan Bread in Five Minutes a Day. And this one from Nordic Ware is her personal favorite because it's made from "a heavy-duty aluminum with solid rims that prevent warping." Elena Besser, chef and TV host, likes it "because of its even heating, allowing food to be properly roasted and baked with nice contact crisping and browning." She even thinks these are the "closest brand to the industrial baking sheets" she used as a chef at Missy Robbins' Lilia. They aren't nonstick, but according to Besser, that's not a problem. And Brittany Bennett, owner of Taartwork, agrees that if you're really into baking or cooking, you'll probably already "use parchment paper, a silicone baking sheet, or toss vegetables in silky ribbons of olive oil to prevent your food from sticking" on one of these aluminum pans, which she considers "reliable" and "satisfying" to cook with. Though they're made for home cooks, "it'll make you feel like a professional in your home kitchen," Bennett says.
Best sheet pan with ceramic coating
One of the main advantages of this Williams Sonoma sheet pan that it comes in multiple sizes and formats, including a smaller quarter-sheet size and muffin tins and cake tins, so your entire set of cookware can match. (That's unlike the Great Jones pan, which only comes in the half-size sheet that can be too big for some smaller, New York City kitchens.) Eric King, food photographer and baking blogger at Easy Gay Oven, likes it because it "cooks steadily, so it doesn't burn the bottoms of cookies," and "unlike some other baking sheets, it has a lip to catch any leakage from, say, buttery croissants." Amirah Kassem, founder of New York City's Flour Shop, describes it as the "perfect nonstick" that has "some sort of magic in there that makes for the perfect bake every time," though she hypothesizes that it's due to the weight from the aluminized steel and ceramic-based coating.
King does warn that "after a couple years of using it, a tiny bit of the nonstick coating has worn off." However, if you bake with parchment paper, like he does, the nonstick is "not an important quality," and it will preserve the pan longer. When it comes to cleaning, both Kassem and King recommend hand-washing as opposed to throwing in the dishwasher (even though it's dishwasher-safe) to protect that coating. And if you're baking something "super-sticky or have a sugar spill in the oven," it's easy enough to clean; Belle English, Williams Sonoma's test-kitchen director, advises you to "soak the pans in baking soda with a little hot water overnight and then scrub away."
Best textured sheet pan
We've recommended pieces from Oxo's Good Grips line before — their measuring cups and silicone spatulas are one writer's favorite tools for baking bread — and their sheet pan stands up, too. Kristen Tomlan, founder and CEO of DŌ Cookie Dough Confections, calls these sheet pans her "go-to for everything from cookies to roasted veggies." She specifically likes the micro-texture on the bottom, which improves airflow and makes it less likely to burn the bottoms of pastries. "It's sturdy, easy-to-clean, and so pretty," she says. It's also nonstick, like the Gold Touch and the Holy Sheet, but as with those two pans, for even faster cleanup, Tomlan still recommends lining the tray with a silicone baking mat or parchment paper.
Best sheet pans for buying in bulk
If you're a serious baker or cook, McDowell recommends buying these Bowery Kitchens sheet pans in bulk. "I like to have lots and it's more cost-effective, but I also find them to be super-solid, sturdy pans that will last you a long time if cared for," she says, calling them "solid, workhorse trays that will get the job done every time." Plus, if you buy in bulk, you'll most likely get a bulk discount, "which can be advantageous when trying to stock your kitchen," McDowell adds. The metal is thick enough that it won't warp, and she thinks these are "relatively easy to clean, unless things really get burnt onto the pan, which can necessitate more intense scrubbing, even enlisting steel wool." But to prevent that, she recommends cooking with parchment paper or some sort of layer, especially since these aren't nonstick.
"I've gotten so many fancy sheet pans over the years, and honestly, none really live up to the hype," says Petrick of Whisk and Whittle. Instead, she prefers to buy these Winco trays at restaurant-supply stores. "These are sturdy, easy to clean, cheap, and easy to replace because let's be honest, disasters happen. And most importantly, they get the job done," she says. They have "no bells and whistles" but they're made from heavy aluminium, so they're less prone to warping, and they're not nonstick, so you'll want to use parchment paper with these, too.
Best enamel sheet pan
This isn't a traditional sheet pan, because the sides are much higher than most and it's coated in enamel, but Shelly Westerhausen, cookbook author and owner of Vegetarian 'Ventures, swears by it. "It's great because I can use it for roasting vegetables and also to make sheet cakes," she says. For her, those high sides are a good thing, because "food pieces are less likely to fall out when flipping or stirring food halfway through the roasting process." The enamel coating also helps the food cook evenly and makes the tray last a bit longer. It's also oven-safe up to 530 degrees — the Great Jones tray is safe up to just 450 — so you can roast and cook a wider variety of food. But just like all the other chefs we spoke with, Westerhausen lines this pan with parchment paper while cooking "to protect the sheet pans from getting stained and to help with an easy cleanup."
The Strategist is designed to surface the most useful, expert recommendations for things to buy across the vast e-commerce landscape. Some of our latest conquests include the best acne treatments, rolling luggage, pillows for side sleepers, natural anxiety remedies, and bath towels. We update links when possible, but note that deals can expire and all prices are subject to change.