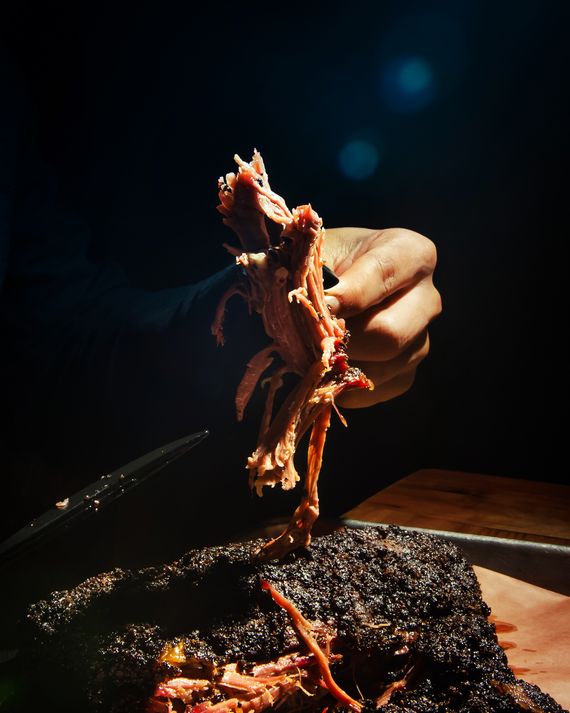 Between the last time Adam Platt distilled a year's worth of dining out into a mouthwatering guide to the city's restaurant scene and now, much — if not everything — has changed. Still, even in an era of unparalleled challenges, the industry continues not only to rebound but somehow, against all imaginable odds, to surprise and delight. Here, our critic shares his experiences being a professional eater in the age of pivots, pop-ups, and streeteries and celebrates his 12 favorite new restaurants of the year (including the Bronx's Hudson Smokehouse, pictured here with its Saturday-only beef rib).
Back during the dim, distant pre-COVID days when year-end dining wrap-ups like this one were concocted, the idea was to give our readers a sense of the latest breathlessly trendy dishes and dining fashions in a city that viewed itself as the restaurant capital of the world but also, in a strange, jaded way, took that culture for granted. Now, as one ominous virus wave replaces another and the COVID plague continues to hover like a persistent fog over the city, the opposite is true: That invisible web of community and spirit and identity of the great network of chophouses, haughty gourmet destinations, ramen parlors, red-sauce joints, frozen-dumpling depots, and Peking-duck houses has never felt stronger or more central to the sense of health and well-being of the city. When people ask me where to eat now, my answer is "Everywhere."
After the lockdowns and pantry diets and freezing half to death in tattered outdoor dining shacks just to get a fix of a well-made bánh mì or a bowl of soup or a properly mixed martini, 2021 was a year of little miracles for those of us who spend our time obsessing over where to find all the best and most delicious things to eat (and drink) around this great dining city. It was the year in which addled, overfed restaurant critics put down their poison pens (except concerning gourmet tasting menus and certain radically overpriced vegan joints), threw away their lofty star systems, and gave thanks for all the small pleasures we had missed, like a couple of eggs over easy (with fresh orange juice) at the local diner on a weekday morning, or early-evening drinks with a friend or two at the back of a dark and empty bar, or the sense of happy anticipation one gets when one sits down in a crowded restaurant and surveys a new menu for the first time.
Like many avid big-city eaters, I found myself making up for lost time in 2021 by going on mad benders through the familiar pizza meccas of Brooklyn (the simple margherita slice at L'industrie) and restorative wonton and noodle excursions to the old favorite haunts in Manhattan's Chinatown (frozen dumplings at Shu Jiao Fu Zhou, the shrimp-wonton soup at Great N.Y. Noodle Town). I swilled martinis at crowded bars in Brooklyn (the Rockwell Place), sipped juniper-flavored soju negronis with my tray of Korean-style kimchee-brined fried chicken (at the excellent Porcelain in Queens), enjoyed furtive omakase dinners at big-ticket sushi dens in Tribeca (the young Tokyo sushi master Shion Uino's eight-seat counter at 69 Leonard Street), and merrily consumed so much vegan and plant-based cuisine that some of my old beef-eater colleagues called to inquire if I was all right.
This was also the year in which old restaurant veterans like me found ourselves wandering around town like London constables sifting through the rubble after the Blitz, noting the favorite places that had disappeared (of which there are many) and checking on how others were surviving. In my neighborhood, a new operation called Gotham has replaced the old Gotham Bar and Grill on 12th Street, and some restaurants are doing more business than they were before thanks to the outdoor dining rooms, many of which are strung, like river barges, with bright lights and garlands of plastic flowers. Before this latest Omicron wave, Broadway's Restaurant Row, on 46th Street, was buzzing again, at least for a while, and the grand chefs in the neighborhood, many of whom had the deep-pocketed backers to outlast the first long COVID winter, told me their biggest problem was finding the staff to feed all the people clamoring for reservations.
These staffing problems won't disappear anytime soon, of course, and as with other industries struggling with COVID around the city, the long-term survival of restaurants will hinge on fundamental things like money and location. "We've had our best month ever," the bartender at a prosperous Michelin-approved establishment told me when I dropped in for a drink not long ago, though a couple of blocks west, the Vendy Awards winner MD Alam said business at his excellent halal cart on 44th Street and Sixth Avenue had ticked up only slightly over the past year, and unless the mass of office workers returned, he doubted he would make it through another winter. "We used to have four carts and four cooks lined up here on the block," he said as he twirled up my usual chicken–tikka kati roll, which at $7 is one of the best culinary values in the city, "but I'm afraid these days the only person here is me."
What sorts of dining fashions and trends have we divined in this slow twilight world of recovery, as spooky new variants continue to emerge from across the sea and the reality of another long winter season once again begins to set in? As it has everywhere else, COVID has supercharged some trends (restaurant pantry shelves, outdoor dining, overpriced roasted beets as an entrée) and mercifully blasted other, tired ones into oblivion. Lugubrious four-hour tasting menus are out, and the comfort and simplicity of freshly baked bread or a bowl of Tuscan bean soup, say, or a smoky, wet lamb-birria taco devoured in the cold outdoors are in. The haute French-based gourmet model has had a good long run in the upper echelons of the city's culinary scene, but who wants to spend cash on the same old fussy recipes when New York is alive with a rainbow of interesting new kitchens serving food from Iran, or the mutton-rich Indian region of Bihar, or the Aegean Sea?
You'll find a patchwork of these flavors, styles, and fashions represented in our highly subjective roundup of one critic's favorite new restaurants of the past year. There are tiny former pop-ups on our list and improbably delicious big-money ventures. There's a wonderful vegan soul-food spot that I wish were several blocks nearer to my apartment and a great barbecue destination in the Bronx that my doctors are happy to have as far as possible from their patient's usual feeding grounds. There's a restaurant serving regional delicacies from the far corners of India and another that makes you feel like you've woken up from a bad dream and are dining among the old chophouses and oyster shacks of Brooklyn ca. 1952. Are there other worthy establishments not on the list? Of course there are. And there will be plenty more in 2022 because the one thing that will never vanish, as anyone who has stuck around in Brooklyn or the Bronx or the fancy Zip Codes of Manhattan over these past two star-crossed years will tell you, is that irrepressible New York City appetite for a good meal.